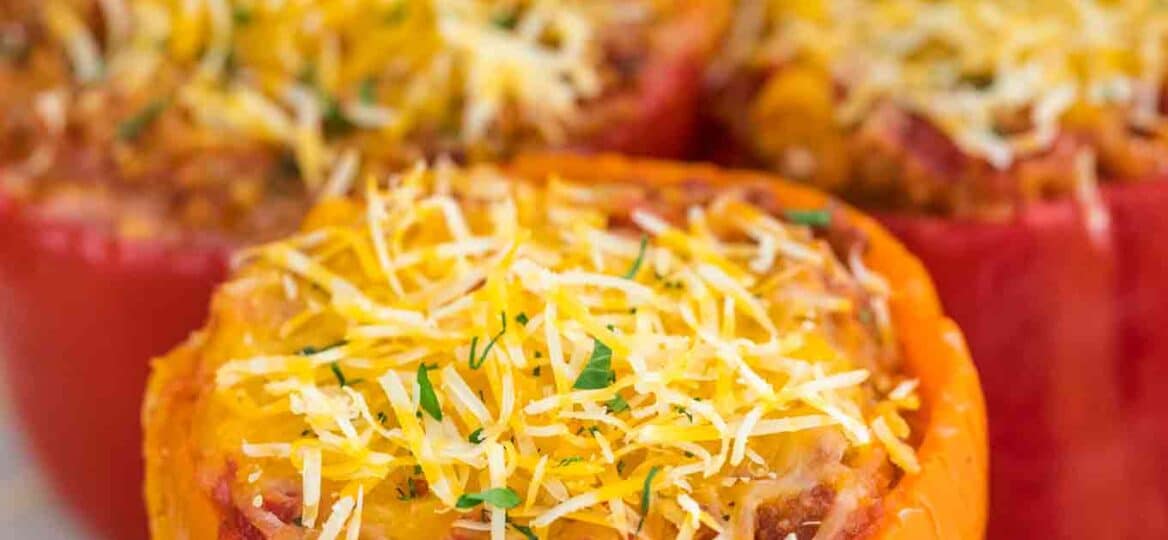 Slow Cooker Mexican Stuffed Peppers
Slow Cooker Mexican Stuffed Peppers are loaded with enchilada sauce, ground beef, black beans, and corn. This is an easy and satisfying meal!
We love making delicious and easy dishes in the crockpot. Some of our favorites are broccoli cheddar soup, corned beef with cabbage, and garlic sesame chicken.
Slow Cooker Mexican Stuffed Peppers
Everyone can agree that an easy, healthy, and delicious one-pot dish is the best meal you can have. It does not require too many dishes to clean and is very convenient. You simply put all the ingredients together in the crockpot and let it do its magic. These slow cooker stuffed peppers are just that. They are delicious, filling, healthy, high in protein, hearty, and super flavorful.
We usually use 80/20 ground meat in them. However, for a leaner option, go with leaner meat, or use ground turkey. In addition, rice can be replaced with brown rice, and reduced-fat cheese could be used.
We love how the flavors in these stuffed peppers come together and are one of our favorite dinner dishes to make. Top them with sour cream, fresh cilantro, and extra salsa for garnish.
How to make Slow Cooker Mexican Stuffed Peppers?
This recipe is very easy to make. Below are the steps on how to prepare this dish:
Start by cutting the tops off peppers and remove seeds.
In a large skillet, cook ground beef over medium heat until no longer pink. Then, drain the grease. Similarly, if you like a healthier option, go with turkey or lean ground chicken.
Next, stir in the rice, cheese, salsa, and pepper sauce (or enchilada sauce). Spoon into peppers to fill them with the mixture.
Transfer them to the slow cooker, and pour water around peppers.
Lastly, cover and cook on LOW for 5-6 hours or until peppers are tender and filling is heated through.
Top with remaining cheese and sprinkle with cilantro.
Should I use pre-cooked rice in this recipe?
As a general rule, you must use pre-cooked rice. In addition, you can use cooked white rice, or some leftover rice will work just as fine. A better option would be to use leftover Mexican rice. If white rice is used, to bump up the flavors use some seasoning so that the mixture is not too bland.
Also, add some chili powder, garlic powder, or chipotle in adobo. These are all great options and will give the peppers a nice flavor.
Can I make Slow Cooker Mexican Stuffed Peppers ahead of time?
This dish can be prepared ahead of time. Just follow the recipe below, and once they are filled with the mixture cover them with foil and refrigerate. They will hold the best if refrigerated for up to 24 hours before cooking. Just remember, when preparing ahead of time, to let the beef mixture cool before filling the peppers.
How do you make Mexican Stuffed Peppers in the Instant Pot?
First, rinse the peppers and then cut off the top parts and remove all the membranes and seeds.
In a bowl, combine together the ingredients and mix well using your hand or spoon.
Fill each pepper with the mixture.
Add a trivet with handles to the IP or a steamer basket.
Then, add 1 cup of water and arrange the peppers onto the trivet.
Next, close the lid and pressure cook on High Pressure for 7 minutes + 5 minutes Natural Release.
Let the peppers cool down slightly before serving.
HOW DO YOU MAKE OVEN BAKED STUFFED PEPPERS?
Making this recipe in the oven is a great alternative. We already have an oven-baked classic version of this recipe, and can be accessed by clicking this link.
HOW TO STORE them?
They can easily be refrigerated for up to 3-4 days. Simply, transfer them to an airtight container and then store in the fridge. Reheat before serving.
More recipes to try: