Pumpkin Brownie Cupcakes
This post may contain affiliate links. Please read my disclosure policy.
These pumpkin brownie cupcakes are dense, rich and chocolaty, topped with a creamy and smooth pumpkin puree buttercream they are the perfect fall treat.
This is actually the FIRST cupcake recipe on the blog! I know, the horror, I have so many decadent goodies, but no cupcakes! Whats is a food blog without cupcakes? Its like rain without water, I am getting too metaphoric here, but you all get my point. To make up for the lost time I am bringing you pumpkin brownie cupcakes pilled high with the most silky buttercream frosting and colorful sprinkles!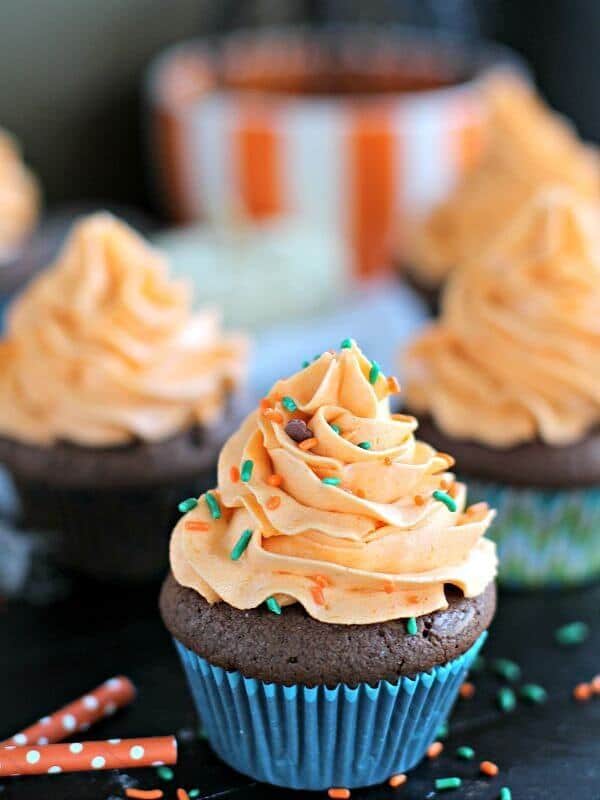 These are not your regular fluffy, airy cupcakes, these pumpkin brownie cupcakes are dense, rich and chocolatey. I used my all time favorite brownie recipe, tweaked it to make it a little more "cake" like, and topped the brownie cupcakes with a pile of delicious, sweet, smooth and creamy buttercream frosting.
The frosting has a few spoons of pumpkin puree to give it that fall flavor, a few drops of orange color gel to enhance the orange color that looks stunning in contrast with the dark brown brownies.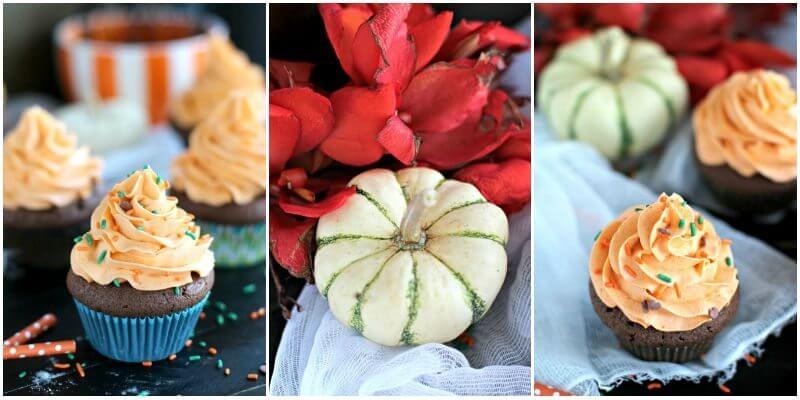 MY LATEST VIDEOS
A dash of pumpkin spice was added to these pumpkin brownie cupcakes to create the perfect fall treat. The colorful sprinkles add a pop of color and we know that sprinkles make everything better.
My husband is one of "those people" that you know, don't care about pumpkin, but he completely devoured these cupcakes. I had to remind him that these are actually pumpkin cupcakes, and he kept saying, who cares about pumpkin when you have brownies. He said that the flavor combo worked together nicely. He also loved how the creamy pumpkin buttercream paired with the rich chocolate brownie cupcakes.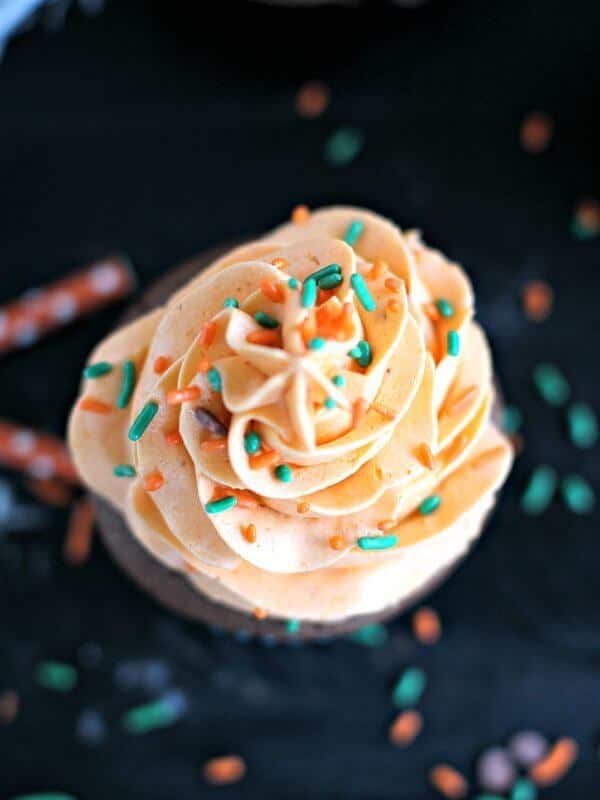 My toddler was extra attentive when I photographed these pumpkin brownie cupcakes probably hoping that more sprinkles get on the floor, or that maybe finally mom will turn around and he would be able to sneak a pumpkin brownie cupcake without me noticing. Wishful thinking, but he got to leak the spatula and he was extra happy! I am still trying to control his sugar intake while I can!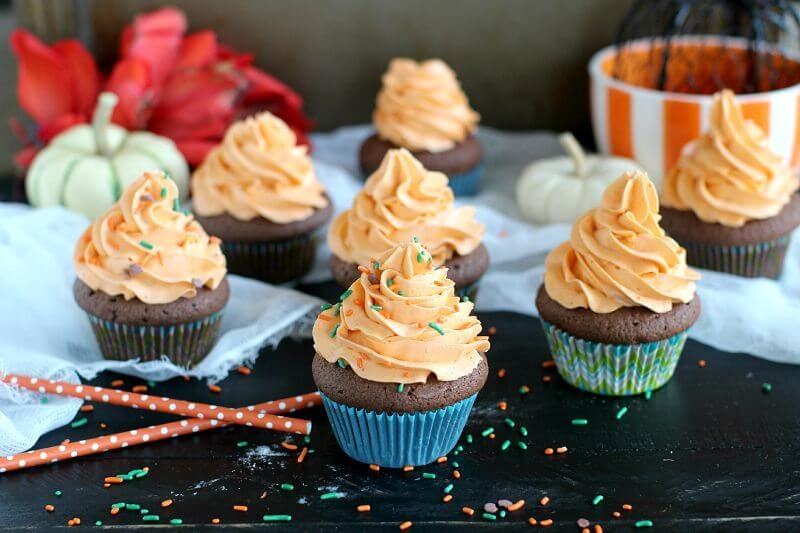 These pumpkin brownie cupcakes are the perfect flavor match, they are not overloaded with pumpkin, the flavor is subtle and pleasant. Sweet, dense and rich brownies are the perfect bed for all that delicious buttercream. A perfect treat for children and adults. A fun dessert to make with kids for Halloween.

Pumpkin Brownie Cupcakes
These pumpkin brownie cupcakes are dense, rich and chocolaty, topped with a creamy and smooth pumpkin puree buttercream they are the perfect fall treat.
Author:
Katalina Kastravet
Ingredients
For the Brownie Layer:
4 large eggs
2 cups sugar, sifted
8 ounces / 2 sticks melted butter
½ cup cocoa, sifted
2 vanilla beans, seeds only
¾ cups flour, sifted
½ teaspoon kosher salt
½ teaspoon pumpkin spice
Pumpkin Buttercream:
2½ sticks unsalted butter, room tempreture
3 cups confectioners sugar
3 tablespoons pumpkin puree
½ teaspoon pumpkin spice
5 drops orange gel color
Instructions
For the Brownie Layer:
Adjust oven rack to middle position and heat oven to 300 degrees F. Line a standard muffin/cupcake tin with paper or foil liners.
In a mixer fitted with the wire whisk attachment, beat the eggs at medium speed until fluffy and light yellow, add the sugar and beat until combined. Add remaining ingredients, and mix to combine.
Pour the batter evenly into the cupcake tins and bake for 40 minutes. Check for doneness by inserting a toothpick into the center of the cupcake, it should come out with just a few crumbles attached.
When done, remove from oven and transfer cupcakes to a cooling rack. Cool cupcakes to room temperature before frosting.
Pumpkin Buttercream:
Using the wire whisk attachment of a stand mixer, whip the butter on medium-high speed for 5 minutes, stopping to scrape the bowl once or twice.
Reduce the speed to low and gradually add the confectioner sugar and pumpkin spice. Once incorporated, increase the speed to medium-high and add the pumpkin puree and gel color, mixing until combined. Whip at medium-high speed until light and fluffy, about 2 minutes, scraping the bowl as needed.
Unused buttercream can be stored in the refrigerator in an airtight container. Let it come to room temperature and then give it a quick whip in the mixer before using it.
If the frosting is too soft, add more sugar - ½ cup at a time, if the frosting is too tough add some milk, 1 tablespoon as a time.
Transfer frosting to a piping bag and decorate the cupcakes, garnish with sprinkles.
Notes
Store cupcakes in the fridge as frosting will melt if kept at room temperature for too long.
Peas and Peonies, LLC. owns the copyright on all images and text and does not allow for its original recipes and pictures to be reproduced anywhere other than at this site unless authorization is given. If you enjoyed the recipe and would like to publish it on your own site, please re-write it in your own words, and link back to my site and recipe page. Copying and/or pasting full recipes to social media or personal blogs is strictly prohibited. Sharing this recipe is very much appreciated and encouraged. Read my disclosure and privacy policy. This post may contain affiliate links.