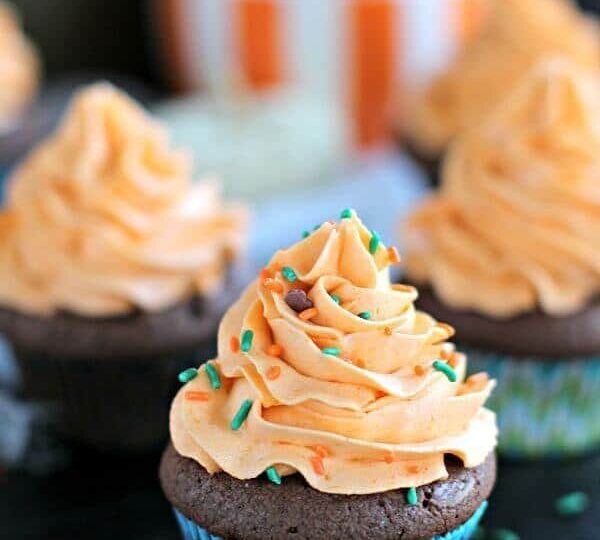 Pumpkin Brownie Cupcakes are dense, rich, and chocolaty, topped with creamy and smooth pumpkin puree buttercream. They are easy to make, and the perfect treat during the fall season.
With Halloween quickly approaching, these pumpkin cupcakes are a perfect autumn dessert treat. They are piled high with the silkiest buttercream frosting and colorful sprinkles. For more fall-inspired desserts, I would suggest checking out Pumpkin Pie Creme Brûlée, Pumpkin Fudge, and Pumpkin Lava Cakes.
Pumpkin Brownie Cupcakes Recipe
With the fall season comes pumpkin recipes. These pumpkin cupcakes are super delicious and filled with flavors. Every time I bake them, the house smells amazing!
These are not your regular fluffy, airy cupcakes, but rather rich and very flavorful. So I decided to use my all-time favorite brownie recipe, and tweaked it to make it a little more "cake" like. Then, I topped the brownie cupcakes with a pile of delicious, sweet, smooth, and creamy buttercream frosting! Because it's just perfect.
The frosting has a few spoons of pumpkin puree to give it that fall flavor. In addition, I added a few drops of orange color gel to enhance the orange color which looks stunning in contrast with the dark brown brownies.
A dash of pumpkin spice was added to these pumpkin brownie cupcakes to create the perfect fall treat. The colorful sprinkles add a pop of color, and we know that sprinkles make everything better. It is the perfect holiday dessert to enjoy with friends and family.

Ingredients needed:
Large eggs
Butter
Cocoa
Vanilla beans
All-purpose flour: I use only 3/4 cup of flour in this recipe to make the cupcakes soft, fluffy, and light.
Pumpkin Puree and Pumpkin Spice
Orange gel: You only need a few drops to make the orange color. It looks festive. However, you can skip it.
Sugar and confectioner sugar
How to make Pumpkin Brownie Cupcakes?
Make the butter: First, mix the batter ingredients in a large bowl. Then, beat the ingredients together till fluffy.
Bake: Then, pour the batter into cupcake tins and bake at 300 degrees f for about 35-40 minutes. Once baked, remove from the oven and set aside.
Make the buttercream: Next, make the buttercream frosting. Then, transfer the frosting to a piping bag and decorate the cupcakes.
Serve: Add some sprinkles on top and serve.
How to make Pumpkin Spice?
You can make a spice blend at home pretty easily, here is what you will need:
3 tablespoons ground cinnamon
2 teaspoons ground ginger
2 teaspoons ground nutmeg
1 teaspoon ground allspice
1 teaspoon ground cloves
Directions: In a small bowl, mix all the spices. Transfer to a small jar or spice container.
What are pumpkin brownie cupcakes?
They are a delightful dessert that combines the flavors of chocolate brownies and pumpkin spice. Also, they typically feature a layer of rich chocolate brownie batter topped with a layer of spiced pumpkin batter.
Is pumpkin puree the same as canned pumpkin?
Yes, they are both the same thing. Canned pumpkin is just cooked pureed pumpkin. These terms are often used interchangeably in recipes but are the same thing.
Canned pumpkin or pie filling is flavored with spices like cinnamon, clove, allspice, and ginger, and is also sweetened.
What is Buttercream Icing?
Buttercream also known as butter icing is a type of icing or filling used inside cakes and cupcakes, as a coating, and as decoration.
Also, it is very easy to make, by creaming butter with powdered sugar, although other fats can be used, such as margarine or lard.
Can I add chocolate chips or nuts to Pumpkin Cupcakes?
Absolutely! You can customize your cupcakes by adding chocolate chips, chopped nuts (such as walnuts or pecans), or even swirl in some cream cheese filling for added richness.
Do I need to use cupcake liners?
I would definitely recomend it! Using cupcake liners makes it easier to remove the cupcakes from the pan and helps with cleanup. However, you can also grease and flour the cupcake pan if you prefer
Other great homemade pumpkin desserts:
Storing instructions:
These cupcakes are great to make ahead. You can bake the batter, and refrigerate them without the frosting on top, for up to 4 days. When ready to serve, simply make the frosting (it takes 2 minutes), and quickly pipe them. This way they look fresh and tested.
However, if short on time, simply refrigerate them with the frosting on top. Use an airtight container, and refrigerate them for up to 4 days.
Recipe tips:
To save time, feel free to use whipped cream for the frosting.
In addition, you can use pumpkin cake mix or vanilla cake mix to make the butter.
Drizzle some caramel sauce over these pumpkin brownie cupcakes for a more festive look!
Use a toothpick to check for doneness. Simply, insert it in the center of the cupcake, and if it comes out clean, then the batter is ready. Otherwise, let it cook for a few more minutes.
Also, you could bake them at 350 degrees F. In that case, the cooking time will be reduced to about 25 minutes.
Use other spices if desired to add some extra flavor. For example, ground cinnamon, ginger, or nutmeg would be a great addition for topping them.
Pumpkin Brownie Cupcake
Ingredients
For the Brownie Layer:
4

large eggs

2

cups

sugar

sifted

2

sticks

unsalted butter

melted

1/2

cup

cocoa

sifted

2

vanilla beans

seeds only

3/4

cups

flour

sifted

1/2

teaspoon

kosher salt

1/2

teaspoon

pumpkin spice
Pumpkin Buttercream:
2 1/2

sticks unsalted butter

room tempreture

3

cups

confectioners sugar

3

tablespoons

pumpkin puree

1/2

teaspoon

pumpkin spice

5

drops orange gel color
Instructions
For the Brownie Layer:
Adjust oven rack to middle position and heat oven to 300 degrees F. Line a standard muffin/cupcake tin with paper or foil liners.

In a mixer fitted with the wire whisk attachment, beat the eggs at medium speed until fluffy and light yellow, add the sugar and beat until combined. Add remaining ingredients, and mix to combine.

Pour the batter evenly into the cupcake tins and bake for 40 minutes. Check for doneness by inserting a toothpick into the center of the cupcake, it should come out with just a few crumbles attached.

When done, remove from oven and transfer cupcakes to a cooling rack. Cool cupcakes to room temperature before frosting.
Pumpkin Buttercream:
Using the wire whisk attachment of a stand mixer, whip the butter on medium-high speed for 5 minutes, stopping to scrape the bowl once or twice.

Reduce the speed to low and gradually add the confectioner sugar and pumpkin spice. Once incorporated, increase the speed to medium-high and add the pumpkin puree and gel color, mixing until combined. Whip at medium-high speed until light and fluffy, about 2 minutes, scraping the bowl as needed.

Unused buttercream can be stored in the refrigerator in an airtight container. Let it come to room temperature and then give it a quick whip in the mixer before using it.

If the frosting is too soft, add more sugar - 1/2 cup at a time, if the frosting is too tough add some milk, 1 tablespoon as a time.

Transfer frosting to a piping bag and decorate the cupcakes, garnish with sprinkles.
Deliciousness to your inbox
Enjoy weekly hand picked recipes and recommendations