These Pumpkin Brownie Cupcakes are dense, rich and chocolaty, topped with a creamy and smooth pumpkin puree buttercream, which make them the perfect fall treat.
With Halloween quickly approaching, these Pumpkin Brownie Cupcakes are a perfect dessert treat, pilled high with the most silky buttercream frosting and colorful sprinkles. If pumpkin is your thing, I would suggest checking out Pumpkin Pie Creme Brûlée, Pumpkin Fudge, and Pumpkin Lava Cakes.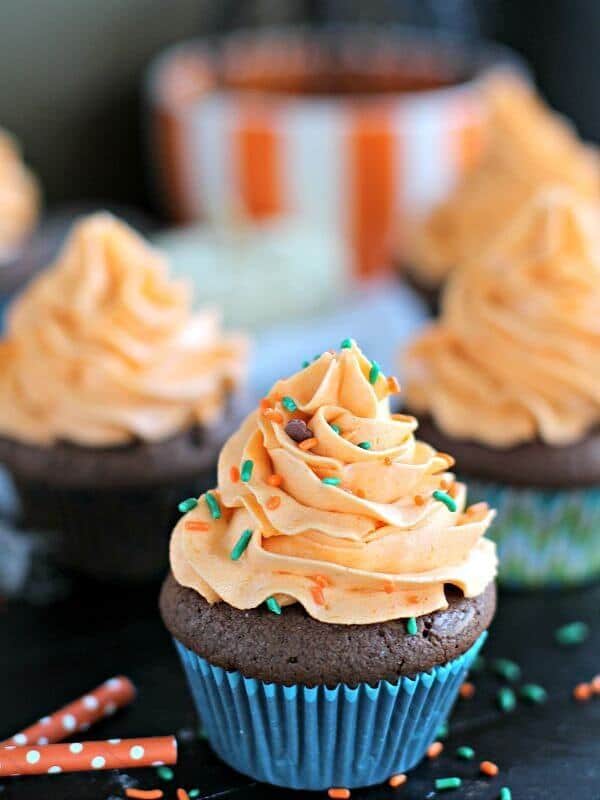 Pumpkin Brownie Cupcake Recipe Tips
These are not your regular fluffy, airy cupcakes, but rather rich and very flavorful. So I decided to use my all time favorite brownie recipe, tweaked it to make it a little more "cake" like. Then, I topped the brownie cupcakes with a pile of delicious, sweet, smooth and creamy buttercream frosting, because it's just perfect.
The frosting has a few spoons of pumpkin puree to give it that fall flavor. In addition, I added a few drops of orange color gel to enhance the orange color that looks stunning in contrast with the dark brown brownies.
A dash of pumpkin spice was added to these pumpkin brownie cupcakes to create the perfect fall treat. The colorful sprinkles add a pop of color, and we know that sprinkles make everything better.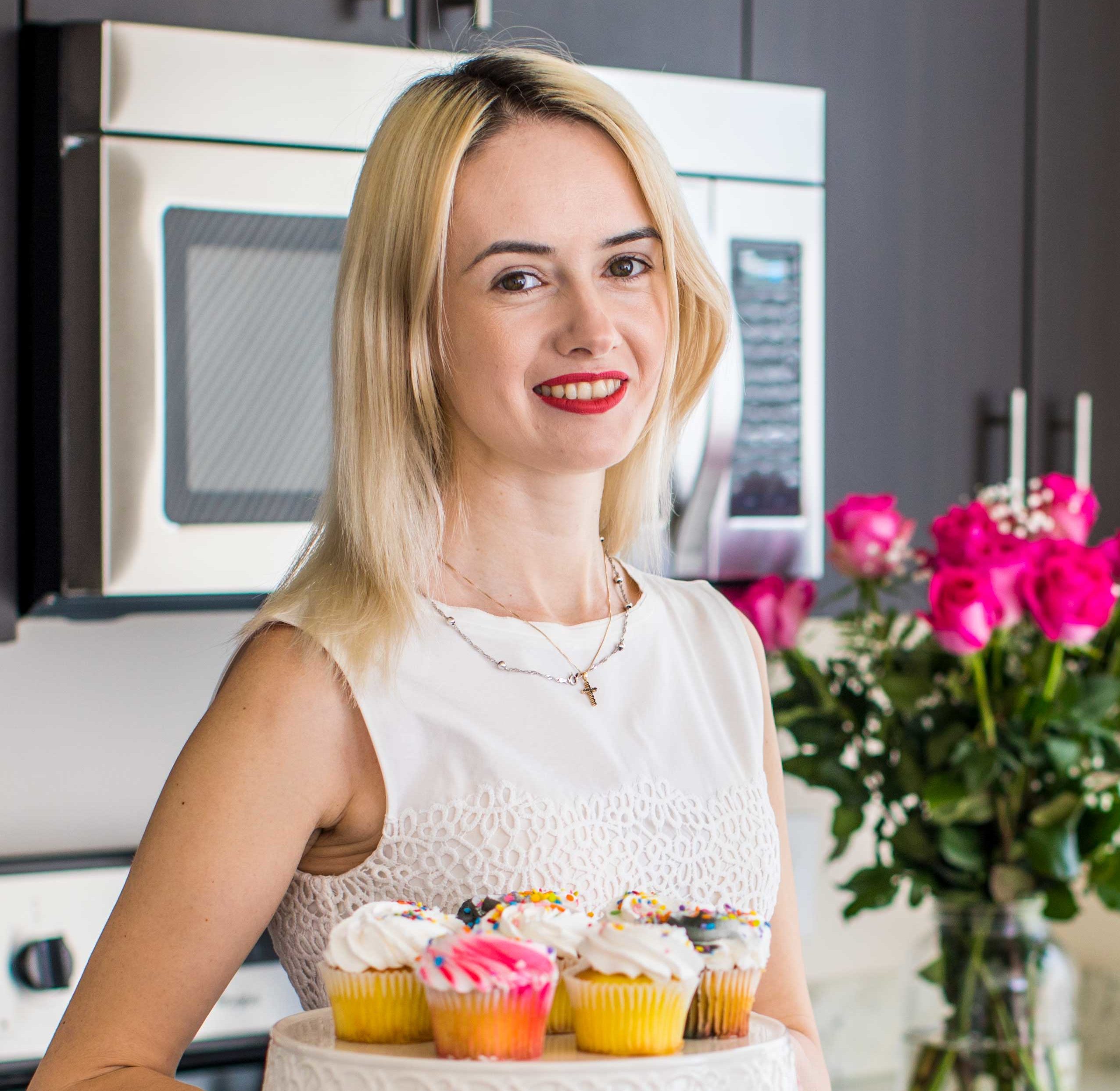 Follow us on Pinterest for more delicious recipes!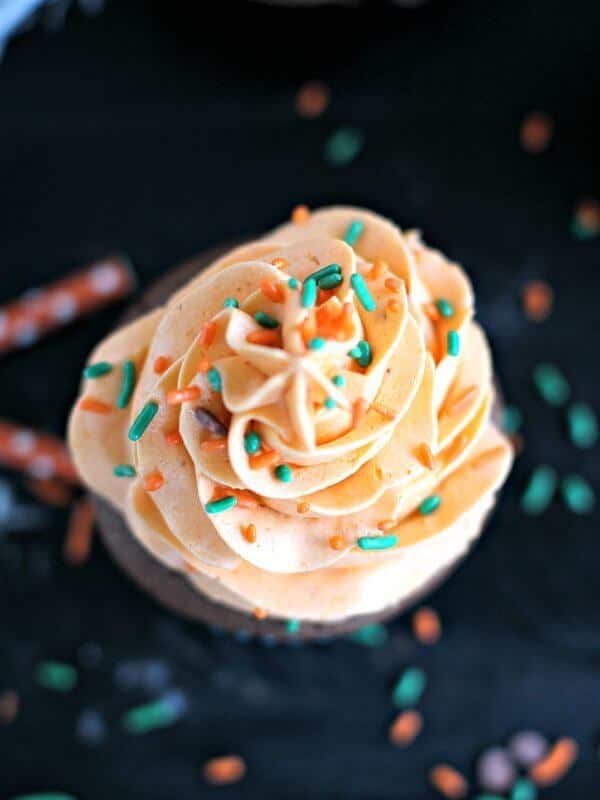 What do you need to make Pumpkin Brownie Cupcakes?
Large eggs
Butter
Cocoa
Vanilla beans
Pumpkin Spice
Four
Pumpkin Puree and Pumpkin Spice
Orange gel
How do you make Pumpkin Spice?
You can make pumpkin spice blend at home pretty easily, here is what you will need:
3 tablespoons ground cinnamon
2 teaspoons ground ginger
2 teaspoons ground nutmeg
1 teaspoon ground allspice
1 teaspoon ground cloves
Directions: In a small bowl, mix all the spices together. Transfer to a small jar or spice container.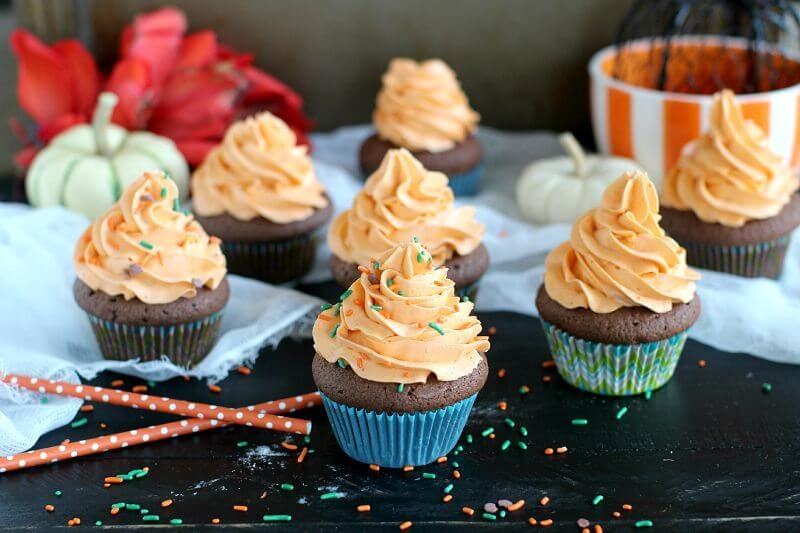 What is pumpkin puree vs canned pumpkin?
Canned pumpkin is just cooked, pureed pumpkin. Canned pumpkin or pumpkin pie filling is flavored with spices like cinnamon, clove, allspice and ginger, and is also sweetened.
What is Buttercream Icing?
Buttercream also know as butter icing is a type of icing or filling used inside cakes and cupcakes, as a coating, and as decoration. It is very easy to make, by creaming butter with powdered sugar, although other fats can be used, such as margarine or lard.
Save Recipe
Pumpkin Brownie Cupcake
Author: Catalina Castravet
Serves: 10 cupcakes
Prep time:

20

minutes
Cook time:

40

minutes
Total time:

1

hr
Ingredients
For the Brownie Layer:
Pumpkin Buttercream:
Instructions
For the Brownie Layer:
Pumpkin Buttercream:
Nutrition information
Calories: 370 Carbohydrates: 86 Protein: 4 Fat: 2 Saturated Fat: 1 Cholesterol: 66 Sodium: 143 Potassium: 109 Fiber: 1 Sugar: 75 Vitamin A: 800 Vitamin C: 0.2 Calcium: 18 Iron: 1.5
Save Recipe
More recipes you might love