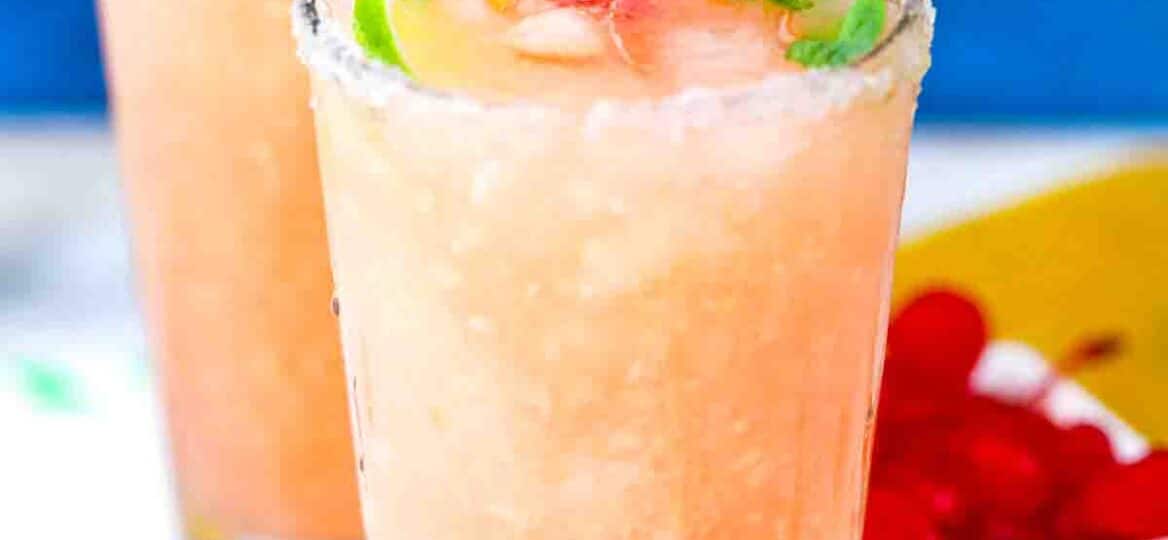 Melon Margarita Recipe
Melon Margaritas are refreshing summer drinks with fresh cantaloupe or honeydew, a hint of lime with liqueur, and a splash of cherry juice. You get a new taste with every sweet sip. Since melons become ripe between June and August, you will find fresh ones at your store or market during those months. But you could always use frozen ones.
Some cocktails can be altered in all sorts of ways. For example, think of all the margaritas there are like strawberry, mango, watermelon, and of course, the classic margarita with lime and triple sec. It was Pancho (Francisco) Morales who invented the margarita on July 4th, 1942. He was working at a bar named Tommy's Place and messed up an order for a Magnolia, which is made with Cointreau, brandy, egg yolk, and champagne.
Ready for Cinco de Mayo? Try this unique twist on the classic cocktail recipe. To make these margaritas, you just need seven ingredients besides the booze including honeydew or cantaloupe, lime juice, cherry juice, agave nectar, orange liqueur, sugar, salt, and ice. You can change the juices and even the liqueur, but you always need tequila.
Ingredients needed:
Gather the ingredients listed below to make this recipe right now. When you are ready to start, find our convenient printable recipe card at the bottom of the page.
Chopped ripe cantaloupe or honeydew melon: Chilled.

Freshly squeezed lime juice
Maraschino cherry juice
Agave nectar
Orange liqueur
Silver tequila

Granulated white sugar
Coarse Kosher salt
Ice cubes
How to make a melon margarita from scratch?
Blend until smooth: First, blend the melon in a food processor or blender until it is smooth.

Strain the cantaloupe: Next, strain half of the cantaloupe through a fine sieve to remove the pulp. Leave the remaining blended melon as it is.

Shake the ingredients: Now, add tequila, agave nectar, cherry juice, orange liqueur, lime juice, and melon puree to a cocktail shaker. Shake vigorously for about 30 seconds.

Garnish instructions: Then, mix the salt and sugar in a small dish. Use a lime wedge to wipe the rim of each glass and dip the rim in the mixture.

Serve immediately: Finally, fill each glass with ice cubes. Pour the melon cocktail into the prepared glasses and serve immediately.
Recipe variations:
Other melons: Try making this easy recipe with different types of melons.

Different fruits: You could also use other fruits like frozen peaches, mango, strawberries, cherries, blackberries, blueberries, or raspberries.

Add mint leaves: For extra tanginess, add a mint leaf or two.

Add more ice cubes: Make this recipe into a frozen cantaloupe margarita by adding a handful of ice cubes.

Simple syrup: You can substitute simple syrup, honey, or maple syrup for agave nectar.

Make it spicy: Add a pinch of red pepper flakes or cayenne pepper for a spicy drink.

Add herbs: Feel free to sprinkle a bit of rosemary, lavender, sage, or another herb you like.
No lime: Instead of lime, you can use lemon juice.
How to serve:
In just a few minutes, you can have this delicious drink ready to enjoy. Whether it is summer, winter, spring, or fall, these sweet drinks are great anytime. Try one of our awesome serving suggestions or share some of your own in the comments section. We enjoy reader interactions.
Decorate your delicious, sweet drink with other fruits like orange slices, cherries, or sliced strawberries.

Add a splash of your own favorite fruit spread like strawberry sauce or lime curd.

Everything tastes better with chocolate. Drizzle a bit of chocolate syrup on top before serving.

Better yet, add a dollop of our homemade whipped cream with the chocolate syrup.

For an even sweeter margarita, add a scoop of ice cream like vanilla or our no-churn pineapple ice cream.

If you like spicy drinks, add some sliced jalapenos on top. But make sure you remove the seeds, or it may be too spicy to drink.
Frequently asked questions
What are the other kinds of margaritas?
The five most commonly requested margarita recipes include mango, watermelon, strawberry, smoky, and spicy. The smoky margarita has Sombra Mezcal mixed with triple sec, and lime. Spicy margaritas come in numerous types such as jalapeno, cucumber, and mandarin. They are made with pepper-infused Hornitos Plata tequila.
What health benefits do cantaloupes have?
Besides being a juicy and delicious summer fruit related to honeydew melons and watermelons, cantaloupes are also healthy and have a low glycemic number. They also have electrolytes that help keep you hydrated and have lots of potassium, fiber, vitamin K, magnesium, and niacin. You also get vitamin C, vitamin A, and calcium.
Which orange liqueurs are best in margaritas?
The most commonly used orange liqueurs are Cointreau and Triple Sec, which are French drinks made with orange peels, and Grand Marnier, which uses cognac. Magdala is another popular one with an intense flavor from orange peels steeped in grape brandy. And Grand Imperial has a flavor of caramelized vanilla and roasted toffee and nuts.
What are the differences in tequilas?
The tequila most bartenders use for margaritas is blanco, which does not get preserved in oak barrels. Reposado tequila has up to three months in oak, and anejo tequila is aged for a year in oak. Blanco is bright and sparkly, and the others are more warm and spicy. Just make sure they say 100% de agave on the label for the best quality.
What are the nutrition facts in this recipe?
If you are concerned with the nutrition, calories, and fat, here are the estimated numbers. Each glass of this drink has 175 calories, 25 grams of carbohydrates, less than 1 gram of fat, 60 mg of sodium, and 24 grams sugar. It also contains 1 mg iron, 3 grams protein, 23 mg calcium, 24 mg vitamin C, 6,775 units of vitamin A, 3 grams fiber, and 352 mg potassium.
More refreshing summer drinks to try:
How to store leftovers:
Store: If you cannot drink all your melon margaritas, they will stay fresh in a jar with a lid in the fridge for three days. Just make sure there are no ice cubes. They will melt and make it watery.
Freeze: Put your leftovers in a popsicle mold or freezer bag for frozen melon margaritas. They can stay in the freezer for about 60 days.
Recipe tips:
This recipe makes two glasses of melon margaritas. If you have a larger group, you can double or triple it.

Garnish with a lime wedge and maraschino cherry.
Shorten prep time by using store-bought lime juice and presliced cantaloupe.

If you are looking for other delicious cocktail recipes, check out the rest of our food blog. We have all kinds of beverage cuisine and drinks cuisine recipes.

Save my name, email, and website in this browser to keep tabs on the comments.
Take your party on the road with these travel tips. First, remember never to drink and drive. Pack your drinks in a glass jar with a tightly sealed lid and keep it in a cooler with ice or pack it in a thermos.

For the designated driver or non-drinker, you can make this drink non-alcoholic by leaving out the tequila and changing the orange liqueur to orange juice.
Melon Margaritas
Ingredients
4

cups

chopped ripe melon

chilled - Cantaloupe or Honeydew

1/2

cup

tequila

1/4

cup

lime juice

2

tablespoons

Orange Liqueur

1/4

cup

Maraschino cherry juice

1

tablespoon

Agave Nectar

1

tablespoon

sugar

2

tablespoons

coarse salt
Instructions
In a blender or food processor, blend the melon until it is smooth. Strain half of the blended mixture through a sieve to remove the pulp, and have melon juice, leaving the other half as is.

In a cocktail shaker add the melon puree, melon juice, tequila, lime juice, orange liqueur, cherry juice, and agave. Shake vigorously.

In a small dish, mix together the sugar and salt. Run a slice of lime around the rim of two glasses and dip the rim of the glasses into the sugar/salt mixture.

Fill both glasses with ice. Pour cantaloupe margarita into the glasses. Serve immediately garnished with lime and maraschino cherries.
Deliciousness to your inbox
Enjoy weekly hand picked recipes and recommendations