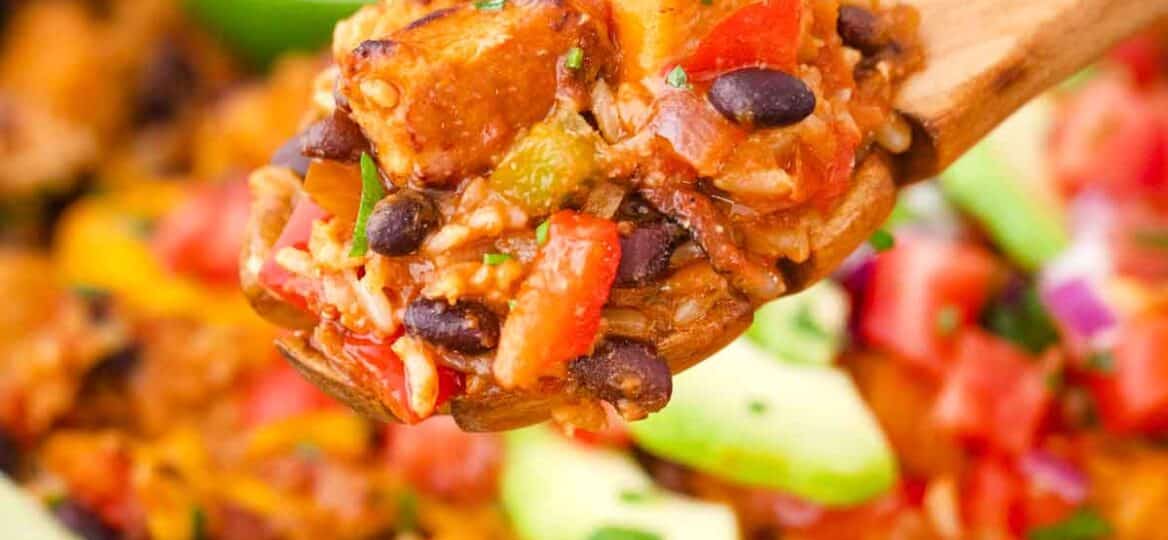 Fiesta Chicken Recipe – One Pan!
Fiesta Chicken is an absolutely delicious meal of chicken breasts, veggies, beans, and rice mixed with fire-roasted tomatoes, spices, and cheese. The creamy sauce, spicy veggies, and tender chicken would be perfect for dinner tonight. My family gave it 5 stars.
Tex-Mex cuisine is a delicious blend of Mexican and Texan cooking styles and has become incredibly popular over the last decade or so. But these kinds of dishes actually date back to the 1870s. It was adopted from Tejano cooking and mentioned in San Antonio by the "Chili Queens" in the city plaza.
For this flavorful fiesta chicken and rice recipe, all you need is chicken, rice, beans, veggies, some spices, herbs, and shredded cheese. Then, add sour cream, avocado, and salsa to serve with this delicious dish. You can also add chips, tortillas, and whatever else you like.
Ingredients needed:
Here is what you need for this fiesta chicken casserole recipe. After you have it all, scroll down to our handy printable recipe card for the instructions and exact measurements.
Boneless skinless chicken breasts: Cut into bite-sized pieces.
Medium yellow onion or red onion: Chopped.

Medium red bell pepper: Chopped.

Medium green bell pepper: Chopped.

Reduced-sodium black beans: Drained and rinsed.
Fire-roasted tomatoes: Chopped but do not drain.

Instant brown rice: Do not use regular brown rice.

Low-sodium chicken broth
Freshly grated cheddar cheese
Minced garlic
Jalapeno
Onion powder
Paprika
Cumin
Cayenne pepper
Oregano
Kosher salt
Extra-virgin olive oil
For serving:
Avocado
Sour cream
Salsa: Spicy, medium, or mild salsa.
How to make fiesta chicken from scratch?
Saute the chicken breast: First, heat oil in a large skillet on medium-high heat. When hot, add chicken, onion, garlic, jalapeno, paprika, cayenne pepper, cumin, and salt. Saute, stirring frequently, for three minutes, until the chicken starts to turn brown.

Add in the rest: Next, add the green and red bell pepper, beans, chicken broth, rice, and tomatoes. Stir well.

Let it simmer: Once it is boiling, cover, turn the heat down to low, and simmer until the chicken is done and the rice is almost tender. Then, let it sit, covered, until the liquid is absorbed, about five more minutes.

Serve fiesta chicken: Finally, adjust seasonings to taste and sprinkle with cheese. Serve with avocado and salsa.
How to make slow cooker fiesta chicken recipe?
Make crock pot fiesta chicken: First, saute the chicken with the oil, garlic, onion, cumin, pepper, paprika, and salt for about three minutes in a large pan. Just until the chicken starts to brown.

Add it all to the crock pot: Then, add all that to the crock pot with the diced tomatoes, rice, chicken stock, beans, and bell peppers. Stir well and cover. Cook on low for six hours or on high for three hours. Adjust cooking time if you are using already cooked rice and chicken.

Let the cheese melt: After, sprinkle shredded cheese on top and cover, letting it melt for 10 minutes.

Serve with toppings: Last, serve with salsa and avocado on the side.
Recipe variations:
No sour cream: You can use plain Greek yogurt instead of sour cream. You could also use cream cheese.

Add veggies: Add your favorite veggies like canned corn, peas, green beans, and whatever else you like. Be sure to use whole-kernel corn.
Spicier: Add chili powder or taco seasoning for a spicier dish with more flavors.

Other herbs and spices: You can add herbs and spices like green chilis, fresh cilantro, dillweed, thyme, and basil.

Other chicken: Feel free to use chicken thighs, drumsticks, or whatever cut of chicken you like.
Other meats: In fact, you could also use pork, turkey, or beef strips.

Chicken broth: Instead of stock, you can use chicken broth.

Other beans: Instead of black beans, you could use pinto beans or whatever you like to use.

Different cheese: Try this dish with other cheese like pepper jack, Monterey jack, or mozzarella.
How to serve:
You can have this delicious chicken fiesta casserole recipe on the table in less than 30 minutes and you do not have to serve anything else with it. With all the veggies, beans, and rice, serving this one-pan meal is easy. These are some of our best ideas for serving. You can share your own ideas in the comments section.
Feel free to add your own favorite toppings like chopped cilantro, green onions, green chilies, and red pepper flakes.

Fresh salsa is always better than store-bought. Try our delicious recipe for homemade salsa.

This fiesta chicken casserole goes great with corn chips, tortilla chips, or whatever chips you like.

Use leftovers to add to another recipe like our instant pot Mexican casserole or slow cooker taco casserole.

You could also use leftovers to make your own tacos. Just add it to taco shells or tortillas.

For dessert, you can serve Mexican wedding cookies.
Save 1/4 cup of the shredded cheese for last. Then add the remaining cheese at the end and do not stir it in.
Frequently asked questions
Can I use frozen chicken for this dish?
You can absolutely use frozen chicken of any kind, even if it is leftovers from your last Fiesta chicken casserole. You do not even have to thaw it out. Just add another 10 minutes to your cooking time. If you use raw frozen chicken, make sure you cook it to 160 degrees F.
Do I have to use fire-roasted tomatoes?
If you do not have any fire-roasted tomatoes, you can use Rotel tomatoes or regular canned tomatoes. But if you want that smoky flavor you get from the fire roasting, you can roast fresh tomatoes yourself. Just put them on a baking sheet and broil for five to seven minutes or until they are turning brown.
Why do some people think cilantro tastes like soap?
According to many people, fresh cilantro (or any kind of cilantro) tastes like soap. Apparently, this genetic issue only affects those with certain olfactory receptor genes that allow them to taste the aldehydes in the cilantro leaves. Being super sensitive to this delicious herb only affects a small percent of the population though.
Why is my chicken tough?
You may have cooked it too long. Be sure to only cook it to 160 degrees F. Anything more than that will dry out your chicken and make it chewy. It could also be that you had the heat set too high when you were sauteeing it. Keep it on medium-high for the first few minutes to keep this from happening.
What are the nutrition facts in this recipe?
Each serving has 356 calories, 62 mg of cholesterol, 40 grams of carbohydrates, 10 grams of fat, 5 grams of saturated fat, 5 grams of sugar, and 798 mg of sodium. But you will also get 3 grams of unsaturated fats, 29 grams of protein, 691 mg of potassium, 8 grams of fiber, 1,459 units of vitamin A, 49 mg of vitamin C, 175 mg of calcium, and 4 mg of iron.
More easy Mexican recipes to try:
How to store leftovers:
Store: Store your leftovers in an airtight container in the refrigerator for up to four days.
Freeze: You can also freeze fiesta chicken for up to 90 days in a freezer bag or other freezer-safe container.

Thaw: Be sure to let your frozen leftovers thaw in the refrigerator overnight for best results.

Reheat: You can reheat your leftovers in the microwave for one to two minutes or on the stove for five to 10 minutes. If it is too dry, add more chicken stock.
Cooking tips:
If you want to use regular rice like long-grain white rice instead of instant rice, cook it in its own pot according to the package directions and then add the cooked rice at the end.

For a shorter meal prep time, use leftover rotisserie chicken or whatever cooked chicken you happen to have handy. Any leftover chicken will work for the chicken mixture.

To cut calories and fat, use low-fat sour cream instead of regular.
Instead of chopping, you can use shredded chicken or ground chicken.

Substitute garlic powder for minced garlic if that is all you have.

If you do not have any red bell peppers, you can use yellow or orange instead.

Put your phone on cook mode so it does not go dark while you are cooking.

If you think this sounds delicious, check out some of our other chicken recipes like Chipotle burrito bowls copycat, chicken tortilla soup, and chicken fajitas.
Fiesta Chicken - One Pan Recipe
Ingredients
2

tablespoons

extra-virgin olive oil

1

pound

boneless skinless chicken breasts

cut into bite-size pieces

1/2

medium red onion

diced

4

cloves

garlic

minced

1

jalapeno

chopped - seeds and veins discarded

1

teaspoon

onion powder

1 1/2

teaspoons

smoked paprika

1 1/2

teaspoons

dried oregano

1/2

teaspoon

cumin

1/2

teaspoon

kosher salt

or to taste

1/2

teaspoon

cayenne pepper

or to taste

1

medium red bell pepper

cored and chopped

1

medium green bell pepper

cored and chopped

1

can

black beans

15oz - rinsed and drained

1

can

fire-roasted diced tomatoes in their juices

15oz

1 1/2

cups

instant brown rice

please use this type of rice specifically for best results

1

cup

low-sodium chicken broth

1

cup

freshly grated Mexican blend cheese

or cheddar cheese
Toppings:
chopped fresh cilantro

diced avocado, salsa, corn chips, sour cream
Instructions
Place a large nonstick skillet over medium-high heat and add olive oil.

Once the oil is hot, add the chicken, onion, garlic, jalapeño, onion powder, paprika, oregano, salt, cumin, and cayenne pepper. Sauté, stirring for about 3 minutes, until the chicken starts to brown.

After that, add the bell peppers, black beans, tomatoes, and rice. Stir to combine.

Next, pour in the chicken broth and give everything a good stir.

Bring the mixture to a boil, and then cover and simmer on low heat for 5 minutes. The chicken should be done and the rice nearly tender. Taste and adjust for seasoning.

Remove from heat and let the skillet stand covered, for another 5 minutes, until the liquid is absorbed.

Sprinkle with cheese and any additional toppings. Serve warm.
Deliciousness to your inbox
Enjoy weekly hand picked recipes and recommendations