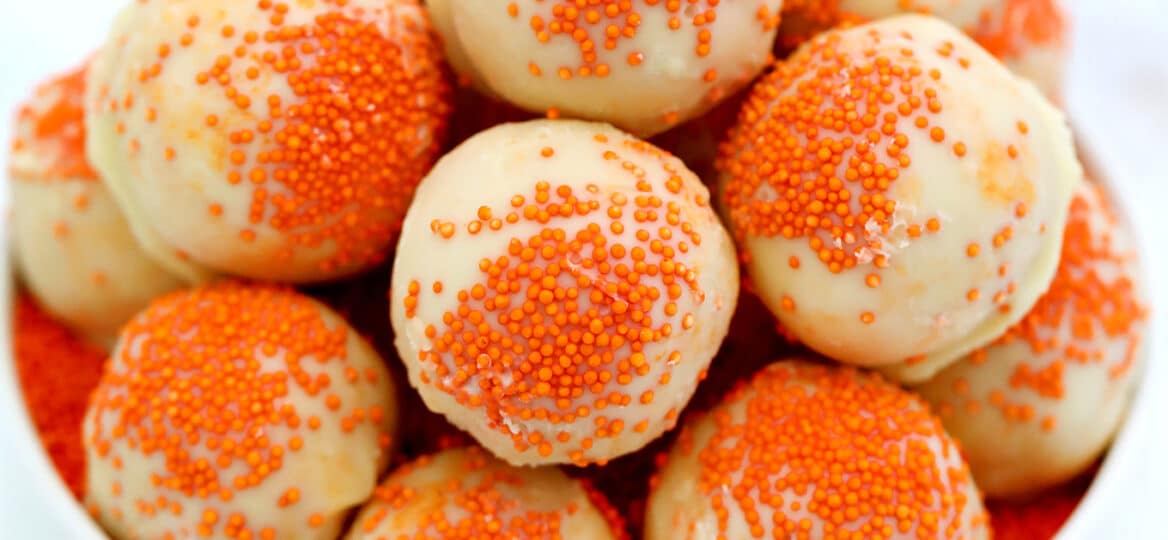 Halloween Cake Balls [Video]
Halloween Cake Balls are a no-bake dessert that is fun and festive! Decorate them any way you like and surely, kids and adults alike will love them! Watch the short recipe video tutorial attached below and see how easy these are!
In my family, as early as now, we are getting ready with our trick-or-treat party! This recipe is just one of the many desserts that we can serve along with the delicious Bloody Halloween Desserts, Pumpkin Fudge, and Chocolate Matcha Cookie Cups!
Halloween Cake Balls
Halloween Cake Balls are moist, bite-sized, and festive-looking – all the traits that make for a great party dessert!
They are very easy to make and no baking is required in this recipe. So while your other dishes are in the oven, you can make this. What a time saver!
And you will only need six ingredients! With just a few ingredients, you are bound to have a colorful plate of desserts. I am sure that kids will love to decorate them by themselves.
Whenever I serve this dessert, guests love them for their tenderness and not to mention, they are cute, too. You may want to still serve them on other occasions other than Halloween, just vary the design. Let's get started!
What is the difference between cake truffles and cake balls?
They are essentially the same! Both terms refer to cake scraps gathered together with a binder then, shaped into bite-sized balls. They are dipped in chocolate and decorated with sprinkles, nuts, and whatnots.
How do you make Halloween Cake Balls?
Prepare your sheet: Get a baking or cookie sheet and line it with wax paper.
Make the dough: Combine the premade mix, sugar, and butter using a fork to make a dough. Once the mixture is fully combined and resembles a dough, add vanilla extract. Mix some more using the fork and then, with your hands. Then, mix in the sprinkles.
Roll: Scoop out about a tablespoon of the dough and roll into a ball using your hands. Place them onto the baking sheet.
Freeze: Once all the truffles are nicely done, freeze them for about 10 minutes before coating.
Melt the chocolate: Microwave the wafers in increments of 30 seconds, stirring each time you check. If nearly all of the chocolate has melted, then, lessen the time it is in the microwave.
Coat: Get the truffles, place each one on a fork, and dip into the melted chocolate. Once fully coated, put the piece on a plate and sprinkle immediately with the orange sprinkles.
Serve: Chill the finished products for about 20 to 30 minutes to allow the coating to set before serving.
Why do you need to heat treat the cake mix?
Heat treating kills any harmful organism that may have been in the flour mixture. It is a raw ingredient and hence, it is susceptible to pathogens.
Before using the mix in no-bake recipes like this one, it is better to heat-treat it for safety. This way, shelf life is prolonged, and the ability of the flour to absorb moisture is improved leading to a moist dough.
How do you heat treat cake mix or flour?
Follow these steps:
Preheat the oven to 350 degrees F.
Put the flour on a baking sheet lined with parchment paper. Make sure to distribute the flour evenly.
Bake for about 5 to 7 minutes, checking with a thermometer if the flour has reached 160 degrees F.
Once heated enough, remove from the oven, and let it cool completely. Do not let it burn.
Sift the flour to remove any lumps that may have formed.
How to Store Halloween Cake Balls?
You can keep the truffles in the fridge in an airtight container. They stay good for about 7 to 10 days.
You can also easily freeze them, just add to ziplock bags, in one layer, and freeze for up to 3 months. Thaw before serving.
Recipe Tips
You can melt dark chocolate just like we melted the white one, and use it to decorate the cake balls.
Likewise, you can choose to use other premade mixes with different flavors and colors.
You can add in mini chocolate chips or chopped nuts to the dough for more texture.