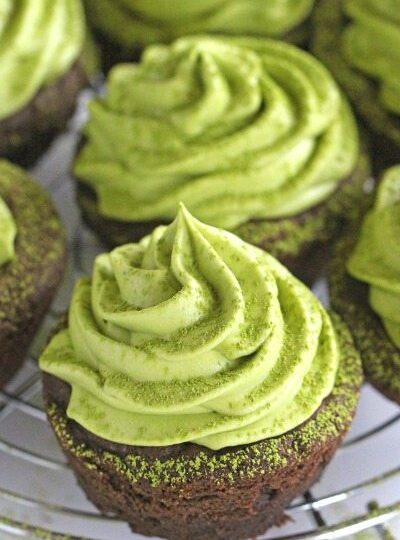 Chocolate Matcha Cookie Cups
Matcha Cookie Cups are a delightful combination of chocolate cookie cups filled with a creamy mascarpone and creme cheese matcha frosting.
I love making gorgeous and delicious cupcakes. Among my popular once are Dark Chocolate Peanut Butter Cupcakes, Best German Chocolate Cupcakes and Galaxy Cupcakes.
Chocolate Matcha Cookie Cups
Matcha Cookie Cups are an amazing combination of chocolate and matcha green tea frosting. These cookie cups look like cupcakes, but the base is made of a chocolate sugar cookie. Also, the chocolate sugar cookie is slightly pressed with a small jar right after baking, to create a well that is later filled with matcha green tea frosting. Matcha Frosting is easily made with just 5 ingredients and is luxuriously rich and creamy.
Matcha Cookie Cups Recipe Tips
For the cookie cups, make sure you spray or butter well the muffin tins. This way, the cookie cups won't stick. Additionally, an extra measure would be to sprinkle a little flour onto the muffin tins.
Similarly, I find that silicone muffin tins work best as they make cookie cu removal much easier.
Make sure you don't over bake the cookie cups. They need to have a soft center when you remove them from the oven.
After you remove the cookie cups from the oven, instantly use a small jar to create the wells. Because if you wait, the cookies will harden and you won't be able to press down the center.
If the jar you are using to create the wells sticks to the cookie cups, spray it slightly with baking spray.
I used a regular, small cinnamon powder jar, but shot glasses will also work fine to make the wells.
In addition, make sure you let the cookie cups cool as advised in the recipe. You don't want them to be too soft to crumble when removed from the muffin tins.
Be gentle when removing the cookie cups from the muffin tins. Work slowly and carefully, especially if you are NOT using a silicone muffin tin.
Also, for the matcha frosting make sure your ingredients are at room temperature. If you are making this recipe during the summer and your house is too hot, make sure the cheeses don't start to melt.
Matcha powder can be replaced with cacao and enjoy some delicious chocolate cookie cups.
The Matcha Cookie Cups are best served chilled as the frosting will soften at room temperature.
Pin This Matcha Cookie Cups Recipe to your Favorite Board