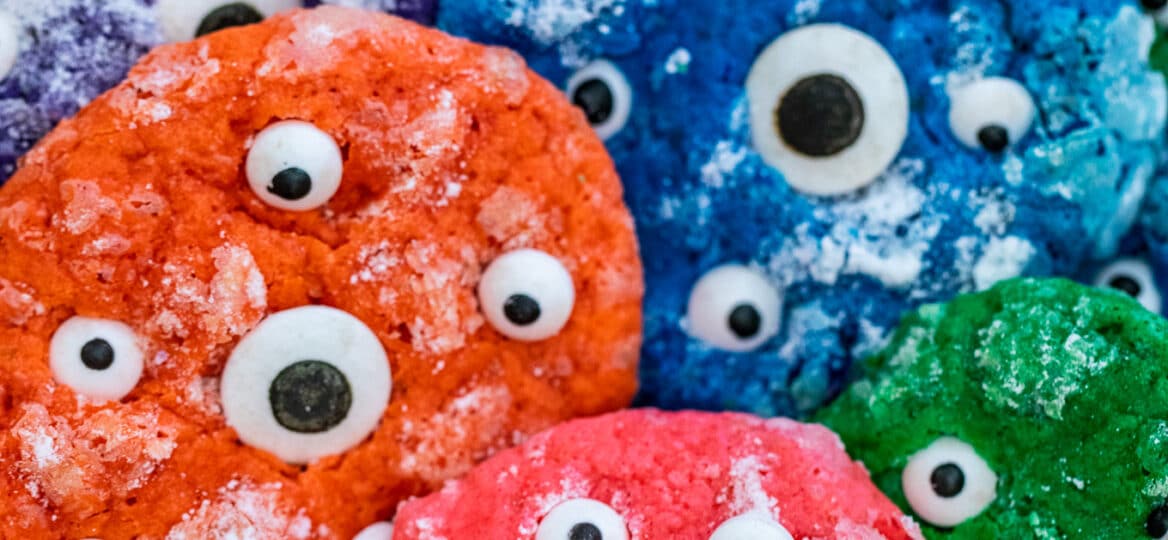 Monster Cookies are very fun to make, look colorful and are perfect for Halloween! Delicious and festive-looking, these are certified to become a crowd favorite!
Halloween is almost here! Prepare treats like this and surely, the kids will love it! Check out our other recipes, too, like the Halloween Cake Balls, Apple Snickers Cheesecake, and Bloody Halloween Desserts!
Monster Cookies Recipe
Monster Cookies are never scary, instead, they are exactly the opposite! You will be drawn to these pieces of heaven with their flavor and texture.
You can never go wrong with these especially when you are serving kids. And I have never outgrown my craving for them.
This recipe makes an incredible batch each time and so, feeding a crowd is easy. You can make many and then, stash them in the freezer for later.
You can make them in your favorite colors, and also this would be a great recipe to make with kids.
What do you need to make Monster Cookies?
Sugar: you need granulated white sugar for this
Fat: butter is a popular choice but you can replace it with shortening
Vanilla extract: acts as a flavor enhancer
Eggs: responsible for the structure and adds a little flavor
Baking soda: gives the chewy texture
Flour: you can also use gluten-free flour
Powdered Sugar: to roll the cookies into for the "cracked" effect
Gel food coloring: use your favorite colors!
Eye Candies: to decorate and make them spooky
How to make Monster Cookies:
Prepare for baking: Put parchment paper on your baking sheet for an easy clean-up later. Preheat the oven to 350 degrees Fahrenheit.
Make the dough: Combine the butter and the sugar. Then, add in the eggs and vanilla. Then, mix in the dry ingredients. Lastly, fold in the food coloring.
Scoop: Make tiny mounds of the dough using a spoon or a scooper, then, arrange them in the baking sheet while leaving enough space between each mound. They will expand during cooking, so you must leave about 2 inches of space.
Bake: Put them in the oven and bake for about 10 to 12 minutes. Add the candy eyes and cool for about 5 minutes before transferring them in the racks.
Serve: Serve them or put them in an airtight container for later.
How to decorate Monster Cookies:
When you put the dough on the baking sheet, add more chips and candies on the top. This way, you will have more visible chips and candies on the surface and not just when you chew on them.
For Halloween, you can add tiny pairs of candy eyes on them.
Can you make them in advance?
Yes! I even think that the peanut butter is more pronounced after it has cooled considerably after a day.
How to Store:
Pantry: These will last for 2 to 3 weeks stored at room temperature only. This is the best way to store them if you intend to keep them for just a few days.
Freezer: To freeze, simply put them in freezer bags, each layer separated with a liner. They will last for up to 6 or 8 months.
Recipe Tips:
If you want to bake gluten-free cookies, make sure that the other ingredients are certified gluten-free.
Be sure to have all your ingredients at room temperature so that everything mixes well.
The key to making it chewy is to slightly underbake it. Be sure to let it rest for a few more minutes on the baking sheet before transferring them onto the cooling racks.
Deliciousness to your inbox
Enjoy weekly hand picked recipes and recommendations