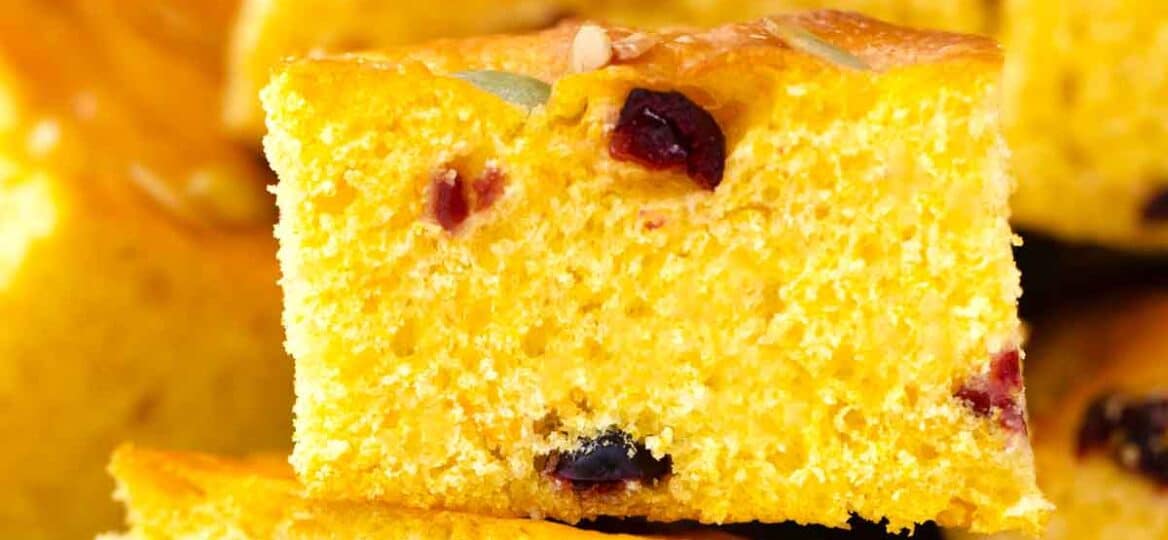 Pumpkin Focaccia with Cranberries
Pumpkin Focaccia is an easy and delicious bread with the mildly sweet flavor of pumpkin, chewy cranberries, and topped with crunchy pumpkin seeds. The outside is slightly crispy and each slice smells like heaven. It is perfect for the fall season and holidays.
Focaccia has been around for thousands of years. Historians say it was before the Roman Empire was formed that the Etruscans of Italy started making this flatbread. Others say it was in Ancient Greece during the first millennium BC that this dish came to be. However, the first ones were just unleavened flatbreads made from flour, salt, and water.
For a delicious pumpkin focaccia, you do not need many ingredients and it does not take much time. You can have everything done besides the waiting in minutes. It is the rising process that takes time. If you have pumpkin, cranberries, yeast, flour, oil, and sugar, you can make this right now and have it ready for dinner tonight.
Ingredients needed:
Each one of these ingredients is an essential part of the flavor for this loaf of pumpkin bread so be sure to read the information here before substituting or omitting anything. Of course, feel free to add your favorite flavors to make it taste just how you like it. After gathering these ingredients, scroll down to the recipe card for the details.
Canned pumpkin puree: Make sure you get pumpkin puree instead of pumpkin pie mix or your focaccia will be too sweet.

Cranberries: Dried or fresh cranberries can be used depending on your preference.
All-purpose flour: Other types of flour can be used but all-purpose flour is best for soft and tender texture.
White granulated sugar: You just need a little sugar to activate the yeast mixture.

Instant yeast: This is best to get your dough to rise faster. Active dry yeast takes about 20 minutes longer to rise than instant.

Extra virgin olive oil: If you use regular olive oil, you may get a more olive tang that you may not want for this sweet bread.
Warm water: The water should be between 110 and 115 degrees F for the yeast mixture to activate.
Kosher salt: Any kind of salt will work here.
Garnish:
Pumpkin seeds: Roasted pumpkin seeds add a crunchy coating with a scrumptious nutty flavor.
Fresh rosemary: This aromatic herb has a delicate mint taste with a bit of peppery sage. It also looks attractive.
How to make pumpkin focaccia from scratch?
Grease the pan: First, spread butter and olive oil on a 9×13-inch baking sheet.

Add to a lightly oiled bowl: Lightly oil a large mixing bowl and add salt, sugar, yeast, and flour. Whisk until it is all combined and then stir in the pumpkin. The dough should be sticky.
Add the oil and water: Then, add olive oil and warm water and stir well. After, fold in the cranberries until incorporated while making it into a ball shape.
Let it rise: Now, place the dough in your prepared pan and stretch it gently. Cover with plastic wrap and let it rise for one to two hours or until it has doubled in size.
Preheat oven: While you wait for the dough to rise, preheat your oven to 425 degrees F.

Poke and drizzle: After, poke holes in the dough with the end of a wooden spoon and drizzle with the remaining olive oil. Sprinkle with kosher salt and rosemary.

Bake until golden: Last, bake for 20 to 25 minutes or until the top is golden brown.

Garnish and serve: Finally, garnish with roasted pumpkin seeds and fresh rosemary to serve.
Recipe variations:
Another oil: You can use another oil such as avocado oil or whatever you like cooking with.
Bread flour: If you want your focaccia to be chewier, you could use bread flour instead of regular.
Spicy pumpkin focaccia: Those who like spicy food will love a teaspoon of red pepper flakes in the mix.
Different herbs and spices: Feel free to add your favorite herbs and spices like pumpkin pie spice, garlic or onion powder, thyme, parsley, oregano, and sage.
Dried fruit: Add in some dried cherries, dates, or figs for even more flavor.
Regular fruit: Instead of dried, you could add crushed pineapples, diced apples, or minced pears.

Brown sugar: A quarter cup of brown sugar will add another layer of sweetness.
How to serve:
This easy bread takes less than half an hour to cook and can be served with toppings for a meal or alone as a snack. Try one of these serving ideas or share some of your own in the comments at the bottom of the page.
Add some parmesan, romano, or any kind of cheese on top for a cheesier bread.
Brush some honey or maple syrup on your pumpkin focaccia bread to make it sweeter. Try our easy recipe for thick golden syrup.

You can also garnish with sliced red onion, sea salt, diced tomatoes, or whatever you like.
This is perfect for dinner when serving pasta with sauce. You can put it on top or serve the focaccia on the side.

Focaccia is also a good pizza crust. Since this is sweeter than most breads, top it with some brown sugar and cinnamon for a light dessert or breakfast.

Spread a spoonful of fruit preserves or our instant pot apple butter on top.
You can eat this yummy pumpkin focaccia with anything you want or just eat it plain. Try using it for French toast.
Frequently asked questions
What is focaccia bread?
Focaccia is an Italian bread made with yeast and is baked in a flat sheet pan. Unlike pizza dough, it is set out to rise before going in the oven. Unlike regular breads, focaccia is only left to rise once and is cooked for a shorter time at a higher temperature. That is what gives it such a crunchy top. The dimples are also unique, made by poking holes in the dough before cooking.
Do I have to knead the dough?
Although kneading is not necessary, you can place the dough on a well-floured surface and knead it for about three or four minutes. This will make the protein form to create more gluten. It is the gluten that helps build the texture and makes it rise more. With focaccia, you do not want it to rise as much so you can actually skip this step.
Why did my bread not rise?
There are many reasons why bread does not rise. It could be that the yeast is too weak, or you did not use enough of it. The dough could have also been over-proofed. The water may have been too cold or too hot. Your flour may be too old. Or you may have used too much salt. Salt will kill the yeast if you use too much.
How do I tell if my yeast is good?
First, dissolve sugar in a dish of warm water and mix in the yeast until it dissolves. Then, let it sit for 10 to 15 minutes. If it rises to double in size, it is good. You can also test it by putting it into a jar with sugar water and if it foams and bubbles, it is still good. It will also smell yeasty. Remember, there is always an expiration date on the package so check it before buying.
How to store leftovers:
Store: You can store your leftovers at room temperature in an airtight container or baggie for several days. If you refrigerate it, it will be good for about a week.

Freeze: To freeze, let it cool completely and then wrap it in plastic wrap. Then put it in a freezer bag and it can stay frozen for three months.

Thaw: Thaw your frozen leftovers overnight in the refrigerator for the best results.
Reheat: There is no need to reheat it but if you want it warm, you can put it in the microwave for 30 to 60 seconds.
More recipes with pumpkin:
Baking tips:
For the best results, the warm water should be between 110- and 115 degrees F.
Greasing the pan with butter is optional but helps give it a more flavorful crisp crust.
Some pans are stickier than others. If yours tends to stick, use parchment paper with butter and oil on it.
Feel free to use fresh pumpkin puree instead of canned.

It is okay if the dough does not reach the corners as it will continue to spread as it rises.
You can also use parchment paper to line the pan but drizzle oil on top.

This is a good one to start with if this is your first time making bread.

If you are looking for other recipes, we have all kinds of them on our food blog.
Pumpkin Focaccia
Ingredients
6

tablespoons

olive oil

divided

3 1/2

cups

all-purpose flour

1

packet instant yeast

or 2 ¼ teaspoons

2

teaspoons

sugar

1

teaspoon

salt

1 2/3

cups

warm water

110-115°F

1 1/2

cups

pumpkin puree

1/2

cup

dried cranberries
Garnish:
kosher salt

1

tablespoon

fresh rosemary

pumpkin seeds
Instructions
Grease a 9x13 baking sheet with butter and after that add 2 tablespoons of olive oil to the pan and spread it on the bottom.

In a large bowl, whisk together flour, yeast, sugar, and salt.

Next, add warm water and 2 tablespoons of olive oil.

Add the pumpkin and dried cranberries, and mix well to combine.

Transfer the dough to the prepared pan and stretch it to fill the pan. Lightly cover it with a kitchen towel and let it rise in a warm place for 1-2 hours or until doubled in size.

When ready to bake it, preheat the oven to 425°F.

Once the dough has risen, poke the dough all over with your finger and drizzle with the remaining olive oil.

Sprinkle with kosher salt, pumpkin seeds, and rosemary.

Remove from the oven, lightly brush it with a bit of olive oil, and let it cool before slicing and serving.