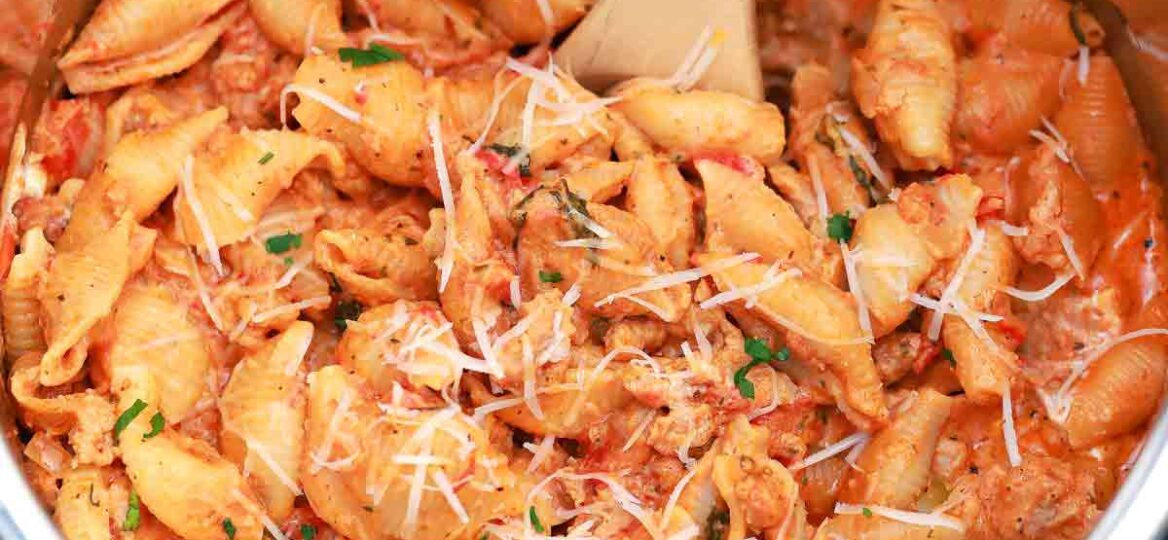 Instant Pot Spicy Sausage Pasta
Instant Pot Spicy Sausage Pasta is a flavorful medley of hearty sausage, shells, and spinach in a cheesy and spicy marinara sauce. This recipe takes only minutes to make, but tastes absolutely gourmet!
You can never have too many pasta recipes! They're perfect for everything, including quick lunches, pot lucks, date nights, you name it. Add this fantastic Chicken Carbonara, Zucchini Lasagna, and Buffalo Chicken Mac and Cheese Casserole to your recipe collection!
Instant Pot Italian Sausage and Pasta
Instant Pot Spicy Sausage Pasta is one of my all-time favorite meals. It takes less than 30 minutes to make from start to finish. And thanks to the pressure cooker, the sauce tastes like it was simmered for hours.
This dish is super cheesy, creamy, and spicy cooked with al dente pasta and chunks of hearty sausage, and tender spinach. It is seriously good, and restaurant-quality!
Better yet, this recipe is a true one-pot dish. Everything happens in the pressure cooker, from searing the meat to cooking the shells. No straining, no dirtying up another pot, no standing vigil over the stove. Go on— have a glass of wine and relax before dinner. It is ready in a few minutes, and it is super hearty and flavorful.
Instant Pot Spicy Sausage Pasta ingredients:
Butter: For sauteing and adding richness to the marinara.
Aromatics: Prepare finely-diced onion and minced garlic.
Italian sausage: You can use hot, sweet, or a combination of the two. Remove the meat from the casing.
Marinara: Use jarred marinara sauce or make from scratch.
Seasonings: I use Frank's Hot Sauce, but you can use whatever you have on hand. Prepare some sweet basil (dried), Italian seasoning, and pepper flakes.
Pasta: Small shells are great for this recipe because it cooks quickly and gets coated with the spicy creamy sauce.
Vegetables: Get some fresh baby spinach ready along with bell peppers.
Cream cheese: Makes the sauce creamy, silky, and cheesy while balancing out the spiciness.
Beef broth: You may also use homemade chicken stock or veggie broth.
How long does it take to cook pasta in the instant pot?
It depends on the variety you use. For instance, small shells will cook faster than bigger rigatoni.
But the rule of thumb is that you divide the recommended cooking time in half, then subtract a couple more minutes from that. Make sure to do a QUICK release instead of a natural release to avoid overcooking it.
How to make Instant Pot spicy sausage pasta?
Brown the meat. Turn on the Sauté function in your IP, then sauté the aromatics in butter, followed by bell peppers. Then, add the meat and sear, crumbling and stirring until it's brown but not yet fully cooked.
Add the sauce. Next, pour the marinara into the pot, followed by the stock, hot sauce, and seasonings then stir. Layer the shells on top. DON'T STIR. Just smooth out the shells so that most of it is submerged under the liquid. Pile the spinach on top.
Pressure-cook. Put the lid on, making sure the vent is set to "Sealing." Pressure cook for 6 minutes, then do a quick pressure release.
Finish the dish. Open the pot carefully. Then, add the rest of the marinara and cream cheese, stirring until the sauce is creamy and velvety.
Serve. Plate it up with some chopped parsley and fresh-shaved parmesan on top, if desired.
How to make Spicy sausage on the stovetop?
Alternatively, you can easily make this recipe on the stovetop. Follow the steps below for the stovetop version:
Boil the shells. Follow directions on the box, and drain when done. Reserve some of the starchy water.
Cook. Next, fry aromatics in butter until fragrant, followed by the bell pepper and meat until crumbled and browned. Add the marinara, seasonings, and broth. Simmer until slightly thickened. Stir in the cheese, then add the spinach and stir until wilted. Add the shells plus the starchy water and combine well.
Serve. Plate it up with some chopped parsley and fresh-shaved parmesan on top, if desired.
What kind of sausage to use?
I'm partial to hot Italian sausage because its herby flavors complement marinara so well, and I love that spicy kick. Also, if you want it mild, you can use the sweet or mixed variety instead. Other delicious options are:
Turkey or chicken sausage for a lighter protein
Andouille
Kielbasa
Smoked sausages
Can I make this Instant Pot pasta with white pasta instead of whole wheat?
Sure, but note that white pasta takes less time to cook versus whole wheat, so subtract a minute or two from the cooking time.
Aside from small shells, you can also use other white kinds of pasta like penne, rigatoni, and fusilli.
More easy Instant Pot recipes:
How to store leftovers?
Let the leftovers cool completely. Then, transfer to a tightly-sealed container and consume within 2 days if keeping in the fridge. Frozen, it can last up to a month. Thaw and microwave until hot to reheat.
Recipe tips:
Ensure to do a quick release, not a natural release, for perfectly cooked shells.
Also, don't worry if the spinach reaches the brim of the pot. It'll wilt to almost nothing as cooks.
Feel free to make it spicier by adding some crushed red pepper flakes.