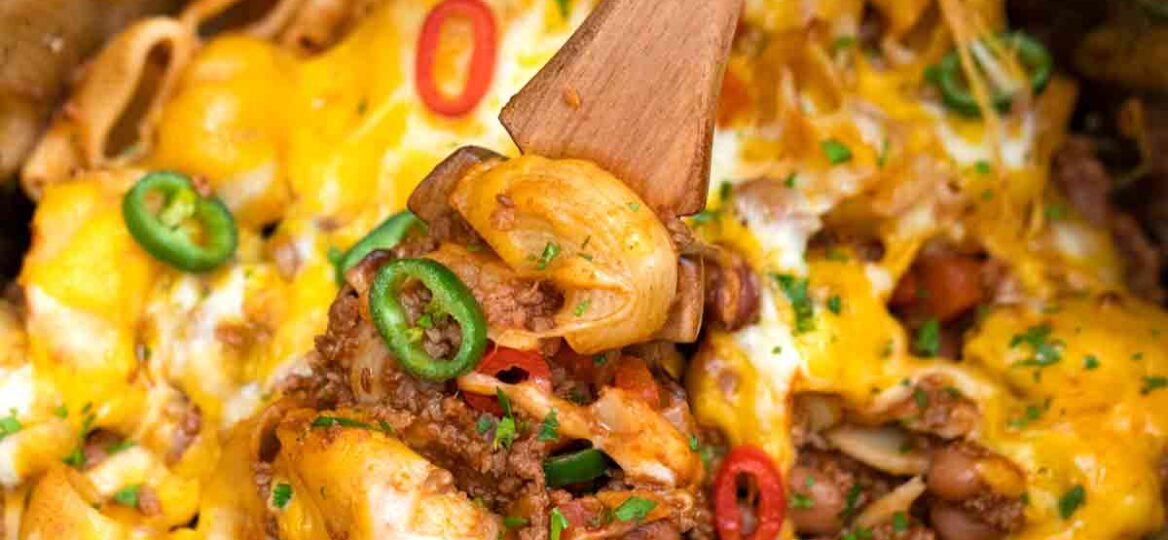 Instant Pot Chili Mac
Instant Pot Chili Mac is a great twist on the classic comfort food! This hearty and savory recipe is so easy to make that you can have it any day of the week!
Looking for more spicy recipes? Try my Spicy Bourbon Chicken and Spicy Garlic Shrimp for a fancy dinner. Check out also the addictive Korean Fried Chicken recipe that is perfectly crunchy on the outside!
Pressure Cooker Chili Mac Recipe
Instant Pot Chili Mac is one of the cheesiest foods that is packed with flavor and a hint of spice. The combination of chili and mac in one recipe is like a dream come true!
I have tried making this dish in the traditional way and while it is equally as tasty, it can be quite time-consuming. As such, I have made a simpler variation where I can enjoy it even with last-minute preparations.
This instant pot recipe is sure to make things simpler while retaining the same cheesy and spicy taste. Moreover, most of the process is hands-off so you can use the extra time to spend it with your family while waiting for it to cook in the pot.
Although it comes with a little kick, it is hearty and comforting. This nostalgic dish will sure spice up your weeknight meals or snack time.
How to make Instant Pot Chili Mac?
Sauté the veggies. Turn on the pot and set it on the sauté mode. Once hot, add oil and mix in onion, pepper, and garlic.

Brown the beef. Add the beef to the pot and stir. Wait for a few minutes until the beef turns brown.
Add the spices. To wake up the flavor, add cumin, dried oregano, cocoa powder, chili powder, smoked paprika, and salt to the mixture.
Pour the broth. Pour in the beef broth, Worcestershire sauce, tomatoes, tomato paste, and beans. Scrape the bottom of the mixture to make sure that everything is mixed well.
Add the pasta. Top with the pasta and don't stir. Put the lid on and pressure cook for 5 minutes.
Top with cheese. Once the pasta is cooked, stir well. Then transfer to a casserole top with cheese and broil.
What's the Best Cheese for Chili Mac and Cheese?
When it comes to coating your noodles, cheddar cheese is the most common choice. Yet, it is also the best considering its classic flavor and how it perfectly melts down.
You can also try Parmesan Cheese and Cream Cheese which are also great alternatives.
Can you double this recipe?
No. If you do, it will mostly fill up the instant pots. However, the recipe can already make up to 8 servings which should be good enough for the whole family.
Can you make it in a slow cooker?
Yes, you can. However, if you use a slow cooker, make sure to cook the beef in a separate pan. This will take more time in preparing your meal compared to using an Instant Pot.
More delicious Instant Pot recipes:
For more delicious pressure cooker dishes, check out some of my popular varieties:
Storing instructions:
To make use of leftovers, you can store them in the fridge for up to 5 days. Just reheat it for 3 minutes in the microwave and stir.
You can also try putting them in the freezer using a freezer-safe container or Ziploc bags. Cover it with lid and freeze. Then, sprinkle some water on top and reheat it for 5 minutes. Stir well after.
Recipe Tips:
When adding the pasta, make sure to only spread it over the top. Avoid stirring it.
To make the perfect Instant Pot Chili Mac, it is important to properly layer the ingredients in making this recipe.
Also, you can easily make this dish on the stovetop.