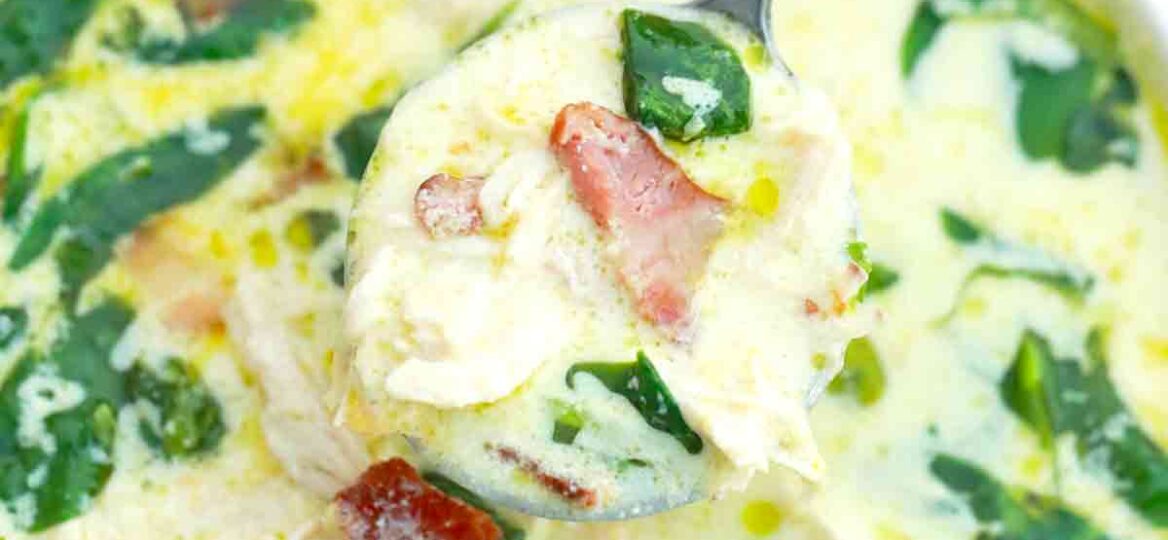 Instant Pot Cream Cheese Chicken Soup
Instant Pot Cream Cheese Chicken Soup made with cream cheese, baby spinach, ranch dressing, and bacon is the perfect recipe for lunch, dinner, or just when you crave comfort food. Your whole family will come back for seconds or thirds when you may this, so you better make plenty.
If you enjoyed this creamy chicken soup recipe, you would love our Easy Instant Pot Crack Chicken with ranch dressing and cream cheese. You could also try this Instant Pot Chicken Pot Pie Pasta recipe with egg noodles and chicken thighs. Sick of chicken? This Instant Pot Cream of Mushroom Soup is a wonderful recipe for a cold winter night.
Once you try this instant pot recipe, you may want to try another instant pot soup recipe next time like instant pot Zuppa Toscana with hot Italian sausage and parmesan.
Other pressure cooker recipes that are perfect for dinner include this instant pot orange chicken made with orange juice and white wine or our creamy instant pot risotto with arborio rice and sweet peas.
This recipe is pure comfort food, creamy, hearty, made with tender chicken, and flavored with ranch seasoning!
Ingredients needed:
Scroll down to the bottom of the page to get the instructions from our recipe card. But here are the main ingredients you need for this instant pot soup recipe:
Skinless chicken breasts: Boneless.
Cream cheese: Block style, not whipped.

Cheddar cheese: Shredded.

Chicken broth: Or chicken stock.
Baby spinach
Dry ranch seasoning mix: Store-bought or homemade.

Bacon crumbles: Freshly cooked is best but you can use bacon bits.
How to make instant pot cream cheese chicken soup?
Prepare: Pour the broth into the bottom of the pot and put the chicken onto the trivet or other insert.

Add the cheese: After, chop the cheese into small cubes and put them on top of the meat with the seasonings and cheddar cheese.
Cook: Then, close and set the pressure cooker on high pressure for 20 minutes. Cooking time may vary depending on your pot.
Quick release: After the time is up, do a quick release and then remove the chicken.
Shred: Next, shred the chicken using two forks and put it back in the pot, adding the spinach and bacon.

Stir: Last, give it a stir and let it reheat until the sauce is smooth and the spinach is wilted.

Serve: Finally, this soup is best served warm with your favorite toppings.
Recipe variations:
Slow cooker: If you want your soup to simmer all day, use a slow cooker or crock pot set on low for six to eight hours.

Add veggies: Feel free to add other veggies like green onions, black beans, chopped onion, bell pepper, and carrots.

Spice it up: For a spicier version, use chili powder, black pepper, jalapenos, or red pepper flakes.
Other flavors: Other flavors are also great in this chicken recipe such as fresh cilantro, sundried tomatoes, garlic powder, and onion powder.
Add noodles: Make cream cheese chicken noodle soup by adding egg noodles or whatever your favorite pasta is.
How to serve:
Serve this easy recipe with your favorite toppings. Or try one of these ideas:
This soup goes great on top of white rice or noodles.
Try dipping our savory beer bread in this soup for a heartier meal.

Another way to enjoy this chicken recipe is with tortilla chips.

If you have any leftover chicken, add it to a salad or casserole or another creamy soup recipe.
Instant pot creamy chicken soup goes great with cranberry orange pork tenderloin.
Frequently asked questions
Can I melt cream cheese for soup?
Absolutely! One way to do this is with a microwaved bowl. Put a microwavable bowl in the microwave by itself for 15 seconds on high heat. Then, place the unwrapped cream cheese into the heated bowl and let it sit for 30 seconds.
If it is not melted enough, you can microwave it for another 10 seconds.
If you are not in a hurry, try this easy melting idea. Put the wrapped brick of cheese in a large bowl with enough warm water to cover it.
Let it sit for 10 minutes. Check to see if it is the desired consistency. If not, add more warm water and wait another 10 minutes.
How do you add cream cheese to a soup without it curdling?
There are several good ways to add cream cheese to soup. In fact, you should do this when you add any kind of dairy product like sour cream, milk, yogurt, heavy cream, or cheese.
First, keep the soup at the lowest setting and do not boil. Chop the cheese into cubes and add it to the soup gradually, a little bit at a time, stirring constantly.
Why is my cream soup runny?
Your soup may have too much liquid in it. To fix this, add a cornstarch slurry to thicken it up. Make slurry with a one to two ratio of cornstarch to water.
For instance, you would use one teaspoon of cornstarch to two teaspoons of water. If you do not have cornstarch, you can use flour instead.
How to store leftovers:
Store: Your cream cheese chicken soup can be stored in an airtight container for up to four days in the refrigerator.

Freeze: To freeze your soup, allow it to cool completely to room temperature before pouring it into a freezer-safe container or freezer bag. It will be fine for up to three months.

Thaw: Thaw overnight in the fridge.

Reheat: To reheat, put it in a microwave-safe bowl in the microwave for one minute or on the stove in a pot for about five minutes on medium-high.
More Instant Pot recipes:
Cooking tips:
Save time and work by using rotisserie chicken in your favorite flavor.

If you do not have any fresh chicken, you can also use frozen skinless boneless chicken.
You could also use a natural release for this recipe if you are not worried about the veggies getting overcooked. Natural pressure release happens on its own if you do not open the valve for a quick release.

Cook time may vary depending on the size and style of your pressure cooker.

Use the saute mode to sear the chicken first if you like it brown.
Instant Pot Cream Cheese Chicken Soup
Ingredients
2

lbs

chicken breasts

boneless and skinless

12

oz

cream cheese

cut into cubes

1 1/2

cups

shredded cheddar cheese

4

cups

chicken broth

low-sodium

2

cups

baby spinach

1-

oz

packet dry ranch seasoning mix

8

oz

crispy bacon bits
Instructions
Add the broth to the bottom of the pressure cooker.

Add the chicken, cream cheese, cheddar cheese, and seasonings.

Pressure cook on high for 20 minutes. After that, do a 10-minute Natural Release, followed by a Quick Release.

Once the valve drops, open the instant pot, carefully remove the chicken and shred it into a plate, using two forks.

Return the shredded chicken back to the Instant Pot. Stir in with spinach and add the bacon crumbles.

Give the soup a quick stir and reheat on Saute until spinach is just wilted.

Letting the soup sit for a few minutes, it will allow the sauce to thicken.

Serve with more cheese and bacon!
Deliciousness to your inbox
Enjoy weekly hand picked recipes and recommendations