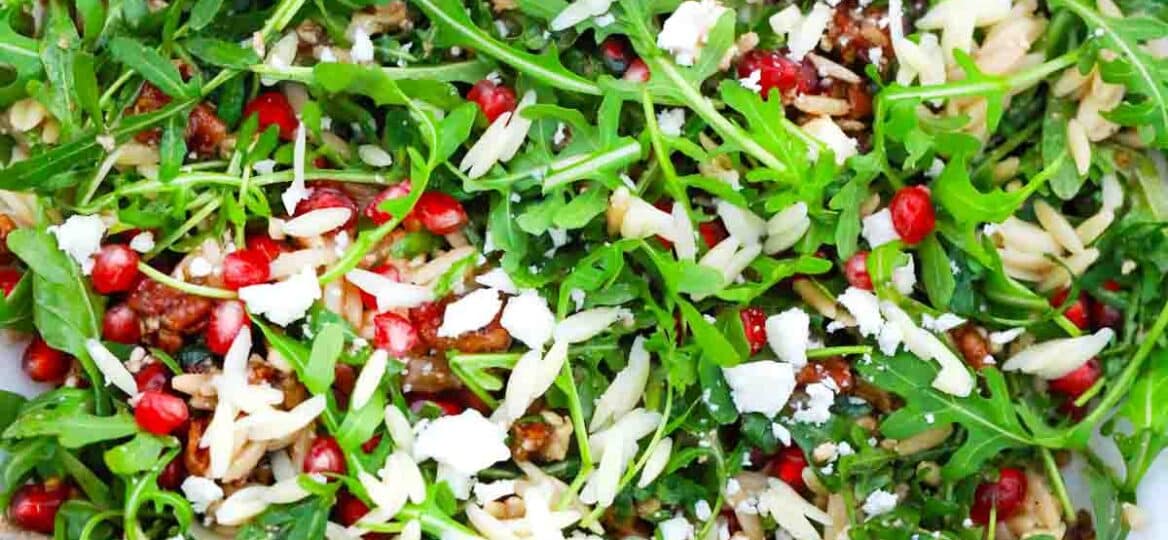 Pomegranate Orzo Salad Recipe [Video]
Pomegranate Orzo Salad is a delicious combination of orzo, arugula, pomegranate seeds, feta cheese, and candied pecans. This is a bright and colorful addition to any meal as a starter or side dish or makes it a hearty dinner by adding meat. If you love orzo, this dish is for you!
Those who like this salad may also like this delicious Pomegranate Salad made with avocado, spinach, jalapeno, and orange zest. Our Pomegranate Orange Salad is also a delicious choice. It is made from persimmons, orange juice, and crunchy almonds.
Pomegranate orzo pasta salad is the best thing that has ever happened to salad! This fantastic dish can be made for the entire crew by doubling it and adding some of your favorite veggies, nuts, meat, or fruits. Whatever you like, you can add just about anything to this tasty salad from celery and onions to raisins and grapes.
The salad is light and refreshing, made with peppery arugula, that combined great with the juicy and crunchy pomegranate seeds. Their tartness pairs well with the sweetness and crunchiness of the candied pecans and salty feta cheese.
In addition, this salad is great served as it, but it also makes the perfect bed to add some of your favorite protein, This recipe is great with chicken, shrimp, or topped with some flaky salmon.
Looking for other recipes you can fix in a hurry? Our broccoli salad with lemon poppy seed dressing, pine nuts, dried cranberries, and red onions is scrumptious and can be on the table in 15 minutes. For something a little sweeter, this arugula strawberry salad with maple syrup, pine nuts, and goat chees is perfect.
Follow us on Pinterest for more delicious recipes!
Ingredients needed:
All the ingredients you need for this pomegranate orzo pasta salad recipe are shown below. Scroll down to our recipe card for complete instructions and exact measurements when you are ready to begin preparing your salad.
Salad ingredients:
Candied pecans: Roughly chopped.
Crumbled feta cheese
Pomegranate seeds
Arugula
Orzo
Kosher salt
Freshly ground black pepper
Balsamic vinaigrette ingredients:
Balsamic vinegar
Dijon mustard
Honey
Olive oil
Minced garlic clove
Kosher salt
Ground black pepper
How to make orzo pomegranate salad from scratch?
Cook orzo: First, cook the orzo according to the package directions.
Make the dressing: In the meantime, whisk together the balsamic vinegar, dijon mustard, honey, olive oil, garlic, salt, and pepper in a small bowl.
Cool the orzo: Once the orzo is cooked remove it from the boiling water and rinse it under cold water to stop the cooking process. Keep rinsing until it is cool and then drain thoroughly.
Combine salad ingredients: Then, put the cooled orzo into a large bowl and add the pecans, crumbled feta cheese, candied pecans, pomegranate seeds, and candied pecans. Stir until well combined.
Toss salad: Lastly, pour dressing over the salad and sprinkle it with salt and pepper to taste.
Serve and eat: Garnish with fresh parsley or mint and serve immediately.
Recipe variations:
Make it a meal: For a heartier dish, toss in some meat like grilled chicken, turkey, pork, or beef.
Add fruit: Try adding some grapes, berries, apples, or mandarin oranges.
Dried cranberries: You could also try dried cranberries for a cranberry pomegranate salad.
Other cheese: Instead of feta cheese, you can try goat, gorgonzola, or blue cheese.
Less sugar: Alternatively, you could use regular pecans, almonds, or walnuts for less sugar.
Pomegranate juice: Use pomegranate juice in the dressing for an additional pomegranate flavor.
Cranberry juice: Alternatively, you could use cranberry juice for a different flavor.
How to serve:
Whether you serve this orzo pomegranate salad on its own, with a meal, or beef it up with some meat, you can make it fit any meal. Feel free to use any kind of vegetables, fruits, nuts, and meats as well as different dressings. Try one of these delicious serving ideas or share your own ideas in the comments section at the bottom of the page.
Top your salad with dry cheese like parmesan or romano for a cheesier and richer flavor.
You can pair this tasty salad with any entree. It goes perfectly with our savory beef brisket recipe or this sophisticated beef wellington.
For more protein, add some beans, split peas, chickpeas, or another legume.
Add leftovers to your favorite salad recipe or try one of ours. For example, the combinate of beets with goat cheese and pine nuts would be a splendid accompaniment.
Other great toppings for this would be sunflower kernels, pumpkin seeds, or granola.
Another kind of salad that you can add your leftovers to is this Mediterranean couscous salad filled with veggies like sun-dried tomatoes, black olives, cucumbers, and bell peppers.
For more substance, mix in some cherry tomatoes, olives, or even croutons.
Try this salad with one of our favorite dressings. This homemade Greek dressing is full of flavors like garlic, dijon mustard, and lemon zest.
Use a separate mixing bowl to make an orange vinaigrette by adding orange juice, extract, and zest. That way other guests have their choice of dressing.
Frequently asked questions
What is orzo?
Orzo, which means barley in Italian, is a tiny pasta that looks like rice. Actually, it is called pastina in Italy, which means little pasta in Italian. It is often used in soup, grain bowls, and pasta dishes like this pasta salad. It can be used hot or cold, with pasta sauce, or plain with butter.
Orzo has been around since the early 1900s but finding out where it came from is difficult because it depends on who you ask. Some say it was the Prime Minister of Israel who asked a company to come up with a wheat substitute for rice in 1953. Others say it was developed in Italy because, of course, all pasta comes from Italy, right?
How do I make candied pecans?
All you have to do is toss your pecans in a sugar mixture and roast at 325 degrees F for 10 minutes. First, cover a baking sheet with parchment paper. Toss pecans in white or brown sugar, cinnamon, and vanilla extract. Place them on the pan and bake for 10 minutes. You could also fry them in a pan for several minutes on medium-high heat.
What is arugula?
It is considered to be a salad green to most people, but it is actually not lettuce at all. It is a cruciferous vegetable like mustard greens, cabbage, and broccoli. They are small leaves from the Mediterranean with a peppery flavor that are also known as rucola, roquette, or rocket.
What are the nutrition facts in this recipe?
This dish is very healthy with just 281 calories, 14 grams of fat, and 3 grams of saturated fat. It also has 31 carbs, 11 mg of cholesterol, 210 mg of sodium, and 11 grams of sugar. But you also get 2 mg of iron, 110 mg of calcium, 5 mg of vitamin C, and 500 units of vitamin A as well as 201 mg of potassium and 7 grams of protein.
How to store leftovers:
Store: You can store your leftover orzo pomegranate salad in a Ziploc baggie or an airtight container in the fridge for three to five days.
Freeze: You can also freeze your pomegranate salad. Just put it in a freezer bag and it will stay fresh for up to four months in the freezer.
Thaw: To thaw, place frozen salad in the refrigerator overnight.
More salad recipes:
Cooking tips:
Shorten prep time by using precooked orzo pasta.
Another way to save a lot of time is to use premade salad dressing.
Refrigerate the remaining salad dressing right away. It will keep for up to 14 days.
Candied pecans can be made up to a month in advance.
Instead of orzo pasta, you could use a different small pastina like couscous or farro. You could even use quinoa.
Also, you can substitute arugula with romaine, kale, spinach, or mixed greens.
Cook orzo in chicken or beef stock for extra flavor.
To prevent the orzo from sticking, you can add a touch of olive oil. But do not add too much or the dressing will not stick.
Pomegranate Orzo Salad
Ingredients
Balsamic Vinaigrette
1/4

cup

olive oil

2

tablespoons

balsamic vinegar

1

teaspoon

Dijon mustard

2

teaspoons

honey

or more to taste

2

cloves

garlic

minced

Kosher salt and black pepper

to taste
Salad:
1

cup

orzo

dry

5

oz

arugula

1 1/2

cups

pomegranate seeds

1

cup

crumbled feta cheese

1

cup

candied pecans

roughly chopped

Kosher salt and freshly ground black pepper

to taste
Instructions
In a small bowl or jar, whisk together the balsamic vinaigrette ingredients. Set aside.

Cook the orzo according to package instructions. After that, rinse and drain under cold water. Let it drain well in a colander, stirring from time to time.

Add the cooked orzo to a large bowl. Add the rest of the salad ingredients. Or arrange arugula on a platter and layer the rest of the ingredients on top.

Pour the dressing over the salad and toss until well combined. Season with salt and pepper to taste and toss again.