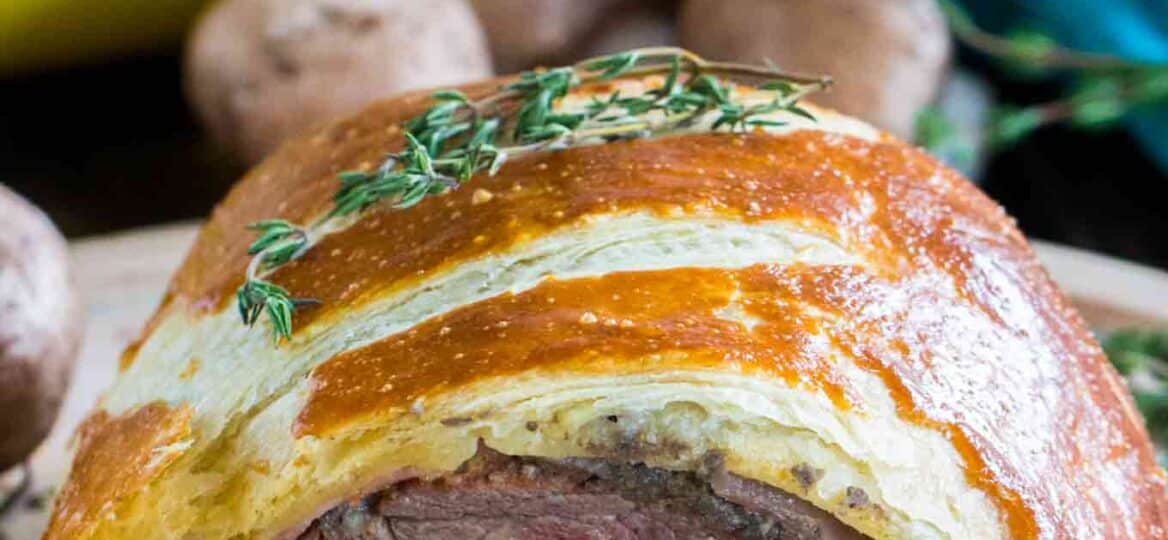 Beef Wellington Recipe with [Video]
Beef Wellington cooked perfectly while wrapped in puff pastry, ham and the most amazing mushroom duxelles made with cognac duck liver mousse pate.
We love making beef centered meals that taste delicious and are full of flavors. Among our most popular beef meals are Slow Cooker Corned Beef, Slow Cooker Beef Teriyaki, and Wine Roasted Beef Tenderloin.
Easy Beef Wellington Recipe
This Beef Wellington is such a classic and delicious recipe. The first time I had it was at a French restaurant in the heart of NYC on New Year's Eve. I ordered one, and while it cost like and an arm and a leg, it was totally worth it!
Since then, I am a fan, and love to make homemade Beef Wellington for the holidays. This one is made with Duck Liver Mousse with Cognac.
While the name sounds intimidating, and if calling it "Wellington" wasn't enough, the recipe involves more complicated wording like "mushroom duxelles", don't let all this confuse you! Making Beef Wellington is actually pretty easy.
The recipe involves a few simple steps with easy to find ingredients! So push the fear away, and start on this amazing, show-stopper meal!
Pin This Beef Wellington Recipe to your Favorite Board
Beef Wellington Recipe Tips
First, start with good meat, if you are not sure which cut to get, I recommend asking your butcher. This is a beef centered recipe, so quality is highly important.
Definitely sear the beef, don't skip this step, you want the outside to be a nice golden brown, that will add so much flavor!
Also, when making the mushroom duxelles, make sure you watch it closely and stir often. The more the moisture reduces, the higher the chance to burn the mushrooms. Stir often until paste forms.
I used regular, so to say, hot-dog mustard. I also tried this recipe with honey mustard and I loved the results.
Letting the beef cool before you cover it with mustard and the pate mixture is also very important.
To make wrapping the ham easier, get the rectangularly shaped ham slices, not the round ones.
Puff pastry must be thawed at room temperature for at least 3 hours before using it in this recipe so plan accordingly.
I like my Beef Wellington cooked medium. Mine was made with 1lb filet and it took me exactly 35 minutes to cook it. Reduce the time by 5-7 minutes if you want it less done and use an instant meat thermometer for best results.
I mixed ALEXIAN Cognac Duck Liver Mousse Pate into the mushroom duxelles. However, but you can also use their Champagne Pate or the Truffle Mousse Pate. They are also amazing on a piece of warm crusty bread, just saying!
Beef Wellington Components:
Beef tenderloin filet
Yellow mustard coating
Ham
Mushroom Duxelles
Puff Pastry
What is the Mushroom Duxelles?
It is a finely chopped, sometimes minced mixture of mushrooms sautéed in butter and reduced to a paste. Sometimes onions or shallots, and herbs are added.
Beef Wellington Recipe with Video: