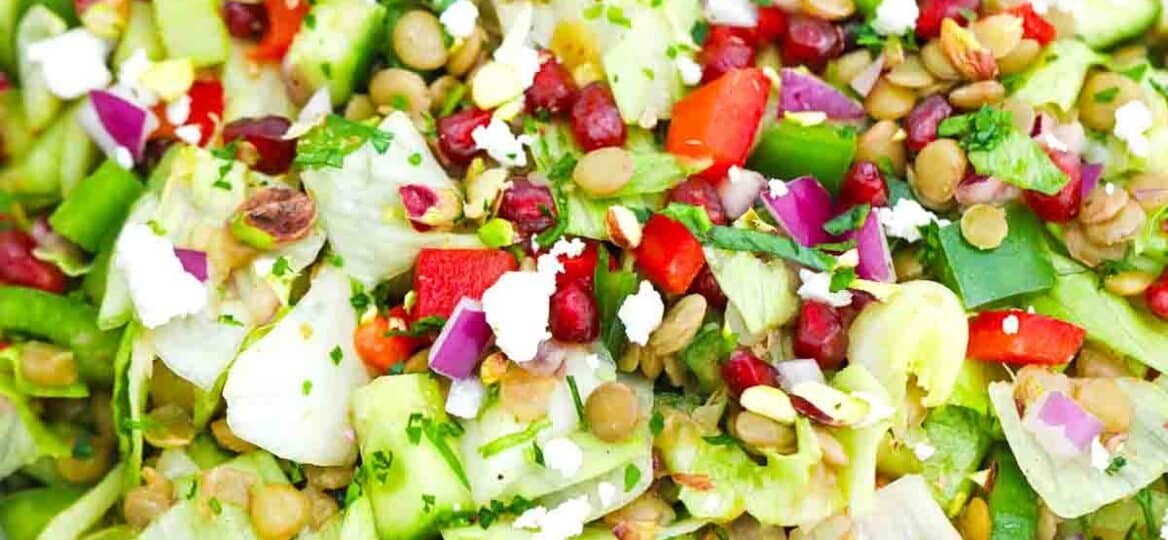 Mediterranean Lentil Salad Recipe
Mediterranean Lentil Salad is filling and hearty, made with crunchy veggies, and chewy lentils, tossed in a honey lime dressing, and topped with feta cheese. You can make this a vegan lentil salad or add feta cheese for some creaminess. Filled with crunchy veggies, hearty lentils, and fresh herbs, and topped with tangy lime dressing, this lentil salad is perfect for any Mediterranean diet.
Although this salad is similar to the original Greek salad recipe, there are some differences you should know. For example, a Greek salad uses iceberg lettuce instead of spinach. It also includes capers and cherry tomatoes but does not have pistachios, pomegranate seeds, or the main ingredient, which is lentils.
To make this Mediterranean lentil salad recipe, you will need just a handful of basic ingredients like bell peppers, spinach, celery, lentils, onion, cucumber, and parsley. Then you can add in pistachios, pomegranate seeds, feta cheese, and our homemade salad dressing. In fact, you can add or omit anything you like in this delicious salad.
Follow us on Pinterest for more delicious recipes!
Ingredients needed:
To make this delicious Mediterranean lentil salad recipe, all you need are the basic ingredients listed below. Then, when you are ready to begin, take a look at our handy printable recipe card at the bottom of the page for the exact measurements and directions.
Salad ingredients:
Green bell pepper: Chopped.
Chopped celery
Chopped pistachios
Romaine lettuce
Dry green lentils
Small red onion: Chopped.
Small English cucumber: Diced.
Chopped fresh parsley
Pomegranate seeds
Water
Kosher salt
Crumbled feta cheese: For garnish.
Honey lime sauce ingredients:
Extra virgin olive oil
Minced garlic cloves
Fresh lime juice
Honey
Ground cumin
Ground oregano
Kosher salt
Black pepper
How to make Mediterranean lentil salad from scratch?
Cook lentils: First, in a saucepan, combine lentils with water and a pinch of kosher salt. Bring it to a boil before covering and then let it cook on low heat for about 30 to 45 minutes depending on the kind of lentils you use. Check often so they do not overcook. After, drain the lentils and set them aside to cool.
Add the rest: Now, mix pomegranate seeds, parsley, lettuce, cucumbers, chopped onions, and cooked lentils together in a large bowl.
Make and drizzle dressing: Then, using a small bowl or a measuring cup, whisk the dressing ingredients together. Drizzle it on top of the salad and toss to combine before adding the feta cheese and pistachios.
Let it soak before serving: Finally, let your salad sit for a few minutes to let the flavors meld before serving with additional salt and pepper to taste.
Recipe variations:
Other greens: You can use whatever kind of greens you like instead of lettuce.
More vegetables: Add in your favorite veggies like halved cherry tomatoes, one cup of kalamata olives, artichoke hearts, chopped red onions, or whatever else you like.
Tangy salad: Pour in a tablespoon of fresh lemon juice or red wine vinegar for extra tanginess.
Dijon mustard: Add a tablespoon of Dijon mustard to the homemade dressing for an even tangier taste.
More flavor: For even more flavor, use chicken or vegetable broth instead of water.
Different cheese: Feel free to use your favorite cheese like ricotta or goat cheese.
More beans: You can make this lentil salad even better by adding more beans like pinto, navy, black, or chickpeas. Or just add more lentils.
Hearty meal: Make your salad into a hearty meal with more protein by adding meat such as grilled chicken, sliced beef, or chopped veal or turkey.
Other nuts: Feel free to use whatever nuts you like instead of pistachios.
How to serve:
This fabulous recipe is perfect for a side dish or a whole meal any time you want a salad with Mediterranean ingredients. Colorful salads like this are also great for dinner parties or a backyard barbecue. You can try one of these fun serving ideas below or share some of your own in the comments section at the bottom of the page.
Top with roasted red peppers to give your healthy salad a more robust flavor.
Instead of this dressing, feel free to use your own favorite or try this great recipe for homemade Italian dressing.
For a richer salad, sprinkle parmesan or romano cheese on top just before serving.
We have many other recipes that will work well with this Mediterranean lentil salad. Try our recipe for one-pan Mediterranean chicken made with capers, orange chunks, and kalamata olives.
You can also add some fresh mint to the top of your salad for a refreshing taste. You could also use other fresh herbs like bay leaf, thyme, or smoked paprika.
Serve on top of a bed or cooked quinoa or rice. Try this easy and delicious recipe for instant pot coconut rice.
Use leftovers in other salads or mix them into soup, casserole, or stew.
Frequently asked questions
What is the best kind of lentils for this recipe?
You will find that green lentils or black lentils work best for any kind of salad because they are firm enough to hold their shape. Other types such as red lentils or brown lentils can fall apart or become mushy during the cooking process. The main thing is to start with dry lentils and then cook them for the best flavor and texture. Canned beans will work in a pinch but for the best results, always start with fresh.
What is the difference between bell peppers?
For a sweet flavor, try using orange or red bell pepper instead of green or yellow. That is because they sweeten as they get riper, changing from green to yellow to orange, and then red. The vitamins change a little as they ripen too as capsanthin and lycopene are found in red bell peppers. However, they all have vitamins A, B6, E, and K.
What are the benefits of Mediterranean recipes?
According to a study done by Harvard University, those who eat a Mediterranean diet show an improvement in preventing heart disease, helping them age healthier, and can even increase lifespan. Also, when using this diet along with restricting calories, you can lose weight and feel healthier overall.
What makes the Mediterranean diet different?
When you compare a Mediterranean diet to an American diet, you will find that Americans eat more carbs and meat, fewer good fats, and do not eat as many nuts, grains, vegetables, and fruits. The meats in a Mediterranean diet are typically seafood or white meats rather than red and processed meats. This diet also has less sugar and more plant-based foods.
Why are my lentils mushy?
If you are using a red or brown lentil, they often get mushy during the cooking process. It is better to use black or green lentils when using them cooked. But any kind of lentil can get mushy if you cook it at too high of a temperature or cook it for too long. You want to bring your water to a simmer and then cook on low until they are just tender.
What are the nutrition facts in this recipe?
The calorie count in each serving is about 150 and it contains 7 grams of fat with 3 grams being saturated fat. It also has 9 mg cholesterol, 440 mg sodium, and 5 grams sugar. But on the good side, you also get 7 grams protein, 6 grams fiber, 5 grams unsaturated fat, 1,800 units vitamin C, 32 mg calcium, and 2 mg iron.
More amazing salad recipes to try:
How to store leftovers:
Store: You can store your leftover Mediterranean lentil salad in the fridge for several days in an airtight container.
Freeze: Freezing is not recommended.
Recipe tips:
Do your best to cut the pieces about the same size so you can taste all the flavors in every bite.
To shorten meal prep time, you can cook lentils the night before then drain and chill them until you are ready to make your salad.
Another way to speed things up is to use canned lentils and premade salad dressing.
Let your lentil salad sit for several minutes in the serving bowl to soak up the flavors of the dressing.
While cooking your lentils, make sure you add water if lentils seem too dry. They need to soak up a lot of liquid.
Make sure you get pitted kalamata olives. You do not want anyone choking on olive pits.
If you love lentils, check out our blog for other lentil recipes or different Mediterranean recipes.
Mediterranean Lentil Salad
Ingredients
1

cup

dry green lentils

or another type of lentils

1

pomegranate

1

small red onion

chopped

1

green bell pepper

seeds removed, deveined and chopped

1

red bell pepper

seeds removed, deveined and chopped

1

cup

chopped celery

1

English cucumber

chopped

4-5

cups

chopped romaine

or baby spinach

1

cup

chopped fresh parsley
Honey lime dressing:
1/4

cup

fresh lime juice

1/3

cup

extra virgin olive oil

1

tablespoon

honey

or maple syrup

1/2

teaspoon

dried oregano

1

teaspoon

ground cumin

2

cloves

garlic

minced

Salt and pepper

to taste
Garnish:
1/2

cup

crumbled feta cheese

1/3

cup

unsalted pistachios

chopped
Instructions
In a medium saucepan, add lentils and 3 cups of water, also and a pinch of kosher salt. Bring to a boil over high heat. Cover, and lower heat to medium-low. Let the mixture simmer until the lentils are fully tender, this will take 30 to 45 minutes. If the lentils seem too dry during the cooking process add more water, little by little, as needed. Drain and set aside to cool.

Prep the veggies, wash, and chop them as needed. Also, peel the pomegranate and add the arils to a bowl. Skim the membranes from the top of the water, and strain the seeds from the water.

In a large mixing bowl, combine cooked lentils with chopped veggies, herbs, lettuce, and pomegranate seeds. Give everything a gentle toss.

In a small bowl toss and whisk all the dressing ingredients. Adjust for salt and pepper as needed.

Pour the dressing over the salad and gently toss to combine.

Sprinkle feta cheese and chopped pistachios on top of the salad.

Let the flavors meld for 10 minutes before serving.