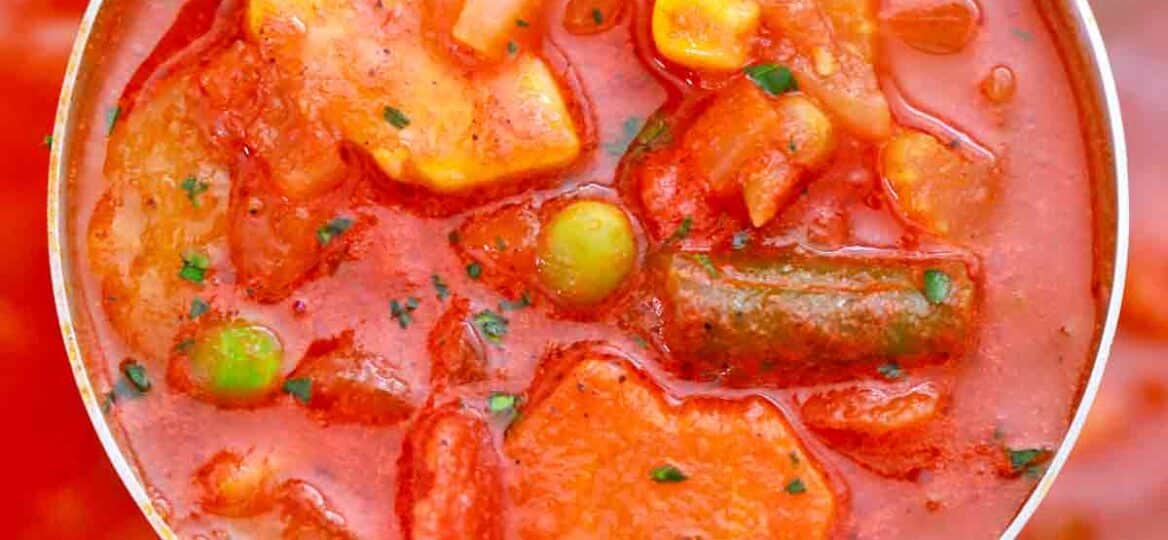 Vegetable Soup Recipe [Video]
Vegetable Soup only requires fresh vegetables, tomato-based broth, and a few seasonings for a mouthwatering meal, that is full of vitamins.
If you want to try another delicious soup, our One-Pot Cabbage Soup with zucchini and bell peppers is terrific and this Instant Pot Weight Loss Soup is perfect for shedding a few of those Covid pounds.
The great thing about this dish is that you can add just about anything you want. Add white beans or lentils for lentil soup, or you can add some jalapeno peppers for a super spicy broth.
You can make it vegetarian or vegan or add thick chunks of beef or chicken for a heartier meal. For more meat, try our Instant Pot Italian Meatball Soup with marinara sauce.
This easy vegetable soup recipe is one of those hearty soups you can enjoy on cold nights as comfort food!
In addition, it is good in the spring to use your fresh veggies from the garden for a light meal.
Follow us on Pinterest for more delicious recipes!
Ingredients needed:
This great recipe is easy to do with these simple ingredients. To see the exact measurements, scroll down to our recipe card.
Olive oil: Extra virgin olive oil for best results.
Yellow onion: Diced.
Celery stalks: Diced.
Garlic cloves: Minced.
Kosher salt: You can use any salt.
Pepper: Black pepper, coarsely ground.
Large zucchini: Peeled and diced.
Carrots: Sliced.
Corn: Fresh, frozen, or canned.
Peas: Fresh, frozen, or canned.
Green beans: Fresh green beans, chopped.
Tomatoes: Diced.
Chicken broth: Chicken stock or vegetable broth is good too.
Tomato sauce: Any kind, store-bought or homemade.
How to make vegetable soup recipe?
Sauté: First, using a large stockpot, sauté the garlic, celery, and onions, in olive oil on medium heat for four to five minutes.
Boil: Then, add the other ingredients and turn it to high heat until it boils. Then reduce to simmer for 30 minutes.
Serve: Finally, serve hot with bread or crackers.
Recipe variations:
Thicker: Use tomato paste to make your soup thick and rich.
Bay leaves: You can also add a few bay leaves as you cook but remove them afterward.
Heat it up: Use a pinch of red pepper flakes to give it a spicy kick.
Peppers: You could also add red, yellow, orange, and green bell peppers for more flavor and color.
Mediterranean: For a Mediterranean soup, add a teaspoon of curry powder.
Italian: Turn it into an Italian dish by adding Italian seasoning.

Tangy: Add a teaspoon of lemon juice or apple cider vinegar for a tangy flavor.
How to serve:
This is one of the easy recipes you can set and forget on the stove or in the crockpot. Serve piping hot with a piece of crusty bread for dipping. Here are some other ideas:
Serve with a side salad like our tangy pear salad made with Anjou or Bartlett pears.
Add some slices of fresh Roma tomatoes to the top of your veggie soup.
If you are thinking of having this as one of your main courses, it would make a nice touch with a plate of garlic bread, cheese, crackers, and some fruit for dessert.
Use leftovers as a starter for our easy instant pot minestrone soup, this delicious homemade stew, or classic chili.

Sprinkle a bit of soy sauce on top for a unique flavor.

This is also delicious with diced tomatoes and parmesan cheese on top.
Frequently asked questions
What can I add to vegetable soup for more flavor?
A bay leaf can add great flavor to your soup no matter what kind it is. Also, you can use any additional seasonal vegetables for extra flavor as well.
Alternatively, add any kind of herbs like thyme, basil, or cilantro, chunks of meat, or you could even roast the veggies first.
What are the healthiest veggies for soup?
Some of the best healthy veggies include spinach, cucumber, butternut squash, and lentils as well as broccoli, mushrooms, and split peas.
Brussels sprouts, kale, and cabbage are also a healthy addition to hearty soups.
It really depends on your personal preferences. Other good additions that are healthy include sweet potatoes, russet potatoes, leeks, or green onions.
Whatever favorite vegetables you happen to have, you can add them.
How do you thicken vegetable soup?
The easiest way to make a thick soup is to add corn starch or flour. But do not add it directly to the pot or it will clump up.
Instead, put about a quarter cup of the broth in a small bowl and let it cool completely.
Then whisk it together until it is smooth before adding it to your soup.
How to store leftovers:
Store: Once it cools to room temperature, put it in an airtight container in the fridge where it will be good for three to five days.
Freeze: Freezing is easy. Just pour into freezer bags once it cools and freeze for up to four months.

Reheat: Reheat in a pot on the stove or in the microwave.
More soup recipes:
Cooking tips:
If you do not have vegetable or chicken broth, use beef broth if you have it.

Make instant pot vegetable soup by cooking in your instant pot.
Alternatively, let it simmer all day as a slow cooker vegetable soup recipe in a crockpot.

This easy homemade vegetable soup is perfect to make a big batch ahead of time and freeze for the next time you want something warm on one of those cold nights.
You could use canned veggies if that is all you have.
Similarly, if you do not have onions or garlic cloves, you can use onion and garlic powder instead.
Vegetable Soup
Ingredients
1/4

cup

olive oil

1

medium yellow onion

diced

2

stalks celery

diced

2

cloves

garlic

minced

2 1/2

teaspoons

kosher salt

or to taste

1/4

teaspoon

coarse ground black pepper

or to taste

1

large zucchini

peeled and diced

2

medium carrots

sliced

1

cup

corn

fresh, canned or frozen

1

cup

peas

fresh or frozen

1

cup

green beans

fresh or canned - chopped

1

can

14.5oz diced tomatoes

4

cups

veggie broth

or chicken broth

2

cups

tomato sauce
Garnish:
Grated parmesan cheese

Chopped parsley
Instructions
Place a large soup pot over medium heat and add the olive oil.

Once simmering sauté the onions, celery, and garlic for about 5 minutes, or until translucent.

Add in the rest of the ingredients, stir well to combine, and bring to a boil.

Reduce to a simmer, and cook for 30 minutes.

Taste and adjust for salt and pepper.

Serve with freshly grated parmesan cheese on top and fresh parsley.