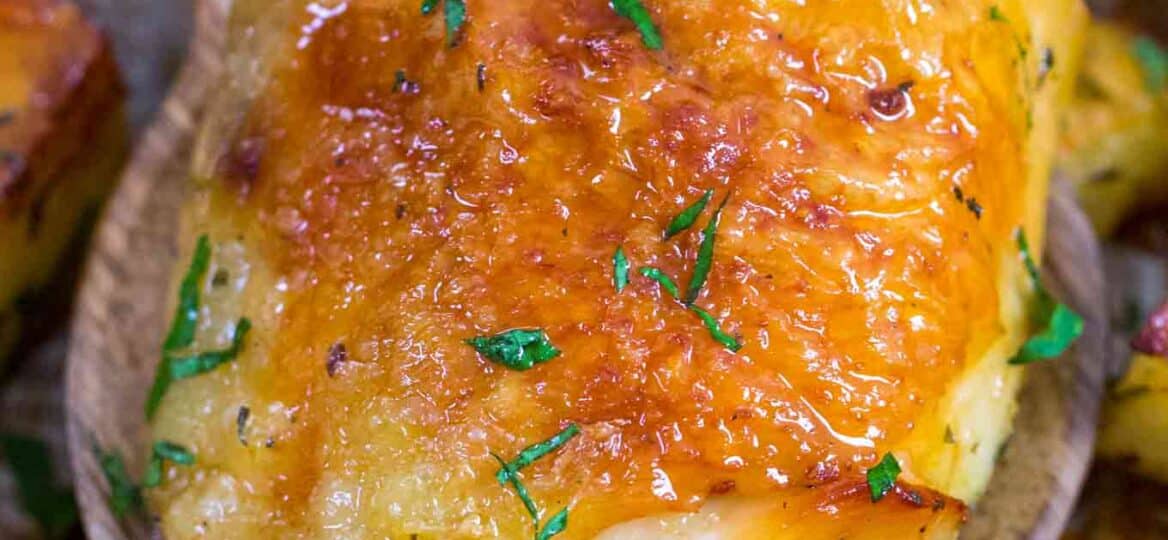 Chicken and Potatoes – 5 Ingredients Only!
Chicken and Potatoes is a very easy, one sheet pan dinner, made with just 5 ingredients. It is very simple to make, because you just throw together the seasoned chicken and potatoes in the oven for a delicious and hearty meal. The Ranch seasoning adds the perfect flavor to the crispy chicken and potatoes.
Making easy and delicious one pan chicken meals for the family to enjoy is a quest for us. We already have the popular One Pan Garlic Chicken and Rice and One Pan Mediterranean Chicken. Also, if you prefer one sheet baked potatoes, we have the perfect Crispy Roasted Rosemary Potatoes recipe.
Chicken and Potatoes
This Chicken and Potatoes is one of the easiest dishes you can make! It is full of flavor and requires just five ingredients. This meal won't break the bank, and will be a time saver during crazy weeknights. Also, the meal is full of flavors, colorful, and very tasty. The chicken is juicy and tender, while the potatoes are roasted to perfection, and pleasantly crispy.
Another reason why this recipe is a hit, is because it can be made with a variety of other ingredients. For example, you can add your favorite veggies to it, such as sweet potatoes, carrots, bell peppers, olives. Similarly, with this recipe there are no dishes to wash other than the pan and the bowl in which you mix the ingredients. Bonus points for the leftovers being delicious. The ranch seasoning combined with garlic gives this dish a rich and fragrant flavor.
Chicken and Potatoes Recipe Tips:
Start with organic chicken thighs, using high quality meat, is always the best.
For crispier potatoes, I recommend to soak them in cold water for about an hour before cocking. This will remove the starch and will result in crispier potatoes.
Also, make sure to pat dry the potatoes with paper towel after they were soaked in water, for a crisper taste.
For evenly cooked potatoes, turn them upside down after about 30 minutes of cooking.
In addition, this recipe is highly customizable. For example you can add a variety of other veggies to it, such as red bell pepper, carrots, mushrooms, zucchini or grape tomatoes, to name a few.
Follow Sweet and Savory Meals on Pinterest for more great recipes!
Pin This Easy One Sheet Pan Chicken and Potatoes Recipe to your Favorite Board
Can I make this with Chicken Breast or Chicken Drumsticks?
Absolutely. This is such an easy recipe, that you can also adjust based on your preference. You can use chicken breast or other chicken parts, it will work just as fine. It will taste delicious and it will make up for a very easy and quick dinner.
How to make crispy roasted potatoes?
If you want to make crispy oven baked potatoes, follow the tips below:
Firstly, crispy roasted potatoes are best made with a white potato as they are not too starchy: Russet, Yukon gold, red, or fingerling, are all good choices.
After you peel and cut the potatoes, soak them in cold water for about an hour. You will notice that the water starts to get whitish, that is the potato starch. If you have time, replace the water after 30 minutes, because removing the starch will result in crispier potato wedges.
Next, dry them with paper towels. Try to remove all the moisture, any extra moisture will create a steam effect in the oven.
Make sure that the oven is hot and that the potatoes are not overcrowded in the baking pan. They should be placed in one layer in the pan and with enough space in between each other.
If you are concerned about the oil that they are cooking in, you can always choose to arrange the potatoes on a rack placed onto a baking pan.
What should I bake the Chicken and Potatoes in?
What wines pair well with this dish?
A nice, fruity red wine such as Zinfandel or Syrah will pair nicely with the flavors in this chicken dish.
If you're looking for a white option, Riesling or Pinot Grigio are always great matches for chicken dishes.
Deliciousness to your inbox
Enjoy weekly hand picked recipes and recommendations