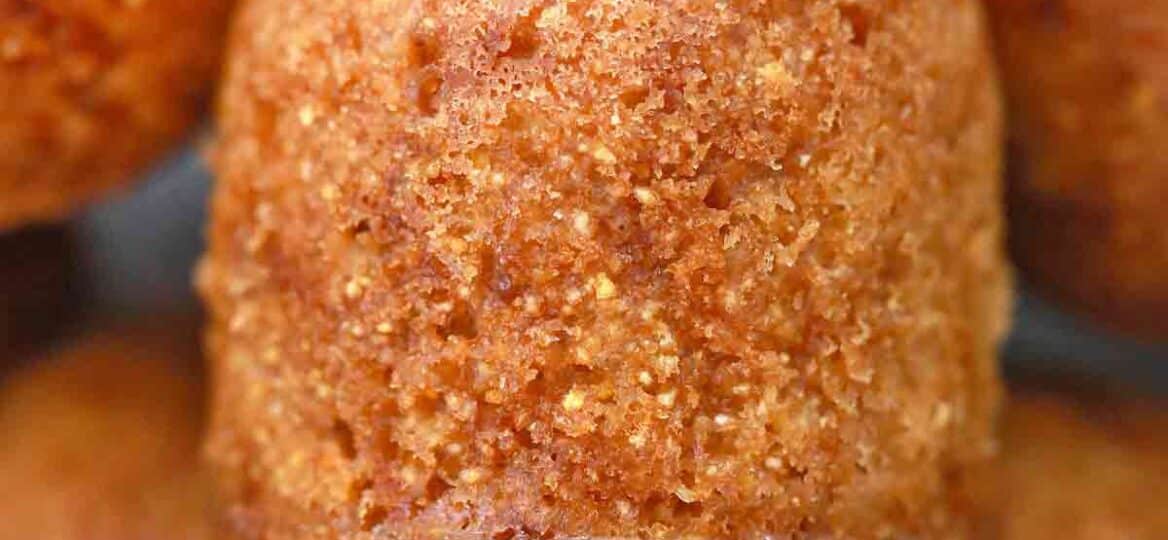 Instant Pot Corn Muffins [Video]
Instant Pot Corn Muffins are the perfect accompaniment to many dishes like stews, soups, and chili. The sweetness of the brown sugar, buttermilk, and honey blend with the cornmeal to create a distinct taste we all love.
If you cannot find your egg bite or mini muffin mold, you can still make cornbread with this easy Instant Pot Cornbread recipe. Or if you want something sweeter, make these delicious Instant Pot Chocolate Muffins. These corn muffins will go good with this savory Instant Pot Mongolian Chicken as well.
Instant Pot Muffins
You may have a hard time stopping at one when you eat these but that is okay because each instant pot cornbread muffin only has about 50 calories. This cornbread recipe is sure to become one of your family's favorites once they get a taste. And since pressure cooking them is so fast and easy, it will be your favorite as well.
Cornbread muffins go well with any dish whether it is sweet or savory because these adorable little cakes are both. Whether you want to eat them as a side dish to a main entré, a breakfast dish, or just as a snack, these corn muffins are just about perfect for anything.
Also, I love these silicone molds, they are one of my favorite instant pot accessories. Instead of baking muffins make this great side dish in the electric pressure cooker. They will be moist, tender, and unbelievably good. This will quickly become one of your Instant Pot favorite recipes.
Ingredients needed:
To get the exact measurements, scroll down to our recipe card. But here are the simple ingredients you will need to make this easy side dish:
Eggs: Use large eggs at room temperature.
Canola oil: Or vegetable oil is okay too.
Honey: Pure or homemade honey are both fine.

Brown sugar: Light or dark.
Buttermilk: You can make your own with milk and vinegar or lemon juice.
Sour cream: Whole fat is best but low fat will do.
Flour: All-purpose white flour or cake flour.
Cornmeal: Yellow cornmeal.
Cornstarch: Important for thickening.
Salt: Just a bit.
Baking powder and soda: You need both for this recipe.
Cooking oil spray: Canola, vegetable, or olive oil.
How to make instant pot corn muffins recipe?
Make the cornbread batter:
Mix: First, in a large mixing bowl mix the buttermilk, eggs, sugar, oil, honey, and sour cream in a medium bowl until it is smooth.

Combine: Next, in a larger bowl, combine the flour, cornmeal, cornstarch, salt, baking powder, and baking soda with a whisk until it is thoroughly mixed.

Blend: Then, blend the wet ingredients with the dry ingredients with a fork just until you cannot see any more flour. Do not overmix.
Wait: After, let the cornbread mixture sit for five minutes to thicken.
Spray: Last, coat the egg bite mold with oil before adding the muffin batter.
Cook the sweet cornbread muffins:
Get ready: To start, put the trivet into your instant pot and add one cup of cold water to the bottom.

Place: Immediately, cover the mold with foil and put it into the pot on top of the trivet.

Close: Next, close and lock the lid of the pot.

Seal: After that, be sure to turn the vent to the sealing position.

Cook: Depending on your pressure cooker, use the arrow buttons or press the pressure cooker button to set the cooking time to 10 minutes using the default high pressure. It will usually come to full pressure after about 5 to 7 minutes.
Release: After it beeps, do a natural release for 5 minutes and after that do a quick release of the remaining pressure, which takes about two minutes.

Remove: Finally, carefully remove the mold and let them cool for a few minutes before removing the muffins from the mold.
Recipe variations:
Add corn: Alternatively, add sweet corn kernels or cream-style corn to the mix.

As an alternative, use a jiffy corn muffin mix to make these instant pot cornbread muffins.

More sugar: Make the muffins sweeter by adding white sugar or maple syrup.

Sugar-free: For those who cannot use sugar, a sugar substitute instead of brown sugar will work.

Bacon: Everyone loves bacon so why not add some chopped bacon into the mix.

Add-ins: Similarly, adding blueberries, blackberries, or strawberries would also be fantastic.

As an option for a savory version mix in green chiles, cheddar cheese.

Pumpkin: For a Thanksgiving twist, add some pumpkin to your mix.
Pan: Instead of a muffin mold use a small bundt pan or springform pan to make southern-style cornbread.
How to serve:
Serve these tiny treats with butter or drizzled with honey. Or try one of these suggestions:
Frequently asked questions
What can I use instead of cornmeal?
If you are out of cornmeal and don't want to run to the grocery store, there are several choices for a replacement. Some of the best ideas are corn grits, semolina, ground oats, or breadcrumbs.
If you do not have any of those, try using tapioca starch, wheat flour, or rice flour.
What are some good substitutes for eggs?
If you are making this or any other recipe that calls for eggs, it is fine to use mayonnaise as a substitute. Just use three tablespoons of mayo for each egg the recipe calls for. Similarly, try using ¼ cup of sour cream or yogurt per egg.
Another good sub to use is one tablespoon of vinegar and a teaspoon of baking soda for each egg. Or you can use buttermilk if you have any of that. About ¼ cup buttermilk in place of each egg.
And if you want to add a fruit flavor, use ¼ cup of applesauce or mashed bananas for each egg.
What is the pot in pot method?
Also known as PiP, the pot in pot method of cooking in the instant pot is when you use a different dish, pan, or another container inside the instant pot. For example, with this recipe you will be using the silicone egg bites mold on top of the trivet.
You just have to remember to add at least one cup of water at the bottom of the cooker.
How to store leftovers:
Store: You can store these at room temperature for three days or in the fridge for up to five days in an airtight container.
Freeze: Use a freezer bag to save these muffins for up to three months in the freezer.

Thaw: Let them thaw overnight before serving or heat in the microwave or oven.
More Instant Pot Recipes:
Cooking tips:
To make the whole batch at one time, stack them by putting a few mason jar lids on top of the first mold and covering them with foil before placing the next mold. This will prevent the bottom muffins from getting squished by the top mold.
Be sure to add water to the bottom of the cooker or it will give you that dreaded "burn notice" signal.
Do not overmix or the muffins will be crumbly.

Add extra buttermilk for fluffier muffins.
Instant Pot Corn Muffins
Ingredients
2

large eggs

1/4

cup

canola oil

1/4

cup

honey

1/4

cup

brown sugar

1/2

cup

buttermilk

1/2

cup

sour cream

1

cup

all-purpose flour

1

cup

yellow cornmeal

1

tablespoon

cornstarch

1/2

teaspoon

salt

1

teaspoon

baking powder

1/2

teaspoon

baking soda

Oil spray
Instructions
Make the batter:
In a medium mixing bowl, whisk together the eggs, sugar, oil, honey, sour cream and buttermilk until smooth snf combined.

In a large bowl, stir together the flour, yellow cornmeal, cornstarch, salt, baking powder, and baking soda.

Pour the wet ingredients into the dry ingredients and lightly mix with a fork or a spatula just until just combined. Do not over-mix.

Let the batter stand for 5-10 minutes to thicken.

Spray the silicone molds with oil spray really well and evenly divide the batter. Cover with the lid or aluminum foil.
Pressure Cook:
Place the trivet inside the Instant Pot.

Pour 1 cup of water at the bottom of the pot.

Place the filled mould onto the trivet. Also, you can stack two moulds together. For that, add a few mason jar lid rings on the bottom mould, then cover with foil. And add the second mould on top. The rings will help the top mould not to squish the bottom mould.

Close and lock the lid, turn the vent to the sealing position.

Pressure cook on high for 10 minutes. Once the Instant Pot beeps that the cooking is done, do a 5-minute Natural Pressure release, and after that Quick Release the remaining pressure.

Carefully open the pot and remove the mold. Let cool for a few minutes, then transfer the muffins to a serving plate.
Deliciousness to your inbox
Enjoy weekly hand picked recipes and recommendations