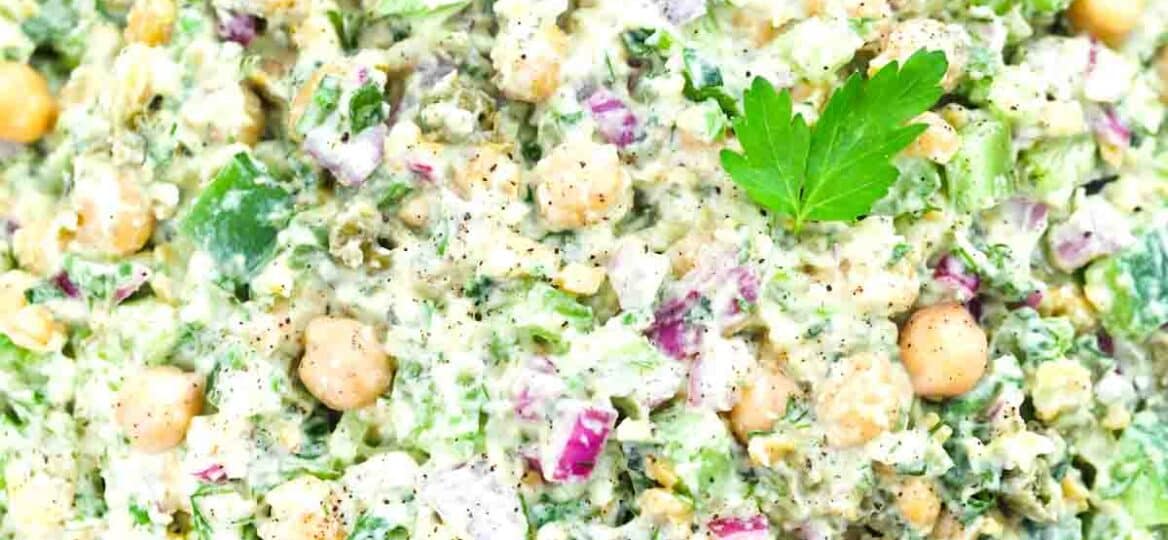 Smashed Chickpea Salad is a creamy blend of earthy chickpeas and avocado mixed with crunchy vegetables and lots of fresh herbs. You can use it as an open-faced sandwich, lettuce wrap, or even a side salad at dinner. In fact, if you add some meat or more veggies, you can turn it into a hearty meal. It is a good recipe for making during the summer when you do not want to use your oven.
If you think this sounds delish, we have more chickpea recipes you can try like this Easy Chickpea Salad made with feta cheese, cherry tomatoes, garbanzo beans, cilantro, onions, and English cucumbers. Then dress it with our homemade lemon and red wine vinegar salad dressing. For a sweeter salad, try this Arugula Strawberry Salad recipe made from fresh strawberries, goat cheese, walnuts, pine nuts, and avocados with balsamic vinaigrette.
The chickpea originated in Turkey, probably somewhere in the southeast. There are four areas that are known for the first chickpea recipes including India, Central Asia, the Mediterranean, and Ethiopia. Chickpea salad, which is also called hummus salad, is commonly made with cumin, olive oil, salt, tahini, garlic, and lemon juice.
For this mashed chickpea salad recipe, all you need are a few ingredients including avocados, red onions, celery, dill, parsley, mint, and basil as well as green onions, capers, and green bell peppers. You will also need olive oil, lemon juice, salt, and pepper.
Are you looking for more sandwich recipes? Try our absolutely delicious creamy avocado egg salad. Made with Greek yogurt, mayo, stone-ground mustard, and dill, this egg salad is uniquely yummy. This curry chicken salad is also amazing with so much flavor from the red onion, celery, cashews, raisins, and carrots.
Follow us on Pinterest for more delicious recipes!
Ingredients needed:
All you need to make this smashed chickpea salad recipe are some fresh veggies and herbs. Then, scroll down to find our recipe card at the bottom of the page with the instructions and measurements.
Canned chickpeas: Rinsed and drained.

Ripe avocado
Chopped celery
Finely chopped red onion
Chopped green bell peppers
Chopped green onions
Capers
Fresh lemon juice
Red wine vinegar
Olive oil
Fresh chopped basil
Fresh chopped mint
Chopped fresh parsley
Fresh dill
Kosher salt
Freshly ground black pepper
How to make smashed chickpea salad from scratch?
Smash the chickpeas and avocado: To begin, use a fork or potato masher to smash the chickpeas and avocado together.

Add the rest of the ingredients: Then, stir the fresh herbs, diced celery, bell pepper, and onions into the mashed avocado and chickpea mixture. Make sure everything is completely mixed together.

Season your salad: After, add salt and pepper to taste.

Serve: Finally, serve with your favorite veggies on the side.
Recipe variations:
Vegan salad: Use vegan mayo if you would like to make a vegan chickpea salad.

Hummus: You can substitute the mayo with spicy hummus for a bit of tang.
Spicier: For an even spicier salad, add some spicy mustard to the mashed chickpeas.

Hot stuff: If you really love spicy food, add a 1/2 teaspoon of red pepper flakes.

More flavor: If you want to add even more flavor, try a dash of garlic powder. Or use minced garlic for an intense garlic taste.
Pickled: Instead of regular red onion, use pickled red onions for a really tangy and zesty salad.

Another citrus: Similarly, you could use another citrus like grapefruit or lime juice instead of lemon.
How to serve:
This healthy recipe is ready in minutes and can be served on a sandwich or a dip for the big game. It also makes the perfect party appetizer. Try one of these awesome serving ideas or you can share some of your own serving suggestions in the comments section at the bottom of the page.
Why not make chickpea salad sandwiches? If you have never had a smashed chickpea salad sandwich, you need to try it. Add a scoop of this delicious chickpea salad to your favorite toasted bread and there you have it! It is just like tuna salad or chicken salad only better, and much healthier.
Another sandwich idea is to add a few slices of fresh tomatoes to your toasted bread first.
A lettuce wrap is also the perfect lunch idea or light dinner.

For a sweeter sandwich, spread some Dijon mustard on the bread before adding the chickpea salad. Or try our easy recipe for honey mustard sauce.
Top this yummy salad with pickle relish and chopped tomatoes for a refreshing touch.

Serve with a large bowl of some kind of chips for dipping. We suggest tortilla or pita chips. You could also try our air fryer veggie chips.
Add a dollop of this salad to a bed of lettuce or baby spinach.
Frequently asked questions
Is it chick peas or chickpeas?
The most common way of spelling it is chickpeas. They are also known as garbanzo beans. This name makes more sense because chickpeas are actually beans or legumes like lentils. But legumes can also be considered peas. They are actually pulses. The pea pod is a legume but the small pea inside is called a pulse.
Are chickpeas gluten free?
Yes, you can use chickpeas in many gluten free recipes like this salad as well as chickpea stew, waffles, or tortillas. You can mash or grind them up to use in place of wheat and other grains to make bread and other savory dishes. Using chickpeas instead of barley, rye, and oats also works in many delicious recipes.
Why are my chickpeas mushy?
Any kind of chickpea recipe can become mushy if you add too much liquid. For instance, if you were to use more than the recommended amount of lemon juice, this salad may turn out watery or mushy. To fix your soggy chickpeas, put them on a baking sheet and roast them or mash them and make soup or hummus.
What are the nutrition facts in this recipe?
Chickpea salad is a healthy choice. Each serving has 235 calories, 14 grams fat, and 2 grams saturated fat. It also has 500 mg sodium, 27 carbs, and 3 grams sugar. But you also get 7 grams monounsaturated fat, 3 grams of polyunsaturated fat, 10 grams protein, 9 grams fiber, 465 mg potassium, and 3 mg iron. There are also 60 mg calcium, 39 mg vitamin C, and 540 units vitamin A.
How to store leftovers:
Store: You can store your leftover smashed chickpea salad in an airtight container in the fridge for three to four days.

Freeze: If you cannot finish your smashed chickpeas in a few days, you can freeze them in a freezer bag or another freezer-safe container for up to 90 days.

Thaw: For the best results, thaw in the fridge overnight before serving.
More salad recipes to try:
Recipe tips:
Use a food processor to mash your chickpeas and avocado for faster results.

You can adjust seasonings or add different ones if you like.

If you are not a fan of mayo, feel free to use plain yogurt.

Trying to watch your carb intake? Serve as lettuce wrap instead of using bread for a sandwich.

Feel free to substitute the green onions with diced shallot.

You could literally eat this all in one setting for lunch or dinner.

Because chickpeas alone are quite bland, you can flavor them with anything you like. Make them sweet, savory, or spicy with whatever herbs and spices you enjoy.
This recipe is wonderful for those on a diet or who have gluten allergies.
Smashed Chickpea Salad
Ingredients
2

15oz cans

chickpeas

drained and rinsed

2

avocado

ripe

1

red onion

finely chopped

1

large celery stalk

cleaned and finely chopped

1/4

cup

fresh dill

chopped

2

tablespoons

fresh parsley

chopped

2

tablespoons

fresh mint

chopped

2

tablespoons

fresh basil

chopped

2

tablespoons

fresh green onions

chopped

2

tablespoons

capers

2

teaspoons

red wine vinegar

1

green bell pepper

chopped

1

tablespoon

lemon juice

2

tablespoons

olive oil

Salt and freshly ground black pepper

to taste
Instructions
Slice the avocados in half, remove and discard the seed, and scoop the flesh into a large bowl.

Add the chickpeas to the bowl, and use a fork to mash the two together.

After that, chop the veggies and the fresh herbs and add them to the bowl.

Stir in the remaining ingredients and season with salt and pepper to taste.

Serve as a salad or sandwich.