Perfect Slow Cooker Chili Recipe
Slow Cooker Chili is so rich flavorful that it quickly became our family favorite dish. It is easy to prepare and packed with proteins, making it the best crockpot chili recipe.
This dish is the perfect comfort food that is packed with tons of flavors. You can enjoy it with some baked potatoes, fried chicken, or crispy rosemary potatoes.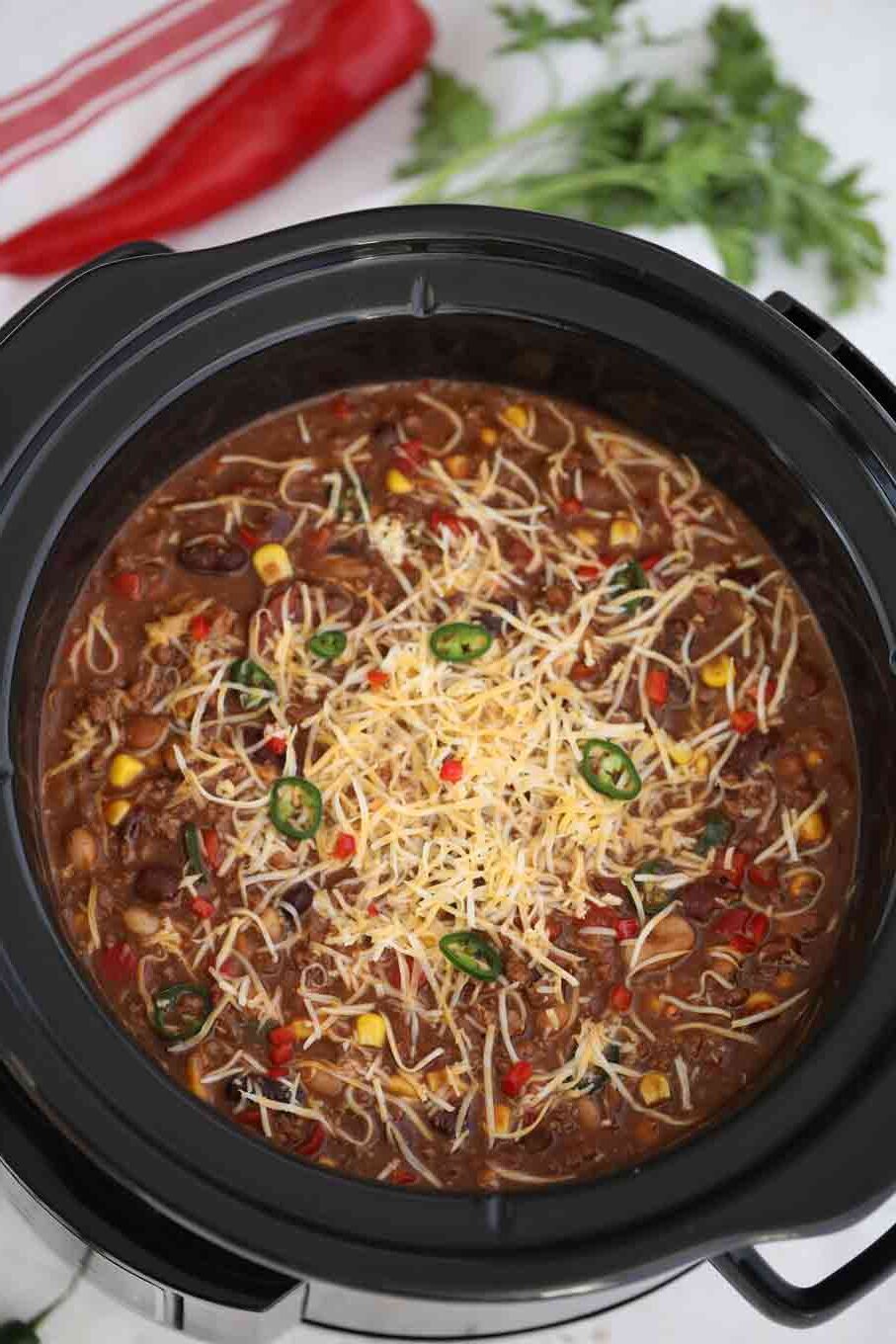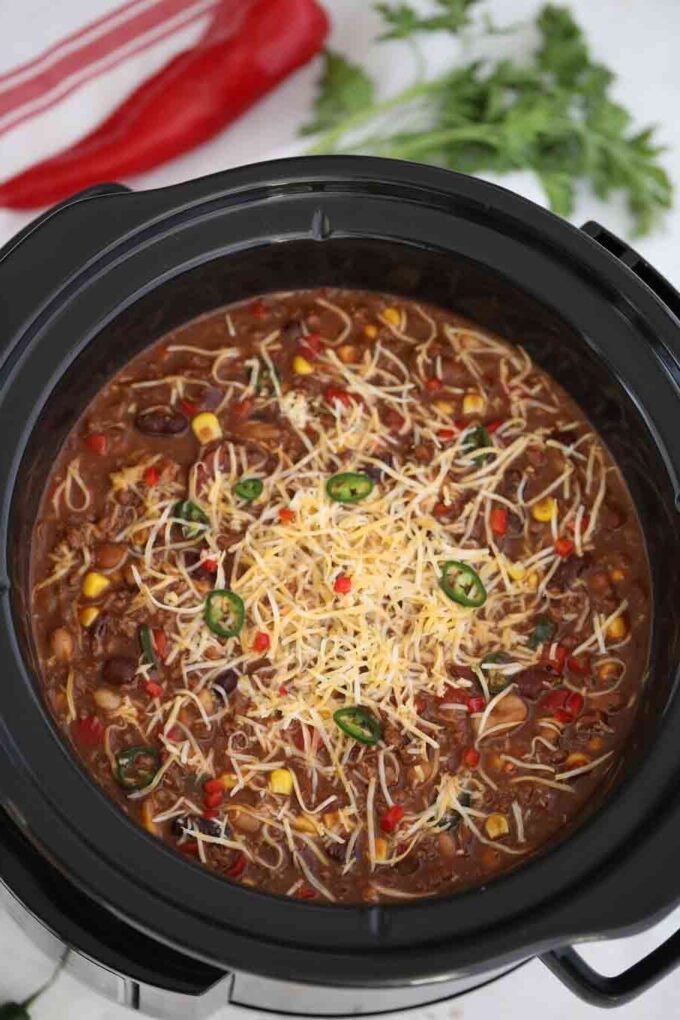 The Best Slow Cooker Chili Recipe
We love making chili, and it is actually one of our favorite foods to make. We also think that the Slow Cooker Chili method is the best one, as it results in such a deep and flavorful dish. It slowly cooks for about 6 hours, which makes the beef super tender with rich texture, and the beans creamy and delicious. Also, it is super easy to make, and the perfect comfort food dish.
You can throw everything in the morning and have a wonderful chili dinner that night. In addition, we like our chili to be pretty thick, therefore we try to use a bit less liquid. However, if you like it runnier, we would suggest adding more tomato sauce or broth.
Also, feel free to adjust the spiciness in it. So if you want a spicier kick, add in more chili powder, or some crushed red pepper flakes. This dish is ideal for family dinner, larger gathering, or game day. And of course, leftovers are delicious, and it tastes even better the next day!
HOW TO MAKE Slow Cooker CHILI?
This Crock Pot Chili is very simple and one of the easiest recipes to make. Once you have all the ingredients ready, you are pretty much set!
Start by sauteing onion and garlic and add to the slow cooker.
Then, brown the ground beef and also add it to the pot.
Once the beef is cooked, add all of the remaining ingredients to the crockpot and cook.
Serve into individual bowls and top with your favorite toppings.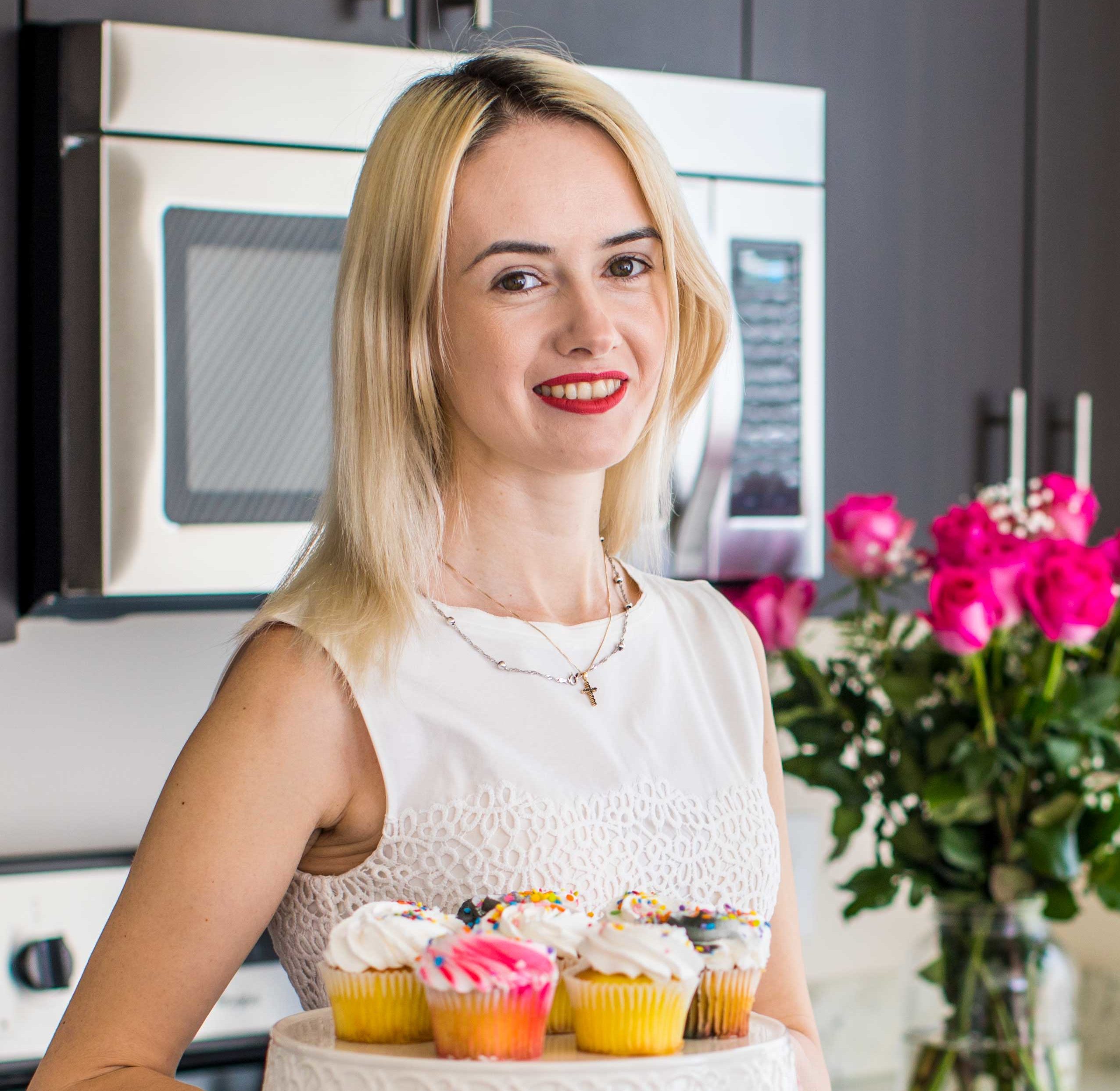 Follow us on Pinterest for more delicious recipes!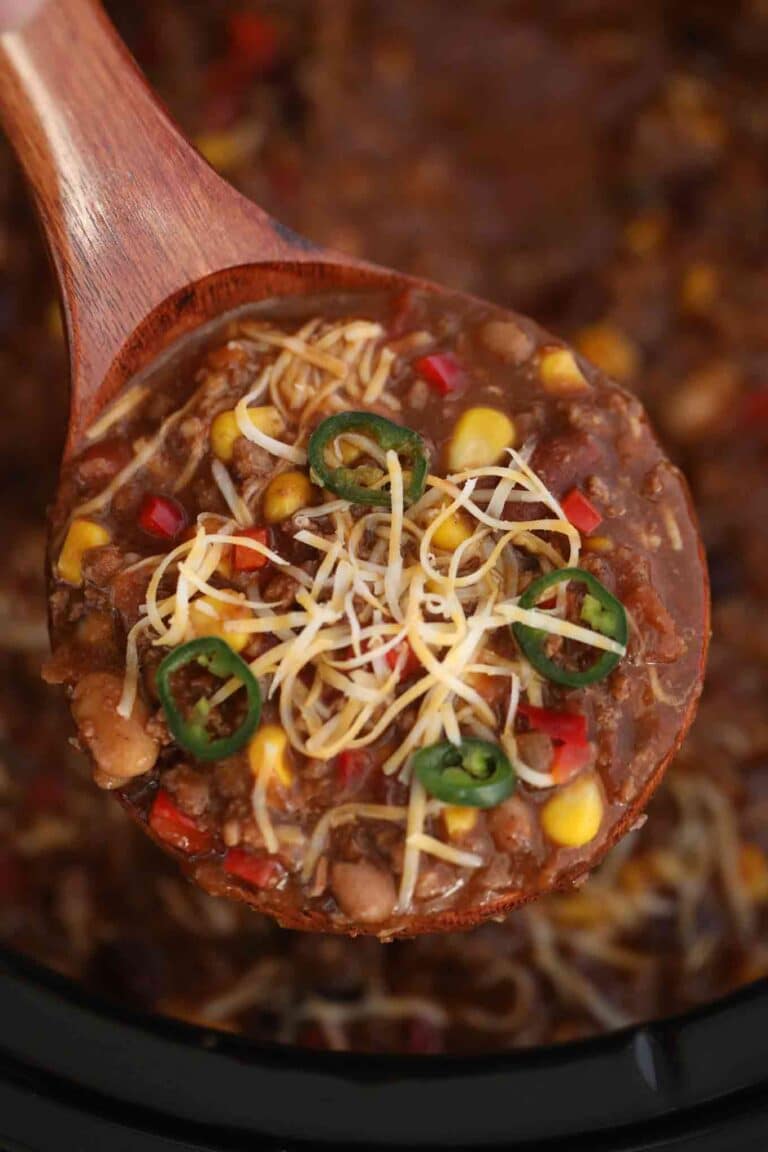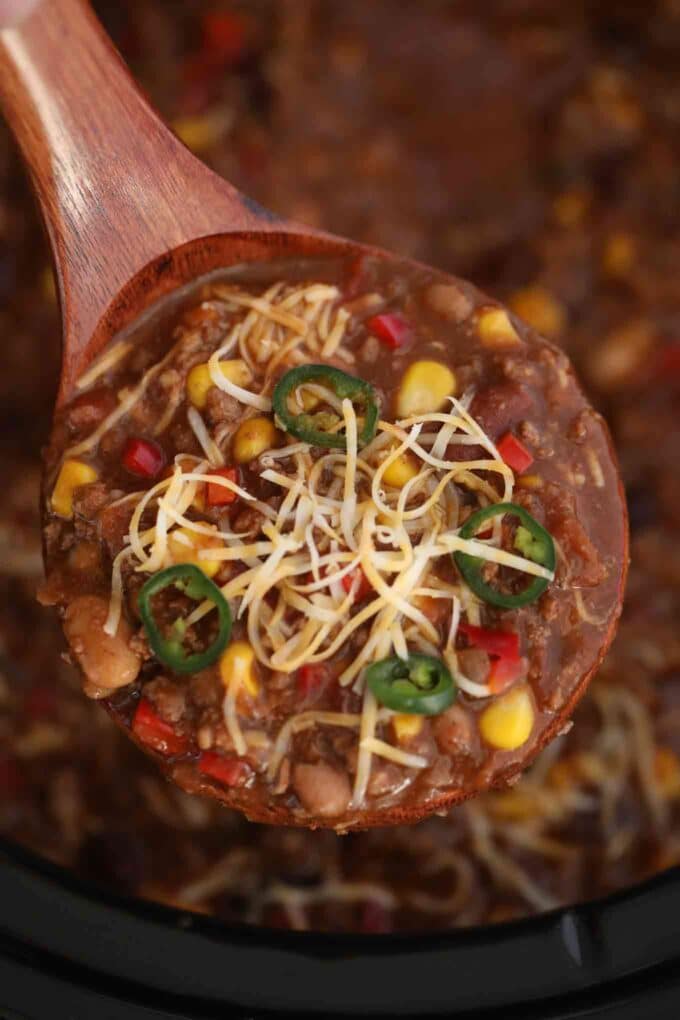 HOW LONG DOES IT TAKE TO COOK CHILI IN THE SLOW COOKER?
The convenience of this recipe is that you can put the ingredients in the crockpot and cook pretty much all day long. We love cooking it on LOW, this way it is denser, richer, and more flavorful. It should be cooked on low for at least 4 hours, but for best results, we recommend cooking it for 6 hours.
WHAT TOPPINGS DO YOU PUT ON CHILI?
Some of our favorites are listed below:
Shredded cheese
Sour cream
Tortilla chips
Diced avocados
Diced tomatoes
Sliced green onions
Sliced cilantro
Jalapeno slices
Lime wedge
Bacon
Can I Make This Chili recipe in an Instant Pot?
Absolutely. You can check out the Instant Pot Chili recipe here.
Can I Make This Chili on the Stovetop?
If you don't have a slow cooker this can also easily be made on the stove top. We do have the stovetop version on our blog as well and can be accessed by clicking here.
Can I Freeze Slow Cooker Chili?
Yes, this dish freezes really well and also reheats great. We like to freeze it in small batches or portion size, this way we simply pack it to our son school lunch. Before freezing, ensure that the chili is completely cooled. Then transfer into a freezer bag and store in the freezer for up to 3 months.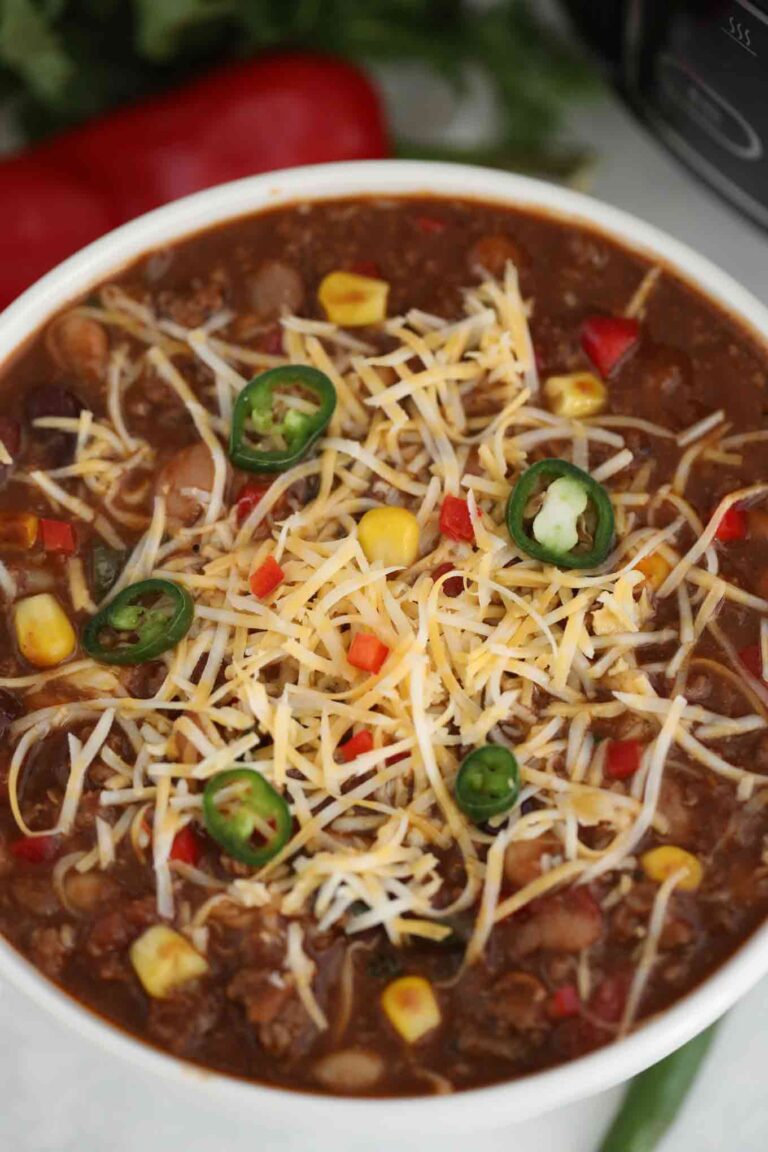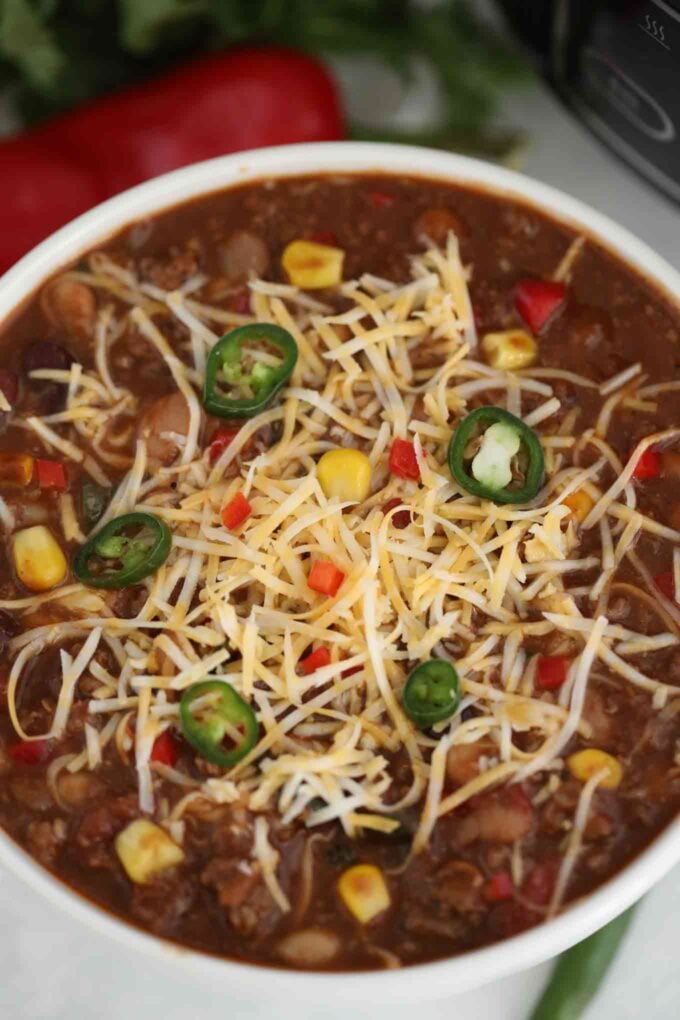 Slow Cooker Chili Recipe Tips
To make it spicier, add a seeded jalapeno or two along with the veggies.
Also, for a vegetarian version, skip the beef altogether.
We like to use pinto or kidney beans, but you can use any kind you like. Kidney beans are great because they hold up well even in the slow cooker when cooked for a longer period.
Ensure the dish is completely cooled before storing in the fridge or freezer.
We only use 1/2 cup of beef broth because we love the chili to be thick. However, you can adjust the thickness by using more liquid such as extra beef broth, or tomato sauce.
In addition, for a thicker texture and a deeper beef flavor, you could substitute the broth with a spoonful of beef base.
TOOLS USED IN MAKING THIS SLOW COOKER CHILI:
Slow Cooker: We have a 7-Quart version because it is a little bit bigger, but you can use a smaller version as well.
Cast Iron Skillet: To brown the beef and to saute the onions, we highly recommend doing it in a cast iron skillet.
Save Recipe
Best EVER Slow Cooker Chili
Author: Catalina Castravet
Serves: 8 servings
Prep time:

15

minutes
Cook time:

6

hours
Total time:

6

hrs

15

mins
Nutrition information
Calories: 313 Carbohydrates: 27 Protein: 32 Fat: 9 Saturated Fat: 3 Cholesterol: 70 Sodium: 1065 Potassium: 1160 Fiber: 6 Sugar: 8 Vitamin A: 935 Vitamin C: 11.6 Calcium: 120 Iron: 7.7
Save Recipe
More recipes you might love
Categories: