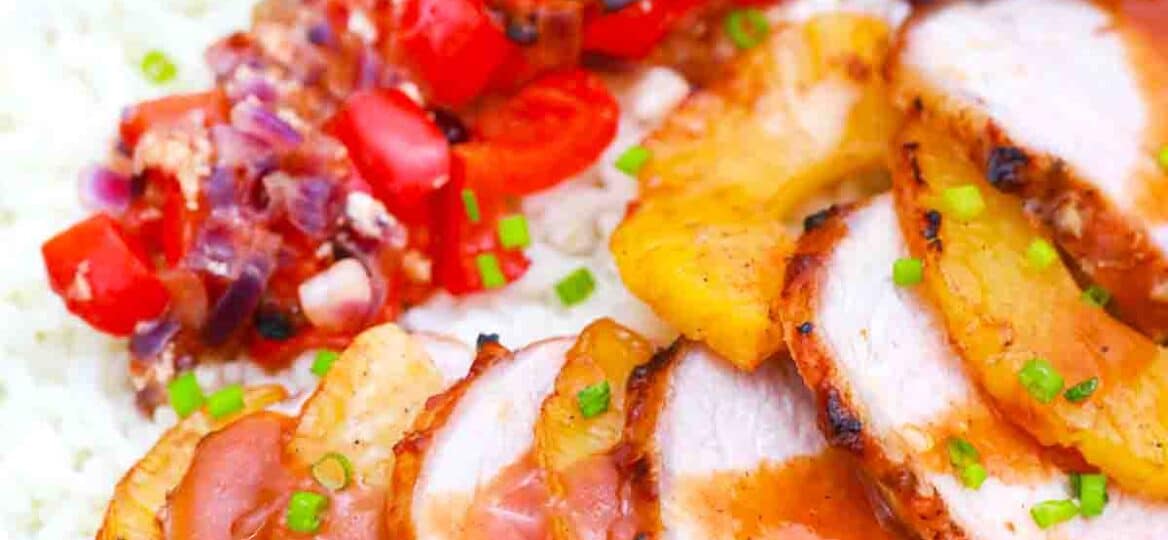 Hawaiian Pineapple Pork Loin Recipe [Video]
Hawaiian Pineapple Pork Loin is sweet and tangy with tender cuts of pork that melts in your mouth smothered in bbq sauce and chili sauce. Your entire family is going to love this pork recipe, so you will want to make sure you put it in your recipe box because you are going to want to make it again. With the tangy pineapple-barbecue sauce, sweet pepper sauce, and savory veggies, this is sure to be a favorite.
If you have the time, try our Slow Cooker Pineapple Pork recipe made in the crock pot with brown sugar, soy sauce, and garlic. Another delicious way to serve pork is this Instant Pot Balsamic Pork Loin seasoned with liquid smoke and balsamic vinegar.
If you have ever wondered when and why we started eating pork, you will have to go back to 13,000 BC when we started eating wild boar. More recently, Spanish explorer Hernando de Soto brought 200 pigs with him to the US when he came, which gave him the nickname the Father of Pork.
The descendants of de Soto's pigs can still be found all over the country as wild boar or feral pigs. But we can thank him for the opportunity to make delicious dishes like this Hawaiian pork loin recipe.
Hawaiian pork loin is a scrumptious dinner and makes for some excellent leftovers for lunch or dinner the next day. It is perfect for any time of the year and needs very little prep time so you can make it whenever you want to and have it on the table in less than an hour.
If you want more pork recipes, try our one-pan pineapple pork chops with maple syrup, brown sugar, and soy sauce.
Try our recipe made with boneless pork roast, beer, and homemade coleslaw. And this slow cooker Kalua pork recipe is so simple with just three ingredients including pineapple, pink Himalayan salt, and liquid smoke.
Ingredients needed:
To make this Hawaiian pork dish, you will need the following ingredients. When you are ready to cook, scroll down to the bottom of the page for our recipe card. It has all of the exact measurements and instructions for you to follow.
Boneless pork loin
Smoked paprika
Sweet chili sauce
Pineapple rings: With the juices set aside.
Barbecue sauce
Red bell pepper: Chopped.
Minced garlic cloves
Small red onion: Finely chopped.
Green onions: For garnish.
Kosher salt and freshly ground pepper: To taste.
How to make Hawaiian pineapple pork loin from scratch?
Preheat: First, preheat the oven to 450 degrees F and grease a large baking dish or baking sheet with cooking spray.
Cut and slice pork: Meanwhile, put your pork loin on a cutting board and cut it in half lengthwise and make a bunch of small incisions along the top of the meat.
Season the pork: Then, pat the pork dry with paper towels before you rub the pork with chili sauce, paprika, salt, and black pepper until it is coated evenly.
Fill the holes: After, place pork loin in the prepared baking dish and fill each hole with half of a pineapple ring or two pineapple chunks.
Make the barbecue sauce mixture: Next, pour barbecue sauce and pineapple juice into a medium bowl and add the onion, garlic, and red bell pepper. Stir until it is thoroughly mixed and then pour it on top of the pork loin.
Cook pork: Lastly, place the dish in the preheated oven and cook the pork for 10 to 12 minutes. Then, lower the heat to 350 degrees F and cook for another 35 minutes. The pork should be 145 to 160 degrees F on a meat thermometer when finished.
Rest and serve: Finally, remove it from the oven, let it rest for 10 minutes, top it with green onions, and serve immediately.
How to make instant pot Hawaiian pineapple pork loin from scratch?
Cut in half: To begin, cut pork in half lengthwise and make about a dozen small holes in the meat for pineapples.
Season and fill: Then, rub with salt, pepper, chili sauce, and paprika and transfer it to the pot. Fill each hole with half of a pineapple ring or pineapple chunks.
Add the barbecue sauce: Next, mix the pineapple juice, barbecue sauce, onion, garlic, and bell peppers in a medium bowl and pour sauce on top of the meat.
Cook the pork loin: Close the lid and cook for 20 minutes with a 15-minute natural pressure release. Check the internal temperature and make sure it is at least 145 degrees F.
Serve: Finally, add sliced green onion and serve with your favorite sides.
Recipe variations:
Hawaiian pork tenderloin: You can use pork tenderloin instead of pork loin.
Other fruit: This dish is also great with other fruits like pears, apples, or mangos.
Pineapple chunks: You can also use canned pineapple chunks or tidbits instead of pineapple rings.
More spices: Also, feel free to add more flavor with onion powder and garlic powder.
Different herbs: Add ground ginger and other fresh herbs for extra flavor.
Brown sugar: To make your pork loin sweeter, add a 1/2 cup of brown sugar.
Other bell peppers: For more color, add some chopped yellow and orange bell peppers.
Different meat: Substitute pork with chicken thighs or chicken breasts if you like.
Soy sauce: Add a tablespoon of soy sauce for an extra saucy flavor.
Make it hot: If you like spicy food, add chopped jalapeno, seeds removed.
How to serve:
Your whole family will love this delicious dish no matter what you serve it with. Whether you are making it in the oven or crock pot, this is such a tasty recipe, you will not need any salt or pepper afterward, but you can put them on the table just for looks. Here are some great serving ideas you can try.
This delicious pork loin with pineapple goes perfectly with mashed potatoes. Try our fluffy and creamy mashed potatoes made with hot cream, milk, and sour cream.
Leftovers make excellent sandwiches whether you shred them or slice them.
Any kind of veggies will work with this pineapple pork meal. Try our grilled vegetable recipe.
Sprinkle with a brown sugar and sugar mixture just before serving for a sweet crustiness.
You can also use leftovers to make pork kababs or stew.
Another fantastic way to serve this is on top of a bed of white or brown rice or any kind of pasta.
Top each slice of this Hawaiian pork loin with a scoop of our instant pot cranberry sauce.
Frequently asked questions
Why is my pork loin dry?
Boneless pork loin is easy to dry out if you cook it even a few minutes too long. That is why this recipe calls for you to lower the temperature of the oven after 15 minutes. Cooking it at a lower heat will keep it from drying out. Searing the outside of the meat will also help keep the juices inside.
What is the difference between pork loin and pork tenderloin?
Pork loin is flatter and wider and sometimes has a bone. The tenderloin is long, narrow, and boneless. The tenderloin comes from the muscle along the backbone while the pork loin is from the back of the animal. They are both lean but since tenderloin is smaller and cooks faster, you may overcook it if you are not careful.
Why can't I use fresh pineapple?
Since you are cooking your pork in pineapple juice, it is best to use canned pineapple. The fresh stuff has more of the bromelain enzyme, which breaks down the muscles of the meat and it can cause your pork to become mushy. Canned pineapple has most of its bromelain extracted.
What are the nutrition facts in this recipe?
Each serving of this pork loin recipe has about 400 calories and 12 grams of fat with 5 of it being saturated fat. The cholesterol count is 100 milligrams, and you will also get 35 carbohydrates. In addition, you get 600 milligrams of sodium and 33 grams of sugar. You also get 40 milligrams of calcium, 60 units of vitamin A, and 35 grams of protein.
How to store leftovers:
Store: Any leftover pork loin can be safely refrigerated for up to four days. Place it in an airtight container or put it in a freezer bag and squeeze the excess air out of it.
Freeze: Your leftovers can also be stored in the freezer for 90 days.
Thaw: Be sure to put leftovers in the fridge to thaw overnight before reheating for best results.
Reheat: You want to be careful when reheating because you do not want your pork to become dry. Microwave it for one minute and then at 30-second intervals until it is warm.
More recipes with pineapple:
Cooking tips:
Sear pork loin in a large skillet over medium-high heat after adding the seasoning to keep the spice mixture inside where it belongs.
Make sure your pork loin is cooked all the way by checking it with a meat thermometer. It should read between 145 to 160 degrees F.
It is important not to overcook pork. Start checking it for doneness about 5 minutes before it is supposed to be done.
For even more flavor, grill your pineapples on a grill or in the air fryer. Or sear it in a skillet on the stove.
If you turn your meat, make sure you do not puncture it or the juices will escape, leaving your pork dry.
If you use bone-in pork loin, it will cook faster so shorten the cooking time by 5 to 10 minutes.
If you want the surface crispy, make sure the oven is completely preheated and do not cover it.
Hawaiian Pineapple Pork Loin
Ingredients
1 1/2 - 2

pounds

pork loin

1

tablespoon

smoked paprika

2

tablespoons

sweet chili sauce

1

can pineapple rings

juice reserved

16

oz

bottle barbecue sauce

1

red bell pepper

chopped

4

cloves

garlic

minced

1

small red onion

finely chopped

1/4

cup

green onions

garnish

kosher salt and freshly ground pepper

to taste
Instructions
Preheat the oven to 450 degrees F.

Place pork loin on a cutting board, cut in half lengthwise. Now you have two pieces, turn them flat side down, and make a series of small, parallel incisions along the length of meat on top.

Rub it well with salt, pepper, smoked paprika, and chili sauce.

Lightly grease a baking dish and transfer the pork to it.

Then fill each incision with 1/2 of a pineapple ring.

Add the barbecue sauce and 1/2 of the reserved pineapple juice into a medium bowl, then stir in the red bell pepper, garlic, and red onion.

Pour sauce over the pork loin.

Next, bake it in the preheated oven for 10-12 minutes, then lower the heat to 350 degrees F and cook for another 35 minutes, or until the pork is cooked through. Internal temperature should be between 150-160 degrees F.

Remove from oven and top with green onion. Let the meat rest for 10 minutes before slicing and serving.
Deliciousness to your inbox
Enjoy weekly hand picked recipes and recommendations