Pineapple Barbecue Chicken Recipe
Last updated on September 12th, 2022 at 04:49 pm
Pineapple Barbecue Chicken is a saucy and mildly spicy dish with juicy pineapple, bbq sauce, and hints of honey. The tender, juicy chicken is the perfect dinner cuisine for any night of the week because it can be made quickly with minimal prep time. You can change the barbecue sauce as you wish and even use chicken thighs instead to make this recipe your own.
Looking for more chicken recipes? Our Instant Pot Pineapple Chicken is just like this one with a few extra ingredients like hoisin sauce, sesame oil, and brown sugar. For even more flavor, use our Grilled Chicken recipe to make your chicken for this meal plan. For something different, our Orange Chicken is flavored with ginger, orange zest, and tomato sauce.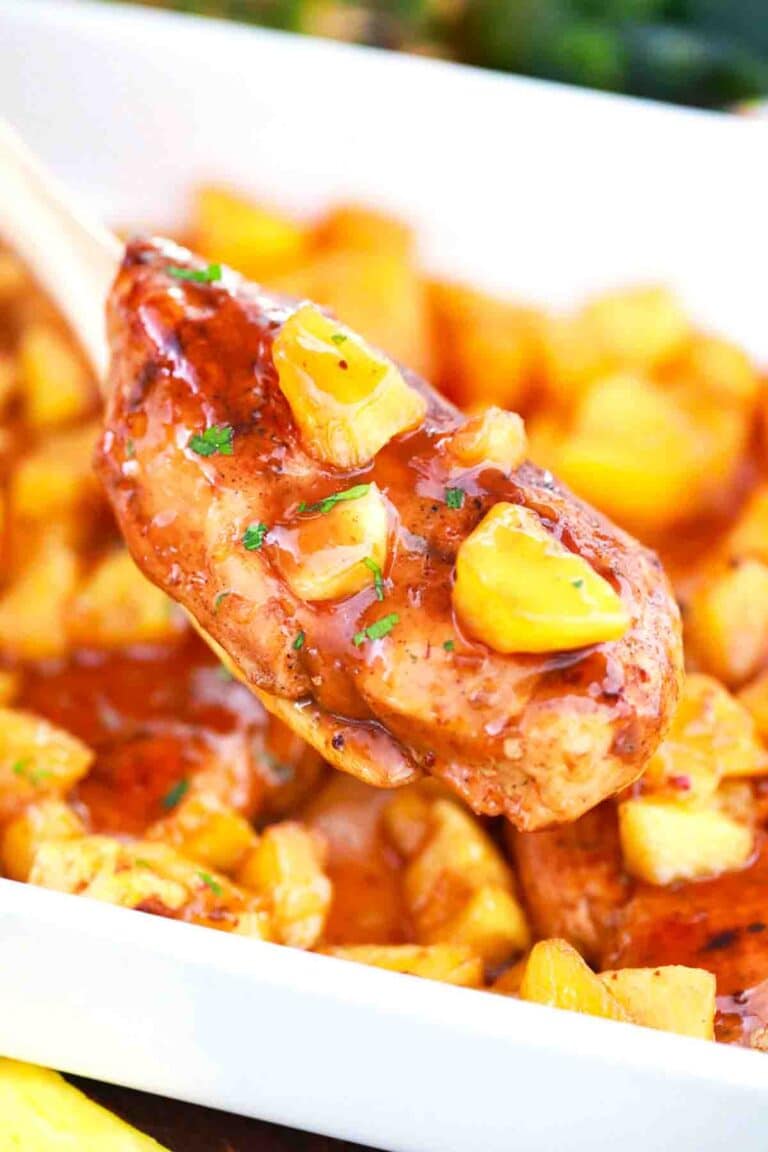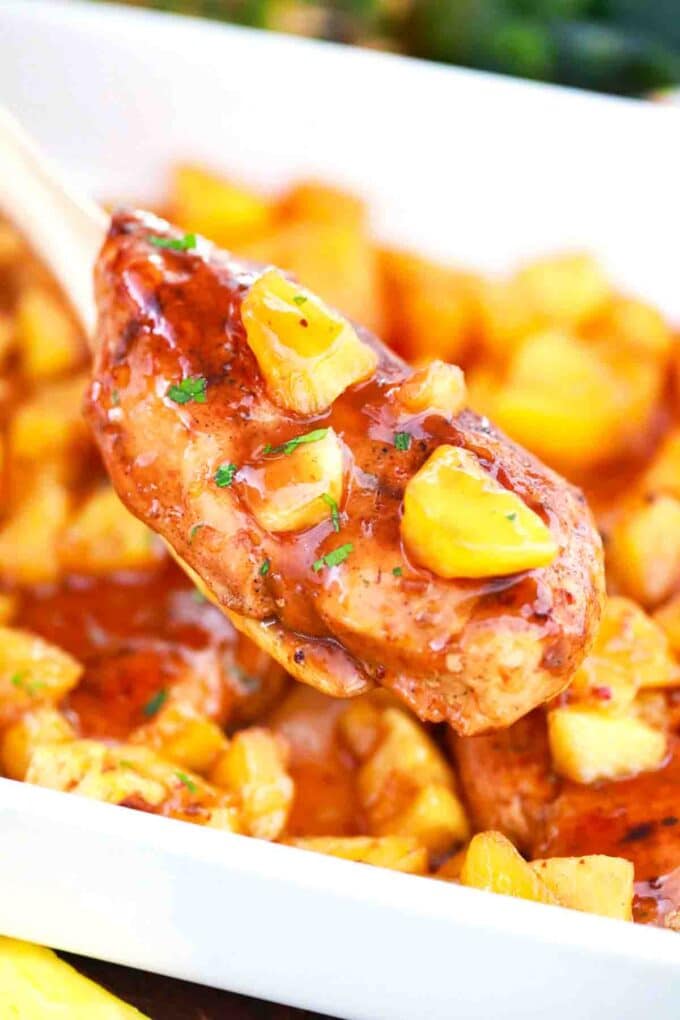 Have you ever wondered why we started eating chicken and who first thought of it? According to cave writings, the chicken started appearing on the "menu" in 600 BC as it was the most commonly available meat beginning in the Middle Ages.
But chicken did not come to America until 1493 on the ship with Christopher Columbus. I guess we have him to thank for over 1,000 years of deliciousness.
If your house is anything like ours, meal time is when the whole family gathers and shares what they did that day. Dinner is an important part of every day for us, so I want to make sure to serve something nutritious as well as tasty. This barbecue pineapple chicken recipe is perfect for that.
Are you looking for more delicious recipes to serve your hungry family? Check out our amazingly delicious recipe for pineapple teriyaki chicken made with sugar snap peas, barbecue sauce, chicken thighs, and maple syrup.
If you would rather have pork, this slow cooker dinner is scrumptious and seasoned with brown sugar, garlic, and soy sauce all day long. For a healthy and delicious starter, this side salad that is full of veggies and fruits.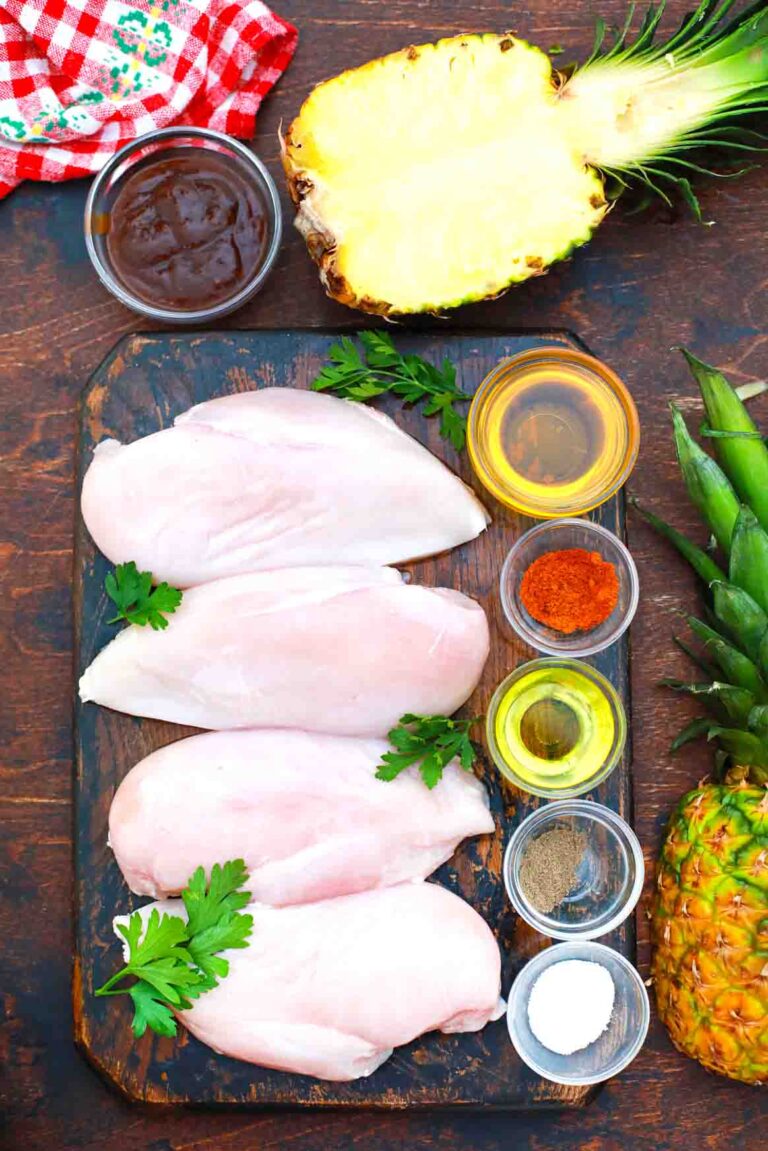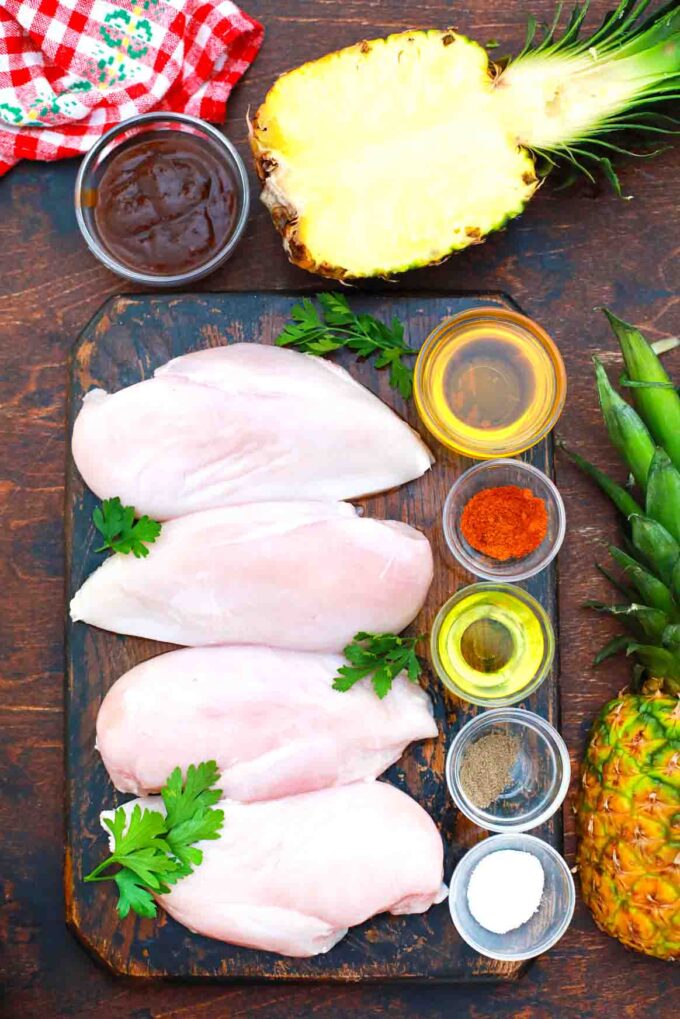 Ingredients needed:
This pineapple chicken recipe is easy to do whether you cook it in the oven or the crock pot. Either way, you will need these ingredients. When you are ready to begin preparing your pineapple BBQ chicken, you can find the exact measurements and instructions on our recipe card below.
Boneless and skinless chicken breasts
Canned pineapple chunks: Drained but save the pineapple juice.
Barbecue sauce: Use your favorite barbecue sauce or try our recipe for homemade BBQ sauce.
Liquid smoke
Soy sauce
Olive oil
Paprika
Honey
Salt and freshly ground pepper: To taste.
How to make pineapple barbecue chicken from scratch?
Season the chicken: Season each chicken breast with paprika, salt, and black pepper.
Brown the chicken: Using a frying pan on medium-high, heat olive oil until hot, and then brown the chicken on each side. This typically takes about two or three minutes.
Prepare: Meanwhile, grease a casserole dish with non-stick cooking spray and mix the BBQ sauce, honey, liquid smoke, and soy sauce in a medium bowl.
Arrange the chicken breasts: Then, put the chicken breasts into the dish and cover with half of the barbecue sauce mixture. Top with pineapple chunks and remaining barbecue sauce before covering with a lid or plastic wrap. Chill and marinate for one-half hour to two hours.
Preheat oven: Preheat the oven to 400 degrees F when ready to cook. Remove the lid and shake a little olive oil on top.
Bake the chicken: Finally, place pineapple and BBQ sauce chicken in the preheated oven and bake for 40 to 45 minutes, uncovered. The chicken should read 165 degrees F with a meat thermometer before serving.
Garnish and serve: Last, remove the pineapple barbecue chicken from the oven and garnish with parsley before serving.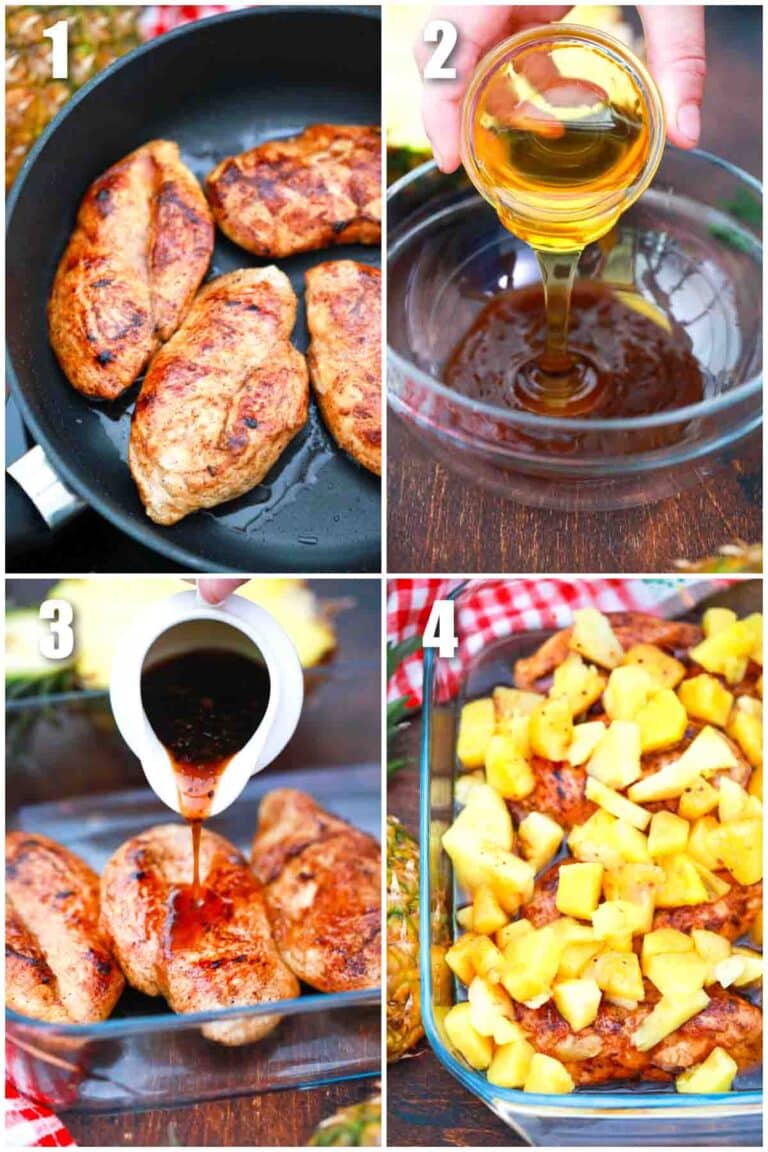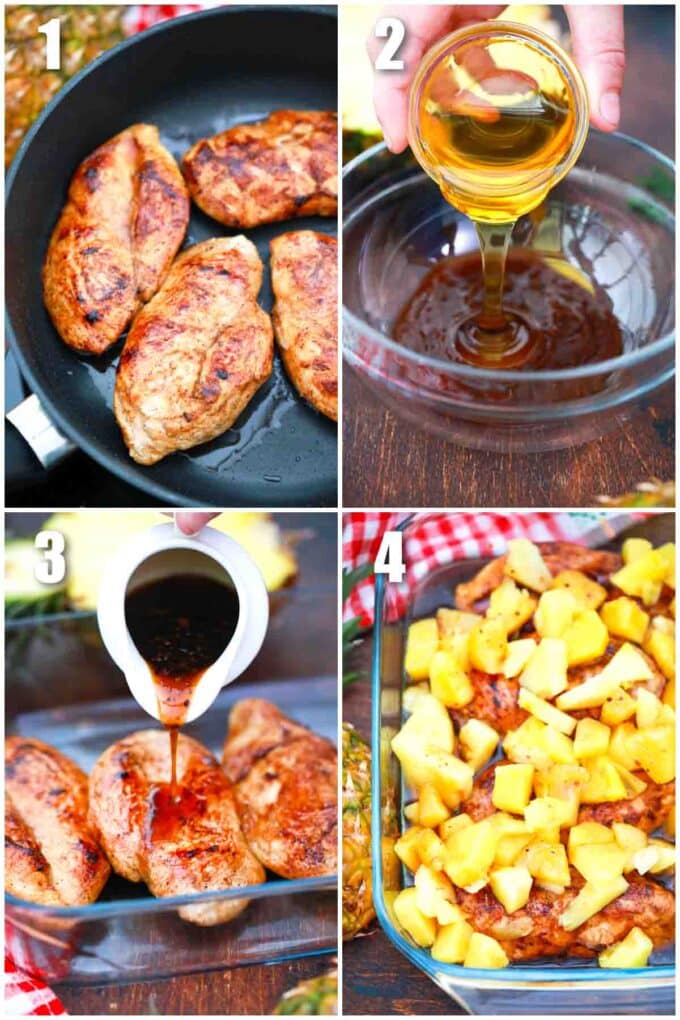 How to make crock pot pineapple barbecue chicken recipe?
Season chicken breasts: Sprinkle paprika, salt, and pepper on both sides of each chicken breast.
Sear the chicken: Next, in a preheated oiled cast iron pan, sear chicken for about two minutes on each side.
Make the sauce: After, combine the barbecue sauce, liquid smoke, soy sauce, and honey in a large bowl and mix well.
Marinate: Then, put the browned chicken into a large bowl with the barbecue sauce and pineapple. Cover and chill for at least 30 minutes or up to two hours.
Cook the chicken: Afterward, pour all ingredients into the crock pot and cook for three to four hours on high or six to seven hours on low. The internal temperature must be 165 degrees F before serving.
Serve barbecue pineapple chicken: Finally, arrange chicken on a serving dish and garnish before serving.
Recipe variations:
Other cuts: You can use any cuts of chicken you like. Try it with boneless skinless chicken thighs or drumsticks.
Other pineapples: If you do not have chunks, you can use pineapple slices or tidbits.
Other veggies: Feel free to add other veggies like chopped green onions, bell peppers, and sliced red onions.
Heat it up: For a little heat, add chili powder but for extra heat, use red pepper flakes or cayenne pepper. Or add some chopped grilled peppers, red or green.
Fresh pineapple: If you have the time and they are in season, use fresh pineapples.
Other meats: You could also use some other kind of meat like pork or turkey.
Other fruits: Similarly, toss in some of your favorite fruits like strawberries, chopped apples, or mango.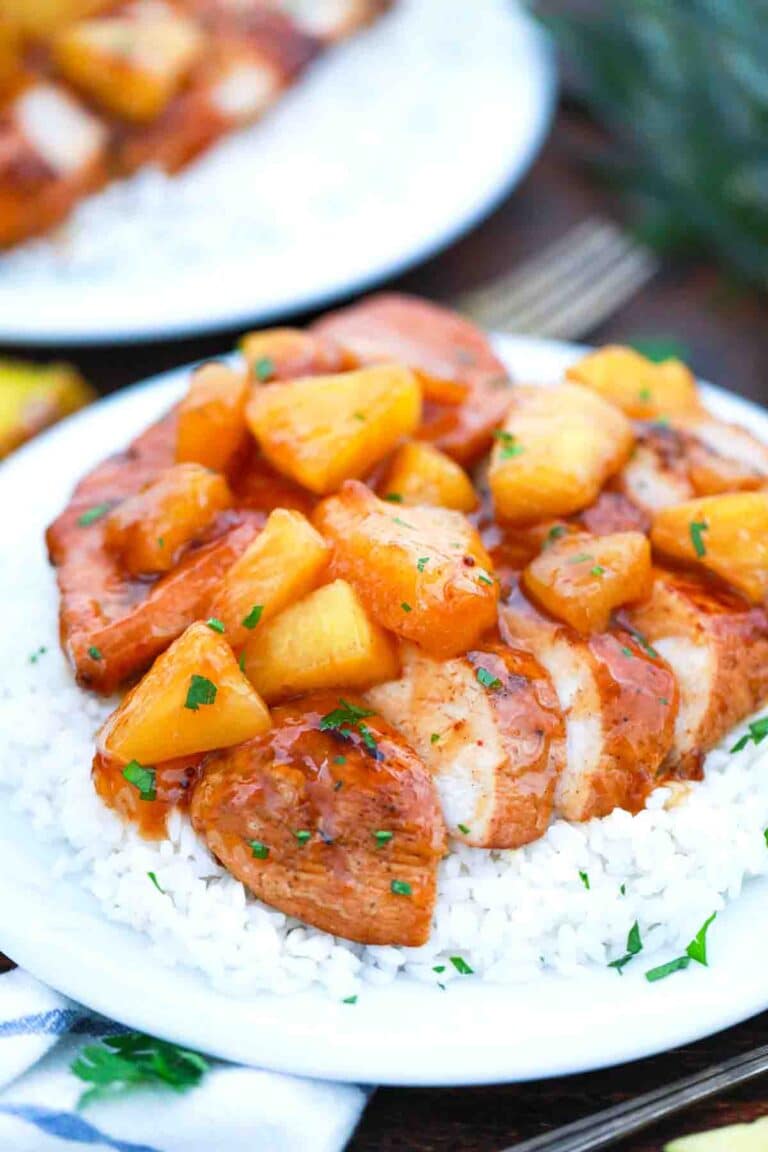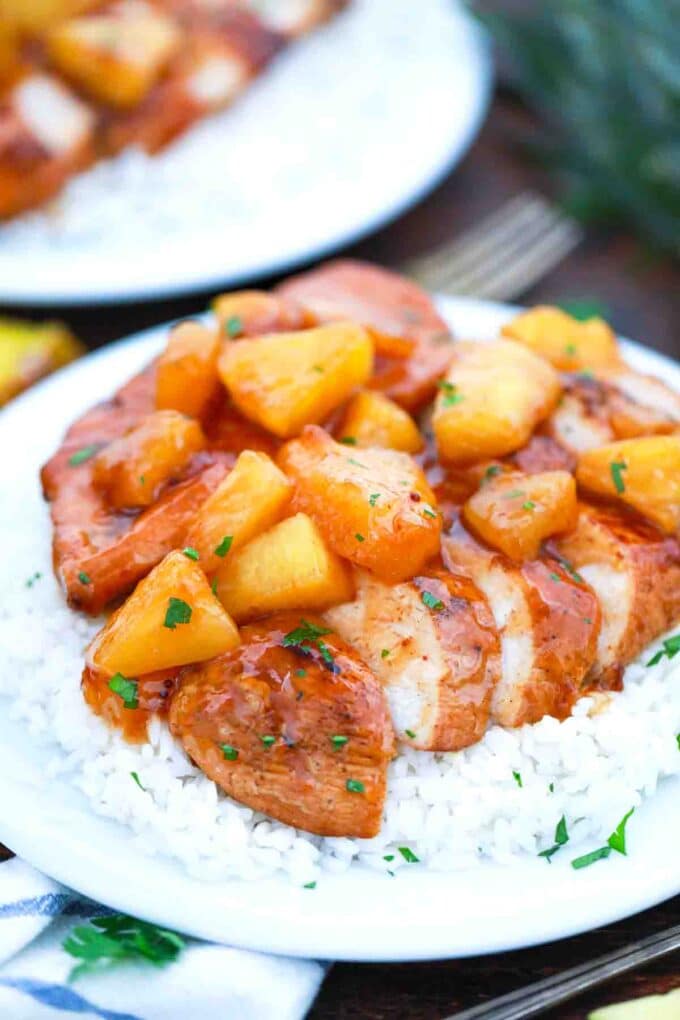 How to serve:
This great recipe is easy to make, low carb, and absolutely delicious. Serve with your favorite sides and toppings or try one of our serving suggestions below. ready in less than half an hour and can be served alone as a whole meal. Try one of these serving ideas or one of your own:
This dish goes perfectly over a bed of white or brown rice. Try our recipe for creamy instant pot rice made with a whole stick of butter.
Toss in some lime wedges and chunks of mango for a tropical flavor.
For dessert, keep up the tropical theme by serving our scrumptious pineapple fluff or crunchy crisp.
Julienne some different colors of bell pepper and decorate the top of your juicy chicken before serving.
Don't forget the drink! This pineapple mango drink goes perfectly with your tropical theme. For a non-alcohol drink, try our tropical lemonade recipe. You can use your leftover pineapple juice to make either of these.
Add more barbecue sauce and pineapple chunks on top right before serving for extra delicious flavor.
You can also top your barbecue pineapple chicken with our sweet and spicy pineapple salsa made with Roma tomatoes, red onion, and lime juice.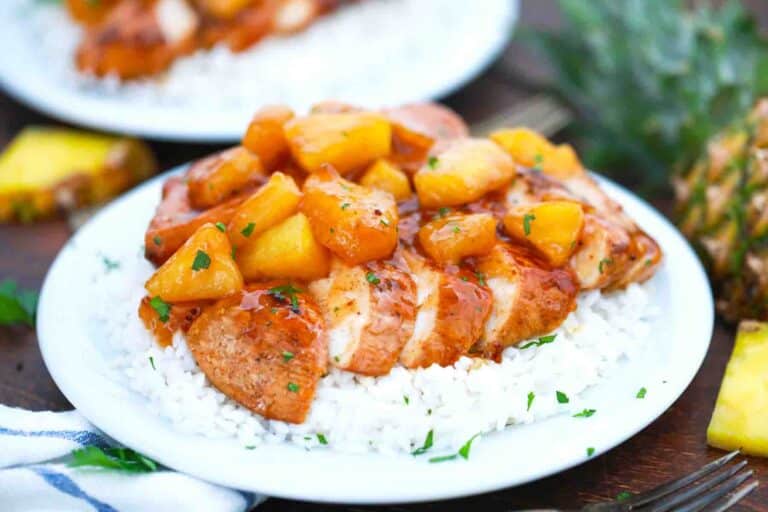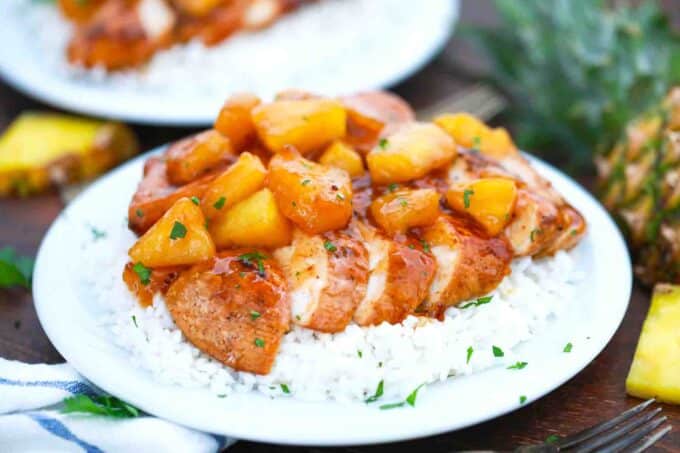 Frequently asked questions
How can I cook this on the grill?
Separate the ingredients into four servings, fill four foil packets with each, and toss it on the grill. Simply lay four 12-inch aluminum foil squares out on a flat surface.
Put about two tablespoons of pineapple chunks in the middle, season chicken breasts, and place them on top. Cover it all with the barbecue sauce mixture and grill over medium heat for 30 to 35 minutes.
Does pineapple juice tenderize chicken?
Yes, pineapple has a natural enzyme called bromelain that breaks down the connective tissues to make the meat more tender. With fresh pineapples, you should only marinate for one hour at the most or the meat may become mushy. Canned juice has fewer enzymes so you should marinate them for up to two hours.
Is pineapple good for you?
The first thing to note is that fresh pineapple has more benefits than canned. But both of them are full of vitamins, nutrients, and minerals. In fact, it has 90% of your daily values of vitamin C and over 100% of manganese. In addition, this sweet fruit has antioxidants to prevent inflammation and toxins in your body.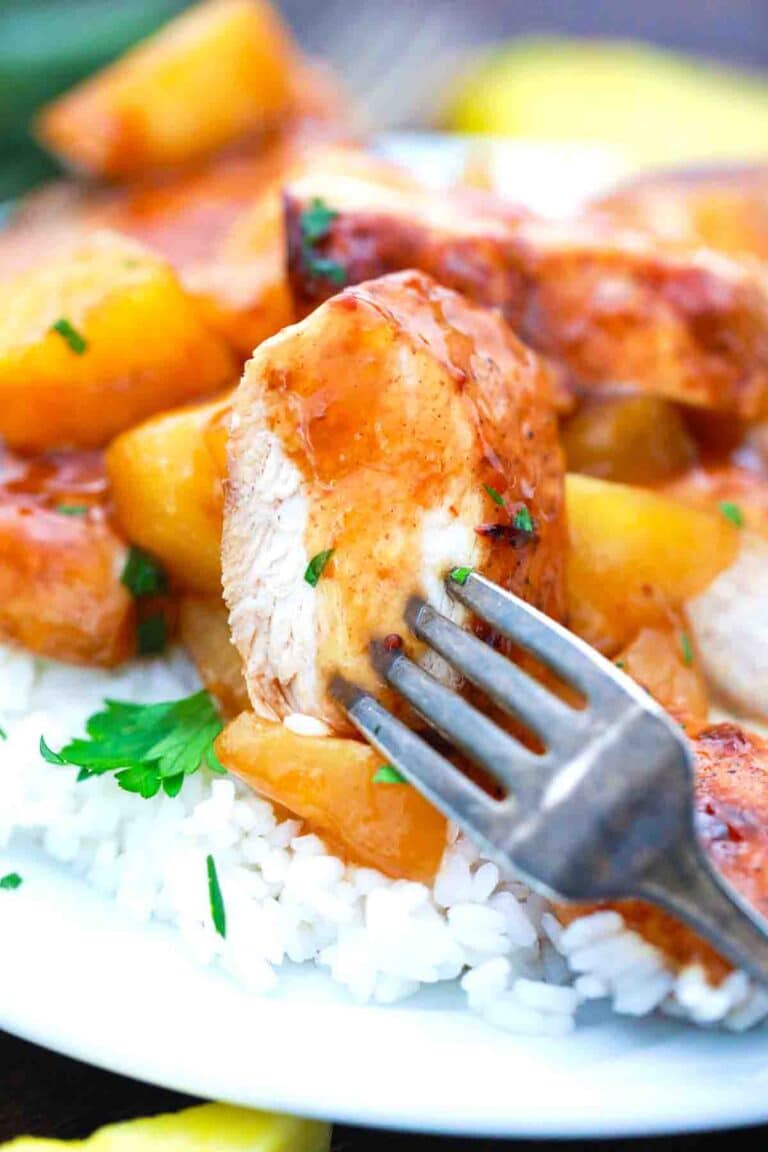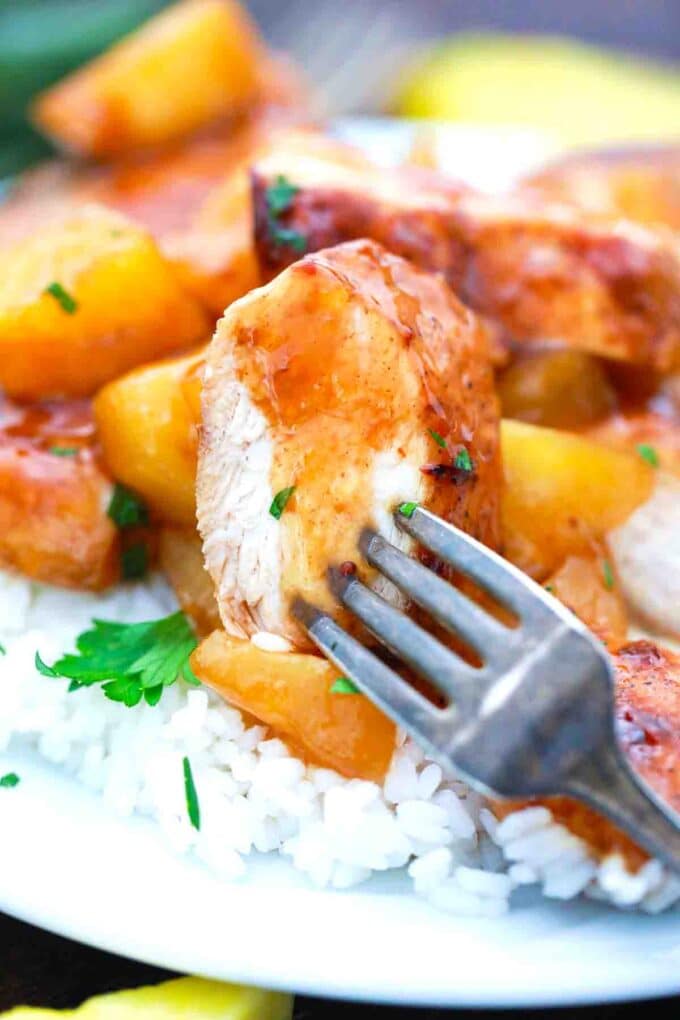 What are the nutritional values of this recipe?
One serving has about 25 carbs, 360 calories, and 7 grams of fat with 1 gram is saturated fat, 20 grams of sugar, and 140 milligrams of cholesterol. On the other hand, it also supplies 26 grams of protein, 60 milligrams of calcium, 80 milligrams of vitamin C, and 545 units of vitamin A. These vary with the kind of barbecue sauce and other ingredients you use.
More easy dinners:
How to store leftovers:
Store: You can store your leftover pineapple BBQ chicken in a sealed container for three days in the refrigerator.
Freeze: If you cannot finish it all in a few days, it is also safe to freeze your pineapple barbecue chicken for up to three months.
Thaw: Be sure to remove the leftovers from the freezer and thaw them in the fridge overnight before reheating.
Reheat: To reheat, put the chicken in a microwave-safe dish and heat it in the microwave for one minute. Reheating time may vary depending on how many you are making.
Cooking tips:
Chicken thighs may be a little bit juicier than breasts overall. You can use either of these in this recipe.
Be sure to coat your baking dish with cooking spray so it does not stick.
To make sure your chicken is fully cooked, the internal temperature has to be 165 degrees F before serving.
To shorten prep time, use leftover chicken or rotisserie chicken.
Frozen pineapples can also be used in this recipe.
For the latest recipes, check out our food blog where we have more than 100 other recipes to enjoy.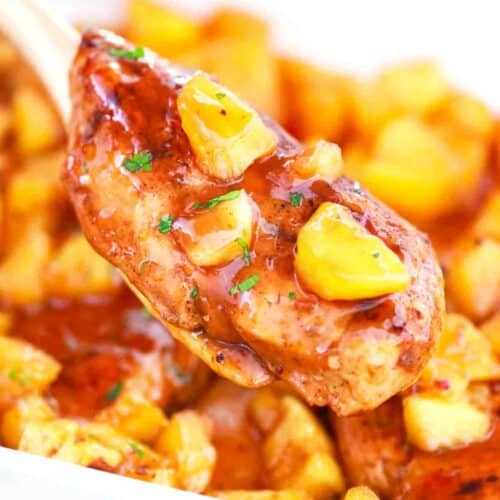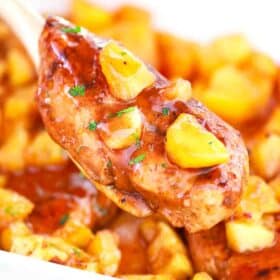 Pineapple Barbecue Chicken
Pineapple Barbecue Chicken is a saucy and mildly spicy dish with juicy pineapple, bbq sauce, and hints of honey.
Save
Share
Print
Pin
Rate
Ingredients
4

boneless and skinless chicken breasts

( 4 ounces each)

Salt and ground black pepper

(to taste)

1/2

cup

barbecue sauce

1/4

cup

honey

(or maple syrup)

1

can

(20 ounces) pineapple chunks

(drained)

1

teaspoon

liquid smoke

(optional)

2

tablespoons

soy sauce

1

teaspoon

smoked paprika

2

tablespoons

extra virgin olive oil
Instructions
Pat dry the chicken using paper towels and season it with salt, pepper, and paprika.

Place a cast iron skillet or a non-stick skillet over medium-high heat and add the oil.

Brown the chicken on both sides.

Grease a baking dish with cooking spray or a bit of oil.

In a medium bowl, mix the bbq sauce with honey, soy sauce, and liquid smoke.

Arrange the chicken breasts in the baking dish and top with 1/3 of the barbecue sauce mixture, distributing it evenly on top of the meat.

Top with pineapple chunks and add the remaining barbecue sauce mixture on top.

Cover the baking dish with plastic wrap and refrigerate for 30 minutes to 2 hours.

When ready to bake, preheat the oven to 400 degrees F.

Remove plastic wrap and bake uncovered for 40 minutes, or until the chicken's internal temperature reaches 165 degrees F.

Remove from oven garnish with fresh chopped parsley and serve.
Nutrition
Calories:
474
kcal
|
Carbohydrates:
55
g
|
Protein:
26
g
|
Fat:
18
g
|
Saturated Fat:
4
g
|
Polyunsaturated Fat:
3
g
|
Monounsaturated Fat:
9
g
|
Trans Fat:
0.1
g
|
Cholesterol:
72
mg
|
Sodium:
948
mg
|
Potassium:
549
mg
|
Fiber:
2
g
|
Sugar:
50
g
|
Vitamin A:
491
IU
|
Vitamin C:
14
mg
|
Calcium:
51
mg
|
Iron:
2
mg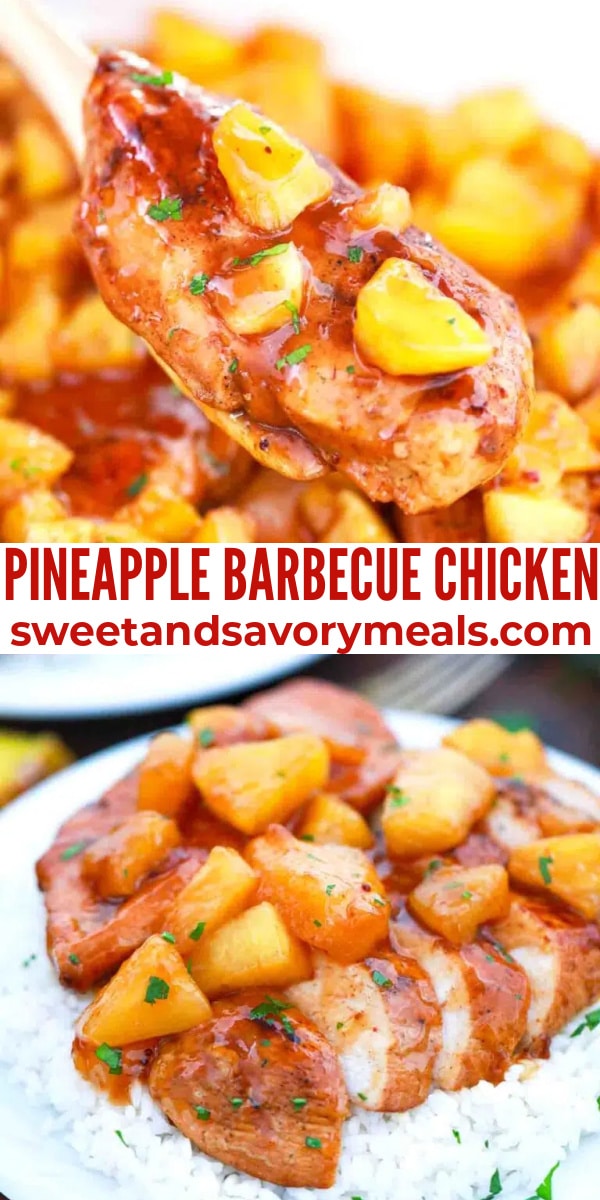 More recipes you might love