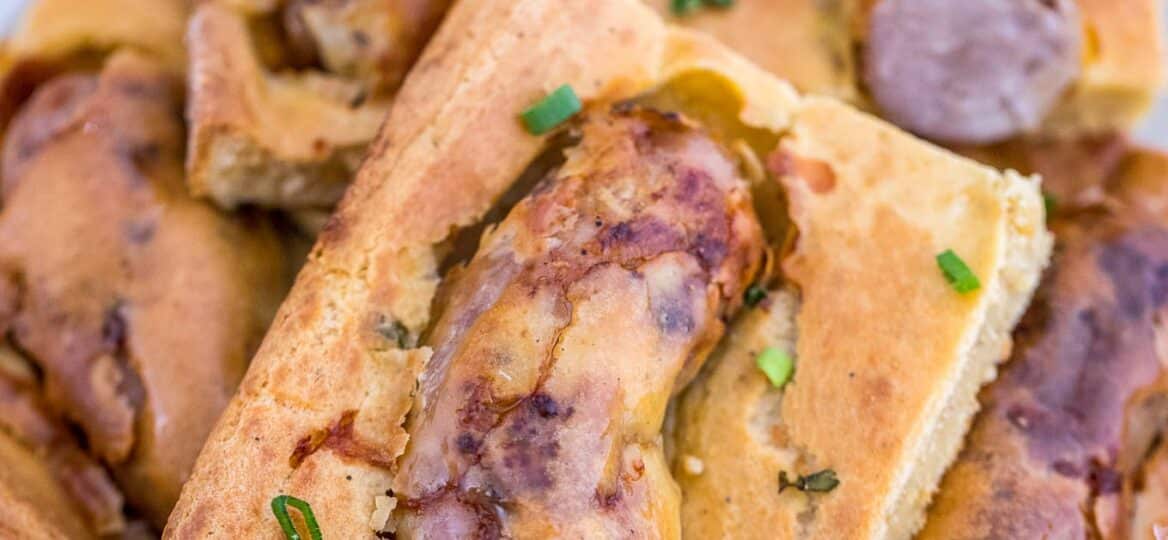 Toad in the Hole Recipe [video]
Toad in the Hole is an easy and simple dish made of sausage in Yorkshire pudding. Perfect for easy lunches, this recipe is a great way to enjoy sausages!
Enjoy this recipe with some protein-rich dishes like our pea salad or chickpea salad, or with some vegetables and fruits, like the arugula strawberry salad.
Easy Toad in a Hole
Toad in the Hole is the solution for leftover sausages. The sausages are drowned in a batter called the Yorkshire pudding and then, oven-baked to produce a delightful dish.
The Yorkshire pudding consists of flour, milk, butter, and egg. This is a classic side dish in a British meal. The peeking sausages remind us of, well, toads silently waiting for their prey. Certainly, the name of the dish is kind of funny. It is exactly just how dishes should be made – to be enjoyable.
There are two versions of this dish: English and American. The classic recipe of the English version uses sausages while the American version uses egg and bread. You can enjoy both versions, both are very easy to make.
What is Toad in the Hole?
This recipe is said to have originated in the United Kingdom as early as the 18th century. It is believed to be the solution people thought of to extend meat in poor households. Another theory is that people wanted to make use of leftover sausages, and so, this dish was born.
This is a fun way to enjoy sausages. They are cooked and then, drenched in Yorkshire batter and then, baked. This makes this dish a carbohydrate, and protein-rich meal, and ultra delicious!
How do you make classic Toad in the Hole?
Make the batter by combining all-purpose flour with the salt, pepper, and paprika.
In the center of the flour, bore a hole, and put the eggs, milk, and melted butter. Whisk all the ingredients together until smooth.
Then, cover the bowl and let it stand for 30 minutes at room temperature.
Get an 8×12 or a 9×9 ceramic or metal casserole dish and brush the sides with vegetable oil.
Next, with oven preheat to 425°F (220°C), put the dish in it.
On a skillet, put some vegetable oil and brown the sausages. Turn them over once to brown the underside.
Put the browned sausages in the baking dish and then, add in some chopped green onions and the batter.
Lastly, bake the whole thing for about 20 to 30 minutes until the batter rises.
What sausage should I use to make Toad in a Hole?
The best and authentic sausages to use would be British bangers. More savory than the American breakfast sausages, these go well with the Yorkshire pudding. But don't worry if you only have the usual ones as any breakfast sausages in casings will do.
What is Toad in the Hole egg?
This is the American version I was referring to earlier. Just cut out a circle in the center of a thick slice of bread. Toast it in an oiled skillet, and then, put the fresh egg. Season with some salt and pepper, and simply wait for the egg to cook and settle. This will take roughly 5 minutes to make. Isn't it easy?!
Can you freeze it? How?
Totally! First, let the dish cool down before freezing it. Then, cover the whole thing in a foil, or better yet, cut it up into single portions before storing, and freeze for up to 3 months.
To reheat, simply bake again the defrosted portions until steaming hot.
How to Make Onion Gravy?
You can make this in just about 15 minutes.
To prepare, simply sautee onion in butter until it caramelizes.
Add some flour and mix well. Put in balsamic vinegar and rosemary (you can leave this out if you want).
Cook this for about 30 seconds and then, add the vegetable or chicken stock to boil. Turn the heat up. Reduce the heat and simmer until the gravy is reduced a little. Then, add pepper and salt to taste and let it simmer some more.
Recipe Tips
Do not open the oven while baking for the first 20 minutes. This is to make sure that the batter rises.
Also, instead of sausages, you can make this with any meat cut that you have. This is quite an easy and filling recipe to make a new dish out of leftovers.
The vegetable oil must be one with a high smoking point like canola oil – not olive oil.
Toad in a Hole is best served with onion gravy.
Deliciousness to your inbox
Enjoy weekly hand picked recipes and recommendations