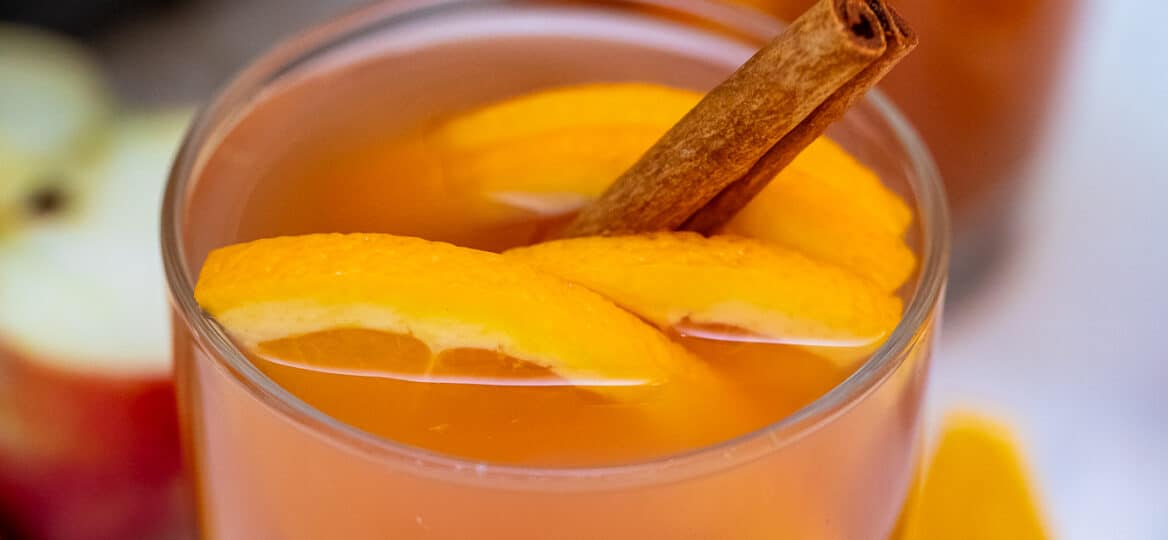 Instant Pot Apple Cider
Instant Pot Apple Cider recipe is made with fresh apples, oranges, spices, and maple syrup. The perfect holiday drink ready in 30 minutes that will keep you warm and cozy!
This cider is our favorite drink to enjoy during the Thanksgiving and Christmas holiday months. We like to pair it with Pumpkin Cheesecake Bars, Cranberry Coffee Cake, and Mint Chocolate Chip Cookies.
Homemade Instant Pot Apple Cider
This Instant Pot Apple Cider recipe is super simple to make from scratch. Unlike the traditional stovetop version, this pressure cooker cider is ready in a fraction of the time. All you need is a few fresh fruits, with spices, and water, and you will have the best holiday drink ready in just 30 minutes!
If you are looking for a family drink to keep you warm during the colder days, then this is the perfect one.
Also, when you make it, you whole house will smell delicious aromas. Not to mention, that making it in the pressure cooker is also fun and easy.
The beautify of this drink is that you can use any apples you like. Also, it is very versatile and can be made with various spices and fruits.
We like using cinnamon, cloves, and ginger in this recipe, as it elevates the flavor tremendously. It is a quick and easy drink that will warm up your soul of chilly days!
What ingredients are needed to make Instant Pot Apple Cider?
Generally, you will need the following ingredients. Please note, maple syrup can be substituted with honey, sugar, or brown sugar.
Fresh apples – Use any type available. I like mixing a few varieties together for the best flavor and color.
Oranges – It gives the cider a nice citrusy flavor. Also, you can substitute the oranges with orange juice instead.
Cinnamon sticks – A nice flavor booster. We usually use this type.
Whole cloves – Get them from this link.
Nutmeg – It adds a nice flavor, so we love utilizing it.
Vanilla beans – Feel free to use beans or even vanilla extract. This ingredient gives a nice hint of sweet and aromatic flavor.
Star anise – Here is the link if you cannot find it.
Fresh ginger – Being a fall recipe, we strongly recommend incorporating it here.
Water
Maple syrup – For sweetness purposes, we like to use it. However, it can be substituted with honey, sugar, or brown sugar. Adjust based on your taste.
Instant Pot– You can use any type of pressure cooker. A 6QT is what we commonly use.
Fine-mesh strainer: You will need it when straining out the cider after cooking.
Potato masher: To mash the apples.
How to make Instant Pot Apple Cider?
Combine the ingredients and cook: First, add all in the ingredients to the pot. Then, fill it with water to the max line, and gently mix with a spatula. Close the lid and pressure cook for 25 minutes, followed by a quick pressure release.
Mash the fruits: Once the pressure is released, open the lid. Next, using the potato masher, mash the fruits against the side of the pot to release more of their flavors. Optional* – cover and let the cider simmer a bit longer under the pressure, for about 3-5 minutes. This step is optional, but it gives the drink a nice boost of flavor.
Strain: Using a strainer, strain the mixture. Get as much liquid as possible. Then, discard the solids.
Serve: Enjoy the cider hot or cold.
How to make Crockpot Apple Cider?
Making it in the crockpot is similarly easy. You simply dump all the ingredients in the slow cooker and cover with water. Then, cook on LOW for 6-8 hours, or HIGH for 3-4 hours. Once cooked, mash the apples and oranges. Then, strain the mixture, and discard the solids.
It is that simple! You can also check the detailed step by step crockpot version of this recipe by clicking this link.
Stovetop Apple Cider instruction:
You can also easily make it on the stovetop. Add all the ingredients to a saucepan. Then, cover with water and cook for 2 hours, partially covered over medium-low heat. Once the apples are soft, mash them against the pot. After, strain the mixture, and discard the solids. You can use our recipe to make it on the stove.
Recipe Variation:
As stated above, this is a very versatile drink and can be made with various other ingredients. Some of our favorites are:
Instead of apples, use pears. To make it more holiday-inspired, add some dried cranberries to the mix.
Replace oranges with orange juice. Also, you can skip them altogether. Or use lemon instead.
Feel free to add other fruits, such as blueberries, mango, pineapple.
What are the best apples for Apple Cider?
We love using a few types combined. This way, you end up with a rich and flavorful drink. For sweeter cider, try Gala, Fuji, Cortland, Golden Delicious, or Red Delicious varieties.
Also, for a more acidic version and tart flavor, go with Pink Lady, Braeburn, Jonathan, or McIntosh.
How to store it?
If you want to make it in advance, simply cook the cider first. Then, let it cool, and refrigerate for up to 5 days. In addition, it can be frozen. Simply, transfer it to a freezer-safe dish, and freeze for up to 3 months.
Recipe Tips:
Adjust the sweetness based on your likeness.
Also, feel free to add one or two pears to the mix. This will add extra flavor and natural sweetness.
If there are some spices that you don't like just skip them.
To make an Apple Cider Martini, simply add in a little vodka to the mix. A perfect adult party drink!