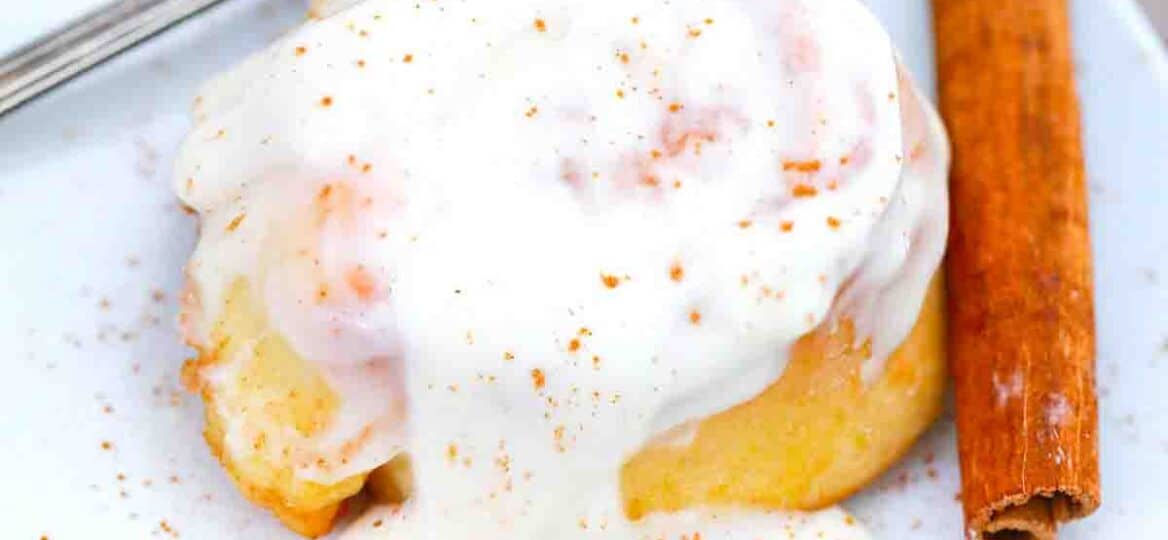 Crockpot Cinnamon Rolls Recipe [Video]
Crockpot Cinnamon Rolls are creamy, delicious, and tender, filled with brown sugar cinnamon mixture and topped with maple cream cheese icing. Once you have the dough ready, spread it with the cinnamon roll filling and pop it into the crock pot for a few hours.
Looking for some other delicious cinnamon roll recipes? Try our recipe for Fluffy Cinnamon Rolls with Cream Cheese Icing which takes just 30 minutes to bake. For something more chocolatey, these Oreo Cinnamon Rolls are delicious with black cocoa and crushed Oreo cookies.
Most people believe cinnamon rolls were first made in Sweden, where they were called Sinamon Buns. It was in the 1920s when this sweet roll was discovered. However, some say they were made by the Romans or Egyptians in the 1600s.
Whether you are looking for a tasty treat for the holiday season or if you just want something sweet for yourself, this great recipe has all the flavor with none of the extra work it takes to make cinnamon rolls in the oven or instant pot.
In this easy crock pot cinnamon roll casserole recipe, as it is also known, all you need to begin with are milk, yeast, sugar, butter, eggs, and flour. Then, for the filling, you only need cinnamon, butter, and sugar.
Using the crockpot to make this crock pot cinnamon roll recipe is what makes these so gooey and scrumptious. When done, slather them with the cream cheese icing and serve immediately. These slow-cooker cinnamon rolls are really going to blow your mind.
For more easy recipes you can make in the crock pot, this slow cooker crack chicken makes the perfect entree for any meal slathered with cheese and ranch dressing. Or you could try our slow cooker London broil recipe seasoned with red wine and Worcestershire sauce.
Ingredients needed:
For this crock pot cinnamon rolls recipe, all you will need are the ingredients listed below. When you are ready to start, scroll down to our recipe card at the bottom of the page for complete instructions and exact measurements.
Whole milk
Yeast
Granulated sugar: Divided.
Kosher salt
Unsalted butter: Melted and then cooled to room temperature.
Large egg
All-purpose flour: Spooned and leveled.
For the filling:
Cinnamon
Butter: Softened to room temperature.
Brown sugar
White sugar
For the icing:
Cream cheese: Softened to room temperature.
Unsalted butter: Also softened to room temperature.
Salt
Powdered sugar: Or confectioners' sugar.
Vanilla extract
Maple Syrup
How to make crockpot cinnamon rolls from scratch?
Make the dough:
Warm the milk: To begin, warm milk in a small saucepan on the stovetop using low heat.
Whisk in the yeast and sugar mixture: Once the milk is warm, pour it into the bowl of a stand mixer with a paddle or dough hook attachment. Whisk in one tablespoon of white sugar and the yeast.
Proof the yeast: Now, cover the pot with a clean towel and let it sit until it is foaming. This typically takes between five and 10 minutes. If the yeast does not foam after 10 minutes, pour it out and start over with fresh active yeast.
Make the egg mixture: Next, beat the rest of the sugar, two cups of flour, egg, butter, salt, and the remaining sugar on low speed. The cinnamon roll dough will be wet so continue to beat on low as you add the rest of the flour a quarter of a cup at a time. It is ready when it starts to pull away from the sides of the bowl.
Let it rest: Then, turn out the dough onto a lightly floured surface and knead for one minute before letting it rest for 10 minutes.
Line the pot: While you wait, line your crock pot with parchment paper that has been sprayed with non-stick cooking spray or brushed with oil.
Make the filling:
Roll out the dough: Once the 10 minutes are up, roll out the dough into an 8×14-inch rectangle and spread the softened butter on top.
Mix the sugar: After, mix the sugar and cinnamon together and then sprinkle the cinnamon sugar mixture over the top of the butter.
Cut cinnamon roll pieces: Then, roll your filled dough up tightly and cut cinnamon rolls into 10 to 12 pieces, putting the remaining cinnamon rolls into the slow cooker as you go.
Cook the rolls: After they are all in the pot, put a paper towel under the lid before closing so the condensation will not drip onto the rolls. Set your crock pot on high and cook for two hours or until they are fully cooked. If you have a smaller crockpot, you may have to adjust the cooking time. When done, you can just use the parchment paper to remove them.
Prepare the icing:
Beat the butter: While the cinnamon rolls cook, mix the butter and cream cheese in your mixer and beat it until it is smooth.
Mix it up: Then, add the vanilla, powdered sugar, and salt, mixing until it is smooth and creamy.
Icing the rolls:
Frost the cinnamon rolls: Once your rolls are finished cooking, top them right away so the icing will melt and flow over the rolls and into the cracks between them. Be sure to pour evenly over the top of all the rolls.
Serve warm cinnamon rolls: Finally, serve immediately while they are still warm.
Recipe variations:
Sweeter: For even sweeter rolls, add a tablespoon of pure maple syrup to the frosting.
Flavor variations: Try adding diced apples and brown sugar after the first layer for apple cinnamon rolls or you could do the same thing with peaches and heavy whipping cream to make peaches and cream cinnamon rolls.
Shorten prep time: Save time and energy by using store-bought refrigerated cinnamon rolls.
Other milk: Feel free to use your own favorite type of milk like almond or coconut milk.
More flavor: Another way to add different flavors to these slow cooker cinnamon rolls is to use extracts. Apple or almond would both be amazing.
Use cream: Instead of milk, feel free to use heavy cream or heavy whipping cream.
Orange rolls: Looking for a new twist to this recipe, use orange juice instead of milk.
Add nuts: You could also add chopped pecans or walnuts on top for more flavor and crunch.
How to serve:
This slow cooker cinnamon roll recipe is perfect for Christmas morning or any morning you want to have the whole family sit down for a meal. The smell of these cinnamon rolls will make everyone decide to make time to eat. Try one of these delicious serving ideas or share one of your ideas with us in the comments section.
Add some chocolate chips to the top of your warm rolls for an extra chocolatey dessert.
Another great idea would be to add a dollop of vanilla ice cream on top. Or try one of our flavors of ice cream like this easy recipe for cherry ice cream.
Alternatively, drizzle some pancake syrup or real maple syrup on your rolls for a richer flavor.
Make a cinnamon roll casserole by cutting the leftover cinnamon rolls into quarters using a pizza cutter or knife and then mixing it all up in the bottom of the crock pot.
This is the perfect treat to go with a cup of red velvet hot chocolate.
Frequently asked questions
Can I make these the night before?
Yes, you can make the dough ahead of time and refrigerate it until morning. Then, just remove them from the dish and put them into your slow cooker, and finish with the rest of the recipe. Alternatively, you could cook them in the crock pot the night before but refrigerate them until morning. Then reheat and add the icing in the morning.
Are slow cookers better for cooking than an instant pot?
The preferences between the two are basically dependent on time. If you want your slow cooker cinnamon rolls in a hurry, do not use a slow cooker. An instant pot cinnamon roll recipe will get your breakfast or snack on the table in minutes rather than hours.
Can I cook this recipe on low?
If you do not need your cinnamon rolls within the next few hours, you can certainly cook them on low heat instead of high. In fact, we recommend cooking on low for those who do not like to have crispy edges on their cinnamon rolls. Just cook them for about four hours instead of two.
What are the nutrition facts in this recipe?
Each cinnamon roll has 445 calories, 76 grams of carbs, and 35 grams of fat with 15 grams of saturated fat. It also has 89 milligrams of cholesterol, 684 milligrams of sodium, and 43 grams of sugar. But you also get 8 grams of protein, 3 grams of fiber, and 143 milligrams of calcium as well as 3.4 milligrams of iron, 880 units of vitamin A, and 205 milligrams of potassium.
How to store leftovers:
Store: Your slow cooker cinnamon rolls will stay fresh covered tightly with an airtight container or just cover the serving dish with plastic wrap. Refrigerate for up to four days.
Freeze: To freeze leftover cinnamon rolls, flash freeze them in the freezer for two hours before wrapping them in plastic wrap. Then, place them in a freezer bag or airtight container. They will stay fresh for several months in the freezer.
Thaw: Be sure to thaw overnight in the fridge for the best results.
Reheat: To reheat, put slow cooker cinnamon rolls in the microwave for 20 to 30 seconds. You will have to add more icing though because it will melt.
More pastries to try:
Cooking tips:
This recipe calls for instant yeast because we want it to rise quickly. If you use active dry yeast, your cook time will be longer.
Instead of non-stick spray, you can coat your parchment paper with butter or oil.
If you want the tops of your rolls to be golden brown, just put them into an air fryer or broiler for a few minutes.
These cook times are just a guide. Because every slow cooker cooks differently, the cooking time may differ. Start checking your cinnamon roll dough after an hour if you are making them on high and after two hours if on low.
You could also heat your milk in the microwave. There is no need to use a thermometer but if you do, it should be 95 degrees F.
You can use a hand-held mixer and a medium bowl if you do not have a stand mixer.
Be sure to take the extra step of putting a paper towel under the lid. This is important for the dough's consistency and texture.
Crockpot Cinnamon Rolls
Ingredients
Dough:
3/4

cup

whole milk

lukewarm

1

packet

Instant Yeast

1 packet = 2 and 1/4 teaspoons

1/4

cup

granulated sugar

divided

1/2

teaspoon

salt

1/4

cup

unsalted butter

melted but not hot

1

large egg

room temperature

2 3/4

cups

all-purpose flour
Filling:
2 1/2

tablespoons

cinnamon

8

tablespoons

butter

1/4

cup

white sugar

1/4

cup

brown sugar
Icing:
8

oz

cream cheese

room temperature

8

tablespoons

unsalted butter

softened

2

cups

powdered sugar

1

tablespoon

vanilla extract

2

tablespoons

maple syrup

1/8

teaspoon

salt
Instructions
Make the dough:
Add the warm milk into the bowl of a stand mixer fitted with the dough hook or paddle attachment. Add the yeast, and 1 teaspoon of sugar (from the 1/4 cup) and whisk to combine.

Cover the mixture with a clean towel and let sit until the yeast is foamy about 5-10 minutes. If the yeast does not foam, start over with fresh active yeast.

After proofing the yeast, with the mixer on low speed, whisk in the remaining sugar, salt, butter, egg, and 2 cups of flour until combined. The dough will be wet. While continuing to beat on low speed, add the remaining flour 1/4 cup at a time until a soft dough forms.

The dough is ready when it gently pulls away from the sides of the bowl. Add. the remaining 3/4 cup of flour little by little, only if needed.

Transfer the dough from the bowl onto a lightly floured surface, then knead for 1-2 minutes. Let the dough rest for about 10 minutes.

In the meantime, line a 4 or 5-quart slow cooker with parchment paper and lightly spray it with cooking spray.
Make the filling:
After 10 minutes have passed, roll the dough into a 14×8 inch rectangle.

Spread the softened butter on top.

In a bowl mix the cinnamon and sugars together, then sprinkle the mixture on top of the butter.

Roll the dough up tightly into a log, then cut it into 10-12 equal pieces. Arrange the crockpot on top of the parchment paper.

Place a paper towel right under the lid of the slow cooker to absorb the condensation from the cooking.

Turn on the slow cooker on high and cook the rolls for 2 hours, or until the rolls are fully cooked through.

Once done, remove the rolls from the crockpot right away by lifting out the parchment paper.
Icing:
While the rolls are cooking make the icing.

Add the cream cheese and butter to a mixing bowl and beat until smooth.

Add the powdered sugar, vanilla extract, maple syrup, and pinch of salt and mix until smooth. Stop to scrape the sides and bottom of the bowl with a spatula.

If the icing is too stiff, add 1 tablespoon of milk.

Pour the icing onto the warm rolls and serve.
Deliciousness to your inbox
Enjoy weekly hand picked recipes and recommendations