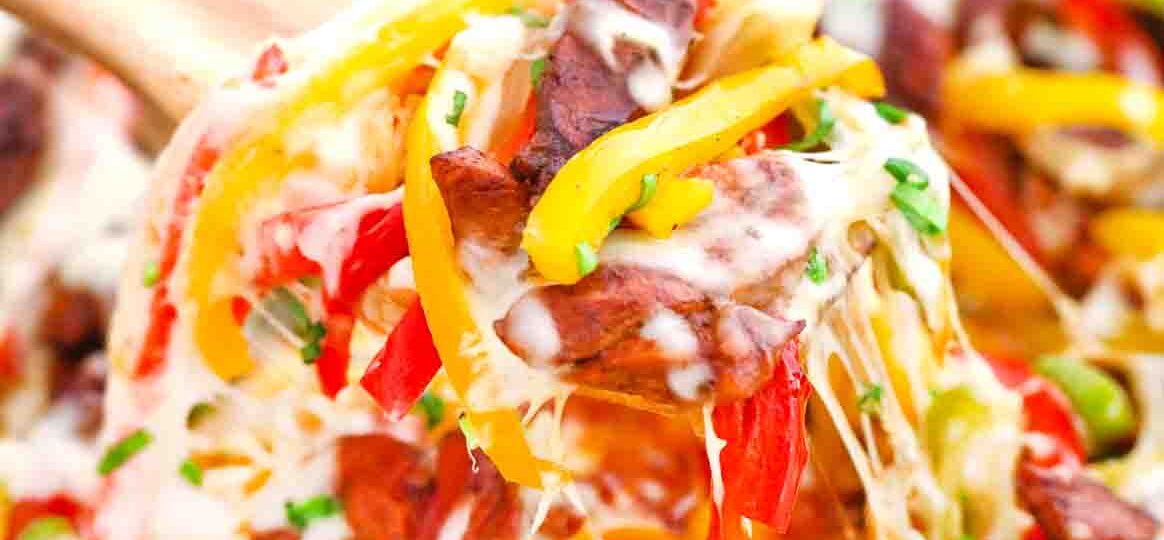 Quick and Easy Chicken Cheesesteak Skillet [Video]
Chicken Cheesesteak Skillet is a delicious one-pan meal made with tender chicken breasts, bell peppers, and onions and topped with lots of melted provolone cheese. If you like Philly cheesesteak sandwiches, serve this on a hoagie roll for lunch or dinner and your whole family will love it!
If you like this recipe, you will love our Instant Pot Philly Cheesesteak Pasta. It is made with ground beef, veggies, Worcestershire sauce, shell pasta, and a few other ingredients. Make it extra creamy with sour cream and cream cheese! Another chicken dish you may enjoy is this Chicken Carbonara recipe made with spaghetti, bacon, chicken, cream, onions, and garlic. You can have it on the table in 30 minutes!
This recipe is made like the traditional cheesesteak sandwich but with chicken instead of beef. The reason it is called a Philly cheesesteak is that it was first made in Philadelphia, Pennsylvania. Harry and Pat Olivieri invented it in 1930 when they were running a hot dog stand in South Philly and needed something new.
For this low-carb chicken cheesesteak skillet, you will just need a few ingredients including chicken breasts, onions, bell pepper, shredded cheese, and a handful of seasonings. The melted cheese on top of everything gives it an ooey gooey yumminess that everyone loves.
Looking for other one-pan meals? Our one-pan pineapple pork chops are tender and juicy with a sweet and sticky sauce made with maple syrup, brown sugar, and sweet pineapple chunks. For something different, try this pork tenderloin with cabbage. It is made with bacon, apples, cabbage, and pork tenderloin seasoned with onion, garlic, apple cider, and a handful of herbs and spices.
Ingredients needed:
All you need to make this delicious cheesesteak skillet meal is the ingredients listed below. Then, when you are ready to start preparing, go to the bottom of the page and find our recipe card with the measurements and directions.
Thinly sliced chicken breasts: We used boneless skinless chicken breasts.
Shredded provolone cheese
Yellow onion: Halved and sliced thinly sliced.
Minced garlic cloves
Red bell pepper: Thinly sliced.
Yellow bell pepper: Thinly sliced.
Green bell pepper: Thinly sliced.
Olive oil: Divided.
Italian seasoning
Oregano
Onion powder
Paprika
Soy sauce
Kosher salt and fresh ground black pepper: To taste.
How to make chicken cheesesteak skillet from scratch?
Cook the veggies: First, heat up a tablespoon of oil on medium-high heat in a large skillet or frying pan. Once it is hot, add the veggies with salt and pepper. Saute and stir until they are tender, about two to four minutes. Then, add garlic and cook for one more minute before moving it all to a plate.
Add the seasonings: Next, pour the remaining olive oil into the skillet and add meat, oregano, onion powder, smoked paprika, Italian seasoning, salt, and pepper, and stir to spread it into a single layer. Let it cook without touching it for a couple of minutes until it is golden brown.
Combine it all: Now, add the soy sauce and continue to cook the meat until it is fully cooked. Add sautéed onions, peppers, and juices to the cooked chicken, stirring occasionally for 30 seconds before topping it with provolone cheese. Cover and let the cheese melt.
Garnish and present: Finally, garnish with your favorite toppings and serve.
How to make instant pot chicken cheesesteak?
Saute in the pot: Forget the skillet and use the instant pot! To begin, set your instant pot on saute and add a tablespoon of olive oil. Toss in your sliced vegetables seasoned with salt and fresh ground black pepper, stirring for one minute. Add the minced garlic and cook for 30 more seconds.
Set and cook: Now, add the chicken, seasoning, and soy sauce. Stir and close the lid, setting it on high pressure. Set the timer for one minute.
Melt the cheese: After, do a quick release and add the provolone cheese. Close the lid and let it sit for about 30 seconds until the cheese is melted.
Time to eat: Lastly, add whatever garnish you like and serve.
Recipe variations:
A different kind of oil: Alternatively, you can use any oil you like cooking with like vegetable, canola, or grapeseed instead of olive oil.
Add more: Feel free to add your favorite fresh vegetables like mushrooms, celery, sugar snap peas, carrots, broccoli, and whatever else you and your family like.
Different meat: You could also use sliced beef, pork, or turkey instead of (or in addition to) the chicken.
Other cuts: Similarly, try using thighs or drumsticks instead of breasts.
Make it bacony: Everyone loves bacon. Go ahead and add some crisply cooked bacon crumbles to your dish. Make it even easier by using store-bought bacon bits.
Spicy cheesesteak: If your family loves spicy food, add some chopped jalapenos to your skillet meal.
Different dressing: For a different flavor, use dry ranch dressing instead of Italian seasoning.
How to serve:
You can have this yummy chicken cheesesteak as a meal by itself or with side dishes. Either way, it is a healthy, filling, and tasty dish. Try one of these ideas or share your own in the comments section below.
Serve your delicious cheesesteak on a bed of any kind of rice or pasta.
This dish also goes great with cauliflower rice. Try our easy low-carb cauliflower rice recipe.
For something different, add a heaping scoop to a sandwich for a fast hot lunch.
Use leftovers to make your favorite casserole or try this yummy cheesesteak casserole with ground beef, shell pasta, and cream cheese.
Add another cup of your favorite shredded cheese along with one package of cream cheese and melt. Now you have a yummy dip for chips or crackers. Perfect for game day!
Another way to serve is to add a salad.
You could also make these into sliders with some soft mini-buns.
Another alternative is to put some in a tortilla and make wraps.
Frequently asked questions
What is the easiest way to thinly slice chicken breast?
The best way to cut chicken breast is frozen. Not totally frozen like an ice cube! Just freeze it for about 30 minutes (covered) in the freezer before slicing. You should also use a very sharp knife. Alternatively, you can use a slicer or mandoline for even faster results. If they are large, cut them in half lengthwise first.
Is this healthier than the traditional cheesesteak sandwich?
Although they are both excellent sources of protein, there are some differences to note. For example, chicken has about 12 times less fat than beef and contains more potassium, niacin, vitamin E, and phosphorus. Beef has more iron and calcium as well as vitamin A, vitamin B, and vitamin D. Also, chicken has 30% fewer calories than beef.
Why is my chicken dry?
The main reason for dry chicken is overcooking. If you let your meat cook too long, the juices will be cooked out. This is especially true with sliced chicken because a lot of the juices escape from slicing. That is why you need to cut it thin and only cook it for a couple of minutes.
What is the nutrition information in this recipe?
Each serving of this cheesesteak skillet meal has 435 calories, 3 grams carbs, and 34 grams fat with 1 gram of saturated fat. It also has 110 mg cholesterol, 620 mg sodium, and 1 gram sugar. But you also get 230 mg calcium, 513 units vitamin A, 5 mg iron, 104 mg vitamin C, 4 grams fiber, and 522 mg potassium.
How to store leftovers:
Store: Move your leftovers into a sealed container after it cools completely. Refrigerate for up to four days.
Freeze: You could also save your leftovers for several months. Just make sure you put them in a freezer-safe container or freezer bag.
Thaw: The night before you plan to have your leftovers, put them in the fridge to thaw.
Reheat: You can reheat in a skillet on medium-high heat for one to two minutes or in the microwave for 45 to 90 seconds.
More chicken recipes to try:
Cooking tips:
If you do not have Italian seasoning, make your own. It is easy to make with marjoram, thyme, rosemary, basil, and oregano.
You can always add more cheese. Any kind. Whatever your family likes.
Be sure to thinly slice your meat and vegetables to the same thickness so everything cooks at the same rate.
Make extra and put it in small freezer bags or freezer-safe containers for individual servings. Because there are so many ways to serve it, you will never get sick of it.
Shred your own cheese from a block you get from your grocer. Most pre-shredded cheese has preservatives and wax to keep it from sticking.
Make sure you do not overcook your chicken, or it will be dry and tough to chew.
For extra tenderness and flavor, marinate your chicken strips in lime juice, oil, and your favorite spices for 30 to 45 minutes before you begin.
Use a cast iron skillet if you have one. They cook more evenly and give your meat a better flavor.
Chicken Cheesesteak Skillet
Ingredients
2

tablespoons

olive oil

divided

1

yellow onion

thinly sliced

4

cloves

garlic

minced

1

red bell pepper

thinly sliced

1/2

green bell pepper

thinly sliced

1/2

yellow bell pepper

thinly sliced

1 1/2

pounds

boneless skinless chicken breasts

thinly sliced

1

teaspoon

Italian seasoning

1/2

teaspoon

oregano

1

teaspoon

onion powder

1

teaspoon

smoked paprika

1

teaspoon

soy sauce

Kosher salt and fresh ground black pepper to taste

1 1/2

cup

shredded provolone cheese
Instructions
Place a large skillet over medium-high heat and add one tablespoon of oil.

When the oil is hot add the sliced bell peppers, onion, and season with salt and pepper. Sauté the vegetables stirring from time to time until they are tender, 3-5 minutes.

Next, add the minced garlic and saute for another minute. Transfer the veggies to a plate.

Add the remaining one tablespoon of olive oil to the skillet. Once the oil is hot add the sliced chicken, Italian seasoning, smoked paprika, onion powder, oregano, salt, and pepper.

Distribute the chicken in a single layer and let it cook without moving it for a couple of minutes so it browns.

Sauté the meat until, add the soy sauce, and cook until the meat is fully cooked.

Then add back to the skillet the onion and peppers and any juices left on the plate. Stir everything together and top it with the shredded provolone cheese.

Cover the skillet with a lid, for 1-2 minutes, until the cheese has melted, and then serve.

Garnish with chopped green onions.
Deliciousness to your inbox
Enjoy weekly hand picked recipes and recommendations