Dunkin Donuts French Cruller (Copycat)
This post may contain affiliate links. Please read my disclosure policy.
The Dunkin Donuts French Cruller donut made in the comfort of your home with just a few ingredients is yeast free and will be ready in under 30 minutes.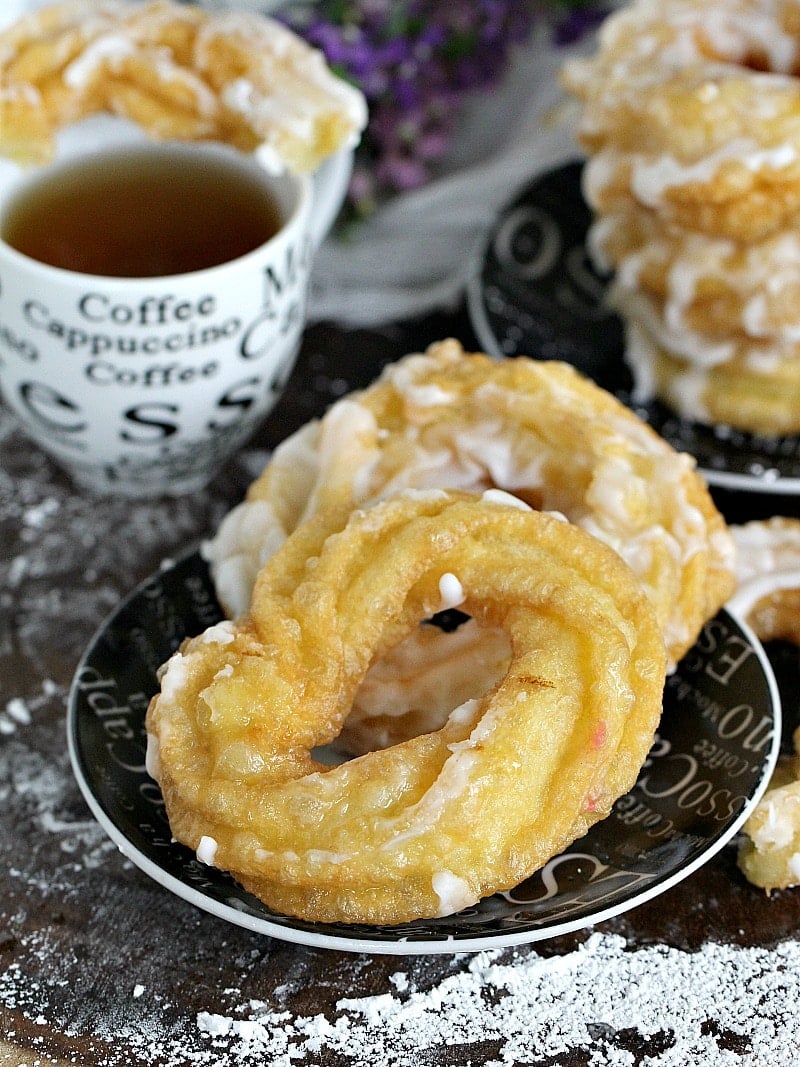 Happy Friday! Today I am sharing with you a Copycat recipe for Dunkin Donuts French Cruller that is hands down my favorite donut ever. I can never buy just one and I completely obsessed with its fancy crumb and sweet taste. Dunkin Donuts French Cruller is covered in minimal glaze just like you see above, but I on the other hands prefer my French Cruller to have some extra glaze, which you can see from the photos below.

Yes, totally obsessed! Now that I made them at home, I may just invest in a few pairs of stretchy pants!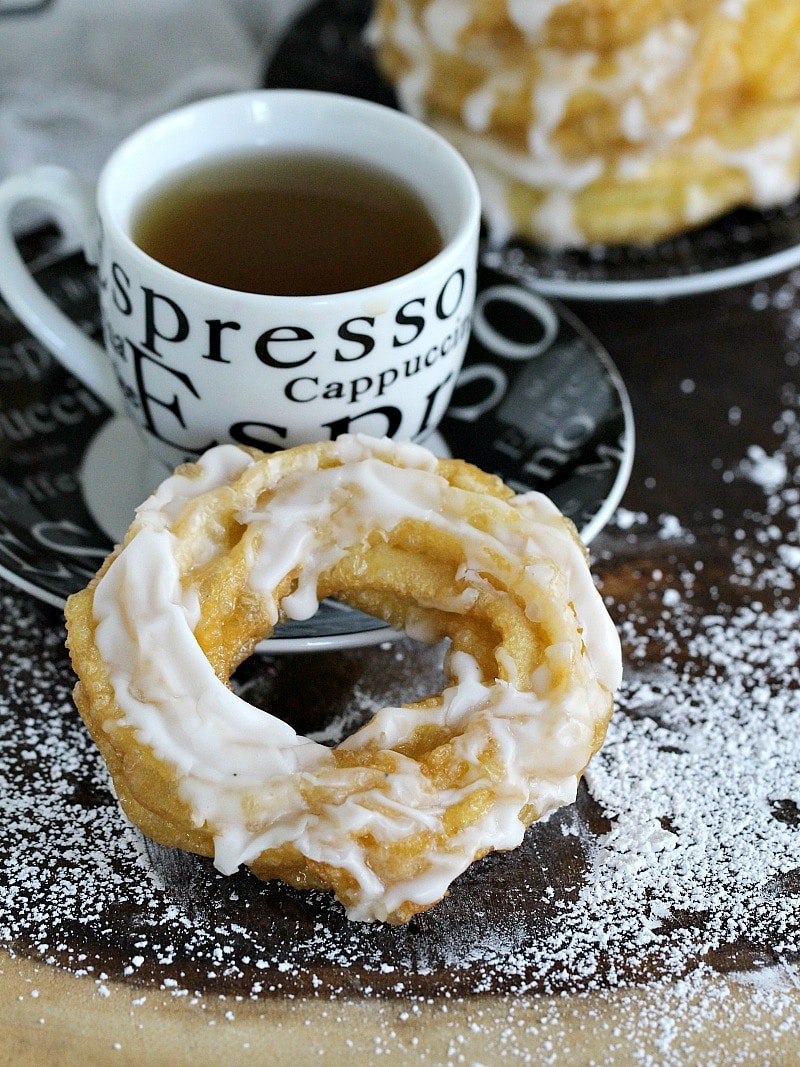 Perfect from every angle!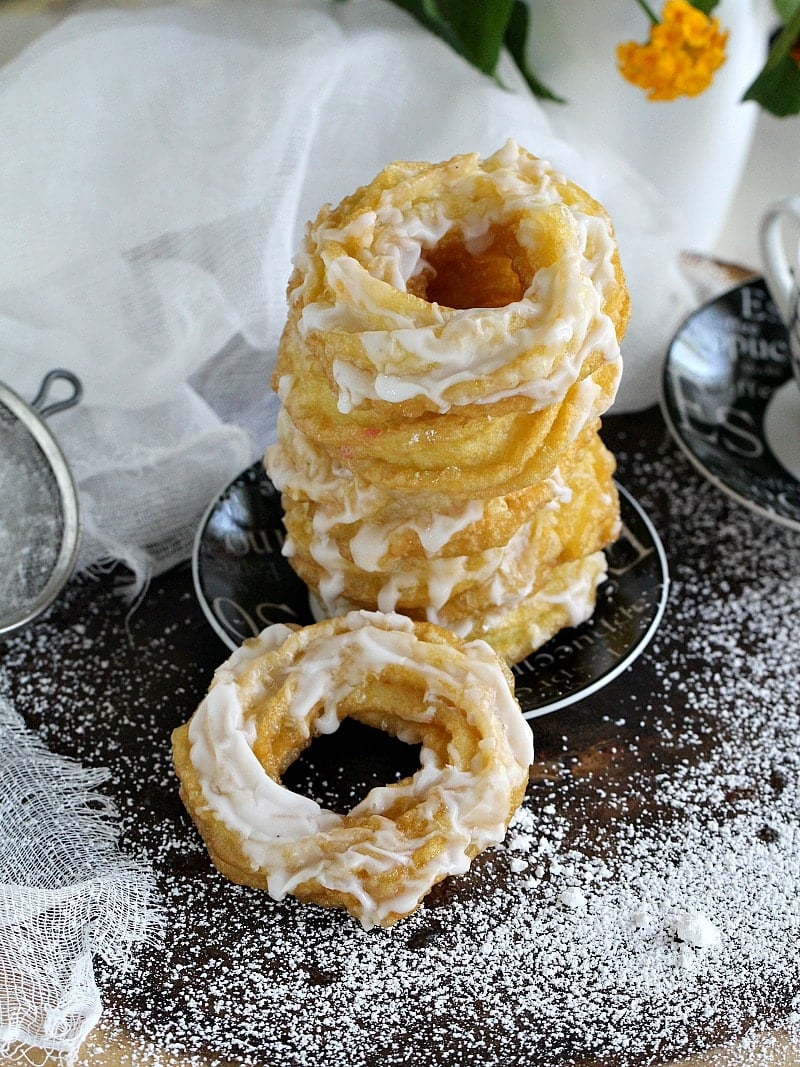 I kept some of the French Crullers with minimal glaze, Dunkin Donuts style and the others I covered in a thicker, more consistent sugar glaze, just like I love it. I figured that if I decided to make my own Dunkin Donuts French Cruller , I can go big or go home,!

MY LATEST VIDEOS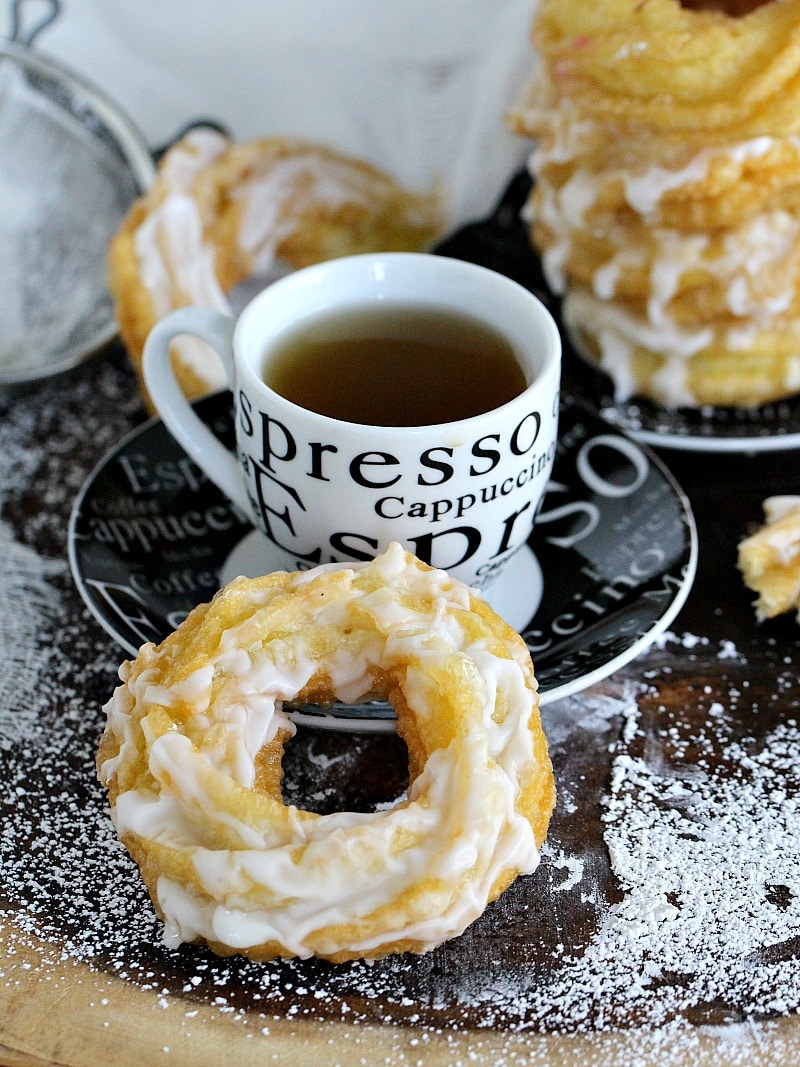 The French Cruller is a more sophisticated donut, I always imagine that it must be served on the streets of Paris. It has a beautiful shape, since its piped using a star tip. The French Cruller probably is one of the easiest donuts to make, no yeast involved, just a few ingredients and you can have donuts ready in 30 minutes!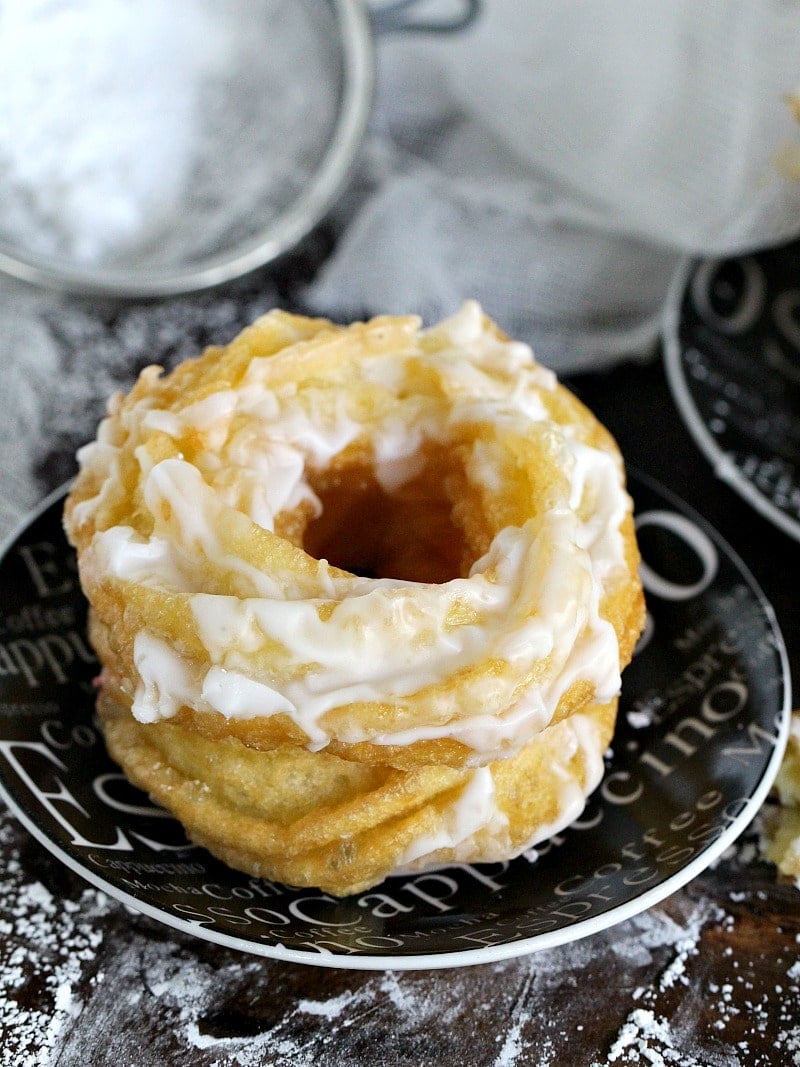 The Dunkin Donuts French Cruller has a beautiful, crunchier top with a softer, pastry like inside. This recipe makes the perfect French Cruller at home! The donut is fried to golden perfection and drizzled with a simple sugar glaze. The Dunkin Donuts French Cruller is me and my mom's favorite dessert, I just can't wait to make some for her.

Dunkin Donuts French Cruller (Copycat)
The Dunkin Donuts French Cruller donut made in the comfort of your home with just a few ingredients is yeast free and will be ready in under 30 minutes.
Author:
Katalina Kastravet
Ingredients
1 cup hot water
6 tablespoons unsalted butter (85 grams), cut into cubes
1 cup all purpose flour
1 tablespoon granulated sugar
pinch of salt
3 large eggs, room temperature
2 egg whites, room temperature
vegetable oil for frying
Glaze:
1½ cup powdered sugar
2-3 tablespoons milk
Instructions
Cut 12 squares of parchment paper, the squares must be approximatively the size of your palm. They will be used to pipe the donuts onto. Arrange them on a baking sheet and spray with baking spray. Set aside.
In a large medium bowl mix powdered sugar and milk until well combined. The mixture must be smooth with no lumps and it should be a little thick, but still pourable. For a more transparent glaze, add one extra tablespoon of milk. For a thicker glaze add less milk. Set aside.
In a medium sauce pan over medium heat combine water, butter, granulated sugar and salt until completely incorporated and the butter is fully melted. Stir often.
Once the butter is completely melted, using a wooden spoon stir in 1 cup of flour, and work very quickly to incorporate the flour into the butter mixture over medium heat. Cook it on medium heat for 2 minutes, stirring continuously. This will remove the extra moisture from the batter, and make the donuts lighter.
Transfer the batter to the bowl of a stand mixer fitted with the paddle attachment and mix the batter for 1 minuts on medium - high speed to cool it off.
Reduce mixer speed to medium and mix in the eggs one at a time. Followed by the egg whites, mix until fully combined and the mixture is shiny.
Transfer the mixture to a large pastry bag fitted with a large star tip and pipe the donut rings onto the prepared paper squares.
Fill a heavy bottomed sauce pan with 2-3 inches of vegetable oil, once the oil reaches 370F reduce the heat to medium low and start frying the donuts.
With the help of a spatula transfer a donut to the pan, parchment paper side up, fry for a few seconds and using chopsticks remove the paper and discard. Fry the donuts 1 minute per side, until puffy and golden brown.
Remove from the pan and place on a cooling rack, using a spoon pour some of the glaze immediately onto the donut.
Repeat with the remaining donuts.
Let the glaze settle for 30 minutes. Serve!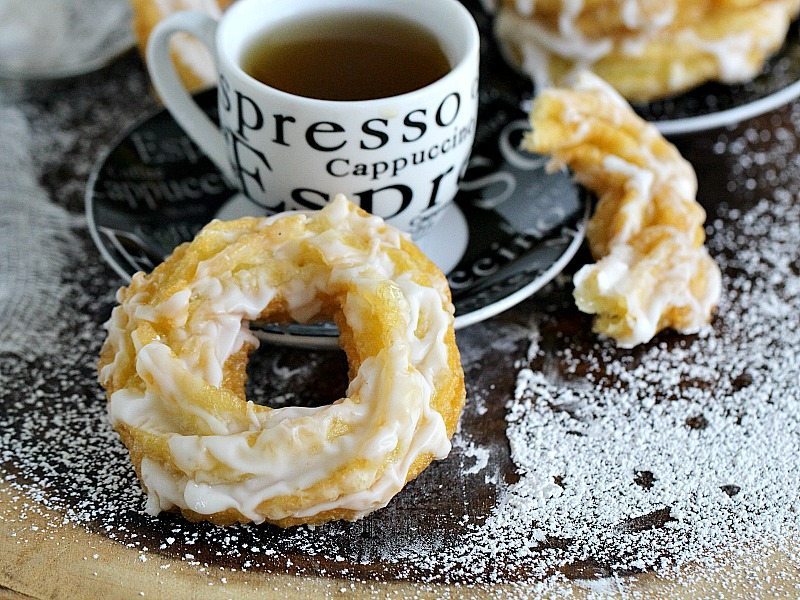 So much yum!

 

Peas and Peonies, LLC. owns the copyright on all images and text and does not allow for its original recipes and pictures to be reproduced anywhere other than at this site unless authorization is given. If you enjoyed the recipe and would like to publish it on your own site, please re-write it in your own words, and link back to my site and recipe page. Copying and/or pasting full recipes to social media or personal blogs is strictly prohibited. Sharing this recipe is very much appreciated and encouraged. Read my disclosure and privacy policy. This post may contain affiliate links.