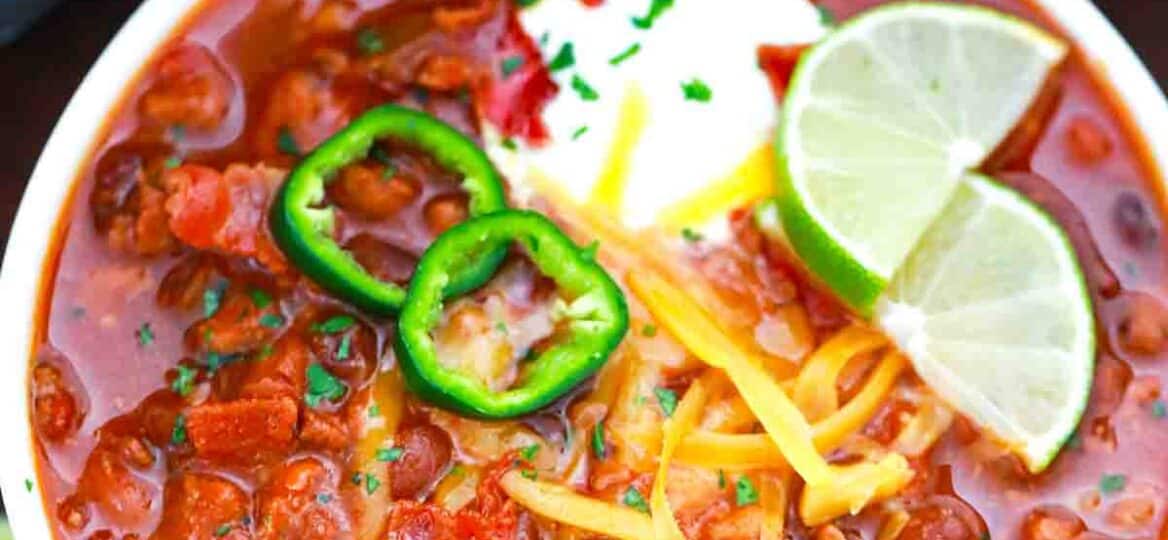 Instant Pot Turkey Chili Recipe [Video]
Instant Pot Turkey Chili is easy and quick to make with a variety of beans, fresh ground turkey, vegetables, and a blend of flavorful seasonings. Healthy instant pot chili is always welcome at our dinner table whether it is a cold winter night or a summer evening. You can make this any time of the year and make it your own by adding or removing ingredients as you like.
Are you looking for more chili recipes? Try our meaty Instant Pot Chili made with ground beef, red kidney beans, and soy sauce, or this delicious White Chicken Chili with chicken breast, white beans, and sweet corn. Those who like spicy chili will love our Instant Pot Mexican Chili flavored with poblano peppers, taco seasoning, and black beans.
There are so many legends about who invented chili, that it is hard to decide where it really came from. While many people believe it started in Mexico, that is not the case according to historians.
Some say that Sister Mary passed the recipe to Native Americans in the 1600s, but others say the dish was invented in Houston in 1828 by poor families in San Antonio, Texas. The beans, tomatoes, and small amounts of meat went a long way for just a little money.
This instant pot chili is a healthy turkey chili recipe that you can have seconds of without feeling guilty. A hearty bowl of thick chili is perfect for a cold winter night or any time of the year. Add more beans, some rice, or whatever else you feel your chili could use to make it your own.
For something completely different to make with your instant pot, our Orange Chicken recipe is fast and easy, made with orange juice, white wine, and tomato sauce. Red wine beef roast served with red potatoes and carrots is also cooked quickly in the instant pot. And this instant pot Philly cheesesteak pasta is wonderful with shell pasta, sour cream, and cream cheese.
Ingredients needed:
You will need to gather these items for this instant pot recipe. When you are ready to begin, scroll down the page to our recipe card for complete instructions and measurements.
Ground turkey
Turkey bacon: Chopped.
Shredded cheddar cheese
Minced garlic cloves
Jalapenos: Seeded and minced.
Bell pepper: Chopped and seeded.
Red bell peppers: Diced and with seeds removed.
Small red onion: Chopped.
Diced tomatoes: Drained.
Tomato paste
Pinto beans: Drained.
Black beans: Drained.
Chicken stock
Worcestershire sauce
Soy sauce
Liquid smoke
Juice and zest of one lime
Seasoning mix:
Freshly dried oregano
Dried cilantro
Onion powder
Ground cumin
Kosher salt
Ground black pepper
Smoked paprika
Chili powder
How to make Instant pot turkey chili from scratch?
Make the seasoning mix: First, combine the seasoning ingredients in a small bowl. Set seasoning mix aside for later.
Saute the bacon: After, turn your instant pot to saute and place the bacon in a single layer in the pot. Cook until they are very crisp, stirring occasionally to make sure it cooks evenly.
Remove the bacon: Then, remove the bacon and place it on a plate lined with paper towels or napkins to soak up any excess grease.
Cook the turkey and veggies: Next, add the bell peppers and onions and cook until they are tender. Add ground turkey and cook it all together until the turkey is brown.
Drain and add the rest: Now, drain the grease and add the remaining ingredients except for the cheese and only use 3/4 of the bacon. Stir chili until it is combined.
Pressure cook the chili: Afterward, seal and turn your instant pot to high pressure and cook for 20 minutes.
Release the pressure: After, let the pressure release naturally for 10 to 15 minutes before you release the rest of the pressure with a quick release. Adjust seasonings to taste.
Serve hot: Finally, serve warm or hot with the extra bacon, shredded cheese, sour cream, and lime wedges. Garnish with parsley and jalapenos if you like.
How to make slow cooker turkey chili from scratch?
Saute: To begin, saute the bacon on medium-high in a frying pan for several minutes until it is very crispy. Take it out and put it on a paper towel-lined plate to absorb the grease.
Cook the veggies: Next, add bell peppers and onions, cooking until they are soft and fragrant.
Brown ground turkey: Afterward, brown ground turkey in the same pan. Drain the grease and then add to the slow cooker with the rest of the ingredients except for the cheese and 1/4 of the bacon.
Cook: Then, cover the cooker and set it to high for three hours or low for five hours.
Melt the cheese and serve: When finished, add the rest of the bacon and cheese to the top to melt and adjust salt and other seasonings. Serve warm with sour cream, limes, parsley, and jalapenos.
Recipe variations:
Other beans: Feel free to add other canned beans like navy beans, white beans, or red kidney beans.
Other veggies: Another way to make this an even heartier chili is to add other veggies like corn, celery, peas, cauliflower, broccoli, or green beans.
Fire-roasted tomatoes: You can also use fire-roasted diced tomatoes if you want more tomato flavor.
Garlic powder: It is fine to substitute garlic cloves with garlic powder if that is all you have. Or add it to the recipe for an intense garlic flavor.
Hot and spicy: Add some heat to your chili with some cayenne pepper or red pepper flakes.
Other meats: For something different, try ground chicken or pork.
Chipotle chili powder: You can use chipotle instead of regular chili powder for a more robust flavor.
Green onion: You can also use green onions instead of or in addition to the red onion.
Green chiles: Toss in some green chiles for even more deep flavor.
No bacon: If you do not want to add bacon, make sure you heat olive oil in the pot before you saute the onions and peppers.
Chicken broth: Actually, chicken broth will work just fine as a substitute for chicken stock.
Chili mac: Add your favorite pasta to make chili mac. The preferred noodle is the macaroni noodle which is where the name came from.
How to serve:
This healthy turkey chili recipe can be served alone or with your favorite chili toppings and a slice of thick crusty bread. You can serve this healthy dinner with one of these awesome ideas or share your own in the comments section.
Sprinkle some parmesan, romano, or another kind of cheese on top for a cheesier chili. Or add a spoonful of this cheesy beer cheese dip on top.
Add a dollop of sour cream to the top right before serving for an extra thick ground turkey chili.
You can serve it with a bowl of tortilla chips, bread, or fresh veggies as well.
Another way to serve this instant pot turkey chili is with some sliced avocados on top.
A bowl of guacamole would be the perfect addition to your table with this chili. Try our recipe for homemade guacamole.
You can use leftovers to make a casserole, or soup, or serve with warm tortillas for chili tacos.
Make a batch of our favorite southern cornbread to go with this delicious chili.
Frequently asked questions
How can I use dried beans for this recipe?
For even fresher tasting beans, use dried beans. You do not need to soak them or cook them first. Using your pressure cooker recipe, the beans will cook in minutes, and they soak up the juices as they cook, making them even more flavorful. Use two cups of dried beans for this recipe. Remember to rinse them first.
What is the difference between an electric pressure cooker and an instant pot?
An electric pressure cooker is a step up from your grandmother's old pressure cooker she used on the stove. Similar to an instant pot but with fewer features, they can both cook the same things if you know how. The instant pot does not cook with as much pressure but has different settings to cook in other ways. You can use it to saute, for canning, to make cakes, and even to make yogurt.
Is chili powder and chili seasoning the same thing?
Although these can be used interchangeably, there are subtle differences that you may notice right away. See, all chili seasonings have chili powder in them, but not all chili powders are part of a chili seasoning. To make your own chili seasoning at home, try mixing one tablespoon of chili powder, one teaspoon each of salt and cumin, 1/4 teaspoon each of cayenne pepper, garlic powder, and black pepper, and 1/2 teaspoon of salt.
What are the nutrition facts in this recipe?
The calories you will get from a serving of this chili is 300 if you make it exactly as the recipe says. You will also get 2 milligrams of iron, 75 milligrams of calcium, 500 units of vitamin A, and 30 grams of protein. Each serving also contains 5 carbs, 16 grams of fat with 8 grams of saturated fat, and 130 milligrams of cholesterol.
How to store leftovers:
Store: Your instant pot turkey chili will stay fresh for up to five days if you keep it refrigerated in a sealed container.
Freeze: This is also a great freezer meal. Simply add single servings to airtight containers or freezer bags and you can just take out and cook whenever you want a bowl of delicious and healthy chili.
Thaw: For best results, thaw in the fridge overnight before serving.
Reheat: To reheat, put in the microwave for 60 to 90 seconds.
More recipes with turkey:
Cooking tips:
To drain off excess grease, we just tilted the pot and used a large spoon to scoop it out.
Cooking time may vary. Different instant pot models cook at different temperatures.
If you want a thicker chili, add more tomato paste or a bit of cornstarch slurry.
Some secret ingredients I have found over the years are also worth a try. You can use dark chocolate powder, strong coffee, or cinnamon to boost the meaty flavor or add a splash of cider, wine, or beer.
Cut prep time by just adding everything to the pot and cooking it that way. It may not have the intense garlic and onion flavor but it will still be delicious.
Remember, this chili tastes better the next day after soaking in the juices and flavors all night. Consider making it the day before. Then you can cook it with no prep time, and it will be even more delicious.
For vegetarian chili, use tofu instead of turkey.
Instant Pot Turkey Chili
Ingredients
1 1/2

pounds

Ground Turkey

12

strips turkey bacon

chopped - or use pork bacon

15

oz

can pinto beans

drained

15

oz

can black beans

drained

15

oz

can diced tomatoes

drained

6

oz

can tomato paste

1

medium red onion

diced

1

red bell pepper

seeded and chopped

1

green bell pepper

seeded and chopped

2

Jalapeñoes seeded and minced

3

cups

chicken stock

1

tablespoon

dried oregano

1

teaspoon

dried cilantro

1

teaspoon

onion powder

1

teaspoon

ground cumin

2

teaspoons

Kosher salt

or to taste

1

teaspoon

ground black pepper

or to taste

1

teaspoon

smoked paprika

2

tablespoons

chili powder

1

tablespoon

Worcestershire sauce

1

tablespoon

soy sauce

1

teaspoon

liquid smoke

optional

1

lime

juiced and zested

4

cloves

garlic

minced
Toppings:
Shredded cheddar cheese

Sour cream

Bacon

Jalapeno

Parsley
Instructions
Turn on the Instant Pot and select saute on high, once it reads hot add the bacon.

Cook until very crisp, stirring often to cook evenly. Remove the bacon to a paper towel-lined plate and set it aside.

Add the onion, bell peppers, and jalapeno pepper, and cook for 2-3 minutes, or until tender.

Add the meat, and breaking it with a wooden spoon, cook it until browned.

Drain off any excess grease.

Add all of the remaining ingredients, except cheese and 1/4 of the bacon, and stir to combine.

Place on the lid, and place the vent into the sealing position (on older models).

Pressure cook on high for 20 minutes. Release pressure naturally for 10-15 minutes, after that open the vent for a quick release with the vent.

Give the chili a good stir and taste it for salt, pepper, and spiciness.

Serve with lime wedges, sour cream, cheese, and a little bacon!

Garnish with jalapeno and parsley.
Deliciousness to your inbox
Enjoy weekly hand picked recipes and recommendations