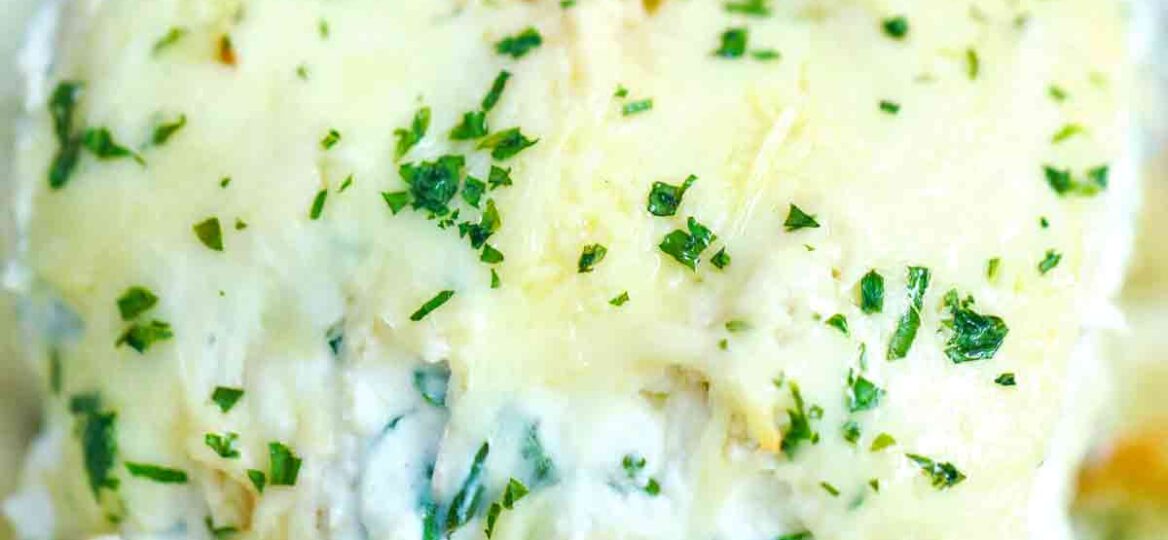 Chicken Alfredo Lasagna Recipe
Chicken Alfredo Lasagna is a savory blend of three kinds of cheese, chicken, Italian seasoning, and creamy alfredo sauce. This great recipe will be one of your favorites once you try it for the first time. And for this delicious chicken alfredo recipe, you will only need a handful of ingredients.
Use our Homemade Alfredo Sauce recipe with cream cheese in this chicken lasagna for a seriously cheesy sauce. If you are not a fan of pasta, use this creamy and delicious Instant Pot Chicken Alfredo recipe and it will be done in 22 minutes. For a classic lasagna recipe, try our Homemade Lasagna with ground beef, spinach, and marinara sauce.
We enjoy making this meal in advance, layer everything, cover it with plastic wrap and refrigerate. Next, when you get home, or right before dinner, just pop it in the oven and cook it. This way you have a fresh cheesy meal ready in minutes.
Also, we like assembling a few of these in foil pans, and instead of baking them, we wrap them tightly in foil and freeze them. This way you have an emergency dinner on hand whenever you need it. In addition, it's pretty simple to make, just double the ingredients and prep one meal for now and one for later.
Your family will also get a nutritious meal, with plenty of calcium, vitamin A, and 30 grams of protein from this delicious casserole dish, which is 60% of your recommended daily values. It is a great way to make a simple weeknight dinner turn into one of your favorite family dinners.
This dish is incredibly delicious, it's the type of recipe that is a success with the whole family, and you will see even kids asking for seconds. Another thing that we like, it that this meal is very versatile. You can add different types of veggies or green to it to make it more nutritious.
Another advantage is that the leftovers taste great and are so easy to reheat, just pop a slice in the microwave and enjoy it! Therefore, it makes the perfect packable lunch, add some veggies or salad on the side and you are good to go!
Follow us on Pinterest for more delicious recipes!
Ingredients needed:
You can scroll down to the bottom of the page to download our handy recipe card with the recipe instructions, but here are the main items you need:
Alfredo Sauce:
Minced garlic cloves: Alternatively, you could use garlic powder, but using fresh garlic will add extra flavor.
Butter: Unsalted and at room temperature.
Chicken broth: You could also use vegetable broth.
Nutmeg: Fresh or powdered.
Heavy cream: Or milk and butter if you don't have cream.
Parmesan cheese: Freshly grated or dried will both work fine.
Ricotta Layers:
Ricotta cheese: Use cottage cheese instead for less fat.
Parmesan cheese: Grated fresh or dried.
Baby spinach: Steamed, cooled, and chopped.
Italian herbs: Store-bought or homemade work fine.
Minced garlic cloves: Or garlic powder.
Basil: Fresh and chopped.
Eggs: Lightly beaten.
Lasagna layers:
Noodles: Dried and boxed or fresh lasagna sheets.

Mozzarella cheese: Shredded.
Shredded chicken: Cooked chicken breast or rotisserie both work fine.
Parmesan cheese
Parsley
How do you make chicken alfredo lasagna?
Prepare noodles: First, get your pasta ready by boiling or soaking it for 30 minutes in cold water (you can skip this step if you are using fresh lasagna).
Alfredo sauce: Meanwhile, mix butter and garlic in a large pot on low until the butter melts, and then let simmer for two minutes. Turn to medium heat and add the cream, broth, and parmesan cheese. Add the nutmeg and stir until the cheese is melted. Do not let it boil.
Ricotta layer: Then, in a large bowl, add ricotta and add the beaten egg, herbs, garlic, spinach, and basil. Stir until it is completely mixed.

Chicken: After, add olive oil to a large skillet and sear chicken breasts on both sides. Then cook on high for several minutes on each side (skip if using a rotisserie or other pre-cooked chicken).
Layer: Next, spread one cup of the alfredo sauce into a thin layer on the bottom of a 9×13 baking dish. Then add a layer of noodles, ricotta mixture, mozzarella, parmesan, and the chicken mixture.

Keep layering: Then, you will keep adding layers of noodles, cheese, chicken, and sauce until you get the number of layers you want (typically 3 or 4).
Bake: Finally, add the remaining sauce, cheese, and parsley on top and bake, covered for 30 minutes at 350 degrees F.

Remove foil: Lastly, take off the foil and cook for another 15 to 20 minutes. The internal temperature should be 165 degrees F.
Recipe variations:
Add other cheese: Alternatively, add queso fresco instead of ricotta for a Mexican flavor. Also, we recommend mixing the cheese, you can use some Asiago or Fontina cheese.
Or tangy cheese: Mascarpone is also a great substitute for ricotta cheese, and you can also try cream cheese.
Make it meaty: Add a layer of bacon between each layer of lasagna noodles for a major meaty meal.

You know that everything tastes better with bacon in it.

Add onion: Another spice you can add that will blend well is chopped onions that have been caramelized to perfect. Adding a layer of these would take this meal over the top.
Buffalo: Another way to make this great recipe even better is to mix the chicken with some Buffalo sauce. If you like spicy food, this is definitely the way to go!
Ranch: In addition, you can try mixing the chicken with Ranch dressing and also adding some Ranch powder to the sauce. If you plan on making this version, make sure to use some cheddar cheese as well.
Use frozen: You can also use frozen spinach instead of fresh to save time.
Whole wheat: To make this dish whole wheat, just use whole wheat noodles.
Low-carb: As an alternative, make this recipe lower in carbs, by using low-carb pasta or making it with zucchini slices instead.
Gluten-free: Another option is to make it gluten-free, by using gluten-free noodles.
Different sauce: Use marinara sauce instead of white alfredo sauce for a different flavor.
How to serve:
For best results, serve this delicious dish nice and warm with a fresh green salad. Or you could also try one of these serving suggestions:
Our scrumptious classic Caesar salad would also be a great side dish.

These homemade breadsticks would be perfect with this dish.
You could also use other kinds of meat like turkey, ham, or ground beef.
Instead of making traditional lasagna layers, try making easy lasagna rolls. Just lay the noodles out flat and add a bit of ricotta mixture, mozzarella, parmesan, and the chicken mixture before rolling them up, one at a time. Then add the rest of the sauce and cheese and cook these chicken alfredo lasagna roll-ups at 350 degrees F for 25 minutes.
Frequently Asked Questions
Do I have to cook the lasagna noodles first?
If you like your noodles soft, you should cook the noodles first the traditional way. Using the instructions on the package, cook them al dente. If you like them more al dente, just soak your uncooked lasagna noodles in water for 30 minutes first. You could even use them dry, but they will need extra moisture.
How many layers should lasagna have?
Although there is no preset number of layers for traditional lasagna, most have three or four. You can add more if you want a thicker dish or feed the whole family. Some people use two layers but that is the minimum.
What kind of cheese is best?
The kind of cheese you use depends on your own preference as well as the type of lasagna you are making. For instance, this chicken alfredo recipe has ricotta, parmesan, and mozzarella cheese. But you can switch it up and add cheddar or another flavor.
How to store leftovers:
Store: Leftovers can be stored in the refrigerator in an airtight container for up to five days. But wait until it cools to room temperature first before transferring it to the storage containers.
Freeze: For leftovers, you cannot finish in five days, wrap them in plastic wrap and then store them in freezer bags in your freezer for up to three months.
Thaw: Be sure to think ahead and thaw frozen lasagna overnight in the fridge before reheating. In addition, keep in mind that you have to reheat really well any thawed food, to make sure you kill any harmful bacteria. Also, it is very important to thaw it in the fridge for the same reason.
Reheat: Heat individual servings in the microwave or put the whole thing in the oven covered with aluminum foil for 10 minutes at 350 degrees F.
More Casserole Recipes:
Cooking tips:
Make sure you do not overbake it or your pasta will dry out especially on the sides and top of the pan.
If you need to make a larger lasagna, you can use two casserole pans or just use a larger one and double the ingredients.
Do not let the alfredo sauce boil when cooking, the cheese may curdle.

To save you some work, use the fresh lasagna sheets in the pasta department so you don't have to boil or soak them.

That is especially helpful when you are short on time, or if you are making a double batch and want to reduce the time and effort that goes into this dish.

For a faster lasagna dinner, use prepared alfredo sauce.

Also, you can use a flavored sauce, to add extra oomph to the meal.

Using rotisserie chicken instead of chicken breasts will also save time. As you can see, if you use no-boil noodles, pre-cooked meat, and a store-bought sauce, this delicious meal would come together in no time!
Chicken Alfredo Lasagna
Ingredients
Alfredo sauce:
4

cloves

garlic

minced

1/2

cup

unsalted butter

cubed

1 1/2

cup

chicken broth or vegetable

1 1/2

cup

heavy cream

1/4

teaspoon

nutmeg

1 1/2

cup

parmesan cheese
Cheese layer:
14

oz

ricotta cheese

1

cup

grated parmesan cheese

2

cups

baby spinach

steamed

1

cup

chopped fresh basil

1

teaspoon

dried Italian herbs

4

cloves

garlic

minced

2

eggs

lightly beaten
Lasagna layers:
1

box lasagna noodles

3

cups

mozzarella cheese

1

cup

parmesan cheese

4

cups

tender shredded chicken

3

tablespoons

fresh parsley

chopped
Instructions
Prepare noodles by boiling per package directions and aim for al dente.

Preheat oven to 350 degrees F.

Lightly grease a 9x13 pan and set it aside.
Alfredo sauce:
Place a small pan over low heat and add butter and garlic. Stir for about 2 minutes, until the butter is fully melted and infused with garlic flavor.

Increase the heat to medium and while stirring add in the cream and broth little by little.

Reduce heat to low again and slowly stir in the parmesan cheese until it melts. Do not bring to a boil!

Add the nutmeg and remove it from heat. The sauce should be smooth.
Cheese layer:
Chop the steamed spinach. and fresh basil. Set aside.

Add ricotta to a large bowl, stir in beaten eggs, garlic, Italian herbs, chopped spinach, and basil. Stir until well combined.
Assemble:
Spread some sauce on the bottom of the 9X13 pan.

Layer the noodles first, after that a layer of the ricotta mixture, followed by a layer of shredded chicken, mozzarella cheese, parmesan cheese, and Alfredo sauce.

Continue to layer in this order for 3-4 layers. Make sure to distribute evenly.

When at the top layer add the rest of Alfredo sauce, mozzarella cheese, and parsley on top.

Cover with foil and bake it for 30 minutes.

Remove foil and bake for 10-15 more minutes or until bubbly and lightly golden on top. The internal temp should be 165 degrees.

Remove from the oven, let it rest for 15-20 minutes before slicing and serving.