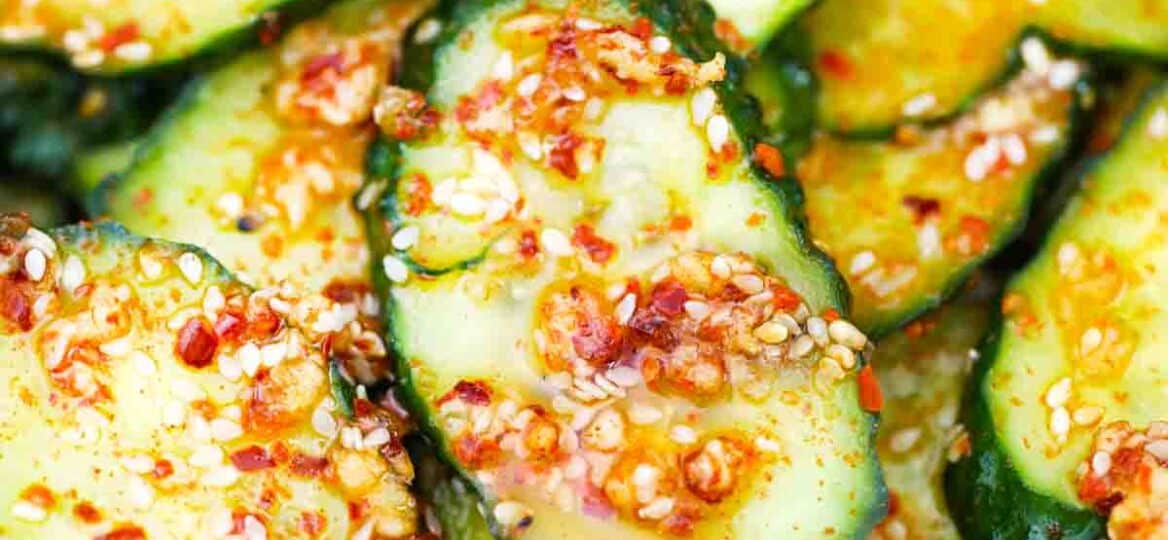 Amazing Spicy Cucumber Salad Recipe
Spicy Cucumber Salad has a refreshing crunch and a spicy kick that makes it the perfect side dish or delicious appetizer. The spicy sauce can be made ahead of time so you can just toss your cucumbers into a large bowl and have a side dish or appetizer ready to serve in minutes. As any recipe developer knows, creating salads is fun and you can use almost anything you like.
Also known as spicy Asian cucumber salad, Asian spicy cucumber salad, or Korean cucumber salad, this dish first came about in Asia. Another name for it is oi muchim. In Korean, oi means cucumber and muchim means seasoning. The traditional Korean cucumber salad recipe is made with cucumbers marinated in garlic, rice vinegar, soy sauce, toasted sesame oil, and Korean chili flakes. It is one of the most common banchan, which means side dish.
To make this easy spicy cucumber salad recipe, you only need a handful of ingredients and there are only two simple steps. If you like spicy Asian food, you may already have many of the ingredients like soy sauce, sesame oil, sriracha oil, and Korean chili flakes. Other items like garlic, salt, and sugar are basic baking items you probably have too.
Ingredients needed:
To make this delicious cucumber dish with spicy dressing, you will need the ingredients listed below. Then, when you are ready to begin, find our printable recipe card at the bottom of the page for the instructions and measurements.
Sliced cucumbers: We used mini cucumbers.
Dressing ingredients:
Granulated sugar
Minced garlic cloves
Toasted sesame seeds
Soy sauce
Sesame oil
Rice vinegar
Chili oil
Chili powder
Sriracha sauce
Korean chili flakes
Salt
How to make spicy cucumber salad from scratch?
Slice and dry the cucumbers: First, slice the cucumbers thinly and add them with salt to a large bowl, letting them sit for 10 minutes to draw out the water. Drain the liquid and pat the sliced cucumbers with a paper towel before putting them back into the dried bowl.
Mix in sauce ingredients and serve: Then, add the remaining ingredients to the bowl with the cucumbers and gently mix. Now it is ready to serve or you can chill it for up to four days.
Recipe variations:
No sugar: Instead of sugar, you could use maple syrup or honey.
More veggies: Feel free to add your favorite veggies such as green onions, sundried tomatoes, olives, or chopped bell peppers.
Red pepper flakes: Replace Korean chili flakes with red pepper flakes if you like.
Make it crunchier: Use chili crunch instead of chili oil to make your salad extra crunchy.
Other vinegar: If you do not have rice vinegar, you can use another type like apple cider vinegar.
Different seeds: Instead of sesame seeds, you try could flax, chia, or poppy seeds or chopped roasted almonds.
Add meat: To make this a meal instead of a side dish, add more veggies and some kind of meat such as chopped chicken, turkey, or pork.
How to serve:
This is one of my favorite salads and I make it all the time during the summer. Here are some delicious serving ideas to try or share some of your ideas in the comments section at the bottom of the page. We love reader interactions.
Sprinkle some dried cheese like parmesan or romano on top for a richer flavor.
If you have any remaining cucumbers, you can use them in other salad recipes. They would be perfect for our creamy cucumber salad.
For those who garden, if you have more cucumbers than you know what to do with, this is the perfect easy recipe to make any time.
To make a rice or pasta dish with this recipe, assemble the salad, place it on a bed of rice or pasta, and serve it with dressing on the side. Try our low-carb cauliflower rice recipe.
For a side dish, add some protein like bacon, lentils, or slivered almonds.
You can also top this delicious salad with another spicy sauce like our General Tso sauce.
Shredded cheddar or mozzarella would also be a tasty topping.
Frequently asked questions
What is the best cucumber for this spicy cucumber salad?
Although I used a small regular cucumber for this absolutely delicious salad, many people choose to use an English cucumber instead because it has a thinner skin and a sweet and mild flavor. Persian cucumbers are the same way so you could use that too. Regular mini cucumbers also work for this and other salad recipes.
How do I keep my spicy cucumber salad from being soggy?
No matter what salad recipe you are making, you should always salt your sliced cucumbers before using them. This is the first and most important step in making cucumber salad that is not soggy. Another important thing to do is to pat them with paper towels afterward to soak up any lingering moisture.
What can I use instead of sesame oil?
Sesame oil is an optional ingredient in spicy cucumber salad, but it does give your salad a unique flavor. However, if you just do not have any and cannot find it at the local grocery store, there are a few substitutes that can work in its place. Some of the best choices are peanut, avocado, grapeseed, and olive oil.
What are the differences in vinegar?
There are several main types of vinegar. Distilled white vinegar is the strongest most basic one that is commonly used for cooking and cleaning. White wine vinegar is next, it is a mellower flavor with less acid. Red wine vinegar is perfect for tangy and sharp recipes like pickled onions. Apple cider vinegar is sweeter and tarter than the others. Rice vinegar is a very mild and sweet choice with the least acid.
Is this recipe gluten-free?
You can make this spicy cucumber salad gluten-free by using gluten-free soy sauce. It contains no gluten at all. The other ingredients are also free of gluten as well as dairy and eggs. It is also nut-free, but sesame seeds can cause an allergic reaction in those who are highly allergic to nuts.
What are the nutrition facts in this recipe?
If you are worried about nutrition, calories, and fat content, this salad is perfect for you. It only has 80 calories per serving, 11 grams carbohydrates, 3 grams of fat, 7 grams sugar, and 1 gram saturated fat. It does have 550 mg sodium but you can lower that by using salt substitute and low-salt soy sauce. It also has 1 gram monounsaturated fat, 2 grams polyunsaturated fat, 5 grams protein, 630 mg potassium, 70 mg calcium, 2 mg iron, 16 mg vitamin C, 322 units vitamin A, and 5 grams fiber.
More salad recipes to try:
How to store leftovers:
Store: Although the assembled salad is best eaten within 24 hours for crunchiness, you can store it in an airtight container or ziplock baggie. Keep it in the fridge for up to four days.
Freeze: Freezing is not recommended.
Recipe tips:
Do not skip salting the cucumbers. The salt draws the water content out of your sliced cucumbers, so the salad is not too watery. Fresh cucumbers have a lot of water content, and you want crisp cucumbers instead of soggy.
Rinse your salted cucumbers in cold water if you are worried about the sodium content or salty flavor. Just make sure you dry them afterward.
Make sure you cut your cucumbers into thin slices. This will also help keep your salad crispy.
If you cannot find baby cucumbers, use Persian cucumbers or English cucumbers. Just make sure it is thinly sliced.
Shorten prep time by keeping a jar of the sauce in your fridge at all times.
Hit your whole cucumber a few times with a rolling pin or canned good to give them a different texture and help them absorb the dressing better.
If you do not like spicy food, you can leave out the chili flakes, siracha sauce, and chili oil. but leave the chili powder in for flavor. It has a milder spicy heat and makes a big difference in the taste of this wonderful recipe.
Looking for a new recipe to try? We put one on our blog post every day.
Spicy Cucumber Salad
Ingredients
6

Persian cucumbers

sliced

1/2

teaspoon

salt

or to taste

2

cloves

garlic

minced

1

tablespoon

soy sauce

1

tablespoon

rice vinegar

1

teaspoon

sesame oil

1

teaspoon

chili oil

or chili crunch

1/4

teaspoon

chili powder

1

teaspoon

sriracha sauce

1/2

teaspoon

sugar

1/2

teaspoon

toasted sesame seeds

1/4

teaspoon

Korean chili flakes

or red pepper flakes
Instructions
Add the sliced cucumbers and salt to a large bowl, gently stir to combine, and let them sit for 10 minutes; drain any liquid.

Add the remaining ingredients, and gently stir to combine.

Serve immediately, or cover and refrigerate for 3-4 days.
Deliciousness to your inbox
Enjoy weekly hand picked recipes and recommendations