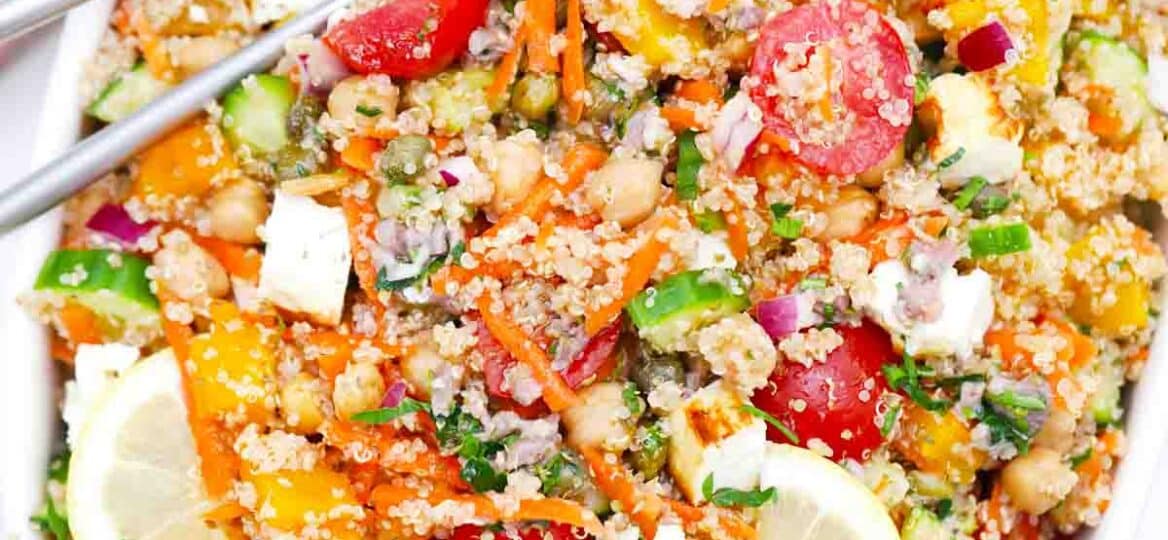 Mediterranean Grilled Feta Quinoa Salad Recipe
Mediterranean Grilled Feta Quinoa Salad gets 5 stars for its flavor, healthiness, and how easy it is to prepare, with lots of veggies, feta, and grains. It is the perfect salad cuisine or side dish for a backyard barbecue or even a whole meal. Add whatever you like to make it your own or eat it the way it is written here. Either way, it is packed with lettuce, feta cheese, chickpeas, and yummy veggies with a tangy lemon dressing.
Greek salads are straight from Greece, made in the late 1960s in Plaka. The restaurant owners and catering companies developed this salad to get around the salad tariff when Greece put a cap on the sale price of any kind of essential product. Because salads were considered to be essential, adding feta cheese made them non-essential so they did not have to pay a higher tax.
For this healthy quinoa salad recipe, all you need are a few ingredients including feta cheese, chickpeas, quinoa, and some veggies. Then it is topped with a homemade lemon salad dressing that brings out all the flavors. Capers and anchovies are also added to give it a richer and more unique taste.
Ingredients needed:
Making this Mediterranean quinoa salad recipe is easy. All you need are the simple ingredients listed here and about 15 minutes of meal prep time. When you are ready to start, scroll down to our recipe card for the exact measurements and complete instructions.
Grilled feta cheese
Chopped lettuce
Chickpeas: Rinsed and drained.
Chopped red onion
Large green bell pepper
Diced English cucumber
Medium carrot: Shredded.
Grape or cherry tomatoes: Halved.
Chilled cooked quinoa
Salad dressing ingredients:
Capers
Anchovies
Extra virgin olive oil
Fresh lemon juice
Red wine vinegar
Minced garlic
Chopped fresh cilantro
Chopped fresh parsley
Oregano
Kosher salt: To taste.
How to make Mediterranean quinoa salad from scratch?
Roast your pepper: First, roast the green pepper on a flame or in the broiler, turning with metal tongs, until charred. Then, let it rest for 10 minutes before you remove the core and seeds and chop it up.

Grill the cheese: Then, brush olive oil onto the block of feta cheese and grill until slightly charred.

Make salad dressing: In the meantime, stir the salad dressing ingredients in a mixing bowl and then chill while you make the salad.

Toss the salad: Next, toss the chickpeas, onions, carrots, tomatoes, cucumbers, pepper, and quinoa in a large bowl. Add the salad dressing and toss again to coat.

Garnish and serve: Now, place the lettuce leaves on a plate and top it with the salad. After, chop the feta cheese and add it to the top. Then, drizzle with olive oil, lemon juice, and oregano before serving.
Recipe variations:
Another oil: You can use avocado oil or whichever you like in your dressing.
More fresh veggies: Add your own favorite fresh vegetables like pitted kalamata olives, sun-dried tomatoes, green onion, zucchini, squash, celery, roasted red peppers, and eggplant.
Fresh herbs: Similarly, feel free to add your favorite fresh herbs like fresh basil, freshly ground black pepper, thyme, dill, rosemary, or whatever else you like.
Different cheese: You could also use crumbled goat cheese instead of crumbled feta cheese.

More protein: For an extra protein-packed salad, add garbanzo beans, toasted pine nuts, tempeh, chopped eggs, or tofu.

Other vinegar: Instead of red wine vinegar, try using balsamic vinegar for a sweeter flavor or apple cider vinegar for a tangier taste.
Lemon dressing: For extra lemon flavor, add some lemon zest or extract.

Dijon mustard: You could also add Dijon mustard to the dressing for extra tanginess.
How to serve:
This healthy Mediterranean quinoa salad is the perfect lunch, dinner, or snack at any time of the day. And getting your kids to eat it is easy because it has so many delicious flavors. The lemony dressing makes it even better! Try one of our serving ideas here or share some of your own in the comments section.
If you think this sounds delicious, try adding parmesan on top for an even richer flavor.

Make it a hearty meal by adding your favorite meat like grilled chicken, sliced beef, or chopped turkey.

You can also top your Mediterranean quinoa salad with shredded cheese like mozzarella or cheddar.

Feel free to use your own favorite salad dressing. Try our own homemade Greek salad dressing.

Use leftovers to add to any other salad recipes or use as a side for any Mediterranean meal.

Pour some of our balsamic glaze on your salad for an extra flavor boost.

Add what you like per your diet or taste. Instructions can be altered for any diet.
Frequently asked questions
Can I use raw quinoa for this Mediterranean salad?
While you may sometimes see a little bit of raw quinoa as a topping on cold quinoa salad, you do not want to use all raw quinoa in this salad. It does not have a good taste or texture. Another reason to cook the quinoa before eating it is that it can cause stomach discomfort and gas.
Do I need to rinse quinoa before cooking?
Yes, rinsing quinoa before cooking can help get rid of the bitter flavor. These grains are naturally coated with saponins to deter pests and diseases. These saponins, called pericarp, can be toxic if eaten in large quantities. Washing your quinoa should always be the first thing you do before cooking it.
Is this Mediterranean quinoa salad healthy?
While not all quinoa salad recipes are healthy, this quinoa salad with feta cheese is full of vitamins and nutrients. Some quinoa recipes have other ingredients that make them high in fat or calories, but this tasty recipe is gluten-free, low in fat, and the perfect cold salad for summer.
What is the difference between roasted red bell peppers and green bell peppers?
There are several different colors of bell peppers, but they are all the same vegetable. They are just ripened to different amounts. The red bell pepper is the sweetest because it is the ripest. The longer they stay on the vine, the sweeter they become. Green is the least sweet with yellow, orange, and red to follow.
What is a Mediterranean quinoa bowl?
It is basically just a name for having a quinoa salad in a bowl. In fact, this Mediterranean quinoa salad can be considered a Mediterranean quinoa bowl if you put it in a bowl instead of on a plate. They are made to be eaten cold and fresh, right after preparing them.
What are the nutrition facts in this recipe?
If you are worried about nutrition, calories, and fat, this is the right salad for you! Each serving only has 350 calories and packs 6 mg of iron, 200 mg calcium, 40 mg vitamin C, 170 units vitamin A, 650 mg of potassium, 12 grams of fiber, and 17 grams protein. The saturated fat is only 4 grams, cholesterol is 16 mg, and sugar is 5 grams. However, potassium is a bit high at 1,240 mg but you could lower it by leaving out the anchovies.
More healthy and filling salads to try:
How to store leftovers:
Store: You can save your leftover Mediterranean salad in an airtight container or gallon-size zip bag in the fridge for several days.

Freeze: It is not recommended that you freeze quinoa salad because it will get mushy.
Recipe tips:
Do not forget to add salt and pepper to taste.

If you do not have any anchovies, try using fish sauce or dried mushrooms.
Make sure you chop all the pieces about the same size for a mouthful of flavor in every bite.
This is a great recipe to use up leftover quinoa from the day before. Any quinoa salads are healthy but this one is full of vitamins and minerals you need.

If you do not have leftover quinoa, cook the quinoa ahead of time. You have to have cooled quinoa for this Mediterranean quinoa recipe.

You can use a Persian cucumber instead of English. They both have thin skin, very few seeds and taste delicious. Persian cucumbers may have a few seeds but not enough to matter.

In fact, you could also substitute the lettuce for any kind of greens you like.

If you are looking for more salad recipes or side dish cuisine, check out our food blog.
Mediterranean Grilled Feta Quinoa Salad
Ingredients
3 1/2

cups

cooked quinoa

chilled - can be from leftovers

2

large bell peppers

any color

2

cups

diced English cucumber

1 1/2

cups

grape tomatoes

halved

1

medium carrot

shredded

1

red onion

chopped

1

14.5 oz can

chickpeas

drained and rinsed

4-6

cups

lettuce

chopped

1

block feta cheese

grilled
Dressing:
2

anchovies

1

teaspoon

capers

1/3

cup

olive oil

2

tablespoons

fresh lemon juice

2

tablespoons

red wine vinegar

1/3

cup

chopped fresh parsley

1/4

cup

chopped fresh cilantro

1/2

teaspoon

oregano

2

garlic cloves

minced

Salt

to taste
Instructions
Roast the pepper on the grill, directly over the flame of a gas stove, or under the broiler, turning occasionally, until charred uniformly. Transfer it to a container and cover it with the lid or plastic wrap for 10 minutes, then peel, core, and remove the seed,s. After that, chop the pepper and add it to a large bowl.

Brush the feta block with olive oil and grill until JUST lightly charred, you can also add it to a baking dish, if your feta is too soft, and broil for a few minutes. Set aside to cool.

Meanwhile, prepare the dressing by mixing all the ingredients in a bowl. Chill until ready to serve or for up to 1 day.

In a large bowl, where you added the chopped pepper, add the quinoa, cucumber, tomato, carrot, onion, and chickpeas. Pour the dressing on top and gently stir to combine. Taste and adjust for salt.

Arrange the chopped lettuce on a serving plate or bowl and top with the salad mix.

Cut the cooled feta into cubes, arrange on top of the salad, drizzle with olive oil, and sprinkle with oregano.

Serve with lemon slices on the side.

Serve within about 4 hours or keep the salad chilled.
Deliciousness to your inbox
Enjoy weekly hand picked recipes and recommendations