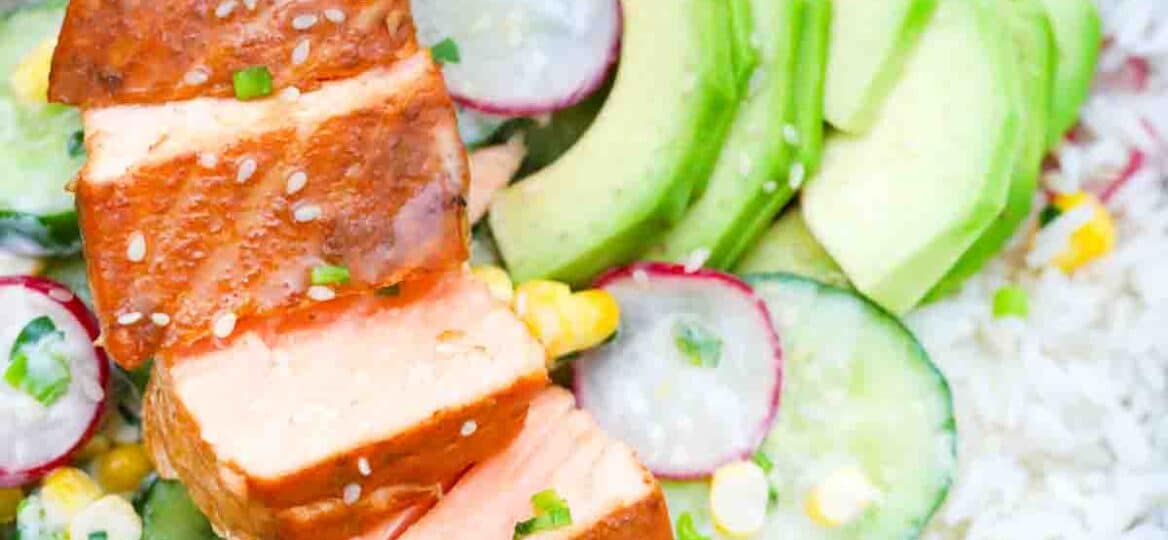 Cucumber Miso Salmon Rice Bowls Recipe
Cucumber Miso Salmon Rice Bowls are made with crispy fresh cucumber, and corn salad in coconut milk, mixed with tender blackened miso salmon. You will also taste a hint of lime juice and honey, creamy coconut, and the zing of garlic. With so much going on, you know every bite is filled with flavors.
Miso was first used by the Japanese 1,300 years ago when Buddhist priests introduced the delicious flavor of fermented soybeans. But it was the ancient Chinese who found it first in the 7th century. At first, it was only used by royalty because it was made with rice, which was not as common as it is today. In fact, miso was often used as currency back then.
If you are looking for something flavorful and earthy as well as light and refreshing, this cucumber salmon rice bowl recipe is perfect. All you will need is some salmon, rice, and veggies to mix with your miso paste marinade and creamy coconut salad dressing.
Ingredients needed:
To make this miso cucumber salmon rice bowl recipe, gather the ingredients below. Then, when you are ready to begin, scroll down to our recipe card to get the complete instructions and measurements.
Skin-on salmon filets
Cooked rice
Marinade ingredients:
Low-sodium soy sauce
Honey
White miso paste
Olive oil
Minced garlic cloves
Fresh lime juice
Lime zest
Salad ingredients:
English cucumbers: Thinly sliced.
Green onions: Chopped.
Radishes: Sliced into thin rounds.
Sweet yellow corn
Full-fat, unsweetened coconut milk

Toasted sesame oil
Honey
Fresh lime juice
Lime zest
Chopped cilantro
Kosher salt
How to make miso cucumber salmon rice bowls from scratch?
Marinate the fish: First, whisk together the miso, soy sauce, minced garlic, olive oil, honey, lime juice, and lime zest in a medium bowl. Pour 3/4 of it into a shallow bowl and lay the salmon skin side up. Make sure each salmon fillet is covered in the sauce and marinate it for 15 to 20 minutes.

Fix the salad: While you wait, go ahead and make the salad. Mix all of the salad ingredients in a large bowl and add salt to taste.

Prep the broiler: After, preheat your broiler and put the rack six inches below the heat.

Cook salmon until done: Then, put each salmon filet on a broiling pan or baking sheet lined with aluminum foil. Cook for 8 to 10 minutes or until it is slightly blackened and no longer transparent.
Brush and glaze: Finally, before serving, brush the glazed salmon with the remaining marinade and put it and the salad in two bowls with rice.
How to make skillet miso cucumber salmon rice bowls from scratch?
Make the marinade: To begin, mix the marinade ingredients in a large shallow bowl and place the salmon fillets in, skin side up. Let them marinate for 15 to 20 minutes. Set aside 1/4 of the marinade for later.

Prepare the salad: In the meantime, stir the salad ingredients in a large salad bowl and salt to taste.

Cook your salmon: Next, add a bit of oil to a large skillet over medium-high heat and let it simmer before adding the salmon fillets, skin side down. Turn it down to medium heat and cook the salmon for three to four minutes until it comes off the pan easily. Then cook for another two to three minutes until it is lightly browned and opaque.

Let them drain: After cooking, place the cooked salmon on several paper towels for a few minutes and drizzle some more marinade on them.
Combine and eat: Lastly, separate the rice equally into two bowls and top with salad and salmon on top. Serve immediately.
Recipe variations:
Another oil: Instead of olive oil, you can use sunflower or avocado oil.
Any rice: We used black rice, but you can use whatever you like.

Rice vinegar: For a tangier flavor, add a tablespoon of rice vinegar to your dressing.

Spicy salmon: If you are a fan of spicy food, add some red pepper flakes and hot sauce to your salad.
Fresh herbs: Feel free to add your own favorite herbs and spices like smoked paprika, thyme, rosemary, ginger, and whatever else you like.

More veggies: You can also add your favorite veggies like chopped bell peppers, sliced red onion, avocados, and olives.

No salmon: If you cannot find salmon, use tuna, trout, or another kind of seafood you like. You could even use meat like chicken or turkey.
How to serve:
You can serve these salmon bowls for lunch, dinner, or a hearty snack at any time. With so many healthy ingredients, you cannot go wrong with this dish. The tender salmon fillets, crunchy veggies, and delicious dressing make our salmon bowl popular with everyone, even the kids. Try one of these awesome serving ideas or share some of your own in the comments section.
Sprinkle some toasted sesame seeds on top for extra crunch and flavor.

Try this salad with our easy recipe for instant pot coconut rice. It is fast and delicious with low carbs.

Toss some shredded parmesan or mozzarella cheese on top for a cheesier salad.

For a sweeter salad, you can use orange sauce instead of the creamy coconut dressing.

This makes the perfect salad, main entree, and side in one. No need to make anything else.

Instead of rice, you can use your favorite pasta noodles. Try our scrumptious soba noodles for a real Japanese noodle salad.

Use leftovers in a stir-fry, casserole, or soup.
Frequently asked questions
What is miso?
Miso is a fermented paste used in many Asian dishes. It is usually a mixture of some type of grain such as barley or rice, salt, soybeans, and koji, which is actually a type of mold. But there are over 1,000 different types of miso that range in flavor and texture. They can be sweet and mild or crunchy and earthy.
What kind of rice is best for these rice bowls?
Any kind of rice you like is good in this recipe. Brown rice and basmati rice are great choices. If you are worried about carbohydrates, you can try using cauliflower rice. Any kind of fluffy rice works nicely with this salad. Of course, regular white rice also goes great with salmon rice bowls.
What are some good sauces for this recipe?
The miso paste with soy sauce. lime, honey, and sesame oil give this salad its fresh taste. But you can also try using some teriyaki sauce for a sweeter and tangier taste. Fish sauce will give your salmon fillets an intense flavor with a salty taste. If you would rather have a milder sauce, try leaving out the miso paste. But that kind of takes away from the dish itself.
What kind of toppings go with this salad?
The choices for toppings are endless from toasted sesame seeds to tomatoes. You can also use other seafood like tiny shrimp, flaked tuna, or sliced trout. To add some more crunchiness, try adding some chopped nuts like pecans, walnuts, or almonds. Your salmon bowls would also be great topped with some kind of shredded cheese.
What are the different types of salmon?
First, they are usually separated by wild-caught or farm-raised. The wild kind is most often Pacific salmon including pink, silver, sockeye, and king. The most popular is king salmon, also known as Chinook. Silver salmon is also known as Coho. Pink salmon can also be called humpback. Sockeye salmon is also known as red salmon. And then there is Atlantic salmon, which is usually farm-raised.
What are the nutrition facts in this recipe?
This is a deliciously healthy dish that you can feel good serving your family. It only has 625 calories, 40 carbs, 35 grams of fat, and just 5 grams saturated fat per serving. It also has 60 mg cholesterol, 1,249 mg sodium, and 8 grams sugar. On the good side, each serving contains 29 grams unsaturated fats, 1,200 mg potassium, 8 grams fiber, 35 mg vitamin C, 654 units vitamin A, 70 mg calcium, 30 grams protein, and 4 mg of iron.
More salmon recipes to try:
How to store leftovers:
Store: You can store your leftover salmon rice bowls in an airtight container in the fridge for several days.
Freeze: Freezing is not recommended.
Cooking tips:
To prevent the salad from becoming soggy, let the salmon drain on a plate with a paper towel. The paper towels will soak up the excess moisture but leave the flavor.

Make sure you use unsweetened coconut milk. You do not want your salad too sweet.

If you do not like the coconut flavor, you can use any kind of creamy liquid or sauce such as whipping cream, Greek yogurt, or sour cream instead.

Want your salmon to cook faster and more evenly? Cut them into cubes. Cubed salmon can be cooked in half the time and is easier to toss.

Instead of lime juice, you could use fresh lemon juice instead.

For shorter meal prep time, chop the veggies and mix the marinade the night before.

We find the best salmon at healthy organic grocers like Whole Foods.

Looking for other salmon recipes? Check out the rest of our food blog.
Cucumber Miso Salmon Rice Bowls
Ingredients
Miso salmon:
4

salmon filets

1/4

cup

soy sauce

low-sodium

1/4

cup

honey

or maple syrup

2

tablespoons

white miso paste

2

tablespoons

olive oil

4

garlic cloves

minced

1

lime

juiced and zested

Basmati rice

for serving
Coconut cucumber salad:
1

large English cucumber

sliced

4

radishes

thinly sliced

1

cup

sweet yellow corn

4

green onions

diced

2

tablespoons

chopped cilantro

1/3

cup

full fat canned coconut milk

unsweetened

1

tablespoon

sesame oil

1

tablespoon

honey

or to taste

1

lime

juiced and zested

Salt

to taste
Instructions
Marinade:
To make the miso marinade in a small bowl, whisk together the soy sauce, honey, miso, olive oil, minced garlic, and lime juice, and zest.

Add 3/4 of the marinade to a shallow dish and add the salmon skin side up. Marinate for 15-20 minutes.
Coconut cucumber salad:
Combine all the ingredients in a large bowl, stir to combine. Taste and season with salt.
Cook the salmon:
First, preheat the broiler and place an oven rack on the upper part of the oven, about 6-7 inches from the broiler.

Arrange the salmon filets skin side down on a foil-lined baking sheet and cook for 8-10 minutes or until no longer opaque and slightly charred on top. Brush with the remaining marinade.

Serve the salmon on top of rice bowls, with the creamy cucumber salad and sliced avocado.
Deliciousness to your inbox
Enjoy weekly hand picked recipes and recommendations