Instant Pot Honey Lemon Chicken (VIDEO)
This post may contain affiliate links. Please read my disclosure policy.
Instant Pot Honey Lemon Chicken is a healthy and delicious meal, that is packed with amazing flavors and is ready in just 30 minutes.
We love making easy and delicious Asian dishes in the Instant Pot such as our famous Instant Pot Orange Chicken, Instant Pot Mongolian Chicken and Instant Pot Beef and Broccoli.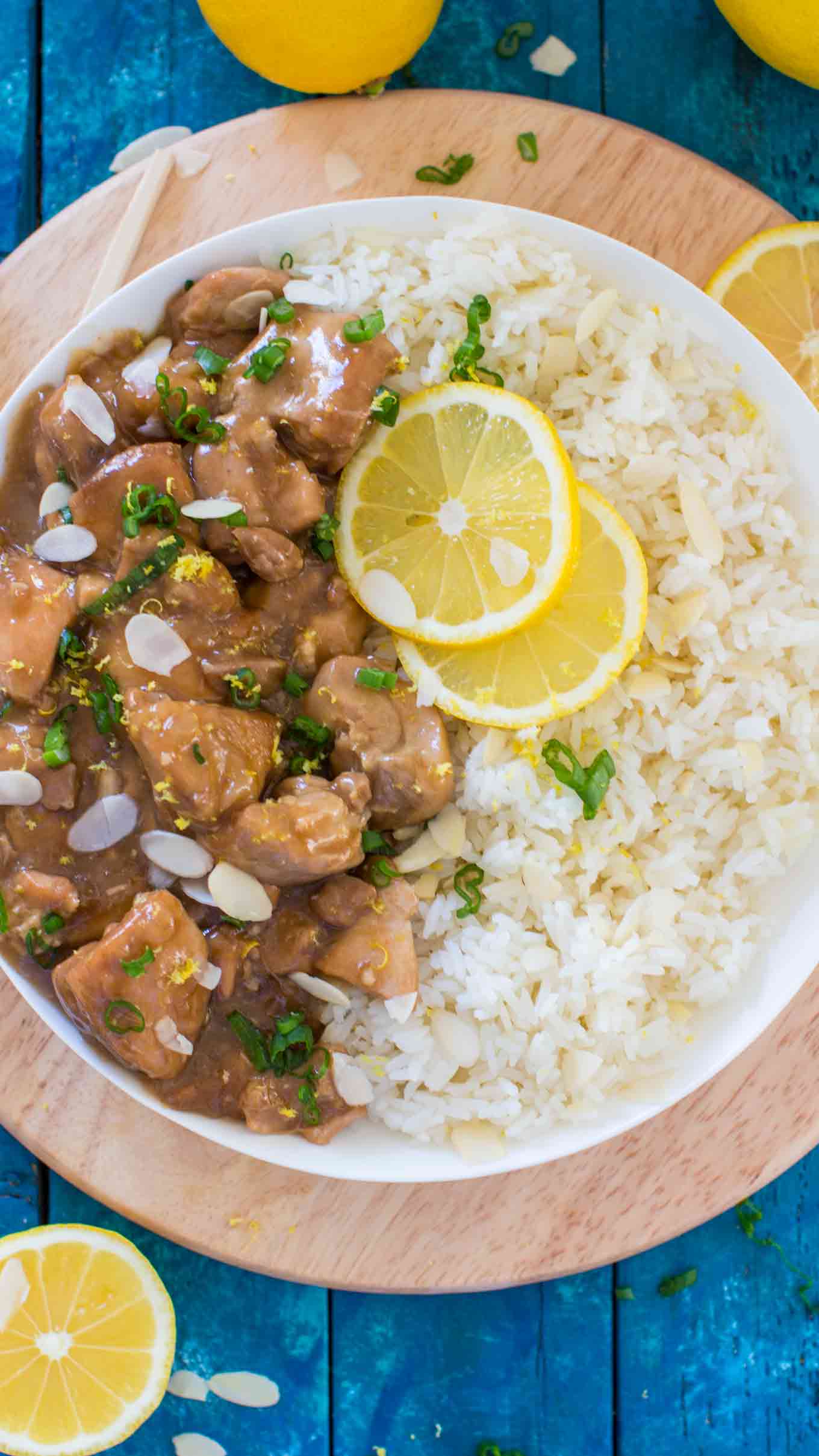 Instant Pot Honey Lemon Chicken
This Instant Pot Honey Lemon Chicken is one of the easiest and most flavorful dinners you can make. I love my Instant Pot, and while it cooks the food pretty quickly, sometimes recipes take longer because of the prep steps involved and also, it takes time for the pot to come to pressure. This recipe involves minimum prep work and is budget friendly. It takes only a few minutes to come to pressure and only 15 minutes to cook, if you count the Natural Pressure Release. The Instant Pot Honey Lemon Chicken is a healthy meal, that is perfect served over white or brown rice with some steamed veggies on the side.
Follow Sweet and Savory Meals on Pinterest for more great recipes!
Pin This Instant Pot Honey Lemon Chicken Recipe to your Favorite Board
Instant Pot Honey Lemon Chicken Recipe Tips:
I user organic chicken thighs, but this recipe also works with chicken breast. You don't have to adjust the cooking time.
If you don't have pineapple juice on hand, you can substitute for orange juice. Try to use No Sugar Added and Pulp Free.
Using fresh lemon zest and lemon juice is key, because it will add amazing flavor.
Also, fresh ginger will add an amazing flavor to the dish as well. If you don't have any on hand, use 1 teaspoon of ground ginger powder.
Cornstarch is a key ingredient in here, do not try to replace it with flour, the results will not be the same.
If the sauce is too runny, mix another 1-2 teaspoons of cornstarch with same amount of water. Add it to the Instant Pot. Please note, that the sauce will get thicker with time, so definitely wait a bit before adding more cornstarch.
You can add a touch of heat to this recipe if you prefer, by adding some Sriracha sauce or 1 teaspoon of red pepper flakes.
Using garlic will add amazing savory flavor to the overall sweeter dish, you can use more or less.
What is best to serve with Honey Lemon Chicken?
White or Brown Rice
Vegetable such as broccoli, asparagus or bok choy
Noodles
Should I add cornstarch to Instant Pot Honey Lemon Chicken?
When it comes to adding the cornstarch, you have to mix it with orange juice or pineapple juice until dissolved and add the slurry to the Instant Pot at the end to thicken the sauce. Do NOT add the cornstarch by itself to the Instant Pot, it will create a sauce full of lumps.
What wines pair well with Honey Lemon Chicken?
A nice, fruity red wine such as Zinfandel or Syrah will pair nicely with the flavors in this beef dish.
If you're looking for a white option, Riesling or Pinot Grigio are always great matches for bold, somewhat spicy dishes.
How to make lemon zest
Follow the easy steps below:
First, rinse the lemon.
Next, set your tool over a cutting board. A microplane produces a very fine zest, perfect for baking and cooking. If you don't have a microplane, use the smallest holes on an ordinary grater.
Grate the yellow skin of the lemon only. Grate just enough to get through the yellow skin, this way you can avoid the bitter white pith underneath.
Then, rotate the lemon and repeat. Once the white pith is exposed, rotate the lemon and zest the next strip of peel. Repeat until most of the peel is removed, or until you have enough zest for your recipe.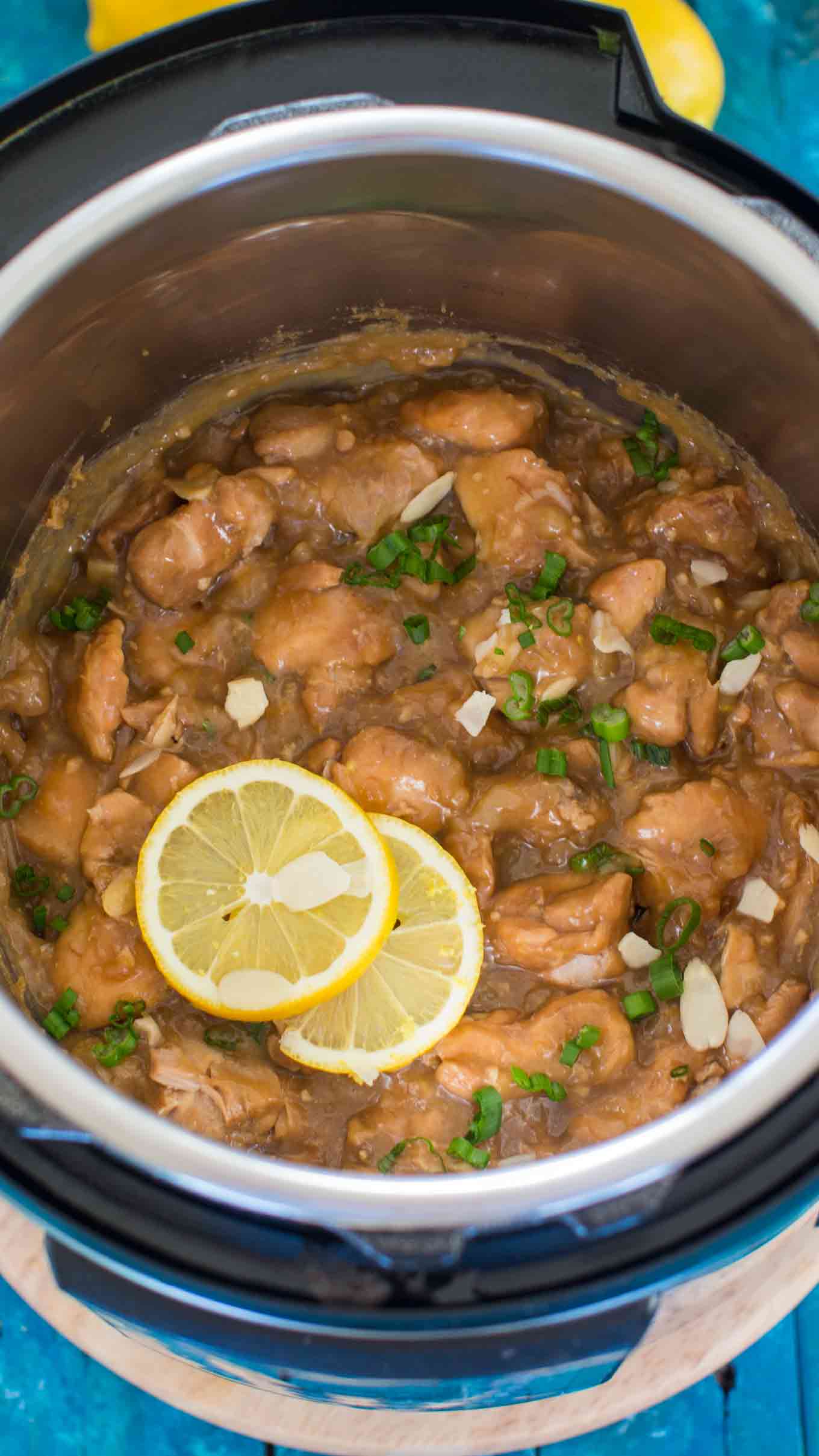 What is a 10 Minutes Natural Pressure Release?
A Natural Pressure Release means that the pressure is released gradually. For a Natural Pressure Release, you click on Keep Warm, and wait 10 minutes, after which you open the valve and let any leftover pressure to release. Another option is to Turn Off/Unplug the pressure cooker, wait 10 minutes and after that open the valve. A natural release is usually used when cooking soups, meat in a large amount of sauce, pasta or steel cut oats. This method prevents for any foam from the dish to shoot out through the valve, which can happen during a Quick Pressure Release.
Instant Pot Lemon Chicken Recipe Video:
Tools/Ingredients I used to make the Instant Pot Honey Lemon Chicken Recipe:
Instant Pot – I use it all the time, I have the 6 quarts one.
Cornstarch – I prefer using cornstarch instead of flour to thicken sauces, and this organic brand is my favorite.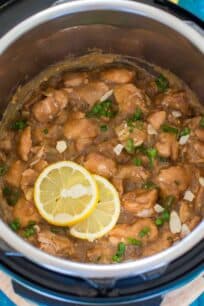 Instant Pot Honey Lemon Chicken
Easy Instant Pot Honey Lemon Chicken is a healthy and delicious meal, that is packed with amazing flavors and is ready in just 30 minutes.
Ingredients
2

lbs

chicken thighs

cut into 1-2 inch pieces

2

tablespoons

sesame or vegetable oil
Sauce Mix:
1/4

cup

lite soy sauce

1/2

cup

pineapple juice

1/4

cup

water or sugar free orange juice

1

teaspoon

mirin

1

teaspoon

minced garlic

1

tablespoon

ginger

grated

1

lemon zested and juiced

1/3

cup

honey

1

teaspoon

red pepper flakes

optional
Cornstarch Slurry:
2

tablespoons

pineapple juice

2

tablespoons

cornstarch
Garnish:
4

green onions sliced

extra lemon zest
Instructions
Dry chicken with paper towels and slice it into 1-2 inch chunks. I prefer 2 inch chunks, because they keep their shape better.

In a medium bowl, whisk together all the ingredients listed under Sauce Mix. Whisk to combine and add red pepper flakes, if you want to add some heat to the dish. Set aside.

Heat up your pressure cooker: press Sauté -> click on the Adjust button -> select More to get the Sauté More function, which means that the food will be sautéed over medium-high heat. Wait for the Instant Pot indicator to read HOT.

Add the oil to the hot Instant Pot, add the chicken and sauté for 3-4 minutes, stirring a few times. Cook until it just starts to look white on the outside. When sautéing it, stir constantly so it doesn't stick to the bottom of the pan.

Also, after you sauté the chicken, check if bits stuck to the bottom, in that case, deglaze the pot with 1/4 cup water and scrape them with a wooden spoon. If you leave the bits stuck to the bottom, they may burn or cause the pot not to come to pressure.

Add the Sauce Mix to the pot over the chicken. Gently stir to combine the chicken with the sauce.

Close lid, select the Poultry function and adjust the time to 5 minutes on High Pressure. Or just select Manual, and select 5 minutes on High Pressure.

Use a 10 minute Natural Release. Turn off the heat. Release the remaining pressure. Open the lid.

Select again the Sauté function, on LOW.

In a medium bowl combine 2 tablespoons of cornstarch with the pineapple juice, whisk until all combined with no lumps.

Add the mixture to the Instant Pot and gently stir to combine. Cook on Sauté function for a few more minutes, stirring gently, until the sauce thickens.

If you want the sauce even thicker, mix one more tablespoon of cornstarch with juice and add it to the pot.

Let the chicken stand for 5-7 minutes, the sauce will thicken more.

Serve over rice and garnish with fresh chopped green onions and extra lemon zest.
Calories: 696, Fat: 44g, Saturated Fat: 15g, Cholesterol: 222mg, Sodium: 1007mg, Potassium: 601mg, Carbohydrates: 35g, Sugar: 27g, Protein: 38g, Vitamin A: 8.9%, Vitamin C: 9.8%, Calcium: 3.4%, Iron: 13%
Made this Recipe?
Show me what you made on Instagram and tag me at @sweetnsavorymeals or hashtag it #sweetandsavorymeals.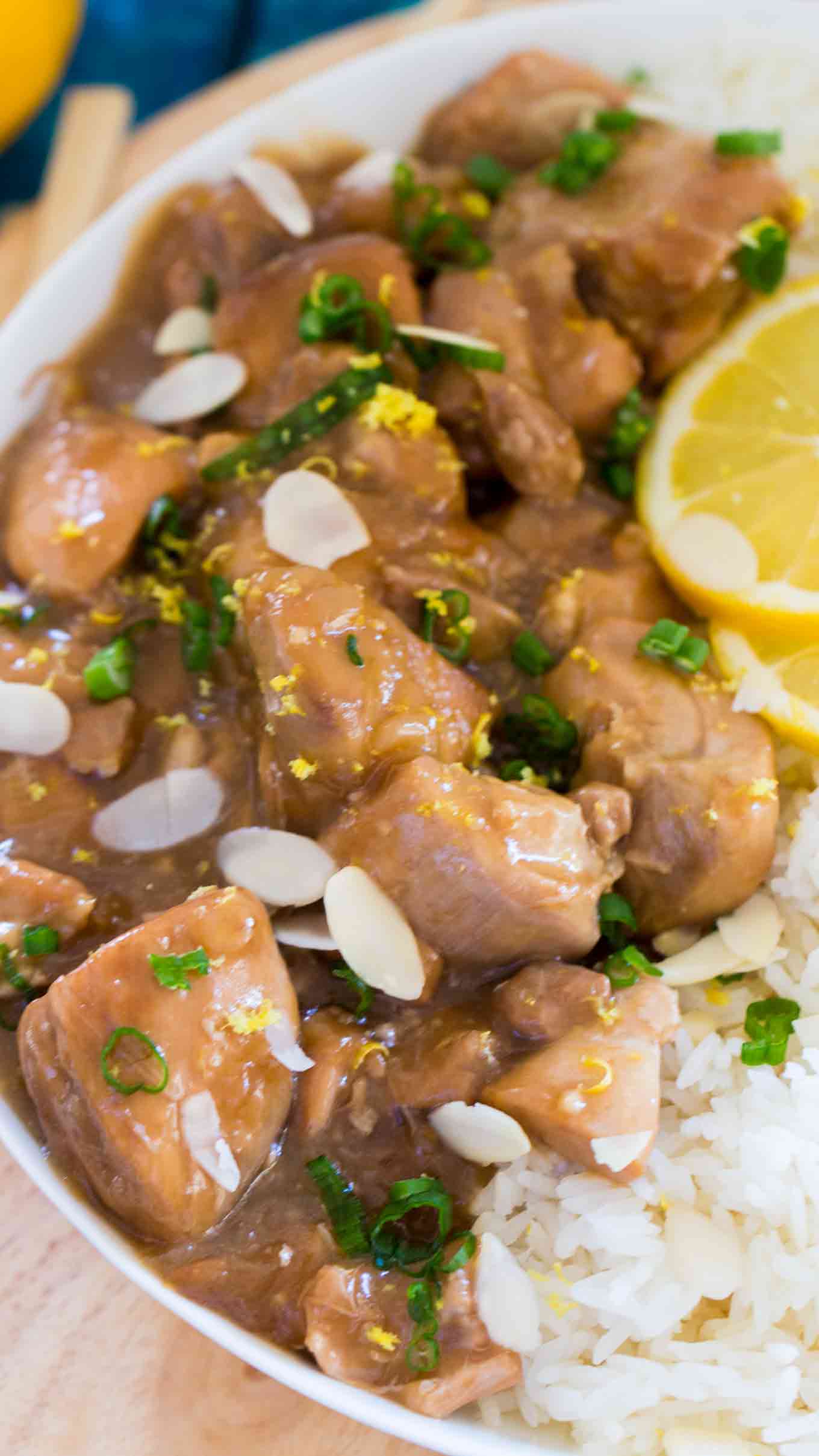 Peas and Peonies, LLC. owns the copyright on all images and text and does not allow for its original recipes and pictures to be reproduced anywhere other than at this site unless authorization is given. If you enjoyed the recipe and would like to publish it on your own site, please re-write it in your own words, and link back to my site and recipe page. Copying and/or pasting full recipes to social media or personal blogs is strictly prohibited. Sharing this recipe is very much appreciated and encouraged. Read my disclosure and privacy policy. This post may contain affiliate links.