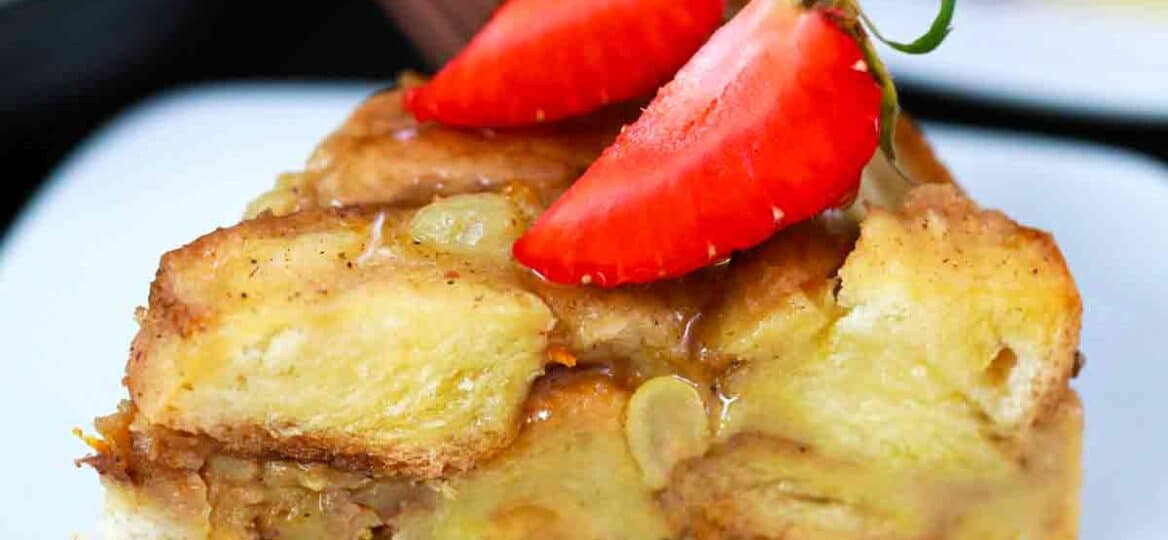 Instant Pot Bread Pudding [Video]
Instant Pot Bread Pudding is rich and creamy, soaked in a delicious custard, crusty on the outside, and soft inside. Quickly made in the pressure cooker, this is the ultima dessert!
I like making moist and creamy treats in the IP. Some of my favorite ones are Brownie Bites, Blueberry Banana Bread, and this Berry Cobler.
Instant Pot Bread Pudding Recipe
This Instant Pot Bread Pudding is a classic holiday dessert very similar to our French Toast, only more delicate and easier to make. For once, it is made in the pressure cooker, which automatically saves you time.
You simply, dump the ingredients in the pot, cook under high pressure, and you end up with an amazingly festive and delicious dessert. It is ideal for holidays and events, and will quickly become your family favorite dish!
I like using leftover Challah or brioche bread. Both work amazingly well due to their texture and flavor. You can also learn how to make your own Brioche bread at home. As for spices, feel free to add more or less based on your taste. This recipe is easily adaptable, so you can play and experiment with flavors.
Ingredients needed:
You will need the following:
Bread: I love using leftover HomemadeBrioche bread, and cut or torn into cubes. It is flavorful and works great here. If you don't feel like making it at home, it should be easily found in the local grocery store. Alternatively, you can use challah or any other type you have on hand. Even hamburger buns will work.
Egg and butter
Dried fruits: Such as pecans, and raisin.
Seasonings: Sugar, vanilla, cinnamon, nutmeg, and salt. Also, some rum is used for flavoring.
Heavy cream and milk.
How to make Instant Pot Bread Pudding?
For exact steps, follow the recipe card below.
Soak the raisins: First, in a large bowl, cut the bread in chunks, mix with the nuts. In another bowl soak the raisins in the rum.
Make the Custard: Next, prepare the custard and then, soak the bread in the milk mixture, sugar, eggs, and spices for one hour. After that, add in the rum-infused raisins.
Cook: Next, spray your Instant Pot with cooking spray and pour in the mixture. Place the soaked bread inside. Then, close the lid and cook under high pressure.
Serve: Once the pudding is fully cooked, release it from the pot, garnish and serve!
Recipe variation and adaptation:
Oven-Baked Bread Pudding: If you want to go the classical way, then try our baked version of it. It is equally delicious and perfect to serve a larger crowd!
Swap the bread: Feel free to use a rustic French or Italian loaf if Brioche is not available. Just cut into uniform cubes.
Other dried fruits: Instead of raisins, you can use any dried fruits you like. Also, some great alternatives would be dried cranberries, cherries, walnuts, or even chocolate chips, or mint chips. Anything will work.
Alcohol-free: To omit the alcohol, just replace the rum with water.
How to make Bread Pudding in the Slow Cooker?
The crockpot is another alternative and a great way to enjoy this dish. To make it in the slow cooker, follow the steps below:
Spray the pot with a cooking spray.
Next, place the cubed bread and dried fruits in the slow cooker.
In a bowl, prepare the milk mixture by beating the milk, eggs, sugar, butter, and spices. Then, pour the mixture over the cubes and let it soak for about 15 minutes.
Lastly, cover and cook on LOW HEAT for about 3 hours.
How do you eat bread pudding?
It can be served warm or room temperature for breakfast with a cup of tea, coffee, a healthy smoothie, or an iced latte.
Also, enjoy it as a dessert after lunch or dinner. During the holiday such as Thanksgiving and Christmas, this is a must-try dish, as everyone will love it!
More Instant Pot desserts to try:
How to store and make ahead?
To store leftovers: First, cover the dish with foil, or transfer it to an airtight container. Properly sealed, it can be refrigerated for up to 4 days.
Make ahead: The pudding can be assembled and then refrigerated one day prior to serving.
To reheat: Use a baking dish, and pop it in the oven for about 15 minutes at 350 degrees F.
Recipe tips:
Use your favorite dried fruits to make this dish. Dried cranberries, walnuts, seeds, mango, are a great addition.
It is important to remember to refrigerate it within 2 hours of sitting at room temperature. DO NOT LEAVE the bread pudding to sit out at room temperature for more than 2 hours after it has been baked.
Also, if you do not have brioche bread, use whatever is available. Baguette, white, hamburger buns, can be used as an alternative.
Deliciousness to your inbox
Enjoy weekly hand picked recipes and recommendations