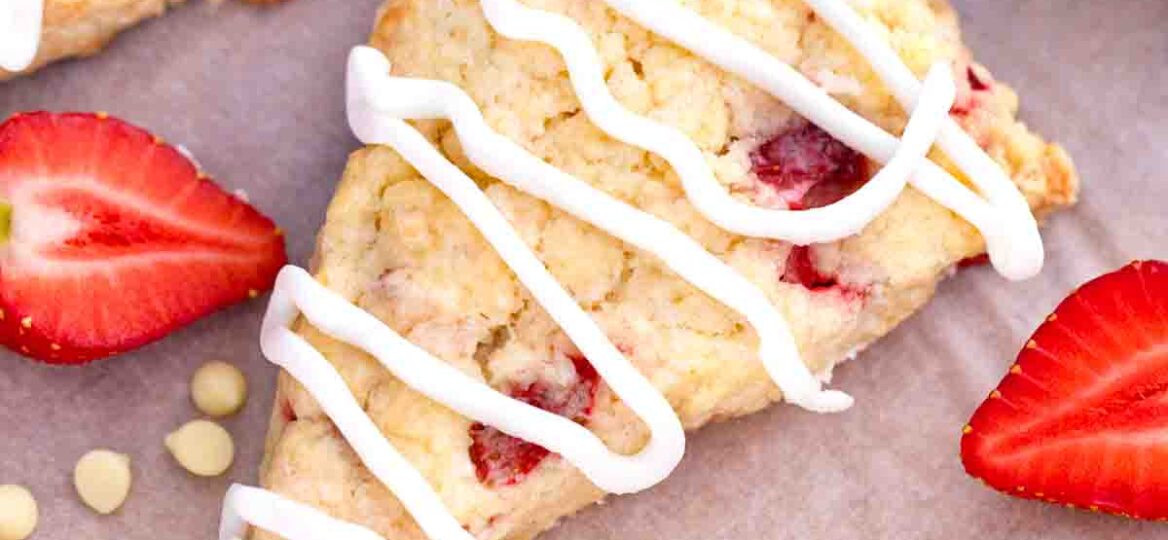 Strawberry Scones with White Chocolate
Strawberry Scones are made with fresh strawberries, real cream, and white chocolate chips for a sinfully delicious dessert like no other. These homemade scones come out perfectly tender and flaky with a rich cream topping and sweet white chocolate drizzle. If you love strawberry scones, this yummy recipe makes perfect strawberry scones to enjoy for breakfast, a snack, or even a dessert.
Although some folks think these pastries came from France, they actually originated in Scotland. According to records, they popped up sometime in the early 16th century. The first reference found was from a Scottish poet in 1513. The originals were made with oats and were baked on an open fire. Today, scones are typically eaten during afternoon tea at 4 PM in Britain but you can eat them whenever you want.
These delicious scones are not difficult to make, and you can have them on the table in less than 30 minutes. No need to let the dough rise for this easy scone recipe. Making scones has never been so easy and delicious. This particular recipe calls for just a handful of ingredients including strawberries, white chocolate chips, lemon juice, lemon zest, and basic baking ingredients like butter, eggs, and flour.
Ingredients needed:
These are the basic ingredients for this delicious strawberry scone recipe. After gathering what you need, scroll down to our recipe card for the measurements and complete instructions.
Chopped fresh strawberries: Rinsed and dried.
White chocolate chips: Ghirardelli or Guittard brand is best.
Heavy cream: Heavy whipping cream.
White granulated sugar
All-purpose flour: Whisk, spoon, and level.
Large egg
Unsalted butter: Cold and cut into tablespoons.
Lemon juice
Lemon zest
Vanilla extract
Baking powder: Not baking soda.

Salt
For topping:
Heavy cream: Heavy whipping cream.
Glaze ingredients:
White chocolate chips: Ghirardelli or Guittard brand is best.
Vegetable oil: For thinning the chocolate.
How to make strawberry scones from scratch?
Preheat oven: First, preheat the oven to 400 degrees F and line a baking sheet with parchment paper or a silicone baking mat.

In a large bowl: Next, stir the flour, baking powder, sugar, and salt in a large mixing bowl. Add the cold butter pieces and use a pastry blender to cut them into the flour mixture until the mixture resembles a coarse meal. Then, fold in the white chocolate chips.

Add the wet ingredients: Now, whisk the cream, vanilla extract, lemon juice, zest, and egg in a small bowl before adding it to the flour mixture. Stir until it starts to clump and then gently fold in the chopped strawberries.

Cut the dough: After, place scone dough onto a floured surface and press it together to make a round disc about one inch thick and seven inches in diameter. Cut into eight wedges and gently move them to the prepared baking sheet with a pie server.

Glaze the scones: Then, lightly brush the top of the scones with heavy cream and sprinkle with sugar if you are using it.
Let the scones bake: Now, bake for 15 minutes or until the edges and bottom are golden brown. Afterward, let the baked scones cool on the baking sheet.

Make the topping: In the meantime, melt 1/4 cup of the chocolate chips mixed with 1/2 teaspoon of oil in the microwave for 15 seconds. Stir and repeat until it is smooth.

Add drizzle and serve: Finally, drizzle melted chocolate on the warm scones and let it set before serving.
Recipe variations:
A different oil: You can use any neutral-flavored oil you like such as canola or coconut oil.

Powdered sugar: For a sweetened topping with no texture, use powdered sugar (confectioners' sugar) instead of coarse sugar.
Different fresh fruit: Feel free to use a different fresh fruit instead of or in addition to the strawberries like fresh blueberries, raspberries, or blackberries.

Gluten-free version: You could use gluten-free flour to make these tender scones without any gluten.
Another flour: If you use self-rising flour, you can skip the baking powder.

Milk chocolate: Instead of white chocolate, try using milk chocolate or dark chocolate.

Almond extract: Try using a different extract for a unique taste like almond.

Another cream: No heavy cream? You could use sour cream, greek yogurt, or half and half.
How to serve:
This is the perfect scone recipe for brunch with friends or just for a snack after a long day at work. Here are some other serving ideas or you can share some of your own in the comments section.
Fresh strawberry scones go great with a glass of wine or a cocktail. Try our easy and delicious recipe for a refreshing frozen strawberry daiquiri.
These are also delicious when dipped in a cup of coffee or hot cocoa.
Our recipe calls for a cream glaze but you can use something else on top such as strawberry sauce, jam, or jelly.
Serve these with a variety of toppings and spreads like butter, glaze, and fresh fruit.
You could also top these rich scones with our equally rich caramel sauce.
A drizzle of chocolate syrup on top would also be a delicious way to enjoy these rich scones.
Check out our recipe notes at the bottom of the page for more tips.
Frequently asked questions
Should I put on the glaze when they are warm?
If you want drizzled glaze running down the scones, go ahead and add the topping while they are still warm. For a thicker topping that is more like frosting, wait and spread it on cooled scones instead. If you are using a thicker glaze, it is a good idea to pour it onto warm scones. You want it to spread out on its own so you do not have to spread it on because that may damage the fragile scones.
What is an easy glaze recipe for these scones?
We just use a simple cream with sugar to top our scones before cooking them. To make an easy lemon glaze, mix powdered sugar with fresh lemon juice. Mix well and pour it on top of cooled scones for a sugary lemon flavor to accent the sweet strawberries. Similarly, you could just use milk and powdered sugar for a plain glaze.
Can I use icing in a pastry bag?
If you want to pipe your icing or melted chocolate onto your scones in a more controlled or detailed design, you can pour it into a pastry bag and use it to make a design or roses. In fact, if you do not have a pastry bag, you can use a sandwich bag. Just cut the bottom corner off and squeeze it out that way.
What is the difference between scones and biscuits?
Although they are made with most of the same ingredients like flour, sugar, and baking powder, biscuits, and scones have several differences. First, biscuits do not typically use eggs and they use buttermilk instead of cream. Also, biscuits are often flaky inside while scones are more crumbly.
More desserts with strawberries:
What are the nutrition facts in this recipe?
Each serving of these delicious strawberry scones has 418 calories, 26 grams of fat, and 14 grams of saturated fat. They also have 80 mg of cholesterol, 501 mg of sodium, 45 grams of carbs, and 20 grams of sugar. But on the other hand, one serving has 9 grams of unsaturated fat, 7 grams of protein, 2 grams of fiber, 420 units of vitamin A, 7.3 mg of vitamin C, and 67 mg of calcium.
How to store leftovers:
Store: If you have any leftovers, store them in an airtight container at room temperature for up to three days or in the fridge for up to a week.

Freeze: Freezing your strawberry cream scones is also easy. Wrap them in plastic wrap and put them in a freezer bag and they can stay frozen for up to three months.

Thaw: Thaw your frozen leftover scones overnight in the fridge for the best results.
Reheat: To reheat, pop them in the microwave for 30 to 60 seconds. You may need more drizzle for the top though.
Baking tips:
Not strawberry season? You can use frozen strawberries instead of fresh berries but do not thaw them first.

Freeze-dried strawberries would also work wonderfully.
If you do not have a pastry blender, you can use your fingers to mix in the butter.

Instead, why not use frozen butter? Just use a cheese grater or sharp knife to cut it into pieces.

You can also use a food processor with a metal blade to chop your butter.
For those not using the chocolate drizzle, add the sugar to the top of the scones after brushing on the cream. Without the glaze, these strawberry scones taste similar to strawberry muffins.
Be gentle when working with the dough to prevent squishing up the strawberries.
My family gives this recipe 5 stars!

If you love scones, check out our food blog for more scone recipes.
Strawberry Scones
Ingredients
2

cups

all-purpose flour

1/3

cup

granulated sugar

1

tablespoon

baking powder

1/2

teaspoon

salt

1/2

cup

unsalted butter

cold - cut into cubes

1/2

cup

white chocolate chips

1/2

cup

heavy cream

1

egg

1/2

teaspoon

vanilla extract

1

teaspoon

lemon juice

1

teaspoon

lemon zest

1

cup

strawberries

rinsed, dried, and sliced

2

tablespoons

heavy cream
Topping:
1/4

cup

white chocolate chips

1/2

teaspoon

of coconut oil

for thinning the chocolate
Instructions
Preheat oven to 400 degrees Fahrenheit.

Line a baking sheet with parchment paper. Set aside.

In a large bowl, stir together the flour, sugar, baking powder, and salt.

Next, add the butter and using a pastry blender mix it into the dry ingredients until the mixture resembles coarse crumbs.

After that, fold in the white chocolate chips.

In another bowl, whisk the heavy cream, egg, vanilla, lemon juice, and lemon zest. Add the mixture to the dry ingredients and stir until it starts to clump together.

Gently, using a rubber spatula, fold in the strawberries.

Next, transfer the dough onto a lightly floured surface. Gently work it to create a round, flat disc about 7 inches in diameter and approximately 1 inch thick, use extra flour as needed to prevent sticking.

Slice the disc into 8 wedges and carefully move the pieces to the prepared baking sheet with a pie server.

Lightly brush the top of the scones with heavy cream. Sprinkle with coarse sugar, if desired.

Bake at 400˚F for 15 minutes or until golden brown on edges/bottom.

Allow the scones to cool on the baking sheet before adding the topping.

Melt 1/4 cup of white chocolate chips with 1/2 teaspoon of coconut oil in the microwave for 15-second intervals, stirring in between.

Drizzle the melted white chocolate over the cooled scones. Allow chocolate to harden before serving.
Deliciousness to your inbox
Enjoy weekly hand picked recipes and recommendations