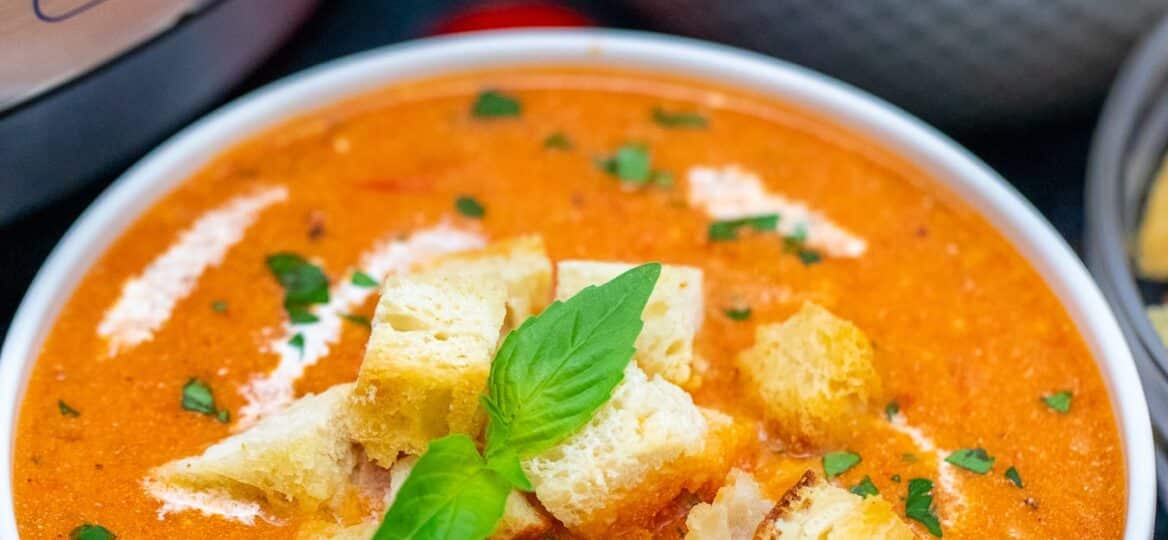 Instant Pot Tomato Bisque [Video]
Instant Pot Tomato Bisque is so easy to prepare – the best when you are in a hurry! This hearty and healthy soup is a hit among family and friends!
The cold winter nights call for something warm and this dish fits that description perfectly! A soup recipe like this is a mainstay in our winter menu, just like my recipes for Instant Pot Lobster Chowder, Butternut Squash Soup, and Slow Cooker Taco Soup!
Pressure Cooker Tomato Bisque Recipe
Instant Pot Tomato Bisque cooks way faster than its stovetop and crockpot versions. And that is the exact reason why I opted for this recipe over the weekend.
I was in a hurry to cook something for lunch because my best friend paid me a surprise visit. But, I did not want to go out and despite being in a hurry, I wanted a healthy home-cooked meal for everyone in the house. Good thing, I have just stocked up on cherry tomatoes!
I finished cooking in just about 30 minutes. But the outcome was so rich and creamy that you would think I prepared it for a long time. All these I got for a cheaper overall cost compared to what I could have spent if I simply bought it from a restaurant!
Even kids would love this as a side to their grilled cheese sandwich. The combination of spices and seasonings enhances the flavors of the vegetables. Also, the color is inviting! Try it now!
What is the difference between Tomato Soup and Tomato Bisque:
Both terms are being used interchangeably oftentimes. But, a "bisque" usually refers to something made with seafood that is blended smoothly with the rest of the soup. It is thicker than a soup, but both may contain the same ingredients.
What goes into Instant Pot Tomato Bisque:
Here are what you need to prepare this comfort food:
Tomatoes: a combination of fresh and crushed ones
Vegetables: celery, onion, red bell pepper, yellow onion, garlic
Spices, herbs, and seasonings: kosher salt, ground black pepper, red pepper flakes, paprika, dried basil, white sugar
Others: olive oil, veggie broth, heavy cream
How to make Instant Pot Tomato Bisque:
Sauté: Use the sauté function of the IP to cook the vegetables and tomatoes in olive oil. This step will release much of the flavors from these ingredients leading to a deeper and richer flavor of the dish. You can also put the rest of the seasonings and spices at this point.
Pressure-cook: After sautéing, add in the rest of the ingredients except for the dairy. This is to prevent the curdling of the cream. Seal the IP, set, cook for a few minutes, then, perform the natural pressure release. This will take a few more minutes before you can finally open the IP.
Blend: Use an immersion blender to puree everything. Adjust the taste by seasoning some more and stir in the dairy.
Serve: Ladle portions into bowls, garnish, then, serve while still warm.
Can you make it on the stovetop?
Yes! I already have a post on the stovetop version of this dish.
How to Store:
Refrigerate: If you have leftovers, you can simply refrigerate and consume them within 4 days. Allow the leftovers to cool completely and transfer them into airtight containers before refrigerating.
Freeze: This freezes well, and you can take advantage of it by making this ahead. Just leave out the cream when freezing as it tends to separate. Stir it in when you reheat. And when reheating this dish, thaw it first overnight in the fridge.
Recipe Tips:
Add in carrots to add fiber.
After sautéing, you can add some of the broth to deglaze the bottom. The drippings will contribute more flavors. At the same time, you are preventing the IP to automatically detect a burnt bottom which may cause it to automatically shut off.
Want a vegan version? Substitute coconut milk for the cream. Make sure that you use veggie broth, too.