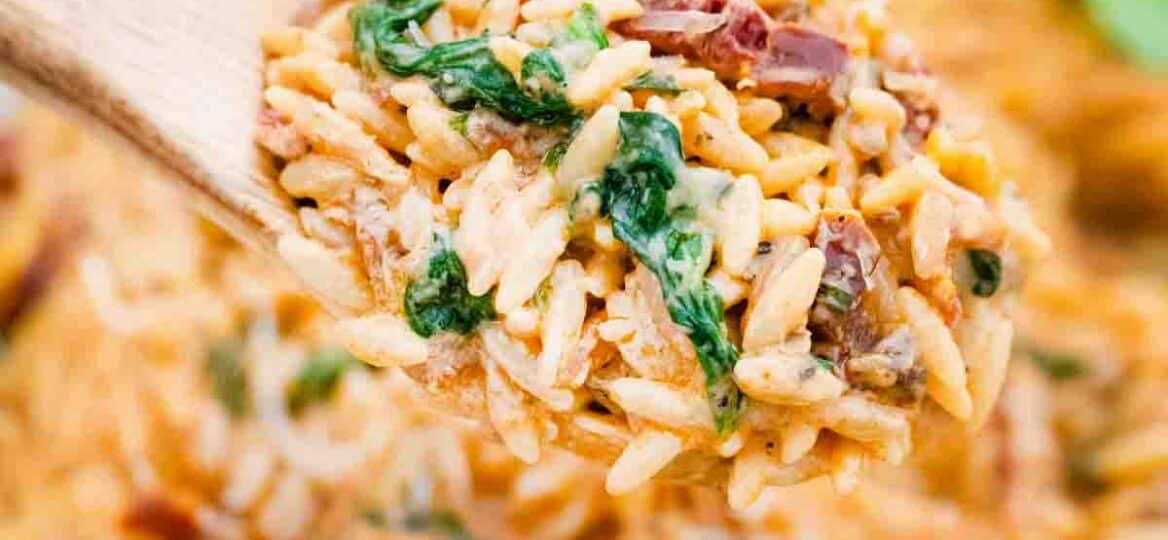 One Pan Creamy Tuscan Orzo Recipe
Creamy Tuscan Orzo is a quick and easy one-pan meal of chewy orzo, cooked in a creamy and cheesy sun-dried tomato and spinach sauce. One-pan dinners are so easy to make on busy nights and this one is soooo delicious. It is a great recipe to make at any time.
If you like this recipe, you will love our Slow Cooker Tuscan Chicken Pasta with creamy Alfredo sauce. Simmered all day in garlic, oregano, thyme, and red pepper flakes, this is a delicious dish. This Creamy Beef and Shells recipe is also great for a hearty comfort meal. It is easy to make with ground beef and a blend of seasonings.
Just like most kinds of pasta, orzo was first made in Italy. However, it has made its way around the world and is popular just about everywhere you go. For instance, the tasty Greek dish, giouvetsi is made with orzo pasta. Another interesting orzo dish is from West Africa, and it is called bird's tongue soup.
Many people do not even know that orzo is a pasta because it is so small. Some people consider it to be grain, like rice. For this yummy Tuscan orzo recipe, all you need are a few ingredients including fresh spinach, orzo pasta, parmesan cheese, tomato paste, broth, sundried tomatoes, garlic, and butter.
Looking for other delicious meals you can make in one pan? Our one-pan Mediterranean chicken is made with capers, olives, and grape tomatoes with a tangy orange lemon honey sauce. For a beefier meal, our sticky honey garlic beef is made in one pan too! All you need are a handful of ingredients like honey, garlic, Chinese mustard, ginger, soy sauce, and Worcestershire sauce.
Follow us on Pinterest for more delicious recipes!
Ingredients needed:
To make this creamy Tuscan orzo recipe, all you need are the ingredients listed below. Scroll down to our recipe card for the measurements and directions.
Unsalted butter
Dried orzo pasta
Finely chopped garlic cloves
Tomato paste
Dried Italian herbs
Low-sodium chicken broth
Half and half or Whole milk
Chopped sun-dried tomatoes
Kosher salt
Freshly ground black pepper
Fresh spinach: We used baby spinach.

Freshly grated parmesan cheese
How to make creamy Tuscan orzo from scratch?
Toast the orzo: First, melt the butter before cooking the orzo and garlic in a heavy pot or large Dutch oven over medium heat. Heat for about four minutes, until the garlic is fragrant, and the orzo is lightly toasted.

Add the tomato paste: Then, add the tomato paste, and dried Italian herbs, and cook for another minute, stirring occasionally, for about one minute, until it is completely mixed.

Cook until tender: Next, add the sun-dried tomatoes, half and half, broth, salt, and pepper. Turn the stove up to medium-high heat and bring it to a boil. Then, reduce the heat to medium-low to simmer for 12 to 14 minutes until the orzo pasta is al dente (not fully cooked) and the liquid is almost all absorbed.

Wilt the spinach: Now, add the parmesan cheese and spinach to the cooked orzo and let it heat up until the spinach wilts, about two minutes, stirring frequently.

Season and serve: Finally, remove from heat and season before serving with more parmesan cheese.
How to make instant pot creamy Tuscan orzo from scratch?
Saute the orzo: To begin, turn the instant pot to saute and melt the butter before adding the garlic and orzo. Cook for four minutes or until the orzo is toasted golden brown.

Add the liquids: Now, add tomato paste, and dried Italian herbs, and cook for one more minute before adding the broth, tomatoes, half and half, salt, and pepper.

Cook on high: Then, close the lid and cook on high pressure for five minutes before doing a quick release for 10 minutes.

Melt cheese and serve: Lastly, add in the parmesan cheese and spinach and close the lid, letting the spinach heat for about two or three minutes. Then, serve with more parmesan cheese and season to taste.
Recipe variations:
Italian seasoning: Feel free to add your own favorite flavors like ranch or Italian seasoning.
Fresh herbs: In fact, you can also add your own favorite herbs and Italian spices like fresh basil, fresh thyme, garlic powder, onion powder, or fresh rosemary.

Chicken orzo: Add chopped seared chicken to make creamy Tuscan chicken orzo. Use skinless chicken thighs for the juiciest results but chicken breasts work too.
Other meat: You could also use chopped turkey, pork, or beef to make it a hearty meal.

Add veggies: Add cherry tomatoes, broccoli florets, chopped celery, grated carrots, and whatever other fresh veggies you like. Slicing cherry tomatoes is recommended.

More protein: For more protein, add your favorite beans like pinto, black, or cannellini beans.

Lemon juice: For a bit of tanginess, add some lime or lemon juice.

Chicken stock: You can use chicken stock instead of broth for more chicken flavor.
How to serve:
The flavor combo of sun-dried tomatoes, spinach, and creamy sauce makes this incredibly delicious, and since you cook it all in one pot, it is also easy. You get all the flavors in every bite with our creamy Tuscan orzo. Here are some great serving ideas you can try or share your own in the comments section below.
Serve with a dollop of Dijon mustard on top for extra tanginess.

Add extra seasoning to your Tuscan orzo pasta with our homemade ranch seasoning.

You can also add your own favorite shredded cheese such as mozzarella, cheddar, or pepper jack.

If you like spicy food, spoon some of our yummy chipotle sauce on your orzo pasta.

Sprinkle some chopped slivered almonds on your orzo pasta for more crunch.

This is a great recipe for a side dish or a full meal when you add meat and/or veggies. Try our recipe for grilled chicken.

Feel free to sprinkle some more dried cheese on top like Romano or more parmesan.
Frequently asked questions
Is dark meat better than white meat for this recipe?
Although chicken thighs tend to be juicier than chicken breasts, in this recipe it is not a big deal. With so much creamy sauce, you will not notice any difference. In fact, even if you overcook your chicken, it will still taste delicious in this saucy recipe.
What does it mean to cook orzo to al dente?
Al dente is what Italians call cooking "to the tooth." This means the pasta will be firm enough to be able to bite into it rather than being soft and soggy. Most pasta dishes call for this recipe, especially if they are cooked in a sauce or another liquid after they are made.
What is the flavor difference in sundried tomatoes?
Tomatoes that have been dried in the sun have a unique or distinctive flavor. The tomato taste is much more concentrated so you do not have to use as much as you would with fresh tomatoes. Also, it does not add liquid to dishes like tomatoes or tomato paste. This is especially good for salads and pasta dishes.
What are the nutrition facts in this recipe?
If you are worried about nutrition, calories, and fat, here are the nutrition facts. Each serving has 435 calories, 14 grams fat, and 7 grams saturated fat. It also contains 34 mg cholesterol, 55 grams carbs, 11 grams sugar, and 610 mg sodium. But you will also get 725 mg potassium, 2 mg iron, 350 mg calcium, 2 mg vitamin D, 20 grams protein, 3 grams fiber, and 122 units vitamin A.
How to store leftovers:
Store: You can store your leftover Tuscan orzo in an airtight container for three or four days in the fridge.

Freeze: To freeze, put leftovers in a freezer bag and they will stay fresh for up to four months.

Thaw: Remember to put your frozen orzo in the fridge overnight so your leftovers taste amazing.

Reheat: To reheat leftovers, put them in a microwave-safe container and heat for one to two minutes, depending on how much you are reheating. You could also reheat the orzo uncovered in a saucepan until it is hot.
More pasta recipes to try:
Cooking tips:
If you do not have a Dutch oven, you can use any large soup pot.

Grate your own parmesan cheese for the best flavor.

Feel free to use olive oil or whatever oil you like to cook with instead of butter.
Use heavy cream or half and half instead of milk for extra creamy Tuscan sauce.

We chopped fresh veggies while the orzo cooked to add to the sauce. This shortens prep time.

Frozen spinach is fine to use as well. You do not have to worry about thawing it out.

For vegan orzo, use vegan butter, vegetable broth, and vegan parmesan.

If you are lactose sensitive, you could try using canned coconut milk instead of whole milk. But make sure it is full-fat coconut milk.
One Pan Creamy Tuscan Orzo
Ingredients
2

tablespoons

butter

unsalted

12

oz.

orzo

dry

4

cloves

garlic

minced

2

tablespoons

tomato paste

1

teaspoon

dried Italian herbs

2 1/2

cups

low-sodium vegetable broth

or chicken broth

2

cups

half and half

or whole milk

1

cup

sun-dried tomatoes

drained from oil and chopped

Salt and ground black pepper

to taste

6

cups

fresh baby spinach

1

cup

Parmesan

plus more for serving
Instructions
In a large and deep pan or pot over medium heat, melt the butter.

Add orzo and garlic, stir, and cook for about 4-5 minutes.

Next, add tomato paste and dried Italian herbs, stir and cook until fully combined, about 1 minute.

After that, pour in the broth, half and half, and stir to combine.

Add the chopped sun-dried tomatoes, salt, and pepper.

Increase heat to medium-high and bring the mixture to a boil. After that, reduce to heat to medium-low and simmer, stirring frequently, until the liquid is mostly absorbed and the orzo is tender and creamy, 12 to 15 minutes. If the mixture is too dry, add a bit of broth.

Next, fold in the spinach and Parmesan, and stir until the spinach is wilted, for about 2 minutes.

Remove from heat and season with salt and pepper to taste. Top with more Parmesan cheese and serve.