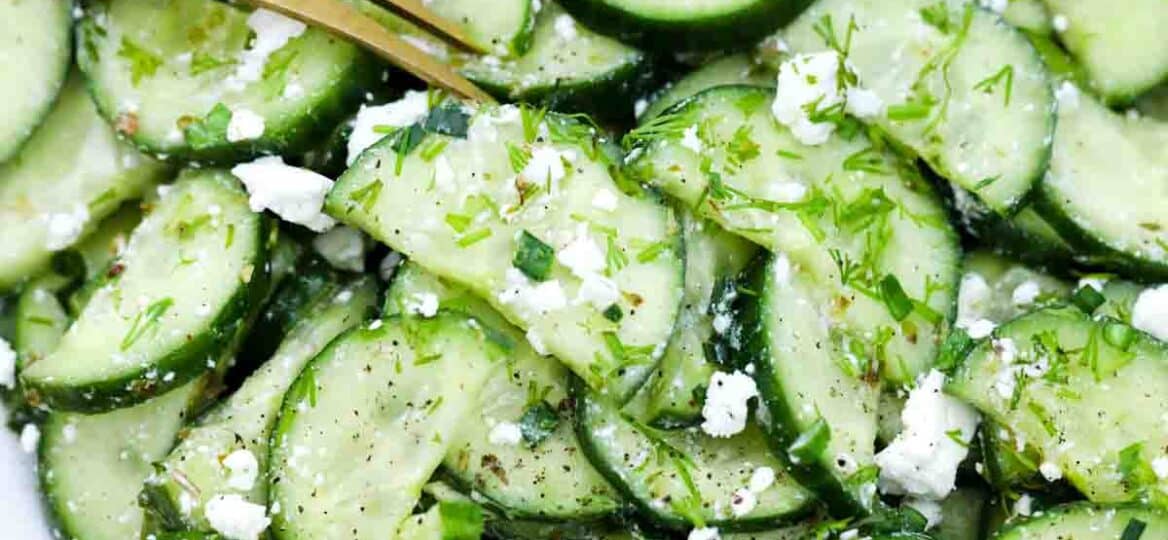 Cucumber Feta Salad Recipe
Cucumber Feta Salad is a refreshing summer salad with fresh herbs, sliced cucumbers, green onions, and creamy feta cheese. It is drenched in a delicious red wine vinegar dressing for a tangy and sweet flavor. A large bowl of this cucumber feta salad is the perfect side dish for a backyard barbecue or an after-school snack for the kids.
This recipe for salad is actually Greek and was possibly invented by ancient Greeks long before we started making them. It was the first century when the ancient Greeks and Romans drizzled a dressing of oil, vinegar, and herbs on top of raw veggies with white cheese for a delicious dish. The white cheese is believed to have been feta. In fact, it is the oldest cheese ever made, with the first evidence back 8,000 years ago.
If this cucumber tomato feta salad recipe sounds delicious to you, all you need to make it is a handful of ingredients including cucumbers, feta cheese, onions, syrup, vinegar, olive oil, and a few seasonings. You can add your own favorites like chopped tomatoes and red onions too. Take a look at our recipe notes at the bottom of the page for some handy tips.
Ingredients needed:
This refreshing salad recipe is easy to make in minutes with the ingredients listed below. When you are ready to begin, just scroll down to our handy printable recipe card for the complete instructions and specific measurements.
English cucumbers
Feta cheese
Chopped green onion
Red wine vinegar salad dressing ingredients:
Maple syrup
Red wine vinegar
Extra virgin olive oil
Chopped fresh dill
Dried oregano
Kosher salt
Fresh ground black pepper
How to make cucumber feta salad from scratch?
Slice your cucumber: To begin, wash and slice cucumbers thinly and chop to make half circles.

Toss gently: Then, in a large bowl, add the cucumbers, feta cheese, red wine vinegar, maple syrup, olive oil, chopped herbs, salt, and pepper. Toss gently to mix and coat everything evenly.
Chill to meld: Now, put the bowl in the fridge for 15 to 30 minutes for the flavors to soak into the veggies.

Garnish and serve: Finally, add more crumbled feta cheese on top and serve.
Recipe variations:
Fresh herbs: Feel free to add your favorite herbs such as fresh basil, thyme, rosemary, and whatever else you like.
Red onion: Just because the recipe includes green onions does not mean you cannot add other ones. Try some chopped red onions in your delicious cucumber salad with briny feta cheese.

Other cheeses: Speaking of cheese, you could use another kind like goat cheese, mozzarella, camembert, or ricotta.
More veggies: For a heartier salad, add some other vegetables such as chopped tomatoes, shredded carrots, sliced avocados, and bell peppers. You can add all the vegetables you like.
More protein: Because every salad goes great with bacon, add some bacon bits or crumbled bacon. It also adds extra protein.
Tangy and sweet: A spoonful of Dijon mustard will make your cucumber feta salad taste even better with a tangy-sweet kick.

Lemon juice: Mix in some lemon juice to help preserve your salad and give it a nice refreshing flavor.
How to serve:
This salad with feta cheese is the perfect salad for hot summer days. You can serve as a snack, appetizer, or side dish. Try one of these great serving ideas or share some of your own at the bottom of the page in the comments section.
Top your tasty salad with kalamata olives, cherry tomatoes, and red bell peppers for a Mediterranean tomato salad.

If you happen to have any leftovers, you can use them to add to another kind of salad. Try it in our cucumber tomato avocado salad recipe.

Add some romano or parmesan cheese on top for a salty, rich salad that will taste delicious.

For a heartier dish, add your leftovers to this cucumber miso salmon rice bowls recipe.

Make this a more classic salad by adding your favorite greens, some juicy tomatoes, shredded cheese, and croutons. You can call it a cucumber tomato feta salad.

Instead of the vinegar dressing, feel free to use your favorite like Italian, Catalina, or Thousand Island. Or use our rich and creamy recipe for ranch dressing.

If you like a bit of spice in your food, add a pinch of red pepper flakes on top.
Frequently asked questions
Is cucumber salad healthy?
Yes, cucumbers are full of vitamins and minerals like magnesium, potassium, phosphorus, and vitamins B, C, and K. They can control blood sugar and have antioxidants like triterpenes, lignans, and flavonoids to protect cells. Besides all that, these excellent antioxidants decrease inflammation to help arthritis and other painful conditions.
What is the difference between cucumbers?
Persian cucumbers and English cucumbers are basically the same things, crisp cucumbers with thin skin and a mildly sweet flavor. These long thin cucumbers have tiny seeds and you do not even have to peel them. Mini cucumbers are not just regular cucumbers picked early. They are a whole different type similar to the Persian or English cucumber that stay small no matter how ripe they are.
What other kind of cheese can I use?
There are a vast array of different types of cheese that would make a good substitute for feta. Brie is the most common soft white cheese used. The French cheese is buttery and sweet. Mascarpone is another soft cheese like cream cheese made by the Italians. You can also use camembert, boursin, ricotta, or chevre.
What are the different types of vinegar?
There are over a dozen types of vinegar, but the most commonly used ones are distilled white, apple cider, rice, red wine, white wine, and balsamic. All kinds of vinegar are made from a liquid with yeasts and sugars that are fermented to produce ethanol. The flavor and type depend on the type of liquid used to make the vinegar.
What are the nutrition facts in this recipe?
If you are worried about nutrition, calories, and fat content, here are the approximate numbers. Each serving (a small bowl) has 180 calories, 15 grams fat, 3 grams saturated fat, 8 grams of carbs, 2 grams sugar, 10 mg cholesterol, and 140 mg sodium. On the other hand, each serving has 327 units of vitamin A, 90 mg calcium, 10 mg vitamin C, and 4 grams fiber as well as 4 grams protein, 10 grams monounsaturated fat, 3 grams polyunsaturated fat, 310 mg potassium, and 2 mg iron.
How to store leftovers:
Store: Leftover cucumber feta salad will stay fresh in the fridge in an airtight container or gallon-size zip baggie for up to three days.
Freeze: We do not recommend freezing your leftovers.
More cucumber salad recipes to try:
Recipe tips:
The nutrition information, calories, and fat content listed above are approximate.

Feel free to use honey, agave, or simple syrup instead of maple syrup.
If you do not have (or do not like) red wine vinegar, you can use balsamic vinegar or whatever you like. There are many types of vinegar that would be great for this recipe like apple cider, rice, and white wine vinegar.

In fact, you can even use your favorite wine instead of vinegar.
Be sure to taste your salad before adding salt and pepper. Feta cheese is a bit salty so you may not need any salt at all.

This delicious salad is even better if you let it chill for several hours to soak up the flavors.

Are you looking for more salad cuisine or side dish cuisine? We have all the latest recipes on our blog!
Cucumber Feta Salad
Ingredients
2

English cucumbers

2

tablespoons

olive oil

3

tablespoons

red wine vinegar

1

teaspoon

maple syrup

1/4

teaspoon

dried oregano

1/2

teaspoon

kosher salt

or to taste

6

ounces

feta cheese

plus more for topping

2

tablespoons

chopped fresh dill

2

tablespoons

chopped green onion

Fresh ground black pepper
Instructions
Wash, dry, and thinly slice the cucumbers into half circles.

In a large bowl, combine the cucumbers with the rest of the ingredients. Gently toss to combine.

Eat immediately or allow refrigerate for 15 minutes for the flavors to meld.

Garnish with more crumbled feta and herbs on top before serving.
Deliciousness to your inbox
Enjoy weekly hand picked recipes and recommendations