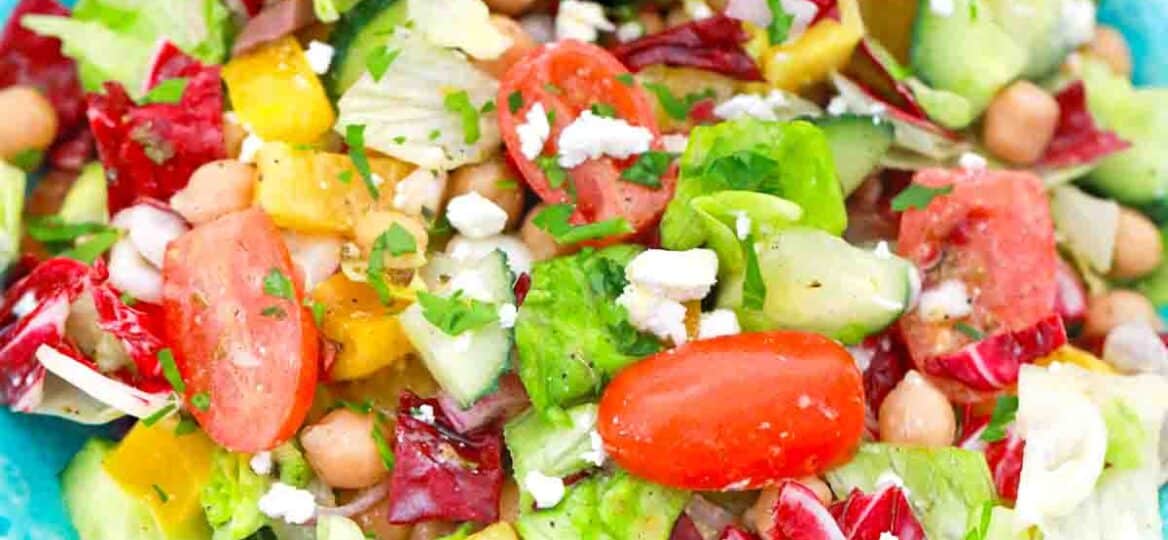 Chopped Mediterranean Salad Recipe
Chopped Mediterranean Salad is a mixture of many delicious fresh ingredients like romaine lettuce hearts, radicchio, olives, and feta cheese coated with red wine vinegarette. If you love chopped salads, this one has all the Mediterranean flavors you want with a little bit of tangy red wine vinaigrette on top.
If your family loved this recipe, try one of our other salad recipes. For example, our Homemade Greek Salad is similar but uses iceberg lettuce, capers, and sliced avocado. Then it is doused in our homemade Greek dressing. Another type of chopped salad you might enjoy is this Italian Chopped Salad made with a mix of veggies, cheese, and cold cuts including ham and salami with pine nuts and sunflower seeds to give it some crunch.
According to experts, this delicious chopped salad was first made in Athens in the 1960s. It was a restaurant owner in Plaka who made it to bypass the salad tariff. At the time, Greece had a limit on how much you could charge on salads because they considered them essential foods. By adding olives and a few other non-essential ingredients, the Mediterranean chopped salad was born.
You get all the healthy unsaturated fat with few calories and very little saturated fat in this Mediterranean chopped salad recipe. To make this dish, all you need are some basic ingredients including radicchio, romaine, some fresh herbs and veggies, tangy feta cheese, and canned chickpeas. Top it with our homemade vinaigrette made with red wine vinegar, balsamic vinegar, garlic, shallots, honey, mustard, oil, and seasonings.
Check out some of our other great Mediterranean recipes like our oven-baked Greek potatoes with kalamata olives, red peppers, and feta cheese. Seasoned with rosemary, thyme, oregano, marjoram, and lemon zest then topped with red onion, green onion, and chives. Lebanese tabbouleh is another awesome dish made with bulgur wheat, Roma tomatoes, English cucumbers, parsley, mint, green onions, and lemon juice.
Ingredients needed:
Here are the main ingredients to make this delicious chopped Mediterranean salad recipe. After you gather the ingredients listed here, scroll down to the bottom of the page. You will find our handy printable recipe card for the complete instructions and exact measurements.
Salad ingredients:
Radicchio: Chopped.
Romaine hearts: Chopped.
Red grape tomatoes: Cut into quarters.
Yellow grape tomatoes: Cut into quarters.
Chopped English cucumbers: Also known as Persian cucumbers.
Orange bell pepper: Diced.
Red bell pepper: Diced.
Red onions: Diced.
Crumbled feta: Divided.
Kalamata olives: Chopped.
Canned chickpeas: Drained and rinsed.
Ingredients for red wine vinaigrette:
Balsamic vinegar
Red wine vinegar
Minced garlic cloves
Very finely diced shallots
Honey
Dijon mustard
Olive oil
Dried oregano
Kosher salt
Freshly ground black pepper
How to make chopped Mediterranean salad from scratch?
Chop it all up: First, chop the romaine lettuce, radicchio, bell peppers, red onions, tomatoes, olives, and cucumber. Try to make them all the same size. Pour it all into a large salad bowl and add the chickpeas and 2/3 of the feta cheese.
Make the salad dressing: Then, put all the ingredients for the red wine into a small mason jar with a lid. Make sure the lid is on tight and shake it until it is well combined.
Dress the salad: Next, pour half of it on the salad and use serving spoons or your hands to gently toss the salad until it is all coated.
Check the taste: After, taste to see if it needs any more vinaigrette, and then add the remaining crumbled feta on top. Add salt and pepper as needed.
Garnish and serve or chill: Finally, garnish with more olives and serve immediately or cover and chill until you are ready to serve it.
Recipe variations:
Different oil: Feel free to use a different oil besides olive oil such as avocado or grape seed oil.
Fresh herbs: Add your own fresh herbs such as thyme, dill, fresh parsley, dried oregano, cilantro, or sage.
Honey: You can use honey instead of maple syrup if you like.
Garbanzo beans: Instead of (or in addition to) chickpeas, try garbanzo beans or some other kind of white beans.
Fresh veggies: Make this good chopped salad great by adding your favorite simple vegetables like artichoke hearts, broccoli florets, chopped carrots, or radishes.
Add meat: For a hearty meal, add your favorite meat such as grilled chicken, sliced beef, or chopped turkey or pork.
Seafood: If you would rather have seafood, try small cooked shrimp, flaked tuna, or chopped salmon.
Add fruit: You could make this a little sweeter to entice the kids to eat it by adding fruit. We suggest sliced strawberries, mandarin oranges, chopped mangos, blackberries, blueberries, or raspberries.
Bow-tie pasta: Toss in some cooked pasta for a pasta Mediterranean salad. Bow-tie pasta would work wonderfully.
How to serve:
This chopped salad recipe is perfect for any night of the week as an appetizer, a side dish, or a snack. It also makes a complete meal easy without having to go to the extra trouble of making any other dishes. You can try one of these great serving ideas or share your own ideas in the comments section at the bottom of the page.
Sprinkle some romano or parmesan cheese on top for a richer flavor.
Feel free to use your own favorite salad dressing instead of the vinaigrette. Check out our easy recipe for Greek dressing that would be perfect on Mediterranean chopped salad.
Chopped or crumbled bacon goes great on top of this chopped salad as well.
Make it a total meal with a side of warm pita bread loaded with creamy hummus.
Serve with a small bowl of each simple vegetable and some feta cheese and salad dressing so guests can help themselves. A large bowl of romaine lettuce and radicchio would also be nice.
Use leftovers to make a different dish like a casserole or this delicious pepperoncini chicken.
This salad also goes great on top of a bed of rice or pasta.
Frequently asked questions
Why is it called a chopped salad?
A regular salad contains lettuce with chopped tomatoes and other veggies of various shapes and sizes. A chopped salad has all of the ingredients chopped down to the same size so you get all the amazing flavors in every single bite. Then it is tossed in a salad dressing so every piece has been coated.
What is the difference between a Mediterranean salad and a Greek salad?
Both of these salads are full of fresh vegetables, herbs, and plenty of vitamins with a vinaigrette dressing that makes them even more delicious. They each contain tomatoes, cucumbers, olives, and cheese but a Greek salad typically has iceberg lettuce instead of romaine lettuce and a different type of olive. Also, Greek salad has more herbs like mint, chives, and basil.
What are kalamata olives?
A kalamata olive is a big purple olive named after the city where they were grown. They have a rich taste and meaty texture compared to the milder black olives and green olives. A good ripe olive will be large and juicy, shaped like an almond, and very dark purple. They also have a slightly fruity taste to them depending on what they are packaged in.
What is the nutrition information of this recipe?
Each serving contains 95 calories, 8 grams carbohydrates, 6 grams fat, and 2 grams saturated fat. It also has 5 mg cholesterol, 322 mg sodium, and 4 grams sugar. But, on the other hand, you will also get 1 gram monounsaturated fat, 2 grams polyunsaturated fat, 375 mg potassium, and 2 grams fiber as well as 4 grams protein, 255 units vitamin A, 10 mg vitamin C, and 71 mg calcium.
More salad recipes to try:
How to store leftovers:
Store: If you have leftover chopped Mediterranean salad, put it in a ziplock baggie or another airtight container. Then it will stay fresh in the fridge for up to four days.
Freeze: Freezing is not recommended.
Recipe tips:
It is best to cut all the pieces about the same size for better conformity and taste. You want to be able to get all the flavors in each bite.
In fact, it would be great if you could use a food processor to chop everything.
Instead of grape tomatoes, you can use cherry tomatoes or chopped Roma tomatoes.
Add lemon juice to give your Mediterranean chickpea salad a fresher flavor.
If you do not have fresh garlic, you can use 1/4 teaspoon of garlic powder.
Make ahead tips: You can make this ahead of time and store it in meal prep containers until you are ready for some delicious Mediterranean chopped salad.
Mediterranean servings are different from American servings. People in the US have a larger serving size for everything.
Make sure your olives are pitted. You do not want your guests choking on an olive pit.
Also, try to find seedless cucumbers unless you like cucumber seeds.
Chopped Mediterranean Salad
Ingredients
2

heads

romaine hearts

about 6 cups - chopped

3

cups

chopped radicchio

1

cup

diced English cucumber

1

cup

red grape tomatoes

quartered

1

cup

yellow grape tomatoes

quartered

1

red bell pepper

diced

1

orange bell pepper

diced

1/2

cup

diced red onion

15

oz

can chickpeas

rinsed and drained

1/2

cup

kalamata olives

chopped

1

cup

crumbled feta

divided
Red Wine Vinaigrette:
3

tablespoons

red wine vinegar

2

tablespoons

olive oil

1

tablespoon

balsamic vinegar

1

tablespoon

honey

or maple syrup

1

tablespoon

very finely diced shallots

2

cloves

garlic

minced

1

tablespoon

Dijon mustard

1

teaspoon

dried oregano

Salt and pepper

to taste
Instructions
Prep all the ingredients, dice them so that they are all approximately the same size, and add them to a large bowl.

Also, add the chickpeas and 2/3 of the crumbled feta.

After that, add the ingredients for the red wine vinaigrette to a jar. Close with the lid and shake until well combined.

Pour half of the vinaigrette mixture over the salad and toss to combine. Taste and add more vinaigrette if needed. Also, you can make it in advance and store it in the fridge for 5 days.

Add the remaining crumbled feta on top of the salad, garnish with more kalamata olives, and serve.

Or cover and refrigerate until ready to serve.
Deliciousness to your inbox
Enjoy weekly hand picked recipes and recommendations