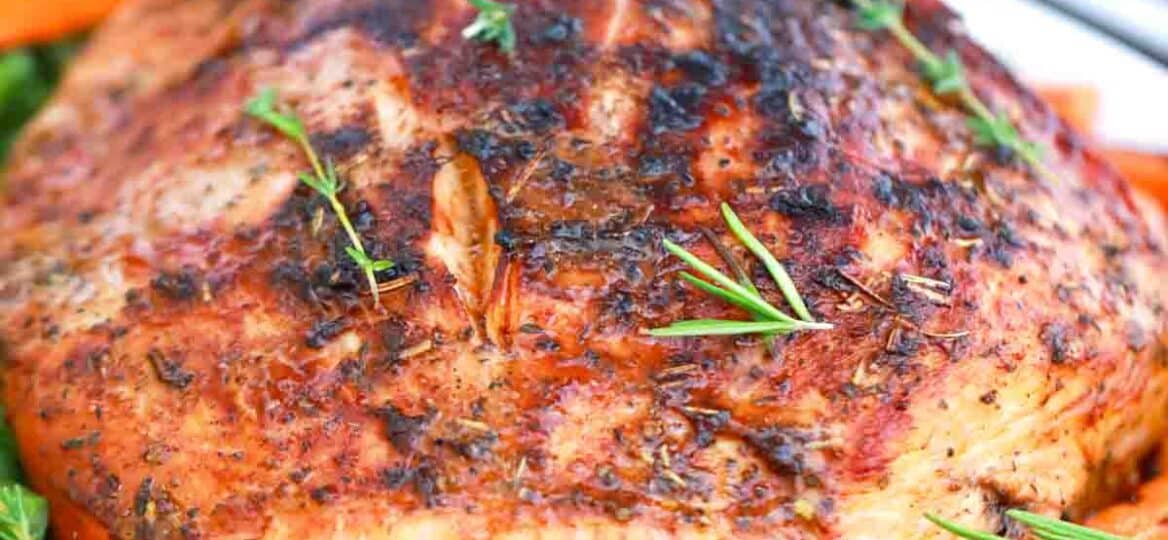 Air Fryer Turkey Breast Recipe [Video]
Air Fryer Turkey Breast is incredibly juicy and flavorful, roasted in the air fryer, and covered in a savory sauce made with herbs, spices, and maple syrup. This recipe will give you a juicy turkey breast in under an hour Your seasonings stick to the turkey skin better by using butter or you can use olive oil instead. Try our air fryer turkey breast recipe tonight for dinner or with your favorite side dishes for a family meal.
Another way to make a delicious turkey breast is with this Easy Instant Pot Turkey Breast recipe made with brown sugar, chicken broth, and olive oil. Having a group over for dinner? You will want a whole turkey then. Try our Oven Roasted Turkey with orange, lemon, and smoked paprika.
When you think of turkey, you probably think of Thanksgiving. After all, that is what 90% of Americans eat for Thanksgiving every year. Although some say the first meal between the Pilgrims and Wampanoag in 1621 included turkey, there is no evidence of that.
The story says the Pilgrims served wildfowl but that could have been chicken or turkey. However, turkey has been a staple in Mexico, Central America, and England since the 1400s.
Air-fried turkey breast is an easy way to cook turkey breast for a small Thanksgiving dinner with just a few guests. When you cook your turkey breast in the air fryer, it is like fried turkey without all the oil and fat. Using an air fryer is also a great way to save precious oven space for other baked goods.
In addition, this recipe is perfect if you are not looking to roast a whole bird on Thanksgiving. This way, you can have your main meal cooking, and the oven available to make other side dishes or desserts in the meantime.
The end result is a crispy-on-the-outside chicken breast, that is coated in the more outstanding sauce. For the best results, however, we recommend that you brine the meat before cooking. Just make sure you pat it dry before covering it in the sauce mixture.
Are you looking for other Thanksgiving recipes? Try our easy loaded sweet potato casserole with toasted pecans and marshmallows. Our favorite holiday meals always include some kind of pumpkin dessert like pumpkin pie.
Ingredients needed:
All you need for this easy air fryer turkey breast are these ingredients. When you are ready to begin, find our recipe card with the direction and measurements at the bottom of the page.
Bone-in turkey breast with skin: Ribs removed.
Vegan butter: Melted.

Garlic powder
Onion powder
Smoked paprika
Ground mustard
Maple syrup
Kosher salt: Or fine-grain sea salt.
Dried thyme
Dried rosemary
Dried sage
Black pepper
Fresh rosemary or thyme: For garnish.
Roasted vegetables: For serving.
How to make air fryer turkey breast from scratch?
Preheat: First, if your air fryer has a preheat setting, set it to 350 degrees F.
Dry and season: Meanwhile, pat your turkey dry with a paper towel and mix your seasonings with the melted butter in a small bowl.

Seasoning turkey breast: Now, brush the butter seasoning mixture on the turkey on all sides.

Cook the turkey: Next, put the turkey breast in the air fryer basket skin side down, and cook for 25 minutes.

Flip and cook more: After 25 minutes, flip the turkey breast with tongs and then cook another 40 to 50 minutes, depending on the size of the turkey breast. Check the internal temperature with an instant-read thermometer or meat thermometer. It should read 165 degrees F when it is done.

Let it rest: Last, let your turkey rest for 10 to 15 minutes before you slice it.

Garnish and serve: Finally, garnish with fresh herbs and roasted veggies before serving.
How to make oven-roasted turkey breast from scratch?
Preheat: To begin, preheat your oven to 375 degrees F and use olive oil or nonstick cooking spray to grease a baking dish.

Season your turkey: While you wait for the oven to heat up, combine the butter and seasonings. Then, dry the turkey with paper towels and rub turkey breast with the seasoned butter.
Bake your turkey: Next, place the breast in the oven and cook skin side down for 20 minutes. Turn and cook for another 25 to 30 minutes, depending on how big your turkey is. The turkey skin should be golden brown, and the internal temperature should read 165 degrees F with a meat thermometer.
Remove and rest: Afterward, remove the turkey breast from the oven and let it rest for 10 to 15 minutes.

Carve and garnish: Now, carve and garnish with veggies and herbs before serving.
Recipe variations:
No bones: Feel free to use boneless turkey breast instead. But a boneless breast has a shorter cooking time so start checking it after 20 minutes.
Frozen turkey breast: You do not have to let it thaw before you cook frozen turkey. Just give it a few extra minutes to the cook time.
Other butter: You can also use regular butter or ghee or butter.
More turkey: Having extra guests? Make two or three turkey breasts so you have enough for everyone.

Other herbs: You could also use poultry seasoning or your own favorite herb butter.

No syrup: Instead of maple syrup, you can use honey for less fat and fewer calories.

Hot turkey: For a spicier bird, add some red pepper flakes or cayenne pepper to the herb rub.
How to serve:
This tender meat smothered with herb butter mixture is a simple and fast weeknight meal. It is much easier and faster than making a whole turkey if you are just serving a few people. The butter keeps the meat juicy while it cooks to give you the best turkey breast you have ever served. Try one of these ideas or share some of your own in the comments section below.
Mashed potatoes are a perfect side dish for this air fryer turkey breast recipe. Try our scrumptious chunky mashed potatoes recipe made with heavy whipping cream and green scallions.

Another way to serve this turkey breast is to make sandwiches. Slather some bread with mayonnaise or dijon mustard for a tasty lunch or snack.

Instead of roasted veggies, feel free to use your favorite side dishes like sweet potatoes, macaroni and cheese, or rice. Our recipe for pumpkin mac and cheese is perfect.
Be sure to make some gravy for your turkey. You can make your own or use store-bought.

You cannot have turkey without stuffing. Try this recipe for crockpot stuffing that will be your new favorite.

Leftover turkey is great for salads, soups, or stews. You could also use it for a turkey casserole.

Don't forget the cranberry sauce. You can top your turkey with the delicious sauce or serve it on the side. We have a tasty recipe for homemade cranberry sauce that is tangy and sweet.
Frequently asked questions
Is it healthier to air-fry turkey?
Yes, making a turkey breast in an air fryer is healthier than deep frying because it does not use a bunch of oil. And with this recipe, you only have a little bit of fat under the skin.
When you deep fry something in oil, your meat gets all those extra calories and fats. In fact, experts say it can cut calories by 75% to 80%. Air fryers are often recommended to those with high cholesterol and heart disease.
Why is my turkey dry?
It is possible that you overcooked your turkey breast. Make sure you follow the recipe instructions, but you can alter them to whatever size turkey breast you are using. This recipe calls for a three to four-pound turkey breast. To make sure your turkey has juicy meat, check the internal temperature and remove it as soon as it gets to 165 degrees F.
How do I carve my turkey breast?
Carving a turkey breast is much easier than a whole turkey. Just run the blade of a sharp knife along both sides of the breastbone. Continue cutting all the way from the top to the bottom. Then, use the groove you made to pry the breast meat from the bone before carving.

What are the nutrition facts in this recipe?
Each serving of this air fryer turkey breast has 234 calories and 9 grams of fat with 1 gram of saturated fat, 2 grams of trans fat, and 1 gram of monounsaturated fat.
It also has 134 milligrams of cholesterol, 656 milligrams of sodium, 2 grams of sugar, and 3 grams of carbohydrates. You also get 35 milligrams of calcium, 177 units of vitamin A, and 49 grams of protein.
More recipes with turkey to try:
How to store leftovers:
Store: You can store leftover turkey breast in an airtight container or gallon-size zip baggie. Refrigerate for up to three days.
Freeze: If you cannot eat it within a few days, you can put it in a freezer bag and store it for up to three months in the freezer.

Thaw: Just remember to put your frozen leftovers in the fridge to thaw overnight before serving for best results.
Reheat: To reheat, place turkey breast in the air fryer for one to two minutes or until it is heated through. You can also add a few tablespoons of chicken stock in a bowl with the turkey breast and microwave for 60 to 90 seconds.
Cooking tips:
For extra crispy skin, place your turkey breast in the broiler for five minutes before serving.
Shorten turkey breast prep time by using poultry seasoning instead of all the herbs separately.

You can also save time by seasoning it ahead of time. Then, just toss it in the air fryer when you are ready.
Whether you make bone-in or boneless turkey breast, the internal temperature must be 165 degrees F for it to be done.

For extra flavor, tuck some fresh herbs under the turkey breast skin before air frying.

Keep an eye on your turkey. You do not want it to be dry and tough.

Be sure to flip your turkey for crispy skin.
Air Fryer Turkey Breast
Ingredients
1 3-4

lbs

turkey breast

boneless and skinless or bone-in and with skin, ribs removed
Seasoning sauce:
2

tablespoons

unsalted butter

melted

1

tablespoon

maple syrup

1

teaspoon

kosher salt

1

teaspoon

garlic powder

1/2

teaspoon

onion powder

1

teaspoon

smoked paprika

1/2

teaspoon

ground mustard

1/2

teaspoon

dried thyme

1

teaspoon

dried rosemary

1/2

teaspoon

dried sage

1/4

teaspoon

black pepper
Garnish:
Fresh rosemary or thyme

Roasted vegetables

for serving
Instructions
Preheat the air fryer to 350 degrees F.

Use a paper towel to pat dry the turkey breast.

In a small bowl, combine the seasoning sauce ingredients and stir well.

Brush the mixture generously on the turkey, making sure to coat all the sides.

If you are using a skin-on breast, start by placing it skin-side down in the air fryer basket.

Cook for 25 minutes and after that flip it using thongs and continue to cook until the internal temperature reaches 165 degrees (using an instant-read thermometer), about 50-50 minutes.

Allow the meat to rest for 10 minutes before slicing and serving with roasted vegetables.
Deliciousness to your inbox
Enjoy weekly hand picked recipes and recommendations