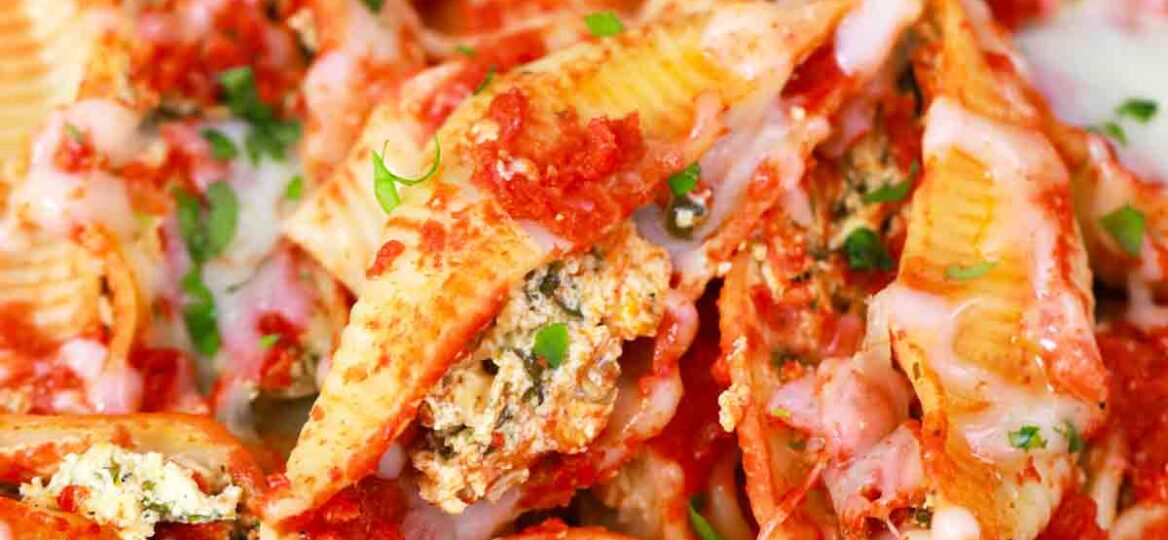 Instant Pot Stuffed Shells Recipe [Video]
Instant Pot Stuffed Shells are made with mozzarella, parmesan, and ricotta cheese all soaked in a delicious marinara sauce. A classic family dish made quickly and easily in the pressure cooker.
I love my pressure cooker especially when it comes to making quick meals. If you are looking for a more delicious recipe to make during the busy weekdays, check out my IP Mexican Casserole, Instant Pot Spaghetti, and Pork Shoulder.
Easy Instant Pot Stuffed Shells with Marinara Sauce
Instant Pot Stuffed Shells is one of the best comfort food you can ask for. This recipe has it all – it is creamy, super flavorful, budget-friendly, and ready in less than 30 minutes from start to finish. In addition, leftovers make for great meal prep. It is definitely my family's top dinner pick.
I love stuffing the jumbo pasta shells with various cheeses to get extra flavors. You can go with your preferred type or a mixture of a few types. Also, you can adjust this dish by mixing in ground beef or by swapping the marinara sauce with homemade alfredo sauce.
No matter the route you pick, the end result will definitely not disappoint. This is a restaurant-quality dish quickly and easily made at home. The Instant Pot does a great job of perfectly cooking the ingredients and pasta together. And when adding everything together along with marinara sauce and basil you end up with the best pasta recipe ever!
Main Ingredients Used:
Cheeses: As stated above, I tend to go with a few types of cheeses here for enhanced flavors and aroma. Ricotta, mozzarella, and parmesan are always my top pick. However, feel free to incorporate other types as well. Cheddar, brie, Parmigiano will work just as well.
Seasoning: Salt, ground black pepper, freshly chopped parsley, and basil.
Pasta: Jumbo shells are ideal for stuffing and cooking all the ingredients together.
Veggies: Freshly chopped spinach, and minced garlic.
Egg
Marinara sauce: Homemade marinara sauce is the best way to go here. But to save time, feel free to use the store-bought version.
How to make Homemade Instant Pot Stuffed Shells?
Prepare the stuffing: In a large bowl, combine all the ingredients together except the marinara sauce and the shells.
Fill the shells: Using a spoon fill in the jumbo shells with the mixture. Alternatively, you can use a baggie and snip the corner (or pipe) to fill them.
Cook: Next, add some water to the bottom of the pot and transfer the stuffed pasta to the pot. Top them with the marinara sauce, and DO NOT stir. Then, close the lid and pressure cook on HIGH for 8 minutes, following by QPR.
Garnish and serve: Once cooked, garnish with some freshly chopped basil and sprinkle with more shredded cheese, and serve warm.
Recipe Substitutes and adaptations:
Gluten-free pasta: Swap the regular pasta with a gluten-free one.
Add more veggies: Love veggies? Then, add some chopped mushrooms, lentils, bell peppers, peas, zucchinis, etc.
Alfredo Sauce Stuffed Shells: I love homemade alfredo sauce, and I tend to substitute it from time to time with marinara sauce. You can also buy it from the store.
Spicy: To add some heat, use some freshly chopped jalapeno peppers. Adjust per your taste.
Add meat: For meat lovers, feel free to add some ground beef, ground pork, or turkey to the mixture.
How do you make Oven-Baked Stuffed Shells?
Making this recipe in the oven is equally simple.
Follow the same filling steps as described above.
Then, arrange the shells in a baking or casserole dish, and pour the marinara sauce over them.
Sprinkle some mozzarella cheese on top, and bake pasta covered at 375 degrees F for about 25 minutes. During the last 5 minutes of cooking, uncover and let the dish cook for another 5-7 minutes.
Once cooked, sprinkle some freshly chopped basil or parsley and enjoy warm.
What goes with Instant Pot Stuffed shells?
This is a full-family meal on its own, and quite satisfying, you should invest in an Instant Pot, it will make dinner time more enjoyable. Therefore, I recommend pairing it with a light Arugula Salad, Italian Chopped Salad, or Greek Salad.
Can you store and freeze stuffed shells?
Yes! You can store leftovers in an airtight container for up to 4 days.
To freeze: First, assemble the dish and then cover tightly with foil. Transfer it to a freezer for up to 3 months.
When ready to serve, simply bake it at 375 degrees F for about 50 minutes. Remember the cooking time will be longer because the shells will be frozen.
More easy pasta recipes to try:
Recipe tips:
To make Vegan Stuffed Pasta Shells go with dairy-free cheese instead.
Also, this dish makes for ideal meal prep. Therefore, feel free to make a large batch and store leftovers for later use.
I recommended using quality cheese here, as it is the main ingredient here.
If possible, make your own marinara sauce. You will feel the difference in every bite!
Minced garlic is optional. If you are not a fan, feel free to skip it.
For meat lovers, add some cooked ground beef, pork, or turkey to the mixture.
Deliciousness to your inbox
Enjoy weekly hand picked recipes and recommendations