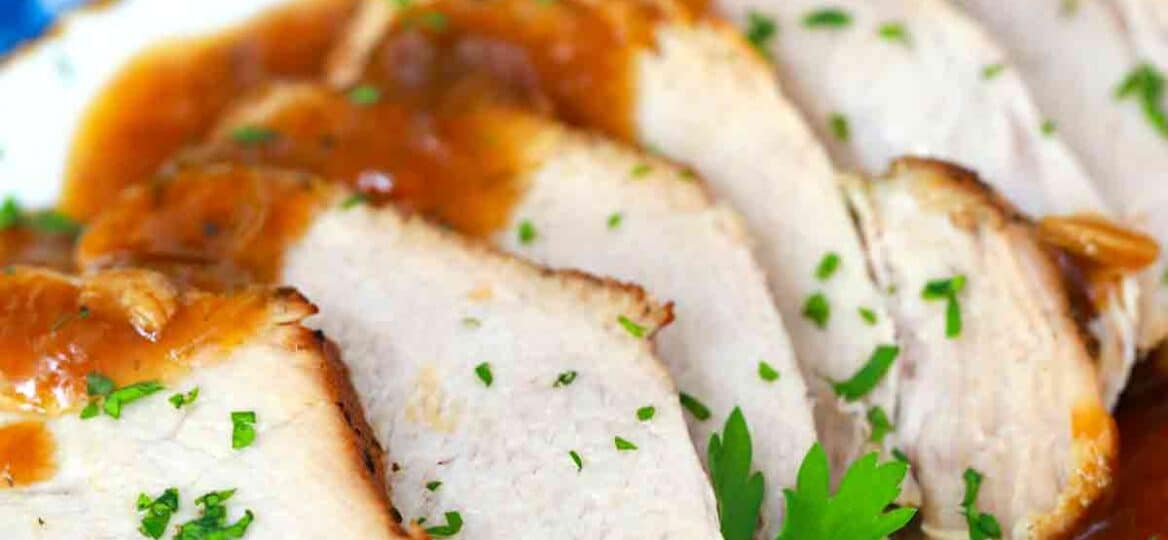 Instant Pot Pork Shoulder [Video]
Instant Pot Pork Shoulder is a quick recipe featuring tender, melt-in-your-mouth pork cooked in herbs and spices, then smothered in a rich, smoky onion-garlic butter sauce. One of the best and easiest meals ever!
Need to use up other types of meat in your fridge? Use your pressure cooker to whip up this Instant Pot Beef and Broccoli, Instant Pot Lamb Stew, and Instant Pot Mongolian Drumsticks!
Instant Pot Pork Shoulder Recipe
Instant pot pork shoulder is one of our favorite cuts because it's both flavorful and delicious. The high pressure makes such short and easy work of tough cuts like this, turning it into an incredibly tender meal without much effort.
We're flavoring the shoulder with a bunch of herbs and spices, Worcestershire, plus lots of garlic, onions, and butter which we're turning into a delectable sauce with a touch of liquid smoke.
Once the meat is cooking in the IP, you can completely leave it alone while you're cooking the rest of your meal. Or, you can simply relax while you want for dinner to be ready! Either way, we guarantee this is going to be one of your favorite ways to enjoy and prepare pork!
What is pork shoulder?
It's one of the best cuts for Instant Pot pork recipes! For one, it's relatively cheap, making it perfect for big family meals or if you're cooking for company. In addition, this cut is very flavorful because being on the front leg of the pig, it gets a lot of activity.
Because these muscles are used a lot, they're also tough with a ton of connective tissues. This is perfect for pressure cooking because those tissues basically melt in the IP. Finally, it has a nice layer of fat which makes any dish richer and more delicious.
Ingredients needed:
Pork shoulder: A 4-inch-thick piece weighing about 3 lbs. will work great!
Chicken stock: Use unsalted so you can control the saltiness of the dish.
Seasonings: To infuse the meat with flavor and create a beautiful sauce, we're combining Worcestershire with liquid smoke, some brown sugar, butter, paprika, plus aromatics, herbs, and a couple of bay leaves.
Thickener: Prepare some cornstarch slurry to thicken the sauce.
How to make homemade instant pot pork shoulder?
Brown: Salt and pepper the meat, then brown it in the IP using the Sauté function. Sear each side for around 5 mins. to create deep brown sear. Then, set the meat aside.
Sauté. Next, stir-fry your onions and garlic, then add your herbs, brown sugar, plus spices and bay leaves.
Deglaze: Pour a cup of your broth in, then scrub all the stuck brown bits off the bottom. After that, add salt, liquid smoke, plus Worcestershire. Finally, return the meat to the IP.
Cook: Pressure cook on high for 60 mins., then leave for 15 mins., so the IP can release steam naturally. After this, unseal the vent to depressurize completely. Remove the meat.
Finish the sauce. Turn the Sauté function back on, then add your slurry once it's starting to simmer. Adjust thickness and seasoning until you reach your desired consistency.
Serve: Slice or shred the meat, then drizzle with the sauce. Enjoy hot!
Recipe variations and substitutions:
Dump and go: Skip the searing and sauteing, and simply place the liquid, all seasonings, and flavorings, plus the meat into the IP. Follow the cooking times afterward.
Slow cooker. Dump all ingredients in the slow cooker (or sear and sauté first), then set to 4 hrs. (HIGH) or 8 hrs. (LOW).
Oven: Follow the instructions, except using a Dutch oven instead of the IP. Then, slow-roast in a 320F oven for 3-5 hours, or until fork-tender. Add more broth as needed.
Use other cuts: Can't find shoulder? Sub it with pork butt, leg, or loin (center cut).
Spicy: Add cayenne or chili flakes into the sauce for heat.
Can you pressure-cook frozen meat using the instant pot?
YES! Once you have an IP, you never have to panic if you forgot to defrost meat for your recipe. In fact, we've already shared how to cook frozen pork tenderloin, frozen chicken breasts, whole frozen chicken, and wings, frozen turkey breast, and frozen ground beef in it.
Can you overcook pork shoulder in the pressure cooker?
Yes, and there's no going back once you do. The thing about the IP is that it can tenderize meat beautifully, but if overcooked, it will start to pull out all that moisture from the meat. However, this is an easy fix— simply follow the exact cook times and pressure release times in the recipe.
What to serve with homemade pork shoulder?
You'll love this on top of mashed potatoes or rice, with dinner rolls, or roasted potatoes and vegetables on the side. We also love stuffing the meat into tortillas or burritos!
What's the best way to shred homemade pulled pork?
Use a couple of forks, and pull in different directions to get nice shreds. If you have a Kitchen Aid or hand mixer, however, it does the job faster and easier!
Storing instructions:
Cool the meat down and cover with the remaining sauce inside an air-tight container. Then, either chill in the fridge for 4 days or freeze up to 3 months.
To reheat, defrost on the counter or overnight in the fridge first. Then, you can either microwave until hot, or warm up on the skillet with a bit of broth if it's getting dry.
More delicious pork recipes to try:
Recipe tips:
You can either shred or slice the pork, depending on your preference.
Try getting a cut that has plenty of marbling. It's optional but will add a delicious richness to the dish.
If you want to switch up the flavor, you can also add some BBQ sauce during the last part of cooking.
Make sure to brown the meat very well, because this intensifies the meaty, savory flavors in the dish.
Deliciousness to your inbox
Enjoy weekly hand picked recipes and recommendations