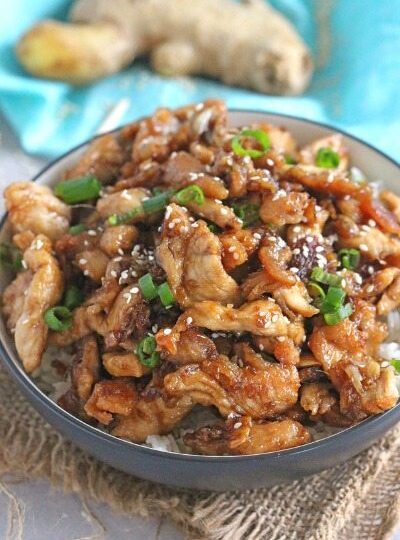 Ginger Crispy Sesame Chicken
Crispy Sesame Chicken with a delicious ginger flavor can be made in less than 30 minutes! Quicker and tastier than take-out!
We love chicken recipes including the most popular recipe on the site – Orange Chicken, Slow Cooker Garlic Sesame Chicken, and Cranberry Orange Chicken.
Ginger Crispy Sesame Chicken
Ginger Crispy Sesame Chicken is so easy to make and so full of flavor that you will never order take-out anymore! Start to finish this meal is ready in less than 30 minutes, perfect for those busy weeknights. The Crispy Sesame Chicken is coated in the most flavorful sauce made with lots of fresh ginger, brown sugar, and orange juice! The Crispy Sesame Chicken can be served over rice or in lettuce cups.
Why You'll Love This Crispy Sesame Chicken Recipe:
Bursting with flavor and coated in the most delicious, sweet and flavorful ginger sauce.
Incredibly easy to make in no more than 30 minutes, can also be made in advance and reheated before serving.
Packed with protein and fiber if you opt for brown rice.
It would be great to pack for lunch.
Leftovers are delicious.
Crispy, sweet and flavorful, can be served over rice and lettuce cups.
Pin This Crispy Sesame Chicken Recipe to your Favorite Board
Tips & Tricks on how to make the perfect Ginger Crispy Sesame Chicken:
Use quality meat when possible. I use organic chicken breasts.
Cornstarch is a key ingredient in here, do not try to replace it with flour, the results will not be the same.
Using fresh ginger and garlic will add amazing flavor and taste to the sauce, the fresh ginger is a key ingredient so don't replace it with ginger powder.
Don't be scared by the amount of oil, it will be discarded after you fry the chicken.
Use a Dutch oven or large/deep pot when frying the chicken, the oil will get very hot and bubbly and you don't want to burn yourself.
Cook the chicken to golden brown perfection, if you a looking for a very crispy texture.
Use garlic based on your liking.
For juicier chicken, remove it from the frying pan after 3-4 minutes of cooking, right after the chicken has just cooked.
Can you freeze Ginger Sesame Chicken?
Yes, this dish can easily be frozen. Transfer the Sesame Chicken into freezer-safe containers or heavy-duty freezer bags. Label with the date, and freeze for up to 3-4 months, or longer if you use a deep freezer.
How do you thaw Ginger Sesame Chicken?
Transfer the frozen meal to your refrigerator the night before you wish to use it to allow it to thaw. Add the chicken to a saucepan and reheat it to at least 165 F before you consume it. Microwave the chicken or put it in a hot oven until it warms up.
Tools/Ingredients I used to make the Ginger Crispy Sesame Chicken Recipe:
Soy Sauce – I like using lite say sauce in my recipes, as it has less sodium and its easier for me to control the saltiness of the dish, I always buy a large bottle like this one and keep it in my pantry.
Sesame Seeds – these little guys are perfect in Asian recipes, also sprinkled on salads and fish, a jar will last you a long time.
Cornstarch – I prefer using cornstarch instead of flour to thicken sauces, and this organic brand is my favorite.
Deliciousness to your inbox
Enjoy weekly hand picked recipes and recommendations