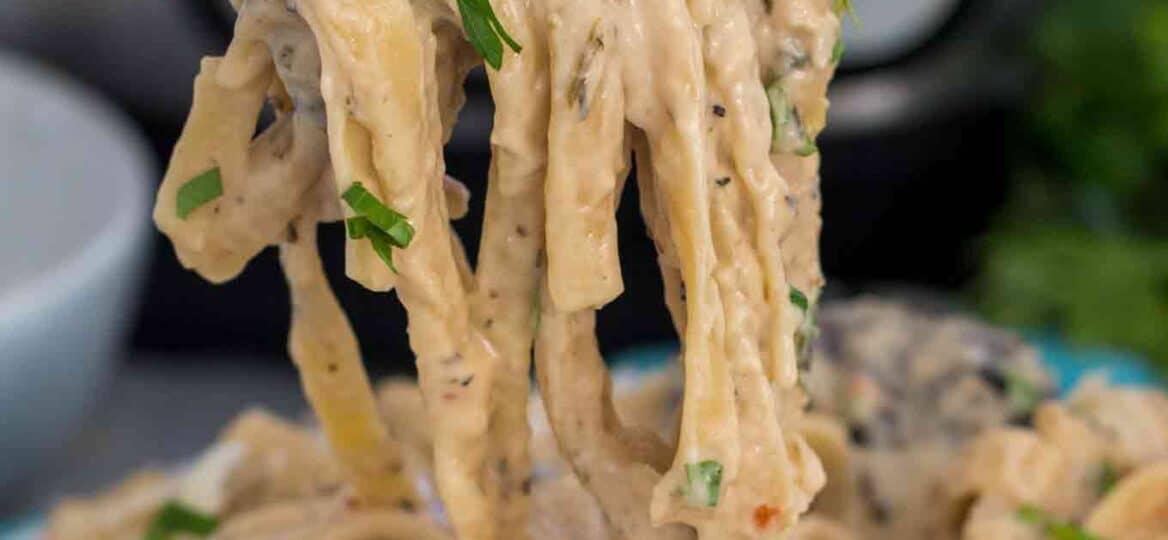 Instant Pot Alfredo Sauce with Fettuccine [Video]
Instant Pot Alfredo Sauce with Fettuccine is a delicious one-pot meal of fettuccine pasta in a cheesy, creamy sauce. This great recipe is so easy to make, all you have to do is add all the ingredients to the pot, including the dry pasta and cook to perfection. This is the ideal dump and cook meal.
Instant pot pasta recipes are a dinner favorite around here, the whole family loves these no-fuss dishes, that are perfect for busy weeknight dinners. Pressure cooker fettuccine alfredo is one of the best things you can cook for a quick and tasty dinner. Among readers' favorites are the famous Tuscan Chicken Pasta and Philly Cheesesteak Pasta.
Instant Pot Fettuccine Alfredo Recipe
Instant Pot Alfredo recipe is one of the easiest recipes you can make in your electric pressure cooker. This recipe is perfect for busy weeknights when you need to make dinner in just under 30 minutes or less.
What I like about this recipe, like other Instant Pot recipes on this blog, you don't have to pre-cook the pasta. Also, it is a one-pot meal, with minimum effort and budget-friendly ingredients.
My secret ingredient to the most luxurious creamy homemade Alfredo sauce is adding a cup of mascarpone cheese. The result is a creamy and rich sauce, that tastes like it was made at a fancy Italian restaurant.
This magical instant pot recipe makes the best alfredo sauce that even a picky eater will love. The best part of this dish, is that is highly adaptable and versatile.
Ingredients Needed:
This quick meal is made with simple ingredients and it's one of the best instant pot recipes you can try.
Broth: Use chicken broth or chicken stock for more flavor. However, use vegetable broth for a vegetarian version.
Dairy products: To make the instant pot chicken alfredo pasta we use a combination of evaporated milk, heavy cream, mascarpone cheese, and parmesan cheese.
Herbs: This restaurant-quality meal is flavored with dried thyme, dried Italian herbs, red pepper flakes, salt, and ground black pepper.
Veggies: A mix of garlic and baby Bella mushrooms, however, you can skip the mushrooms.
The mushrooms can be skipped if not a fan.
Pasta: For this pasta dish we use fettuccine noodles, however, you can use spaghetti or angel hair pasta. This meal can be made with medium shells, macaroni, bow tie, or fusilli pasta.
Slurry: To make a cornstarch slurry, you have to mix cornstarch with water.
How do you make Instant Pot Alfredo Sauce with Fettuccine?
Adding first set of ingredients: Start by adding broth, evaporated milk, garlic, thyme, Italian seasoning, red pepper flakes, salt, pepper, and sliced mushrooms to the bottom of the pot. Stir to combine.
Add the pasta: After that, break the pasta in half or in thirds and add it to the pot, gently press it into the liquid without stirring it.
Cream: Next, pour the cream on top of the noodles.
Pressure cook: Afterward, add the lid, lock it and point valve to sealing. Pressure cook the easy pasta dinner on manual high pressuree for 5 minutes.
Natural Pressure Release: Once done pressure cooking, do a 5-minute natural release.
Quick Pressure Release: After that, open the valve and quick release the remaining pressure. Finally, when the valve drops open the lid and gently stir everything.
Add cheese: Let the noodles rest for a few minutes and after that, stir in the mascarmone cheese and the parmesan cheese until fully melted.
For thicker sauce: In case the sauce is to thick, select the sauté setting and add the cornstarch slurry.
To thin out the sauce: To make the sauce more liquidy, add more milk or cream, and stir to combine. Simmer for 1-2 minutes.
Serve: Finally, serve the cooked pasta topped with extra parmesan and a sprinkling of fresh herbs. Crusty bread on the side is a must.
Recipe Variations:
Meat: Add chicken breasts, leftover chicken, or rotisserie chicken to make instant pot chicken fettuccine alfredo. Cooking time stays the same.
More flavor: As an option, stir in some garlic powder, onion powder, fresh parsley, a pinch of nutmeg into the sauce.
Skinny alfredo: Make this recipe lighter in calories by using half and half instead of heavy cream, more evaporated milk or whole milk. Also, skip the mascarpone and use thee cornstarch slurry to thicken the sauce.
Veggies: As an alternative, saute some veggies like zucchini or bell peppers to make this recipe heartier.
Green: Also, spinach and chopped kale taste amazing in this dish.
What is Alfredo Sauce?
A white sauce, usually made from butter, heavy cream, and minced garlic. This sauce is most often served on fettuccine noodles with freshly grated parmesan cheese. It is thick, rich, and creamy. It has a subtle garlic flavor, sweetness from the heavy cream, and lots of flavor from the dried herbs.
How long do you cook pasta in the Instant Pot?
Depending on the recipe and the pasta you are using, also taking into consideration the doneness of the pasta, you have to cook it for 4-6 minutes. Also, most of the time followed by a Quick Pressure Release.
How to store leftovers:
Cool: First, let instant pot fettuccine alfredo recipe leftovers cool to room temperature.
Store: After that, transfer to an airtight container and store in the fridge for 3-4 days.
Freeze: Start with cooled leftovers, and either add them to a freezer-bag or to a sealed freezer-safe container. Freeze for up to 3 months.
Thaw: Finally, when ready to serve, plan in advance and thaw the leftovers in the fridge overnight.
How to reheat leftovers:
Usually, when refrigerated the sauce will thicken and the pasta will also absorb more of the liquid.
To reheat, add pasta to a medium-large saucepan over medium heat and add 1/2 to 1 cup of milk. Start with 1/2 cup, stir to combine and if needed add more, until you achieve the desired sauce consistency.
You can also add cream instead of milk, or chicken broth.
More Instant Pot Dinners:
Cooking Tips:
Make sure to measure/weight the amount of pasta, to make sure you use the correct ratio of pasta to liquid.
Ad the same time, when adding the noodles, make sure you spread them, so they don't overlap much. This way you will avoid it sticking one to each other.
For a richer sauce, use heavy whipping cream instead of evaporated milk.
Keep in mind, you have to break pasta if you are using the long type.
Also, you don't have to pre-cook the noodles for this recipe.
As an alternative, to save time use pre-shredded cheese.
Instant Pot – I have the 6 quarts one. It makes weeknight meals so much easier.
Deliciousness to your inbox
Enjoy weekly hand picked recipes and recommendations