Instant Pot Alfredo Sauce with Fettuccine [Video]
Instant Pot Alfredo Sauce is so easy to make, all you have to do is add all the ingredients to the pot, including the dry pasta and cook to perfection. This is the perfect dump and cook meal.
Instant Pot pasta recipes are a dinner favorite around here, they are easy to make, no fuss dishes, that are perfect for busy weeknight dinners. Instant Pot Alfredo Sauce Pasta is the latest addition to the collection. Among readers' favorites are the famous Tuscan Chicken Pasta, Instant Pot Chicken Pot Pie Pasta, and the cheesy Cheeseburger Macaroni.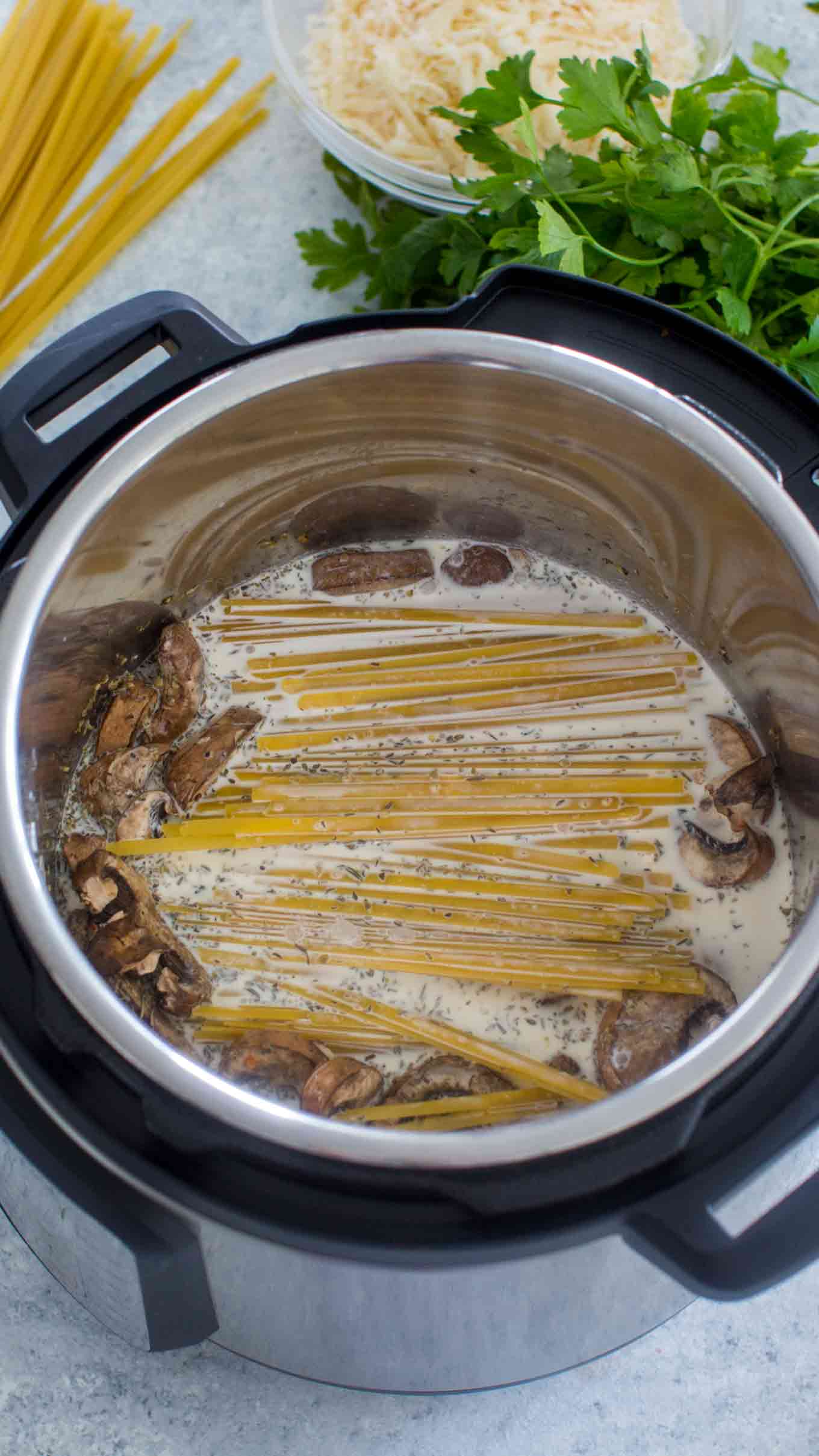 Instant Pot Alfredo Sauce with Fettuccine Noodles
Instant Pot Alfredo Sauce with fettuccine is one of the easiest recipes you can make in your pot. This recipe is perfect for busy weeknights when you need to make dinner in just under 30 minutes or less. To make a creamy pressure cooker alfredo sauce with fettuccine noodles, all you have to do is add all the ingredients to the pot and cook.
What I like about this recipe, like other Instant Pot pasta recipes on this blog, you don't have to pre-cook the pasta. Also, it a one-pot meal, with minimum effort and budget-friendly ingredients.
My secret ingredient to the most luxurious Alfredo sauce is adding a cup of mascarpone cheese. The result is a creamy and rich sauce, that tastes like it was made at a fancy Italian restaurant.
How long do you cook pasta in the Instant Pot?
Depending on the recipe and the pasta you are using, also taking into consideration the doneness of the pasta, you have to cook it for 4-6 minutes. Also, most of the time followed by a Quick Pressure Release.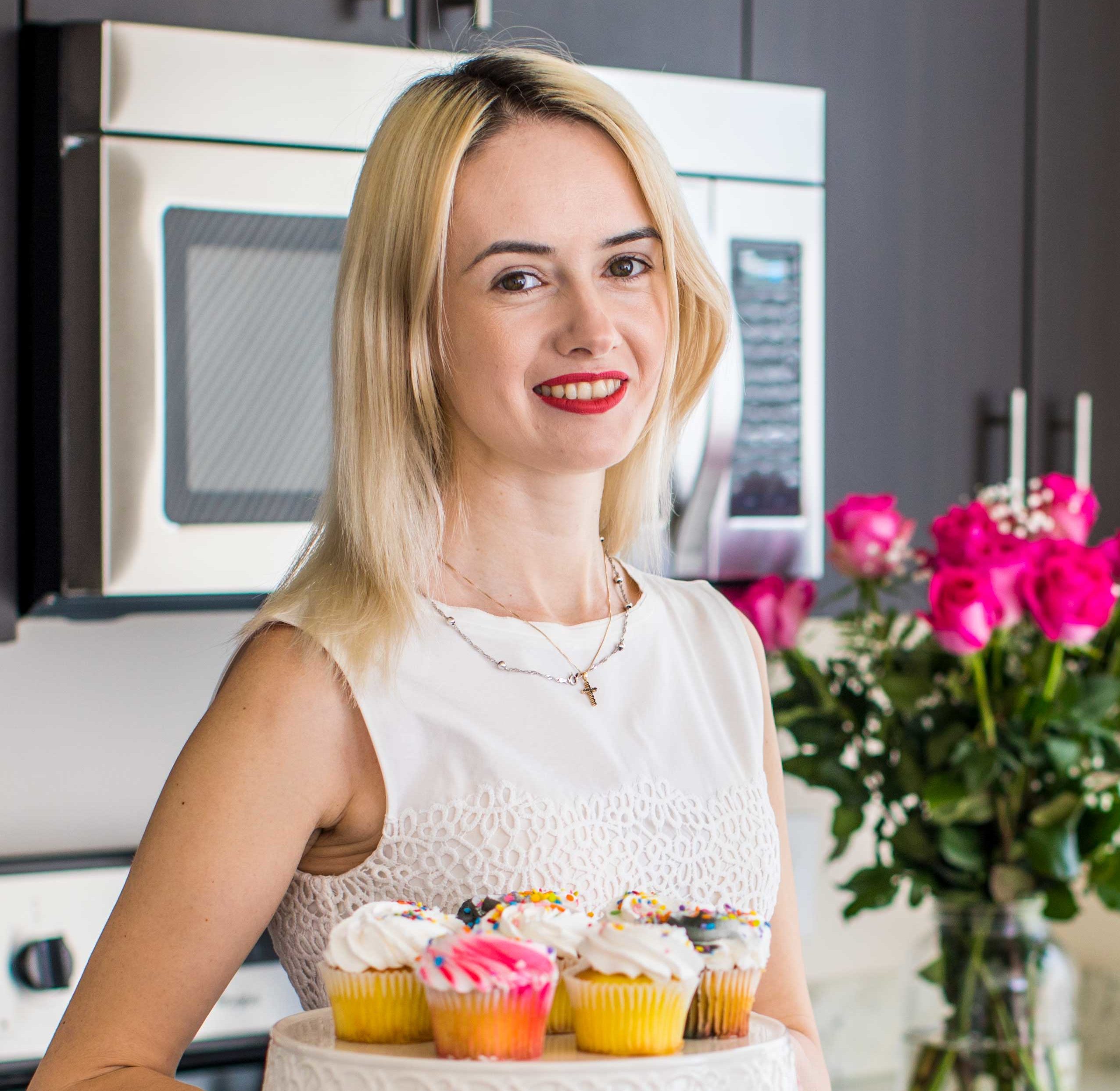 Follow us on Pinterest for more delicious recipes!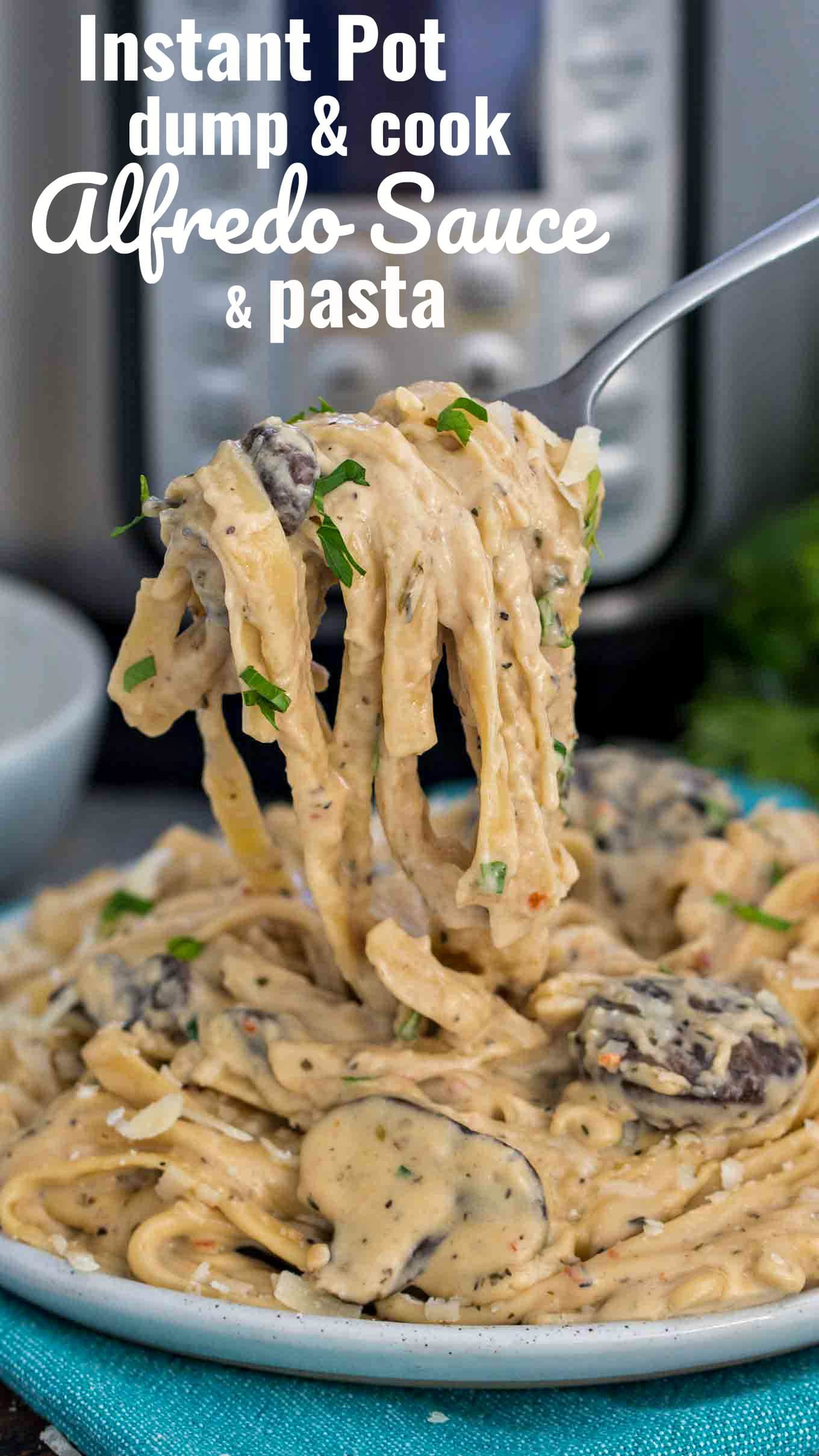 What is Alfredo Sauce?
A white sauce, usually made from butter, heavy cream and minced garlic. This sauce is most often served on fettuccine noodles with freshly grated parmesan cheese.
What does Alfredo Sauce taste like?
Alfredo sauce is thick, rich and creamy. It has a subtle garlic flavor, sweetness from the heavy cream and lots of flavor from the dried herbs.
What can I use instead of heavy cream for Alfredo sauce?
To replace heavy cream in Alfredo sauce, you can use whole milk, half and half or evaporated milk.
Recipe Tips and Tricks:
Chicken broth can be substituted with veggie broth, for a vegetarian version.
In addition, heavy whipping cream can be substituted with whole milk or evaporated milk.
For a richer sauce, use heavy whipping cream instead of evaporated milk.
Also, you don't have to pre-cook the noodles for this recipe.
This meal can be made with other types of pasta, I like to use large shells or fusilli pasta.
The mushrooms can be skipped if not a fan.
Instant Pot – I have the 6 quarts one. It makes weeknight meals so much easier.
Can I add chicken to this recipe?
Yes, you can. Adding chicken to it will give some extra flavor and richness to the dish. To do so, cut a chicken breast into 1-inch cubes and add to the pot. Cooking time stays the same.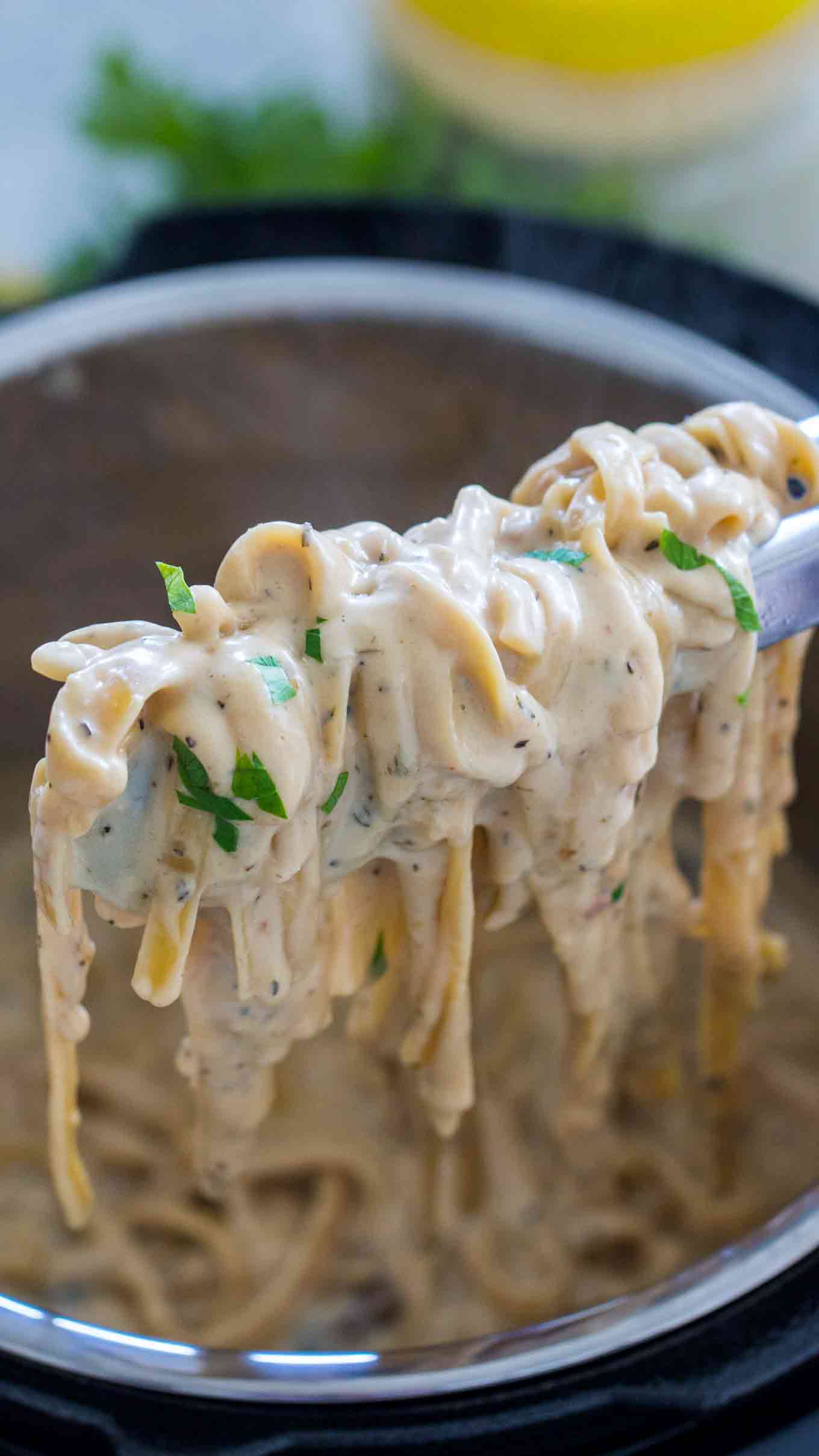 How do you reheat the Instant Pot Alfredo Sauce Fettuccine on the stove?
Usually, when refrigerated the sauce will thicken and the pasta will also absorb more of the liquid.
To reheat, add pasta to a medium-large saucepan over medium heat and add 1/2 to 1 cup of milk. Start with 1/2 cup, stir to combine and if needed add more, until you achieve the desired sauce consistency.
You can also add cream instead of milk, or chicken broth.
Watch recipe step-by-step video:
Save Recipe
Easy Instant Pot Alfredo Sauce with Fettuccine
Author: Catalina Castravet
Serves: 4 servings
Prep time:

10

minutes
Cook time:

5

minutes
Total time:

15

mins
Ingredients
1 1/2 cups chicken broth or veggie broth
1 cup evaporated milk
1/2 cups heavy cream
1 teaspoon minced garlic
1 teaspoon dried thyme
1 teaspoon Italian seasoning mix
1/4 teaspoon red pepper flakes (or less)
1/4 teaspoon kosher salt
1/8 teaspoon ground black pepper
8 oz baby Bella mushrooms, sliced (optional)
1/2 lb dry fettuccine noodles (broken in half)
1 cup mascarpone cheese (room temperature)
1 cup parmesan cheese, (shredded)
Cornstarch Slurry:
1 tablespoon cornstarch
1 tablespoon water
Instructions
Using a kitchen scale, measure the pasta to make sure you are not using more.

Add the following ingredients to the Instant Pot: broth, evaporated milk, garlic, thyme, Italian seasoning, red pepper flakes, salt, pepper and sliced mushrooms (if using). Stir to combine.
Break the fettuccine noodles in half and add them to the pot. Distribute evenly on top, do not stir, just gently press to soak them into the liquid.
Take the time to check if you have a bunch of noodles stuck together, gently soak them in the liquid, otherwise they will end up glued together when cooked.
Pour the cream over the noodles.
Cook:
Cover and seal the lid. Make sure the valve points to Sealed.
Change setting to Manual or Pressure Cook and adjust time to 5 minutes.
Once Instant Pot beeps to show that it's done, wait 5 minutes (Natural Pressure Release) and after that do a quick release, by changing the position of the valve to Vent.
Carefully remove lid and gently stir the noodles.
Let them sit in the sauce uncovered for about 1-2 minutes.
Add parmesan cheese and mascarpone, gently stir until fully combined.
Cornstarch Slurry:
The sauce will thicken more as it cools off. However, if you would prefer a thicker sauce, mix cornstarch and water in a small bowl until fully combined.
Select Sauté, add cornstarch slurry to the Instant Pot, stir and simmer for 2 minutes. Sauce will thicken more as it cools off.
To thin out the sauce, add more milk or cream, and stir to combine. Simmer for 1-2 minutes.
Calories: 831 Carbohydrates: 78 Protein: 44 Fat: 37 Saturated Fat: 21 Cholesterol: 137 Sodium: 981 Potassium: 983 Fiber: 2 Sugar: 11 Vitamin A: 1150 Vitamin C: 2.6 Calcium: 782 Iron: 4.9
Save Recipe
More recipes you might love