Instant Pot Potato Salad [video]
Instant Pot Potato Salad is a quick and easy recipe made in the pressure cooker in less than 15 minutes. It is super convenient because you end up cooking both the potatoes and eggs together in the same pot. Watch the short video tutorial below and see how easy this recipe is!
This is the perfect salad to enjoy during spring or summer times. It pairs well with barbecue ribs, meatloaf, or with some roasted asparagus.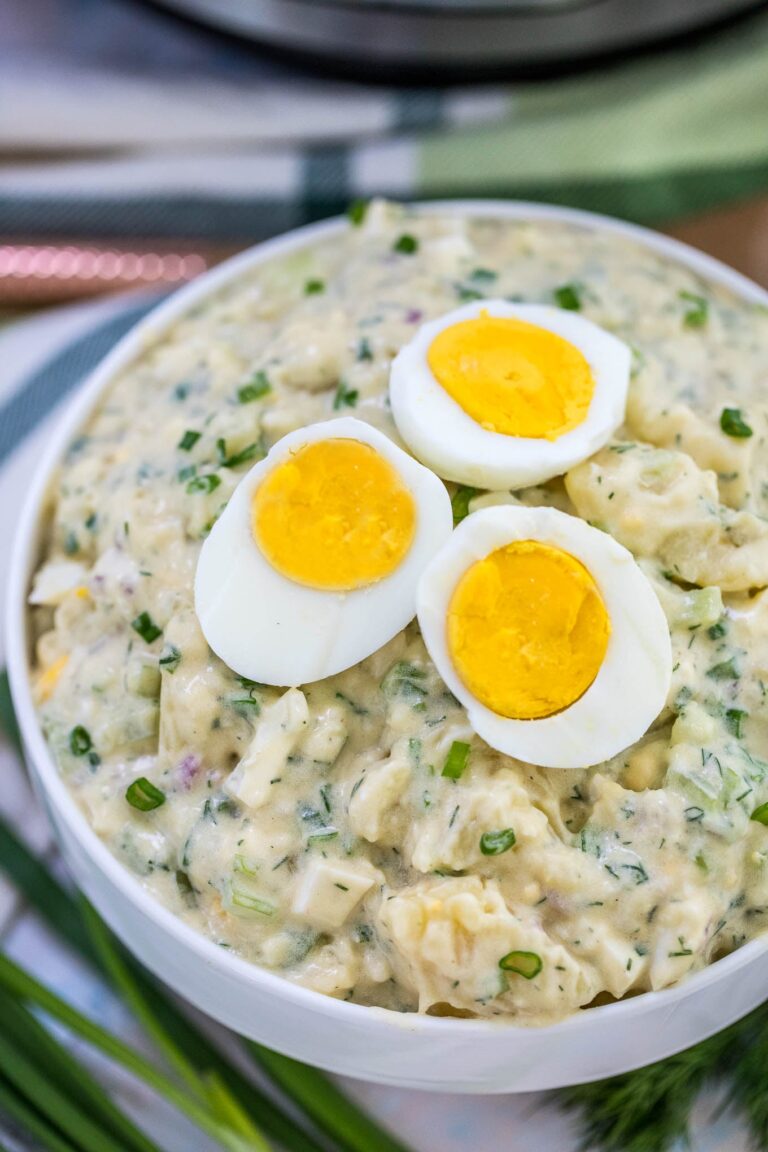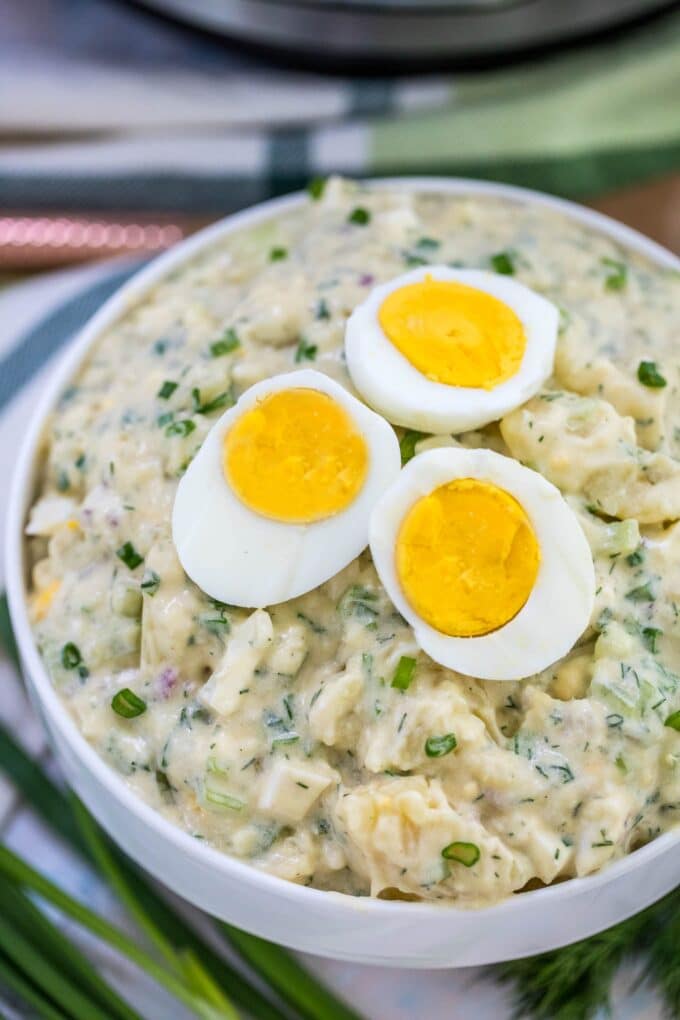 Easy Instant Pot Potato Salad
This is one of our favorite recipes to make during summer times. It is perfect for picnics, potluck, parties, or barbecuing. Prior to discovering the Instant Pot, we would make this salad the traditional way, where we would cook the potatoes and eggs separately.
However, since we got the pressure cooker, this became our go-to dish. Not only is it super easy to make, but you cook everything at the same time in one pot. Also, it is a budget-friendly dish, which requires just a few simple ingredients. It is a win-win dish, and it does not get any better than this!
All is required is to wash, peel, and then chop the potatoes and cook them along with the eggs. Once cooked, you are pretty much done. Simply mix the ingredients together and enjoy a delicious homemade Instant Pot Potato Salad.
Another benefit of making this recipe in the pressure cooker is that you will end up with tender and perfectly cooked potatoes that hold the shape nicely. Also, you do not need to worry about watching the eggs cook, as they will be cooked together.
Instant Pot Potato Salad Ingredients:
To make this recipe, you will need:
Potatoes – the key for the best potato salad is to use starchy potatoes. We usually go with russet or Yukon gold potatoes as they work pretty well for this recipe.
Eggs
Chopped onion
Mayonnaise – you can use reduced or non-fat if desired
Chopped fresh parsley
Dill pickle juice
Mustard
Salt and pepper to taste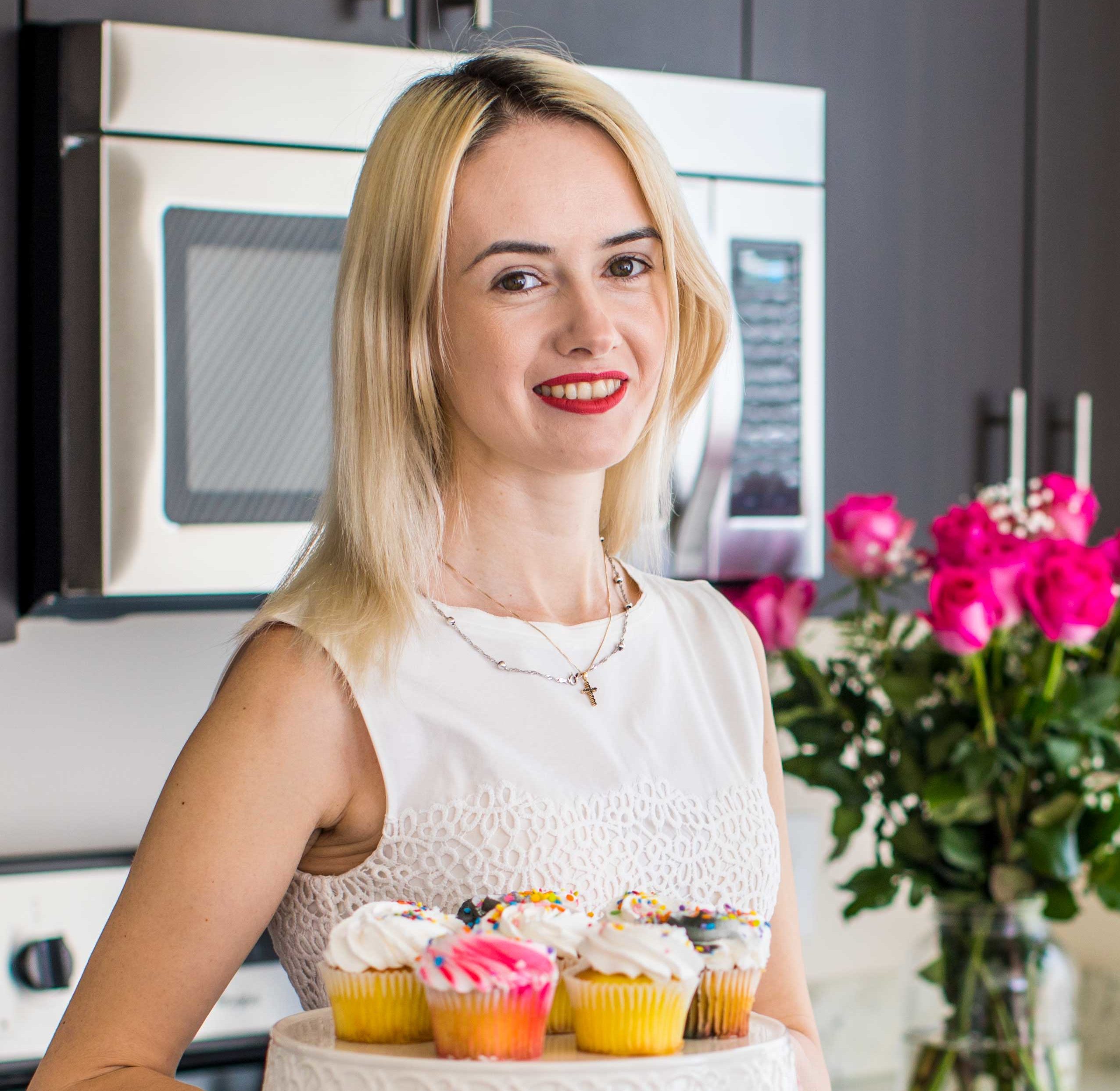 Follow us on Pinterest for more delicious recipes!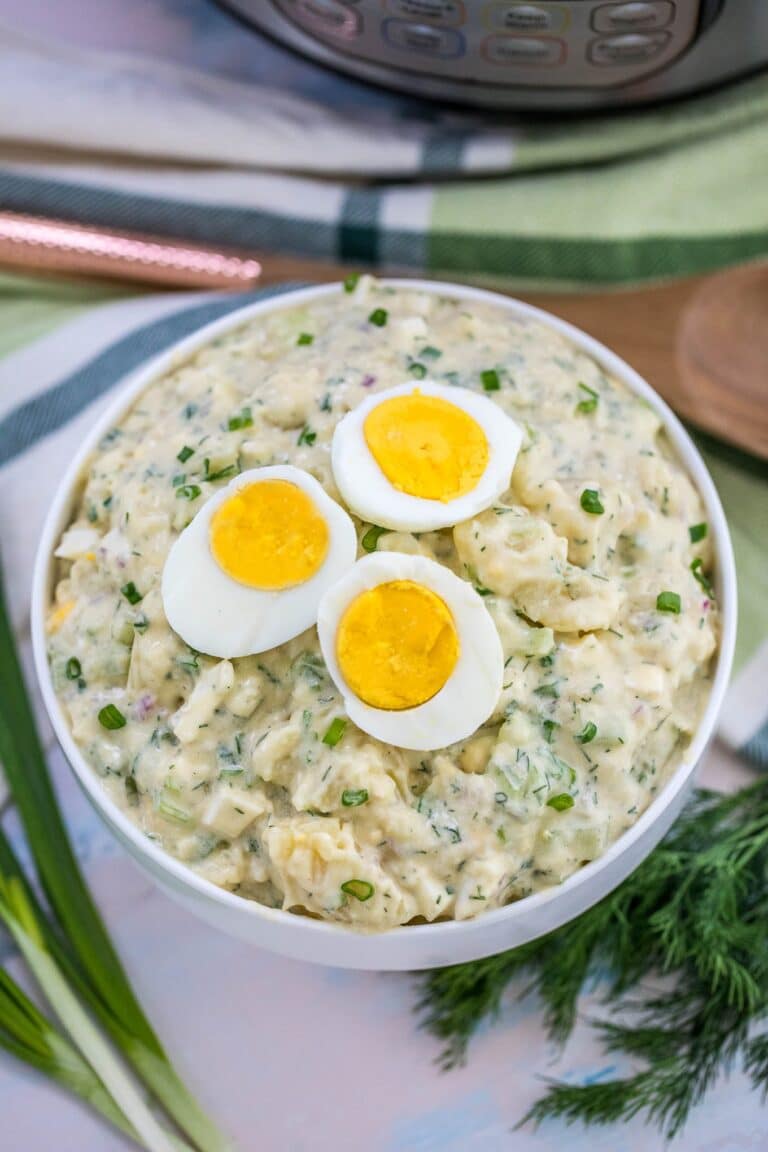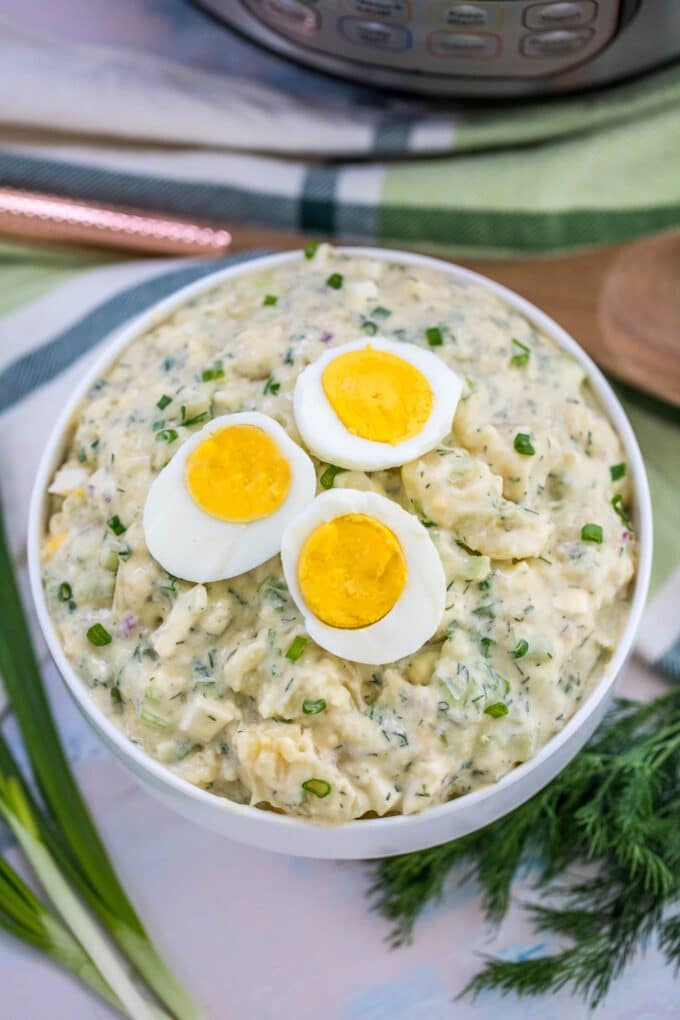 How to make Instant Pot Potato Salad?
As stated above, this is one of the easiest dishes you can make. Start by washing and peeling the potatoes, and then cut them into smaller cube sizes. We highly recommend using a steamer basket to cook the ingredients. It does not cost much but is very convenient and handy.
Instead of cooking the eggs and potatoes separately, we simply put the eggs in between peeled and diced potatoes in the steamer basket. Then, we steam them for about 4 minutes on high in the pressure cooker.
Once the 4 minutes have elapsed, allow some time for natural pressure release. Carefully remove the steamer basket from the pressure cooker. A nice trick to easily peel the eggs is to quickly place them under ice-cold water once removed from the steamer. This will stop the cooking process and will be easily peelable.
Lastly, peel and dice the eggs, and combine all the ingredients gently in a separate bowl. Use your favorite mayonnaise for this. Add salt and pepper to taste. If needed, add more mayonnaise to achieve desired consistency.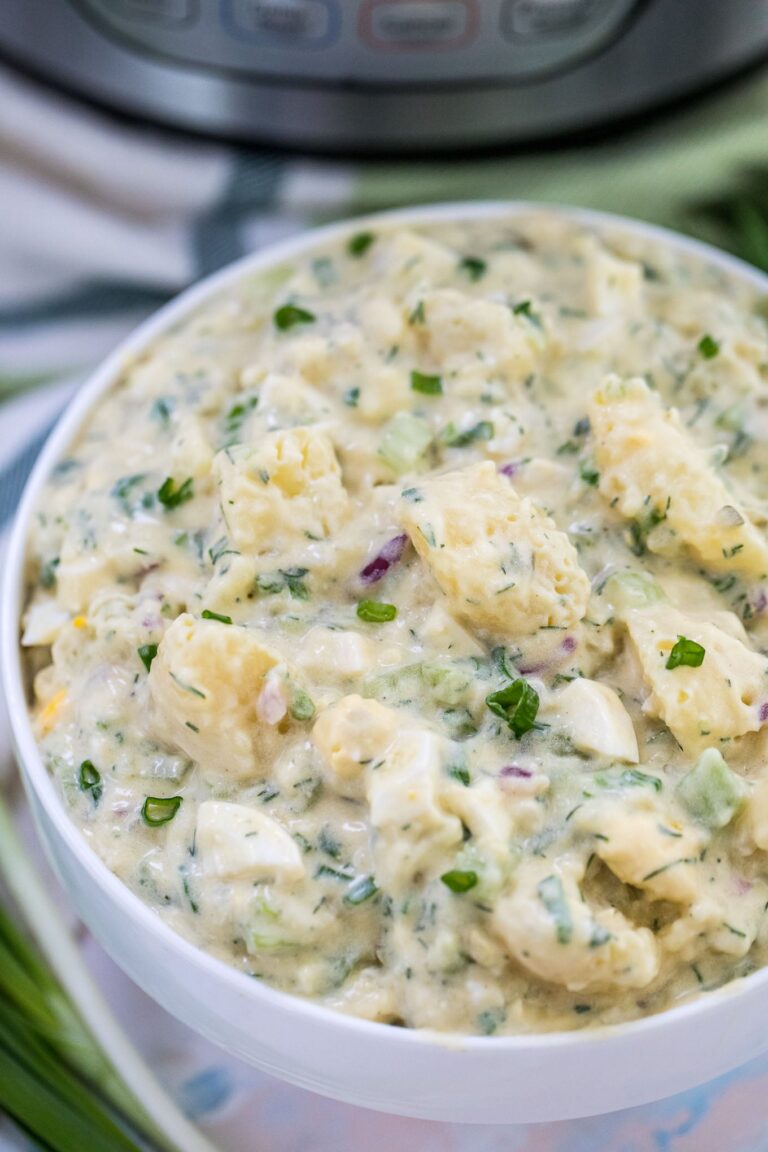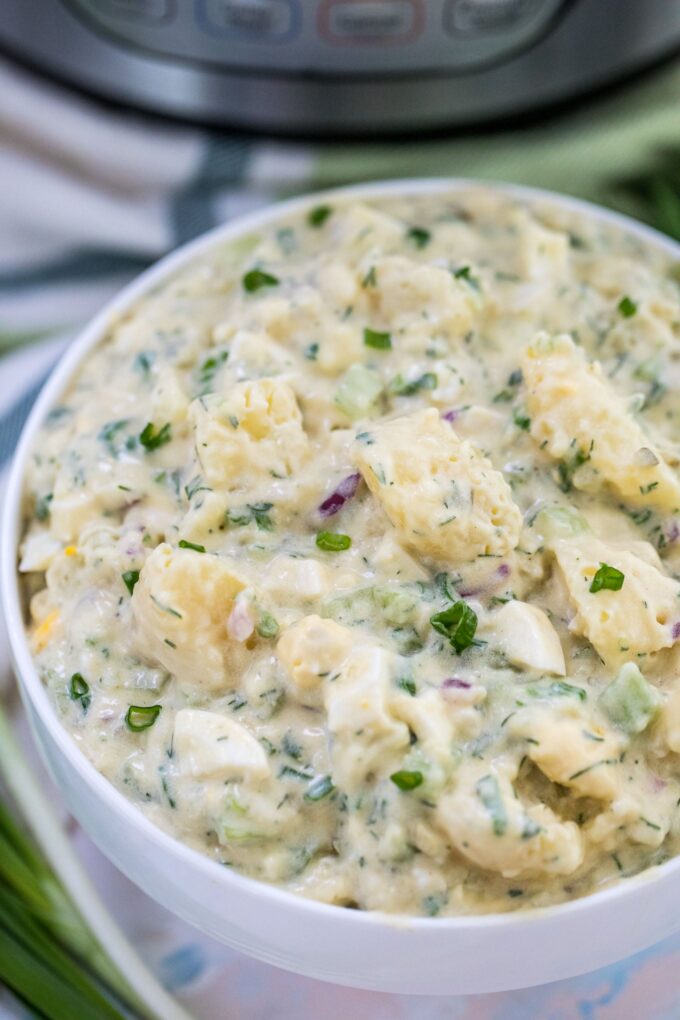 Can I make Potato Salad in advance?
Absolutely! This is the perfect dish to make in advance, and it tastes actually better the next day. Since all the ingredients combine together as they refrigerate, the flavors combine, resulting in an even tastier salad.
It is best to refrigerate it up to 2-3 days in advance. Make sure that when you mix the ingredients, they are cold. Then, store in an airtight container in the fridge.
Watch Recipe Video:
Save Recipe
Author: Catalina Castravet
Serves: 6 servings
Prep time:

30

minutes
Cook time:

15

minutes
Total time:

45

mins
Ingredients
3 pounds russet potatoes (white potatoes , peeled, cut into 1 inch cubes)
3 tablespoon apple cider vinegar (divided)
1 teaspoon salt
¼ teaspoon ground black pepper
4 cups cold water
Dressing Ingredients
4 large eggs (hard-boiled and finely chopped)
1 small red onion (finely diced)
1 large dill pickle (finely diced)
1 cup celery (finely diced)
4 cloves garlic (minced)
2 tablespoons fresh dill (finely chopped)
¼ cup green onions (finely chopped)
1 cup mayonnaise
3 tablespoons pickle juice
2 tablespoons olive oil
1 tablespoon stone ground mustard
1 tablespoon apple cider vinegar
Kosher salt and ground black pepper to taste
Instructions
Pressure Cook Potatoes and Eggs:
Add salt, pepper, 1 tablespoon apple cider vinegar, and 4 cups cold water to the pressure cooker.

Place a steamer basket in the pressure cooker pot. Add potatoes and place the eggs on top of potatoes. Place lid on and lock it, make sure the valve points to seal. Select high pressure and set to 4 minutes.

Immediately release the pressure and carefully open the lid. Transfer hard boiled eggs in a bowl with cold water. Gently transfer the potatoes to a colander and drain. Add them to a large bowl.

Drizzle the potatoes with 2 tablespoons of apple cider vinegar and let them cool to room temperature.

Finely dice the cooled eggs.
In a medium bowl mix all the Salad Dressing ingredients until fully combined. Pour over the cooled potatoes and gently mix, careful to not entirely crush the potatoes.
Cover and refrigerate for at least 2-3 hours before serving. The potatoes will harden a little once they are cooled.
Garnish with dill, green onions and pickles before serving.
Calories: 532 Carbohydrates: 43 Protein: 9 Fat: 36 Saturated Fat: 6 Cholesterol: 124 Sodium: 840 Potassium: 1048 Fiber: 3 Sugar: 2 Vitamin A: 310 Vitamin C: 14.3 Calcium: 64 Iron: 2.7
Save Recipe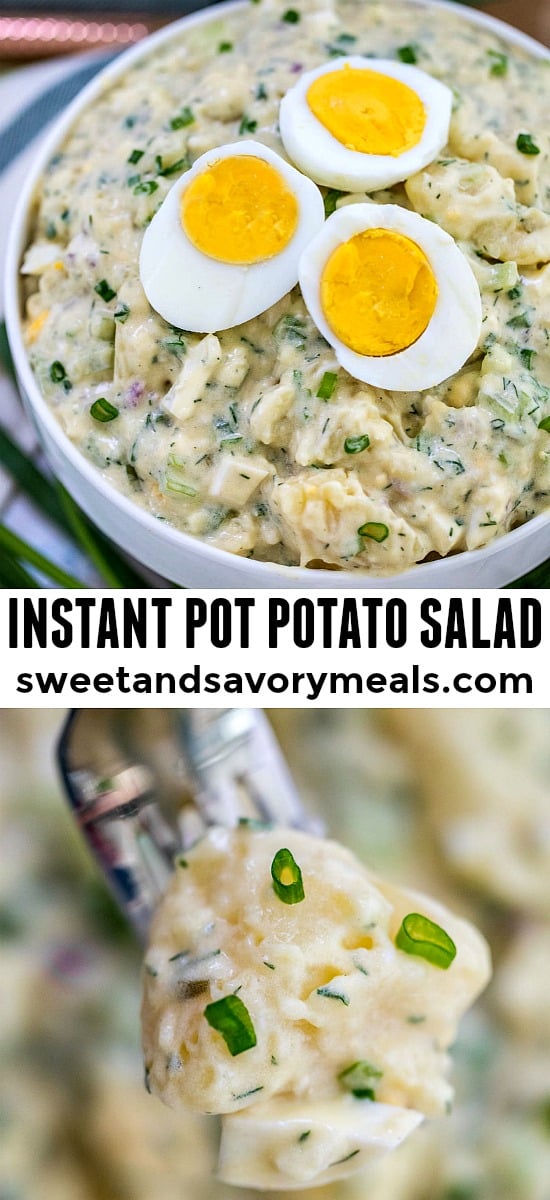 More recipes you might love