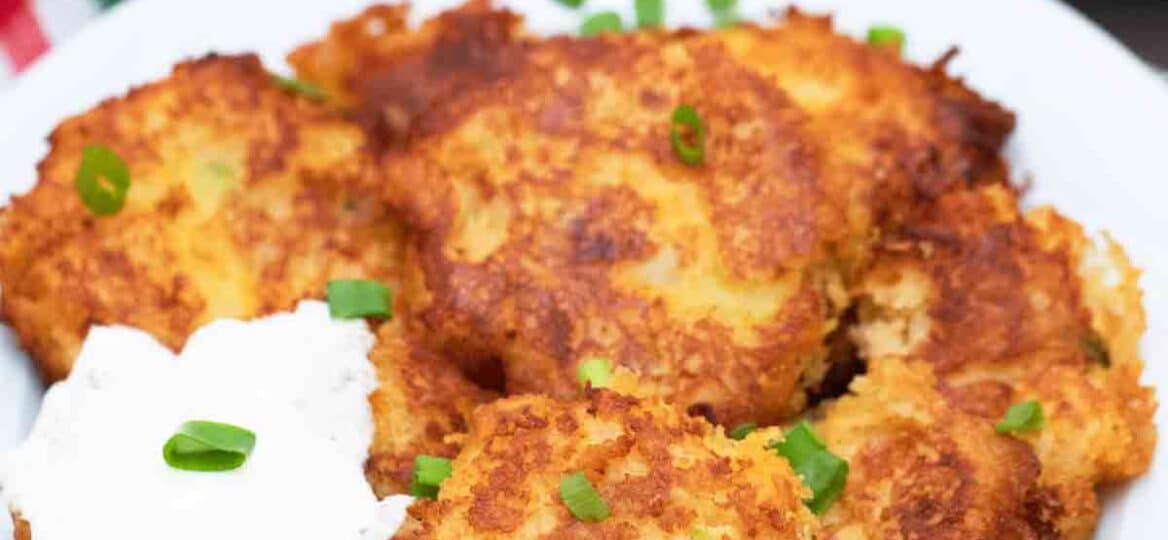 Loaded Mashed Potato Pancakes [Video]
Loaded Mashed Potato Pancakes are mixed with cheese, spices, and fresh green onions, then fried until crispy and golden. A terrific appetizer, snack, or side dish!
These are a fantastic hand-held appetizer for a dinner party, just like these Honey Lemon Chicken Lettuce Wraps, Bacon Wrapped Broccoli Tots, and the Best Stuffed Mushrooms.
Crispy Mashed Potato Pancakes
Loaded Mashed Potato Pancakes taste like your favorite twice-baked spuds but in the form of a crispy patty! They are a delicious way to use up leftover mash. However, you can certainly make a fresh batch if you like.
My kids go crazy for these, and they barely make it onto the table! Aside from being kid-friendly, they're also great as finger food for a party, a snack, or side.
These spuds are also a good way to clear out your pantry. Got some leftover veggies or bacon strips you want to use up? Chop them up finely and throw them into the patty mix. You can also customize them with different seasonings and cheeses to make your own twist. Versatile and always a sure hit!
What are mashed potato pancakes?
They are mashed spuds mixed with spices and other ingredients, then shaped into patties and fried. Also, if you want them simple, you can have them plain without any spices added. This loaded version has cheese and green onions for more flavor.
How do you make Mashed Potato Pancakes from scratch?
Make the patties. First, mix the mash with cheese, green onions, eggs, and spices. You can also add flour if your mixture is too loose or runny. Form into balls, then flatten into patties.
Fry. Next, drop into hot oil and fry until crispy and golden brown on both sides.
Serve. Top with sour cream and more green onions, plus lemon wedges for garnish. Enjoy hot!
Recipe Variations:
Low carb version: Used mashed cauliflower for a keto-friendly version.
Use sweet potatoes: Try this with sweet potato mash – the sweet and savory combo is incredible!
Add herbs: Flavor the patties with some dried oregano, fresh thyme, or basil.
Make it Spicy: Increase the hot sauce, or add some chili flakes and cayenne.
Use other cheeses: Shredded parmesan, smoked or sharp cheddar, or mozzarella are delicious additions.
Make it crispier: Roll the patties in plain or seasoned breadcrumbs before frying.
What potatoes are best for mashed potatoes?
Use starchy varieties like russets and Yukon. That high starch content is what makes a good mash so creamy and fluffy.
Waxy ones don't have enough starch for that texture. They tend to become gummy in a mash. They're better for recipes like a gratin, fondant, scalloped, or grilled, where they stay intact.
How do you keep potato pancakes from falling apart?
Don't add the eggs all at once, especially if your mash is on the creamier side. Mix all the ingredients first, then add the beaten eggs gradually until you have a mixture you can form into balls. You can also mix in some flour or cornstarch for better structure.
How do you make potato pancakes crispy?
Use hot oil! Thanks to the mash, these are basically pre-cooked, so don't have to worry about frying them long enough to cook the spuds. The oil should be really hot so that the patties fry and crisp up the moment they hit the oil.
How to serve this dish?
They're perfect with a dollop of sour cream or yogurt on top! You can also serve some lemon wedges on the side because the acidity balances out the richness of these pancakes.
In addition, they go well with a lot of main dishes like roasted chicken, roasts, and BBQs.
How to store leftovers?
Before transferring to a sealed container, cool the patties first. Separate them using parchment paper, so they don't stick together. Keep in the fridge for up to 3 days.
How to freeze them?
Prior to freezing, cool the pancakes and blot off as much excess oil as possible. Then, arrange them in a single layer on a baking sheet, with a little gap in between, and freeze.
Once frozen, transfer them to an air-tight container or a freezer bag. Store in the freezer for up to 6 months.
To thaw, pull out the pieces you want to reheat. You can leave them in the lower part of the fridge overnight, or defrost them on the counter to thaw them out faster.
Reheat by baking in a 400F oven for 8 to 10 minutes, or until hot, crispy, and the cheese has remelted.
More Potato Recipes:
Recipe Tips:
I highly recommend using starchy spuds like Russet, Idaho, and Yukon Gold. They result in the best flavor and crispiness.
For the best flavor, make your mash from scratch! If you do, avoid overworking them so they don't become gluey.
No time to make homemade mash? Feel free to use pre-made or instant.