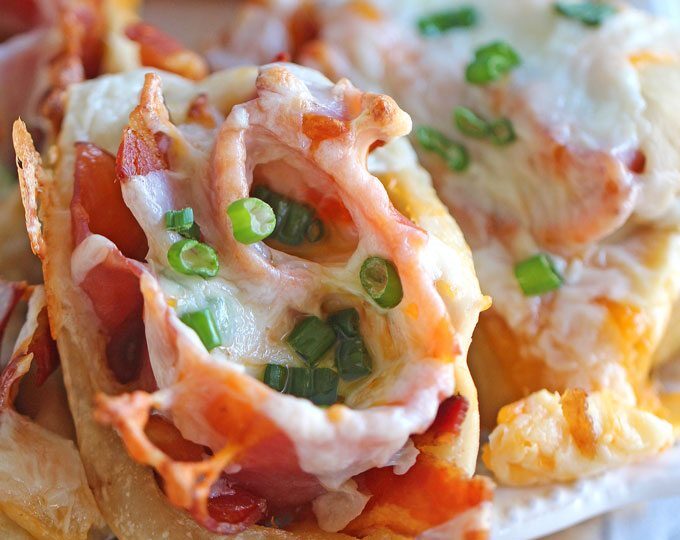 Easy Bacon Ham Cheese Rolls
Bacon Ham Cheese Rolls are easy to make using pizza dough or crescent dough, stuffed with bacon, ham and cheddar cheese, making them the perfect brunch meal.
We love Ham recipes that are fun and easy to make, like our popular Cheesy Jalapeno Ham Sliders and Slow Cooker Brown Sugar Ham.
Easy Bacon Ham Cheese Rolls
Bacon Ham Cheese Rolls are my new brunch obsession. I like waking up on weekends and quickly bake a batch of these cheese guys. Bacon Ham Cheese Rolls are so easy to make, especially since you don't have to prepare the dough, you can use store bought pizza dough or a crescent dough sheet. Loaded with crispy and flavorful bacon, deli sliced ham and lots of cheddar cheese, these rolls will melt in your mouth with deliciousness. We all know that bacon makes everything better, you will be the star of any brunch if you bring these!
Why You'll Love These Bacon Ham Cheese Rolls:
Very easy to make, minimum prep work and they will be baked in under 30 minutes.
Loaded with lots of crispy bacon, to satisfy your inner obsessed bacon alter ego.
Cheesy! Lots of cheese! That is always a bonus in my opinion!
No need to knead any dough, use store bought.
Easily transportable if you have to take them to a brunch party.
Pin This Bacon Ham Cheese Rolls Recipe to your Favorite Board
Tips & Tricks To Make The Perfect Bacon Ham Cheese Rolls:
Use high quality bacon, as these are packed with bacon. I am a high believer that everything is better with bacon!
When you roll the dough make sure you roll it tightly so the ingredients don't fall out.
You can even use whole wheat pizza dough in this recipe.
Topping these with cheese is optional, but definitely delicious.
If you choose to skip the cheese on top, you can crack an egg on the rolls, 5-7 minutes before removing from oven.
You can you store bought deli ham, or leftover ham from Easter or any other occasion.
You can use a combination cheeses, I personally combined creamy cheddar with mozzarella cheese. Swiss cheese is also great in this recipe.
The green onions are optional, but I like the freshness and pop of color they add to this dish.
Occasions When You Can Serve These Bacon Ham Cheese Rolls:
Breakfast or Brunch – they are easily transportable.
Have them for dinner if you like breakfast for dinner, they are filling and delicious.
Easter Brunch, Mom's Day, Father's Day and even Christmas morning.
Make them for your family for a delicious weekend brunch.
Looking for more Breakfast Recipes? Check these out: