Jello Shots Recipe [Video]
Jello Shots are colorful, and the perfect party cocktail that adults will love! These are pure fun in the form of flavorful jelly! Lighten up your party with these colorful treats!
Serving these at your next party will just amp up the fun! Looking for more party ideas? Christmas Punch, Bacon Ranch Cheese Ball, and Taco Dip can simply be what you are looking for. Your guests will absolutely love them!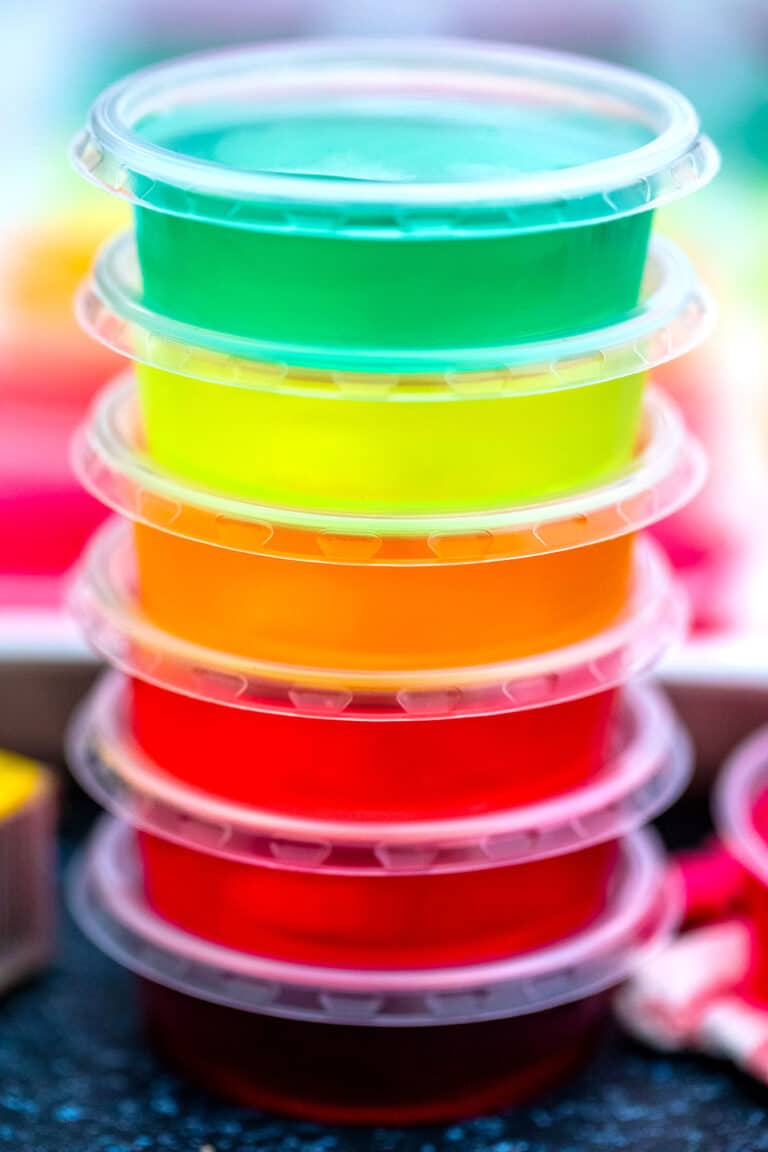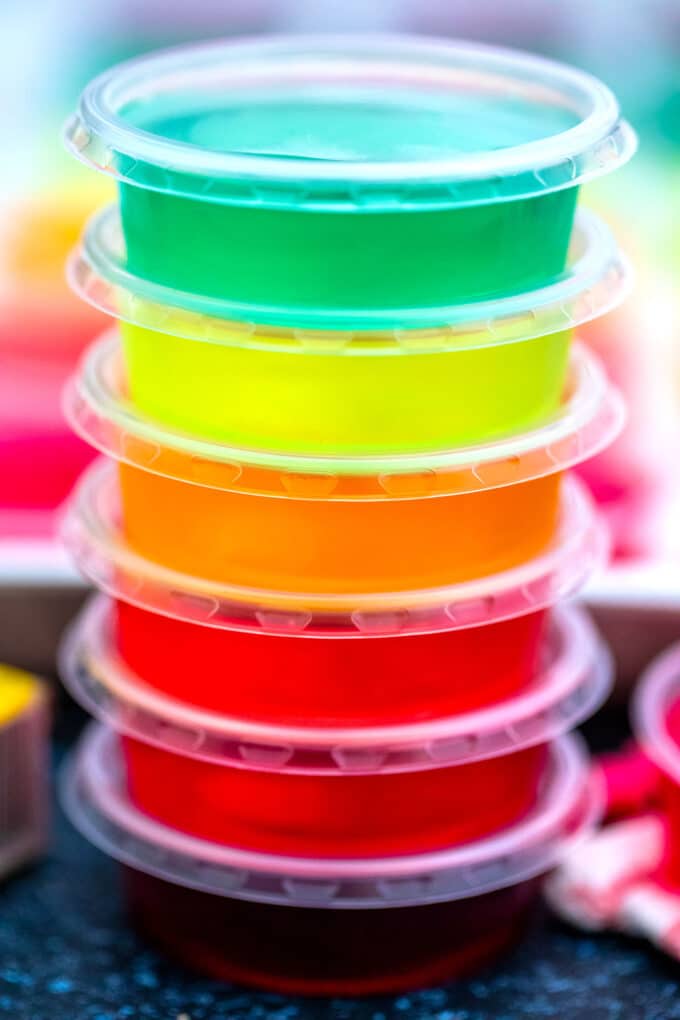 Vodka Jello Shots Recipe
Jello Shots prove that gelatin is not only for making cakes, puddings, or mousse. Aside from making sweet snacks out of the gelatin, this recipe gives it a twist! They may look cute and colorful, but they are not as harmless as you would think as they are alcohol-infused!
What adult party is complete without alcohol? It is fun to drink occasionally. It is the overall feeling and the enjoyment of having a shared experience with friends that I like.
But getting drunk is not my thing, nor friends', so I am sharing this quick recipe for you to try. You will still enjoy having vodka but in the form of jello which we have all loved growing up!
Did you know that gelatin has been used in the culinary world since the 15th century? Its uses and flavors have also evolved. We have grown to love the simple desserts that our moms used to make utilizing this ingredient. It is not surprising that even alcohol-infused ones became a hit!
What are Jello Shots?
They are portions of jello dissolved in water and mixed with liquor. They are usually placed in small glasses to set.
It is said to have been invented in the 1950s in an attempt to sneak in alcohol at an army facility where restrictions are in place. But as early as 1862, there had been a recorded recipe of gelatin being mixed with punch.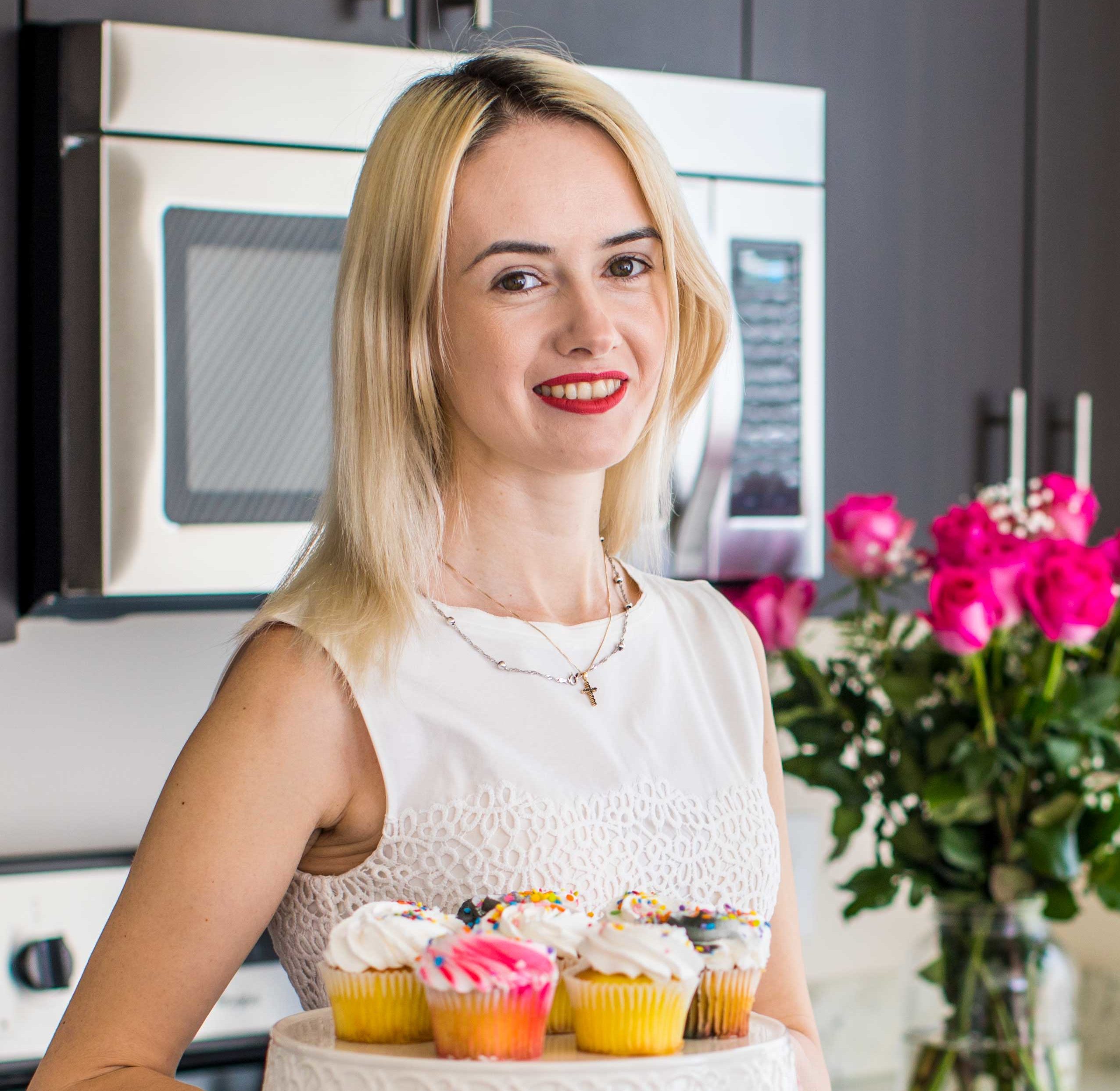 Follow us on Pinterest for more delicious recipes!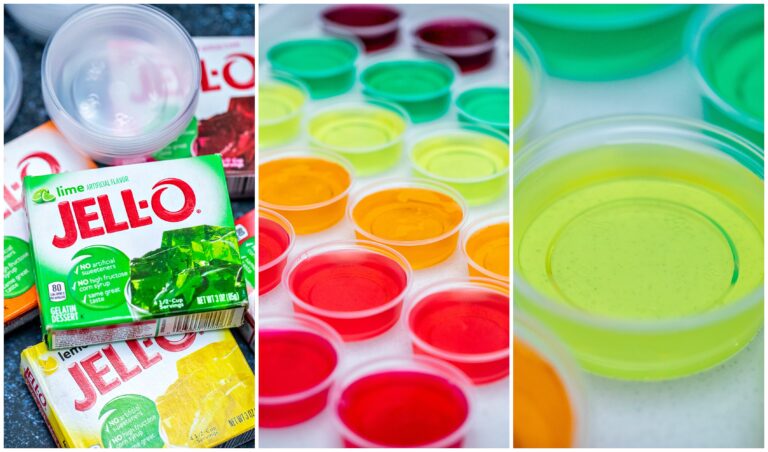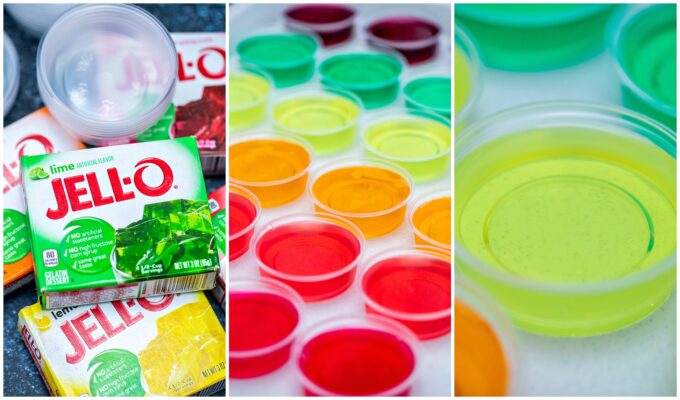 How to Make Jello Shots?
Please watch the short recipe video attached above. But the general steps are as follows:
Boil: The gelatin needs hot water to dissolve the powder, so the first step is to boil some water.
Dissolve: Add the boiling water into the powder and whisk to dissolve.
Add the liquor: Add cold water to balance out the heat of the boiling water initially added then, stir in the vodka.
Pour: Prepare your containers and pour the mixture.
Refrigerate: Put the shots in the fridge for them to set and serve when ready.
Can I use flavored vodka?
Yes! You can even try other types of liquor, and so there are many combinations that you can make. Here are some suggested combinations that you can try:
Red: cherry gelatin with watermelon vodka
Black: Black vodka and raspberry or grape gelatin
Blue: both in blueberry flavor
Tropical: Use pineapple vodka with orange or strawberry gelatin!
Hot Buttered Rum: Replace the vodka with hot buttered rum and use lemon gelatin.
Fireball: Dissolve orange or cherry jello in boiling water, then, add whiskey.
Tequila Sunrise: Dissolve cherry jello in boiling orange juice, then, add tequila once cooled.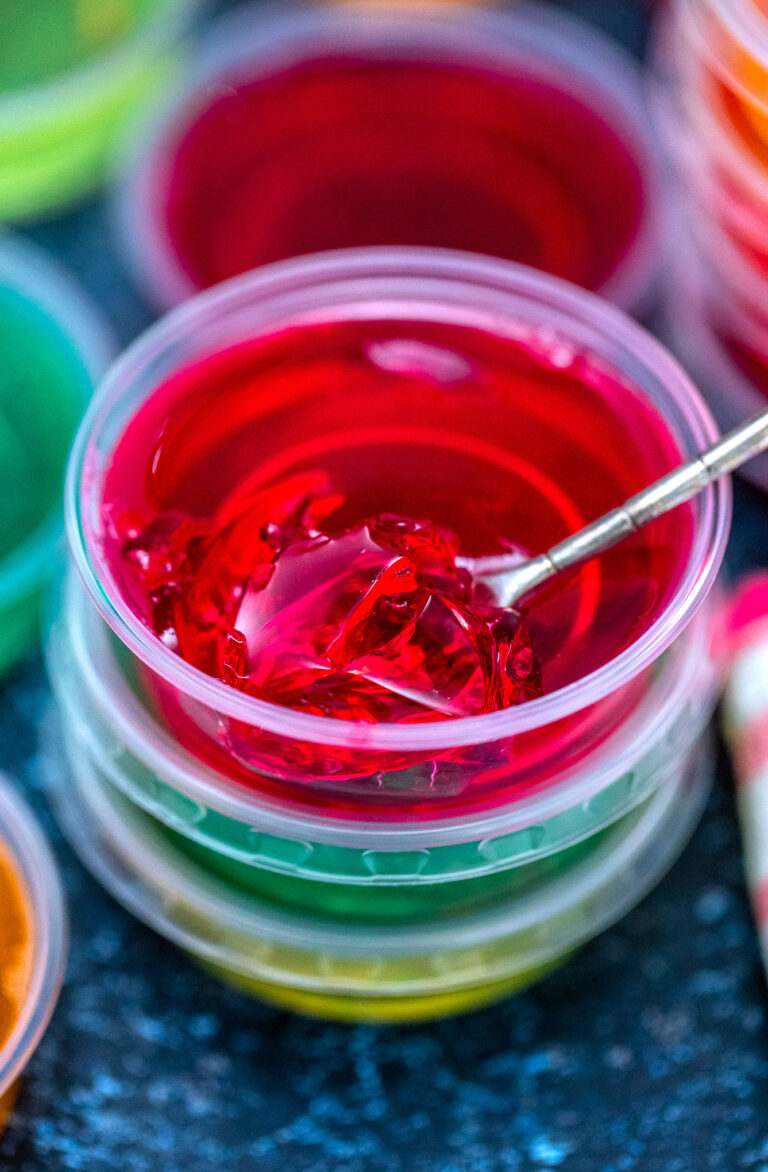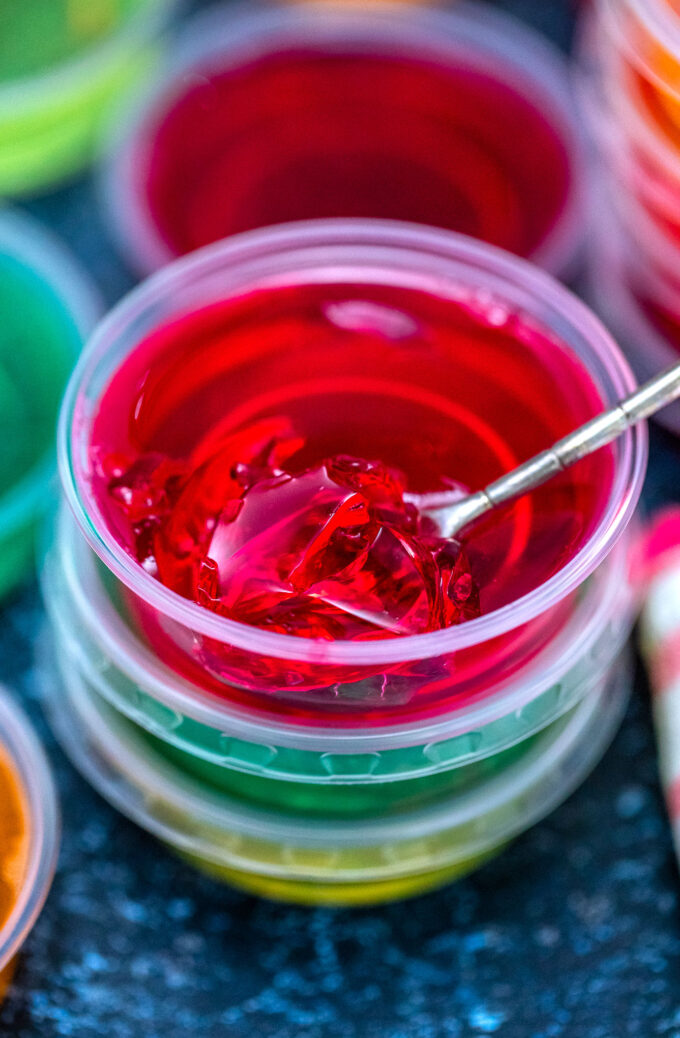 How long does it take Jello Shots to set?
It sets anytime between 1 1/2 hour to 2 1/2 hours but that depends on the amount per container. The shallower your container is, the faster it may solidify.
To fasten the process, put them at the back of the freezer. They will be harder than normal and may turn grainy. But they will not freezer rock-solid and you will still be able to enjoy them.
How much alcohol is in Jello Shots?
Using the ratio described in this recipe, each serving will amount to 10 percent alcohol by volume. If you will add more vodka, the time it takes to solidify will be longer.
Can you get drunk off Jello Shots?
Yes, there is a possibility! Served at parties, guests could easily lose track of how much they consume and be oblivious of the liquor disguised in the colorful treats.
How to Store:
They can keep well for several days in the fridge, say 4 days up to one week. Just keep them in airtight containers.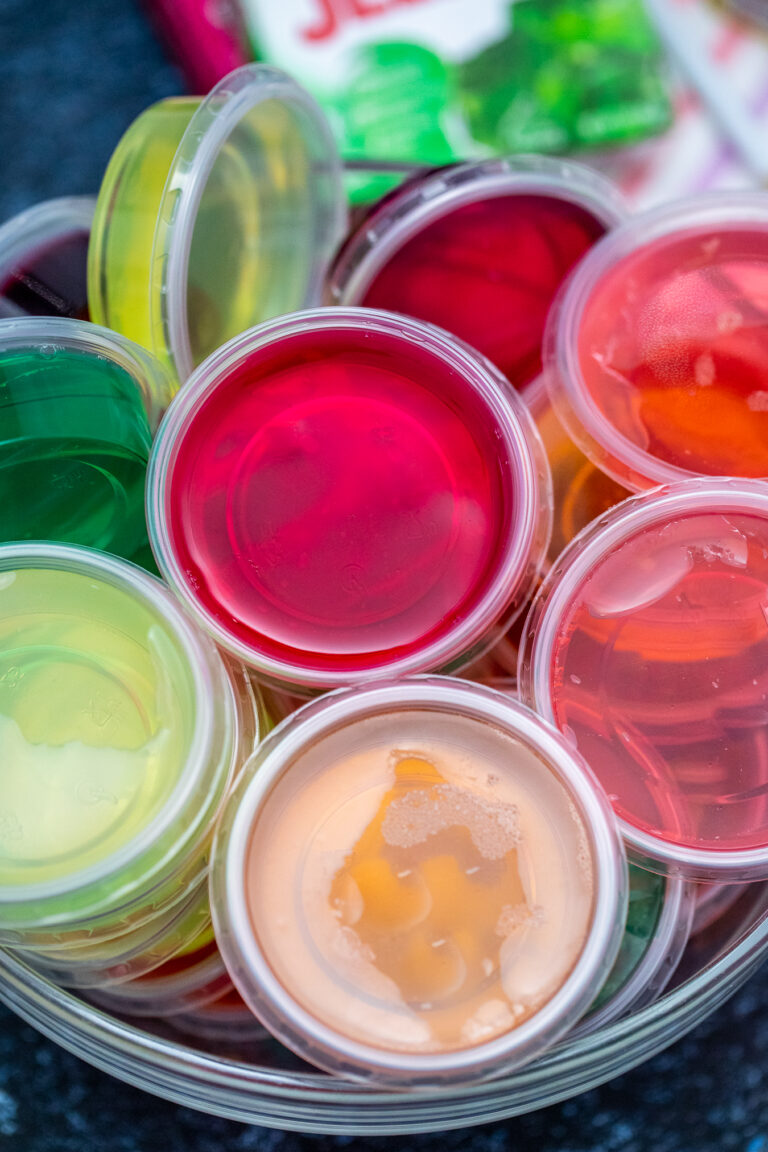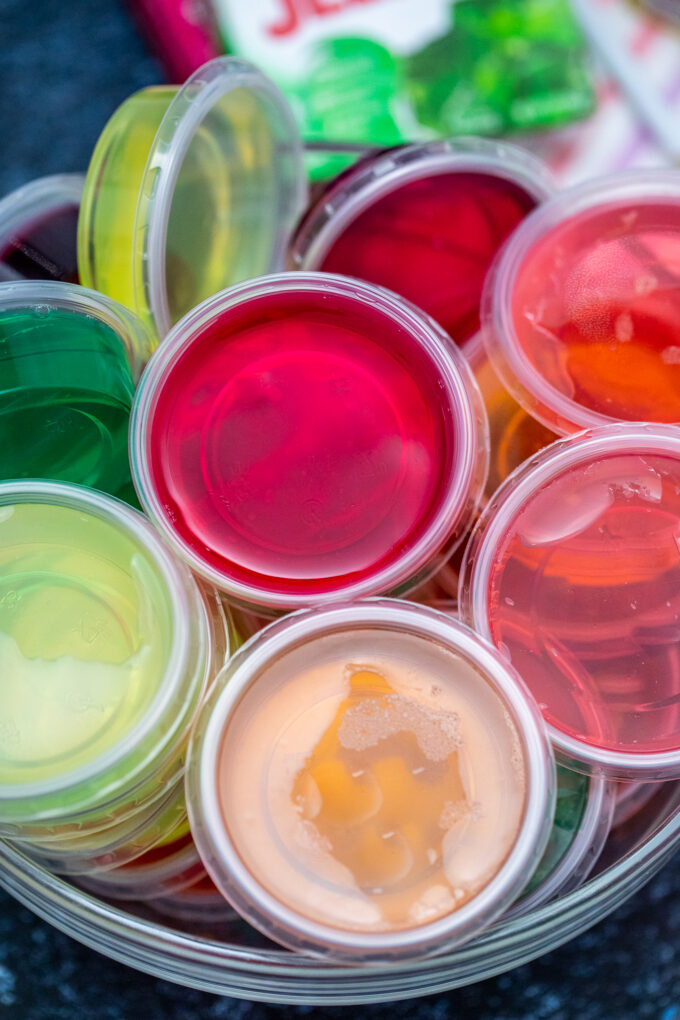 Recipe Tips:
If you want to avoid the alcohol but still want to give your jello a twist, use apple cider.
Aside from vodka, try using schnapps, rum, whiskey, tequila, or gin.
Top with whipped cream, if desired, to make it creamy.
Save Recipe
Boozy Jello Shots
Jello Shots are colorful, and the perfect party cocktail that adults will love! These are pure fun in the form of flavorful jelly! Lighten up your party with these colorful treats!
Author: Catalina Castravet
Serves: 12 servings
Prep time:

15

minutes
Cook time:

5

minutes
Total time:

2

hrs

20

mins
Ingredients
For ONE Flavor:
Nutrition information
Calories: 50 Carbohydrates: 6 Protein: 1 Sodium: 35 Sugar: 6 Calcium: 1
Save Recipe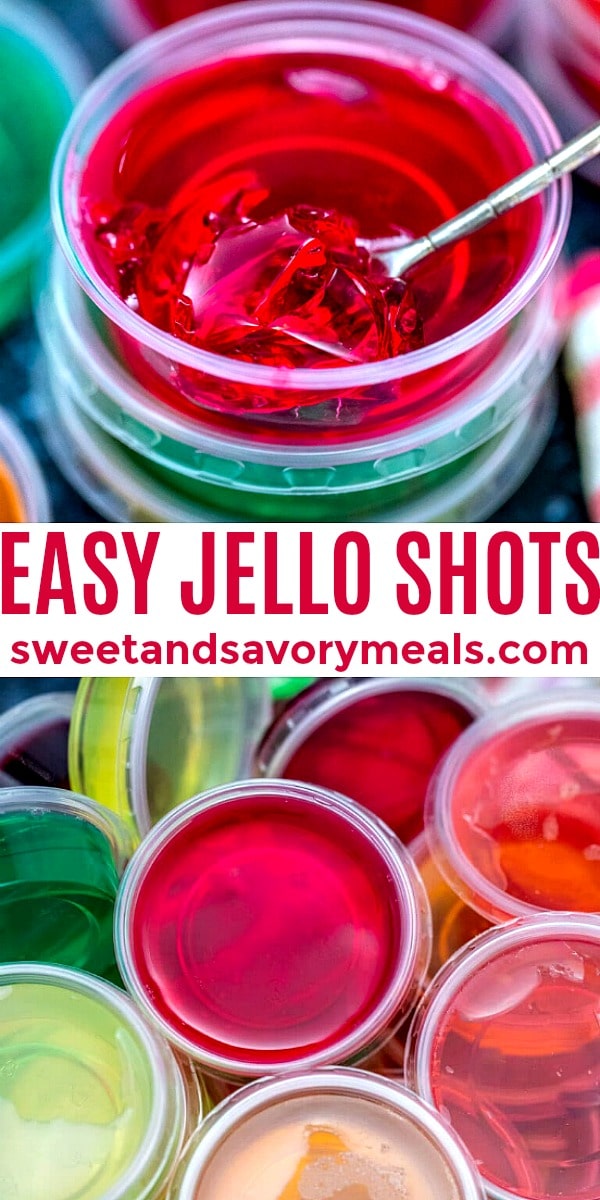 More recipes you might love