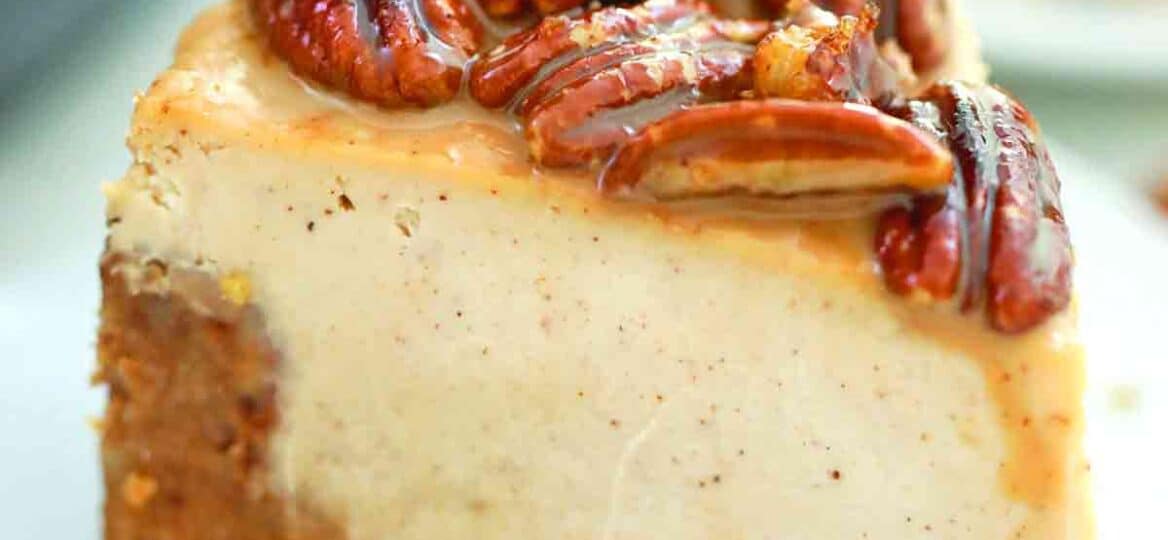 Instant Pot Pecan Cheesecake
Instant Pot Pecan Cheesecake is a creamy and rich dessert with thick dulce de leche and crunchy pecans on top. It is easy and fast to make in your instant pot and is a great cheesecake dessert for a special occasion or any time you want sweet treats.
If you are looking for some more cheesecake recipes, try our decadent Pecan Pie Cheesecake or this easy Instant Pot Pumpkin Cheesecake. For more quick recipes, try our Instant Pot Pumpkin Pie or Gingerbread Cake.
This is the perfect cheesecake for caramel pecan lovers or anyone with a sweet tooth. Its blend of sugary and rich flavors, cream cheese, brown sugar, cinnamon, and nutmeg make it so scrumptious it is hard to stop at one piece. So go ahead and have two.
This dessert is perfect for the holidays, it is great for Thanksgiving and Christmas. I love that you do not have to turn on the oven, or actually use it to make something else.
Another great thing, is that you can make it one or two days in advance! This way you save time and effort when the celebration day comes.
Ingredients needed:
Scroll down to the bottom of the page to get the exact measurements from our recipe card. But here are the main ingredients you need for this instant pot cheesecake recipe:
For the crust:
Crushed pecans: Or crush your own with your food processor at medium speed.
Crushed gingersnap cookies: You could also use pecan sandies.
Unsalted butter: Melted.
Nonstick cooking spray: For the pan.
Cinnamon
For the cheesecake filling:
Cream cheese: Room temperature.
Brown sugar: Packed.

Spices: We used cinnamon and nutmeg.
Heavy cream: Sour cream or Greek yogurt will also work.
All purpose flour: You could also use self-rising or cake flour.
Large eggs: At room temperature.
Vanilla extract
For the topping:
How do you make instant pot pecan cheesecake?
Prepare: First, coat your 7-inch spring form pan with nonstick cooking spray or olive oil.

Mix: Then, in a small bowl, mix all of the crust ingredients together and spread it on the bottom of the pan. Freeze for 10 minutes.

Cream: Meanwhile, combine the cream cheese and brown sugar in a large mixing bowl with an electric mixer on medium speed until it is smooth. Then add the spices, cream, flour and vanilla before adding the eggs one at a time. Mix just until blended and pour it over the crust.
Water: After, place the trivet and one cup of water in the bottom of the pot. Center the filled pan on your sling and carefully lower it onto the trivet.

Lock and cook: Next, lock the lid, set the valve to sealed and select the high pressure setting. Cook for 25 minutes.

Release: When the time is over, do a natural pressure release for 10 minutes before doing a quick pressure release. After the valve drops, remove the lid and use a candy thermometer to check the temperature. It should be 150 degrees F. If not, relock and cook on high pressure for another five minutes with a 10-minute natural release.

Cool: Use your sling to transfer the pan to a wire rack to cool. Pat the top of the cheesecake with a paper towel to soak up any moisture. After it cools, wrap with plastic wrap and chill for at least four hours.
Caramel pecan topping: Mix the dulce de leche and candied pecans in a medium bowl to make the topping.

Serve: Just before serving, add the dulce de leche and candied pecans to the top of the cake.
Recipe variations:
Graham crackers: Alternatively, use a graham cracker crust instead.

Make it extra creamy: For extra creamy cheesecake, use full-fat cream cheese.

Crumbly: Use any remaining crumbs from the crust to sprinkle on top of the cheesecake.
Buttery: For a butter pecan cheesecake, use heavy cream, cinnamon, brown sugar, butter, and crushed pecans instead of the dulce de leche.

Add extract: Use different kind of extracts like maple, almond, or peppermint for a different flavor.
How to serve:
Serve this delicious cheesecake chilled with the warm caramel topping and candied pecans on top. Or try one of these ideas:
Add a dollop of homemade whipped cream on top for extra creaminess.

Instead of dulce de leche, use pecan pie filling as a topping.

This pie also goes great with our creamy blackberry ice cream.
Try using some other kind of nuts on top like walnuts or crushed peanuts.

Another way to enjoy this delicious dish is with cranberry orange pork tenderloin.
Frequently Asked Questions
What is an instant pot?
An instant pot is just like the old-fashioned pressure cooker only it is much safer and plugs in instead of using it on the stovetop.
You can do many things with this amazing machine like sauté, cook rice, steam vegetables, make yogurt, and it can even act as a slow cooker.
What is dulce de leche?
Also known as milk jam or caramelized milk, dulce de leche is a caramel confection made with condensed milk.
It is used in many different kinds of desserts, drinks, and toppings. And all you need is one ingredient to make it.
To make this irresistibly rich and creamy sauce, pour one can of condensed milk into a sealed jar and cook it in the instant pot for 35 minutes.
You could also just leave it in the can and cook it that way. In just over a half-hour, you will have a delicious caramel sauce.
Why is my cheesecake runny?
More than likely, your cheesecake just needs more time to chill. The minimum time to chill this delicious dessert is four hours but it is better to wait at least eight.
If that does not fix the problem, you may not have cooked it at the right temperature.
Try baking it a little bit longer and then chill it overnight. That should fix the problem.
How to store leftovers:
Store: You can cut the pie into pieces and store each slice in an airtight container or store the whole thing in a large container for up to five days.
Freeze: If you want to freeze your leftovers, wait until it is completely set and cold and then wrap it in plastic wrap or aluminum foil and place them in a freezer bag. These will store safely for up to 90 days.
Thaw: Thaw overnight in the fridge before serving for best results. Serve at room temperature.
More Cheesecake recipes:
Cooking tips:
If your trivet does not have handles, you can use a silicone sling.

Alternatively, you can make a foil sling. Fold up a long narrow piece of aluminum foil and place it under the springform pan before putting it in the pot.
Use parchment paper in a regular cake pan if you do not have a springform pan.

You can substitute caramel ice cream topping instead of dulce de leche.
Instant Pot Pecan Cheesecake
Ingredients
Crust:
3/4

cup

crushed pecans

1 1/2

cup

gingersnap cookie crumbs

1

teaspoon

cinnamon

3

tablespoons

unsalted butter

melted
Filling:
16

ounces

cream cheese

at room temperature

1/2

cup

packed brown sugar

1/2

teaspoon

cinnamon

1/2

teaspoon

nutmeg

1/4

cup

heavy cream

1

tablespoon

all-purpose flour

1/2

teaspoon

vanilla extract

2

large eggs

at room temperature
Instructions
Crust:
Lightly coat a 7-inch springform pan with nonstick cooking spray.

In a small bowl, combine the crust ingredients until well mixed. Spread the mixture evenly on the bottom and 1 inch up the side of the prepared pan. Freeze for 10 minutes.
Filling:
In a large bowl, with an electric mixer, mix the cream cheese and brown sugar on medium speed until smooth.

Blend in the cream, flour, cinnamon, nutmeg, and vanilla.

One at a time, add the eggs and beat just until mixed. Do not overmix.

Transfer the batter on top of the crust. Cover with foil.
Pressure cook:
Add 1 cup of water to the pressure cooker inner pot and place a trivet on the bottom.

Lower the pan onto the trivet. Lock the lid in place and turn the pressure release valve to the Sealed position. Cool on High Pressure and 25 minutes.

When the cooking time ends, turn off the pressure cooker. Let the pressure release naturally for 10-15 minutes, and do a quick pressure release.

When the valve drops, open the lid. and check if the cheesecake is done. If not, cook at High Pressure for 5 more minutes, followed by another 10-minute natural pressure release.

Transfer the pan to a wire rack to cool. When cooled, cover with plastic wrap and refrigerate for at least 4-6 hours, or overnight, until ready to serve.

Just before serving, top with dulce de leche and candied pecans. Spreading them over the cheesecake.
Deliciousness to your inbox
Enjoy weekly hand picked recipes and recommendations