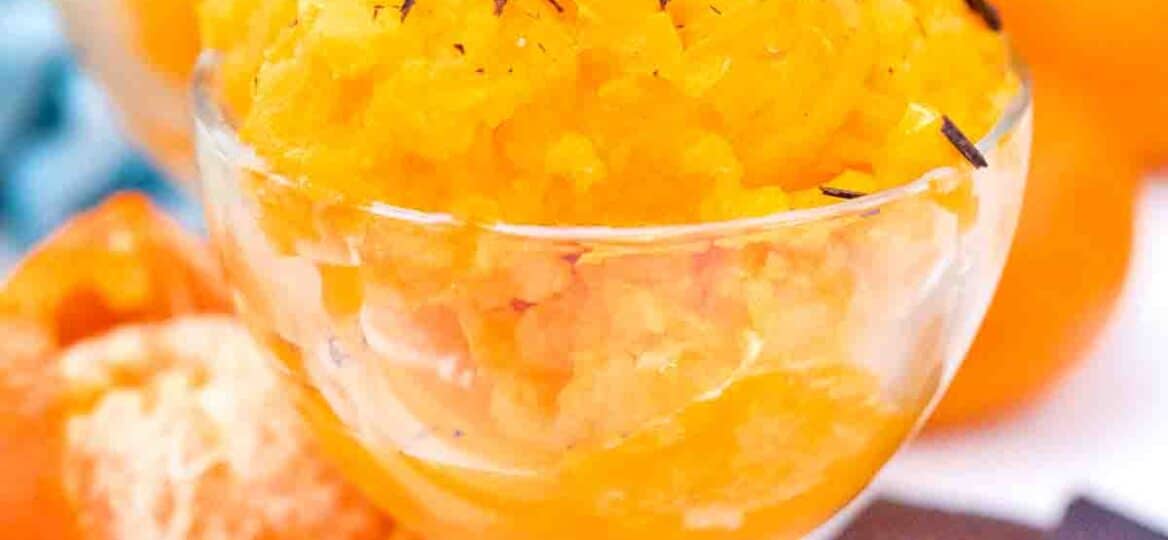 Tangerine Sorbet Recipe – 1 ingredient!!!
Tangerine Sorbet is sweet and tangy homemade ice cream that can be made without an ice cream machine and with just one ingredient. In fact, all you need is one ingredient, making this the easiest chilled treat you have ever made. It is one of those great recipes that you can share with your kids and grandkids because it is very kid friendly.
Do you know what would go great with this sorbet? Our Clementine Mousse Cake would be amazing! All you need is vanilla beans, peach jelly, cream, eggs, clementine zest, and a few other standard ingredients. If you really like tangerines, try our Orange Jelly Candy with just a few ingredients including juice, sugar, and food coloring.
Although sorbet is a French word, it comes from the Italian word, sorbetto, which was a chilled fruit drink. Some say it was first made by Marco Polo, Catherine de Medici, or Roman Emperor Nero, but the experts believe sorbet was made in ancient Persia, way back in 550 BC. Interestingly, Hippocrates blamed these chilled drinks for causing stomach upset although the opposite is true.
This is ice cream without all the extra cream, sugar, and other ingredients that are not good for you. It has a light and wonderful taste with a surprisingly creamy texture. And all you need is tangerines to make this treat. It is the perfect icy dessert for summer or anytime you need a healthy dose of sweetness.
You do not have to be one of those experienced home cooks to make this sorbet recipe. Check out some of our other great sorbets like no-churn pineapple sorbet made with just a handful of ingredients including coconut cream, pineapples, and coconut. Or this no-churn cherry ice cream is just like sorbet with cherries, cherry juice, and sweetened condensed milk.
Follow us on Pinterest for more delicious recipes!
Ingredients needed:
There is only one ingredient in this tangerine sorbet recipe. Although you will not need it, you can scroll to the bottom of the page to our recipe card to get the instructions.
Seedless tangerines: Peeled and separated.
How to make tangerine sorbet from scratch?
Peel the tangerines: To begin, peel the tangerines and separate the pieces onto a baking pan covered in a piece of parchment or wax paper.
Prep the pieces: Then, remove any stringy pieces or seeds you may see in your orange segments.
Freeze your tangerines: Next, put the pan into your freezer and freeze for three to four hours or overnight.
Grind them up: After the tangerine segments are frozen solid, put them in a food processor and mix them on high until it is smooth and creamy. It takes quite a few minutes for it to go from crumbly to creamy, so be patient.
Chill or eat: Finally, serve your delicious tangerine sorbet alone or with toppings.
How to make tangerine sorbet from scratch with juice?
Gather your ingredients: First, you will need to gather three cups of freshly squeezed tangerine juice, three tablespoons of lemon juice, 3/4 cup of granulated sugar, and one tablespoon of corn syrup.
Strain the juice: Then, pour the juice into a large bowl through a fine mesh sieve. Use a rubber spatula to press out as much juice as you can. Set the sieve aside with the remaining pulp.
Mix it all up: Now, add sugar, corn syrup, and the other juice to the bowl and stir until the sugar is completely dissolved.
Process the sorbet: Lastly, process the mixture in an ice cream maker according to the manufacturer's instructions.
Let it chill: Finally, refrigerate until chilled (for about two hours) or you can have it right away, depending on whether you want soft-serve or more solid sorbet. It is best served the same day it is made.
Recipe variations:
More sweetness: If your tangerines are not sweet enough, add some sugar to the mix. Make sure it is dissolved into the sorbet before eating.
Honey: For less sugar, feel free to use honey or pure maple syrup for extra sweetness instead of sugar.
Add alcohol: To make boozy tangerine sorbet, add vodka or some other kind of alcohol to your food processor as you stir the mixture.
Other citrus fruit: You can substitute (or add) another citrus like lemons, limes, or grapefruit.
Other fruits: Add some other fruits like cherries, strawberries, blackberries, or raspberries for a unique twist.
More flavor: Add tangerine zest for extra tangerine flavor.
Different flavors: In fact, you can add other unique flavors to your tangerine sorbet with extracts. Try lemon, peppermint, chocolate, or birthday cake flavor.
How to serve:
This is one of those desserts that can be eaten in the summer or winter because it has that yum factor to satisfy your sweet tooth and it only takes a few minutes to prepare.
This ice cream treat goes great with any kind of cake such as our orange pound cake.
Add some shaved chocolate onto the top of your tangerine sorbet using a knife, vegetable peeler, or grater to make it fancier with a bit of chocolate flavor.
Alternatively, you could drizzle some chocolate syrup on top of your tangerine sorbet for a more chocolatey flavor.
If you are serving this for a party, toss some rainbow sprinkles on top to give it a festive look.
For a more decadent dessert, add a scoop of whipped cream. You can use our simple but delicious homemade whipped cream recipe.
Add a scoop of tangerine sorbet to your Christmas punch or any fruity beverage.
Frequently asked questions
What is the difference between tangerines, mandarins, and oranges?
Tangerines and oranges are just different varieties of the same kind of species. Tangerines are typically smaller and sweeter than oranges, which are kind of tart. The skin on tangerines is also looser, making them so much easier to peel. Tangerines are a member of the mandarin family, but the mandarin is a bit smaller and has seeds. You can get mandarins in a can any time of the season while tangerines tend to be more available in the summer.
What kind of liquor is best to make boozy tangerine sorbet?
To make this into a boozy treat, you can add your favorite orange liqueur like Cointreau, Grand Marnier, or Triple Sec. Or you can use regular vodka or one of the flavored vodkas like orange, mint, or even chocolate. Other delicious choices include amaretto, cinnamon liquor like cinnamon schnapps, Jack Daniels honey liquor, or limoncello.
What is the difference between sorbet, gelato, and ice cream?
With this recipe, all you are using is tangerines to make your sorbet, but some sorbet recipes call for sugar or another sweetener. Ice cream has added milk or cream, eggs, and sugar with at least 10% being cream. Gelato typically has all that, but the cream content is only around 6 to 8%. Also, gelato is thicker and denser than ice cream because it is churned slower for less air.
What are the nutrition facts in this recipe?
Each serving has less than 50 calories, zero fat and cholesterol, 9 grams of sugar, 8 carbs, and just about 2 milligrams of sodium. After all, you are just eating tangerines. So, you also get 1 gram protein, 2 grams fiber, 150 mg potassium, 28 mg vitamin C, and almost 500 units of vitamin A.
How to store leftovers:
Store: Since this is a frozen dessert, you will want to store your leftover tangerine sorbet in the freezer.
Freeze: Leftover tangerine sorbet stays fresh in the freezer in a sealed airtight container for up to 60 days. For best results, place a piece of parchment paper or plastic wrap on top of the ice cream under the lid to keep it from getting freezer burn.
More easy desserts to try:
Recipe tips:
First, make sure you use SEEDLESS tangerines!
If you do not have a food processor, you can make this refreshing sorbet with a high-powered blender. If you do not have one of those, put them in a medium bowl and use an electric hand mixer.
You want your tangerine segments to be completely frozen. Not just ice cold. They have to be frozen solid for this recipe.
For easier scooping, dip your ice cream scoop in hot water before using it.
If your tangerines are not getting as creamy as you like, feel free to add a bit of orange or tangerine juice. If you want it creamier, add heavy cream.
Another way to make your tangerine sorbet creamier is to add a can of drained mandarins to your mixture. But make sure they are drained because they have plenty of juice in each piece.
Some of us do not have room in our fridge for a big pan. You could put your tangerine pieces in a freezer bag instead of on a pan.
To prevent freezer burn, place a bit of wax paper on top of the sorbet under the lid.
Tangerine Sorbet
Ingredients
2

lbs

tangerines

seedless - make sure you choose seedless
Instructions
Peel the tangerines, and separate the pieces. Arrange them on a baking sheet, remove any white stringy pieces from the skin, and also if you notice any seeds.

After that, freeze the segments for a few hours, 4-6 hours, to make sure they are fully frozen.

When ready to make the sorbet, add the frozen segments to a food processor or high-powered blender.

Pulse for a few minutes, until you go from a dry and crumbly mixture to a smooth and creamy mixture.

If you want the sorbet sweeter, add some honey, agave, or maple syrup.

Transfer the mixture to a freezer-safe container, cover it, and store it in the freezer.

Serve it as is or with some dark chocolate shavings on top.