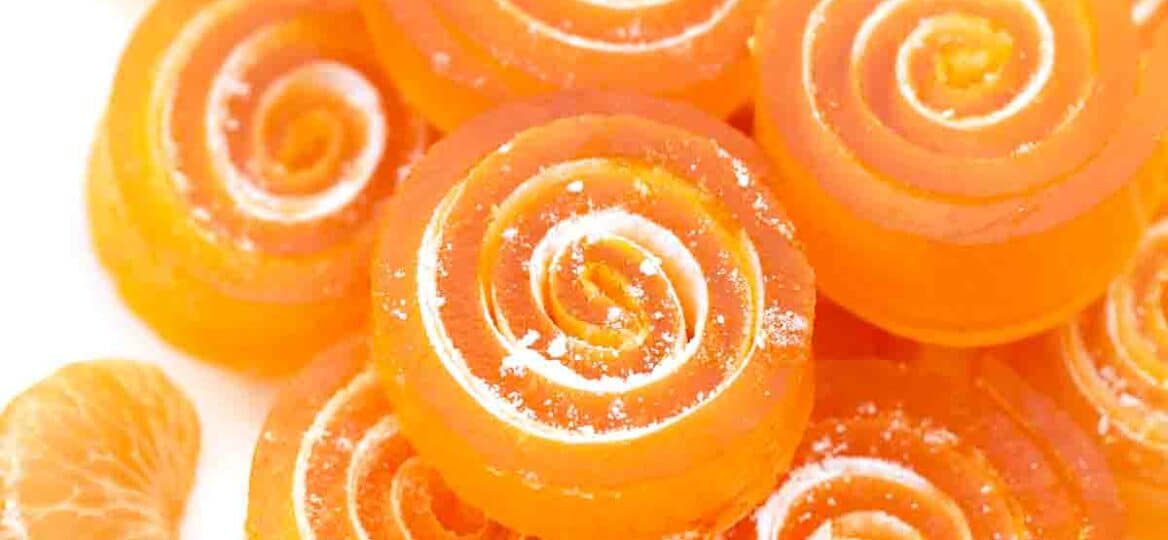 Orange Jelly Candy Recipe [Video]
Orange Jelly Candy is made with only four ingredients, including fresh orange juice, it tastes incredible and looks very festive! All you need is orange juice, agar agar, sugar, and powdered sugar. We used freshly squeezed orange juice from sour oranges, but you can use store-bought juice to make it even easier.
If you are a fan of orange anything, try our sweet and tart Orange Marmalade recipe. You will need oranges, lemons, sugar, and orange extract to make this easy dessert. Another way to enjoy your favorite citrus fruit is with this Orange Sauce recipe made with brown sugar, red pepper flakes, and soy sauce.
Did you know that you do not have to live in a certain location to grow your own oranges? However, if you plan to grow them outside, you will need to be in one of the warmer locations like Florida or Southern California. But those in other areas can grow container citrus trees indoors so you do not have to buy your fruit from the grocers or farmer's market.
You will find many versions of orange jelly candy online, but this is the only one you will find with just four ingredients, and is unlike anything you have ever tasted! Others add things like lemon juice, butter, corn syrup, orange oil, and food coloring.
But you really do not need all of that. For a simple but flavorful candy, try this one. It only takes a few minutes to make so you can have it today! In fact, you can use whatever juice flavor you like for this recipe!
Looking for other sweet recipes? Our site has plenty of them. If you are a fan of chocolate, you only need a few ingredients to make this yummy chocolate fudge including sweetened condensed milk, butter, chocolate chips, and vanilla extract. Or for a different flavor of fudge, try our white chocolate fudge with rainbow sprinkles.
Follow us on Pinterest for more delicious recipes!
Ingredients needed:
Ready to make the easiest candy ever with just a few ingredients? Just gather these simple ingredients for this orange jelly candy and then scroll down to our recipe card for complete instructions and exact measurements when you are ready to begin.
Granulated white sugar
Powdered sugar: Or confectioners' sugar.
Freshly squeezed sour orange juice
Agar agar powder
How to make orange jelly candy from scratch?
Juice your oranges: First, cut five or six sour oranges in half. Use a juicer or a fine mesh strainer to squeeze out about one cup of orange juice.
Make gelatin mixture: Then, combine sugar, juice, and agar agar powder in a large saucepan or skillet. Stir well and add yellow food coloring if needed.
Boil the mix: Now, cook on medium-high heat, constantly stirring, until it comes to a full rolling boil. Then continue to cook on medium-low until the boiling sugar mixture is thick, for about four minutes.
Cover the pan: After, pour into a prepared pan with raised edges. We used a 10×10-inch pan lined with parchment paper. Tilt the pan so the gel covers the whole bottom of the pan.
Let it cool: Next, chill for two hours in the fridge.
Add sugar: Then, cover about ½ inch at one end with parchment paper and sprinkle powdered sugar on top.
Cut gel: Now, use a knife dipped in warm water to loosen around the edges and cut a slice down the middle.
Roll it up: After, roll each piece tightly, making sure you do not get any powdered sugar on the end where the paper was. Use this end to stick the roll together tightly.
Cut and serve: Finally, cut candy into 1/2-inch pieces and serve immediately or let it sit for 24 hours for harder candy.
Recipe variations:
Use pectin: You can use pectin instead of agar agar. Just gradually add pectin mixture a little at a time because it will foam.
Extract: To enhance the orange taste, use orange extract.
Orange zest: You can also use orange zest from your oranges to give your candy an even more zesty flavor.
Another flavor: This works with just about any fruit you like. Try it with raspberry, lime, cherry, and lemon juice too.
Corn syrup: You can use corn syrup instead of sugar if you like.
Add nuts: Why not add some crunchiness to your orange jelly candy? Chop some of your favorite nuts such as pecans, cashews, or walnuts.
Chocolate orange jelly: If you are a fan of those chocolate oranges they sell at Christmas, add a handful of chocolate chips to your gel after cooking. Stir them in until they melt and then pour it into the pan.
Add other extracts: For a different taste, add a teaspoon of your favorite extracts like mint, maple, or butterscotch.
How to serve:
This delicious dessert is easy to make and can basically be made into any shape or flavor you like. Here are some great serving ideas to try. For more details, check out our recipe tips at the bottom of the page.
Leave your candy at room temperature overnight for a nice chewy texture.
You can also slice these into strips or squares to create jelly sticks.
These jellies go great with ice cream. In fact, they would be perfect with this peaches and cream ice cream.
For something even more fun, use cookie cutters to make shapes instead of rolling them.
Roll these in powdered sugar for even more sweetness.
Sprinkle on some cinnamon sugar mixture after rolling for a nice holiday taste.
Serve with a dollop of whipped cream on top. Try our easy homemade whipped cream.
You could also serve these with melted chocolate for dipping.
Why not add some coconut on top for a real tropical taste?
Frequently asked questions
How do I know when the candy is ready?
We usually just time ours or go by the thickness. The time we used for this recipe is four minutes on medium-low heat. However, you can use a candy thermometer. It should read 212 to 215 degrees F when it is ready. Another way to test it is to see if it covers the back of a wooden spoon. If it does, it is ready.
What else can I use instead of powdered sugar?
You can actually make your own powdered sugar if you have some cornstarch. Just grind the sugar until it is fine and then mix it with ground cornstarch until it is the right consistency. You could also try coconut sugar, dry milk, hot cocoa mix, or powdered drink mix.
What other juices can I use for this?
You can actually use any kind of juice you want, including grape, peach, kiwi, mango, pear, cranberry, or strawberry. In fact, if you use enough agar agar or pectin mixture, you can use any kind of drink such as your favorite Kool-Aid, energy drink, or even some types of wine.
What are the nutrition facts in this recipe?
Each serving of these yummy candies has 70 calories, no fat, no cholesterol, 35 mg of sodium, 19 grams of carbohydrates, and 18 grams of sugar. It also has 60 mg of vitamin C, 39 mg of calcium, 2 grams of protein, and 1 gram of fiber.
How to store leftovers:
Store: You can store your leftover orange jelly candy in an airtight container or gallon-size zip baggie. No need to refrigerate.
Freeze: Freezing is not recommended.
More candy recipes:
Cooking tips:
Use parchment or waxed paper on the bottom of the pan to keep it from sticking.
If your jelly is too thick, add a 1/2 teaspoon of baking soda. But do not add too much or it will be too soft.
Nutrition values vary based on the amount of sugar and the type of oranges you use.
Make several flavors at a time. Just put mixtures in different pans and stir often.
If you are using sweet oranges, you can add citric acid to make your candy sour.
Have extra gelatin mixture left over? Use it to make another batch of jellies when you are done.
Letting the jelly candy stand and rest will allow it to get harder and chewier.
Be sure to measure your ingredients carefully for the best results.
Orange Jelly Candy
Ingredients
1

cup

sour orange juice

preferably freshly squeezed

1

cup

sugar

1/4

oz

agar agar

this is 7 grams

2

tablespoons

powdered sugar

for sprinkling - optional

orange or yellow food coloring

optional
Instructions
In a large saucepan combine sugar, orange juice, and agar agar powder. Stir well and if needed add a few drops of food coloring.

Now, stir the mixture CONSTANTLY and cook on medium-high heat until it comes to a rolling boil. Then lower the heat to medium-low and continue to until the boiling mixture is thick, for about 4-5 minutes.

After that, pour the mixture into a 10x10-inch rimmed pan lined with parchment paper. Distribute the mixture evenly in the pan and chill for two hours in the fridge.

Then, cover about 1/2 inch at one of the edges with parchment paper and sprinkle powdered sugar on top of the rest. This will create this white swirl effect.

After that, dip a sharp knife in warm water and use it to loosen the jelly around the edges and cut it in two blocks, by running the knife across the middle.

Next, roll each piece tightly into a log, careful not to get any powdered sugar on the end where the paper was, or it will not stick at the end. Use the end to stick the roll together tightly.

Finally, cut the orange candy roll into 1/2-inch pieces and serve.